A stray kitten who was found all alone outside, cuddled up to everyone she met.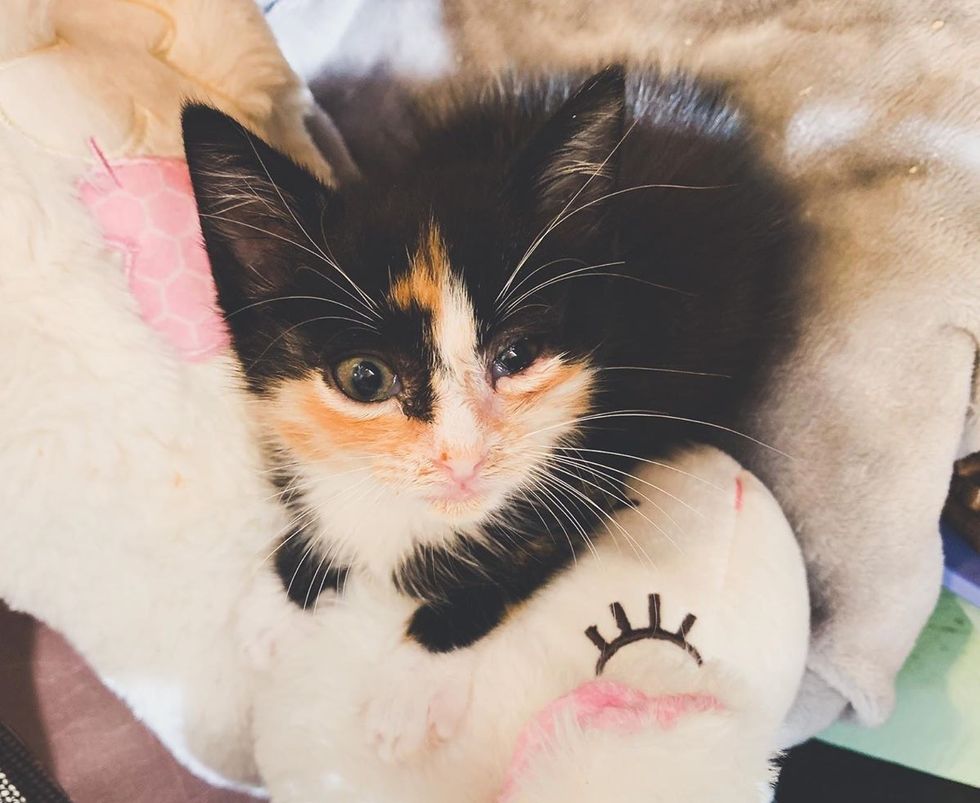 Katie Rodriguez
Early August, Katie Rodriguez of BabyCats Rescue in Sanford, North Carolina, took in a calico kitten who needed medical attention and foster care.
"She was found as a stray on someone's property. When she got on my chest, she didn't want to leave," Katie told Love Meow.

The kitten was just skin and bones, and her eyes were crusted shut due to an upper respiratory infection. They named her Mala. The sweet kitty wrapped her arms around her rescuer and just wanted to cuddle.
"She's super clingy — having been found all alone, she needs a heartbeat next to her."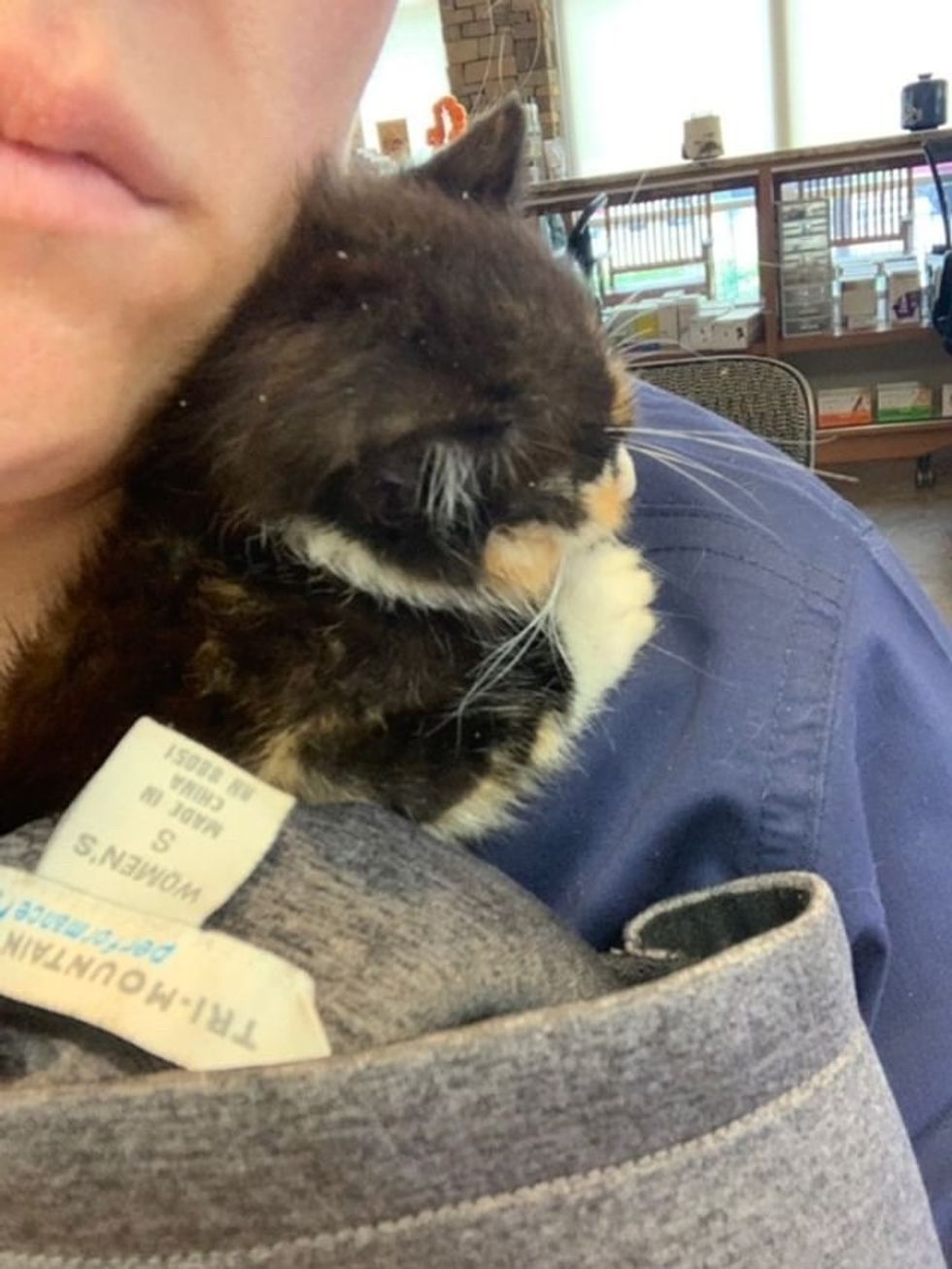 Katie Rodriguez
"She weighed just seven ounces, which is less than a 4-week-old kitten but had a good appetite."

From day one, Mala would snuggle with anyone she came across. It made her happy to be loved and cuddled at all times so she wouldn't feel alone.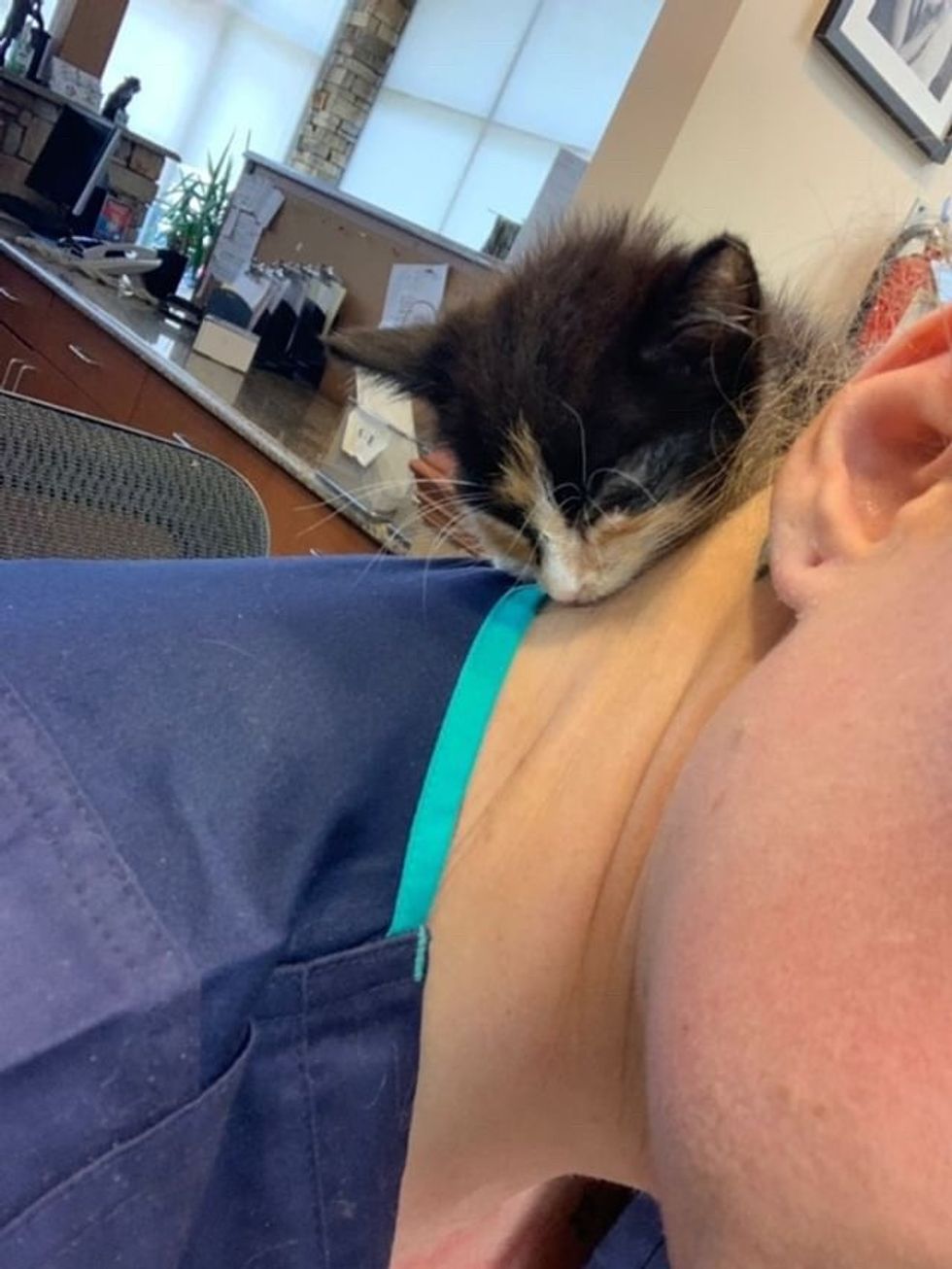 Katie Rodriguez
She was very tiny but not afraid of anything or anyone. Their resident dog, Burt, who has a soft spot for kittens in need, came running when he heard her squeaks.
The calico would nuzzle into his tail when she woke up, and make biscuits on his fur, purring away.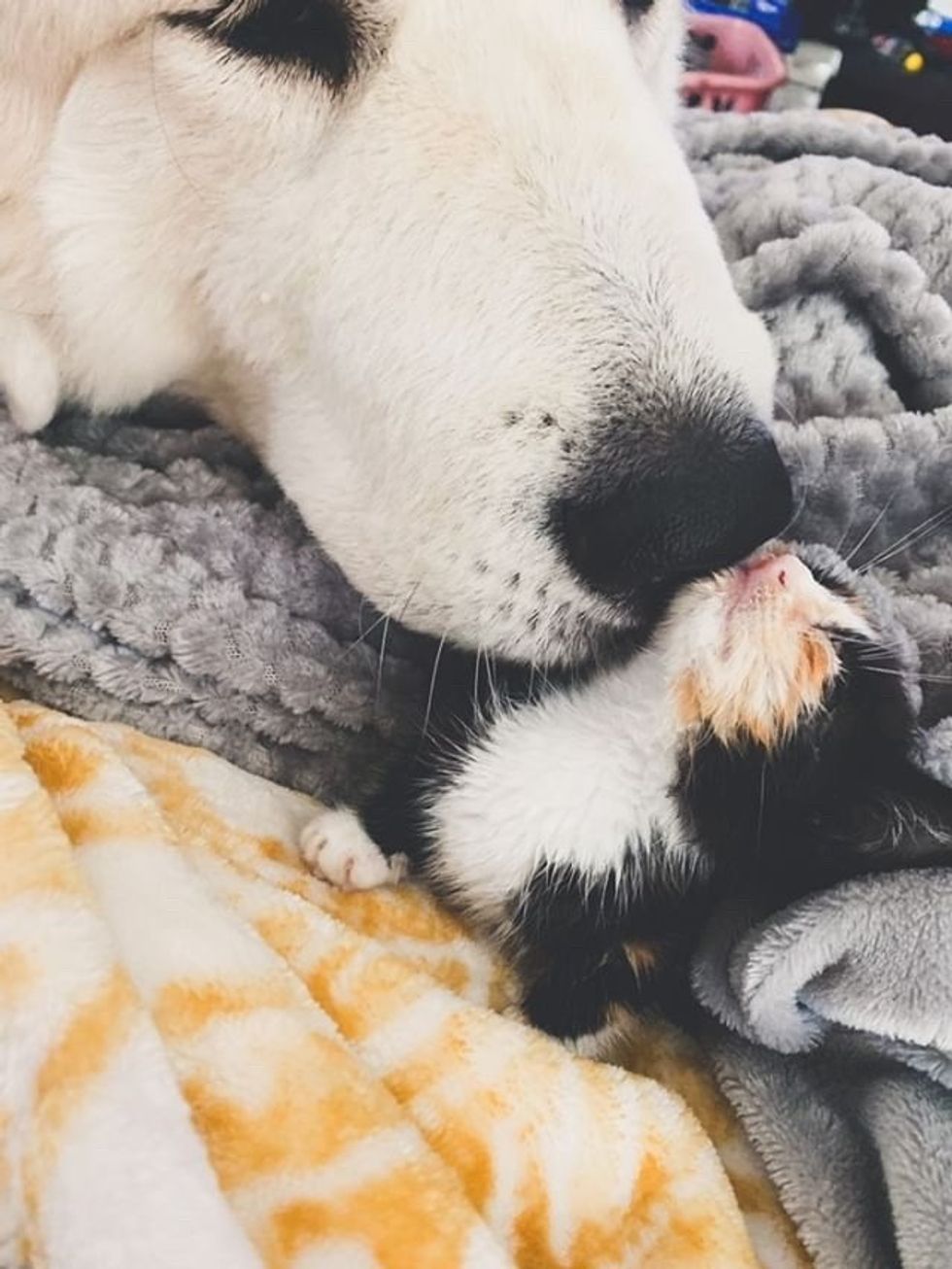 Katie Rodriguez
Mala was always cuddling with someone and wouldn't want it any other way. Over the next few days, her eyes cleared up and she began to put on weight and strength.

She held onto her foster dad and fell asleep.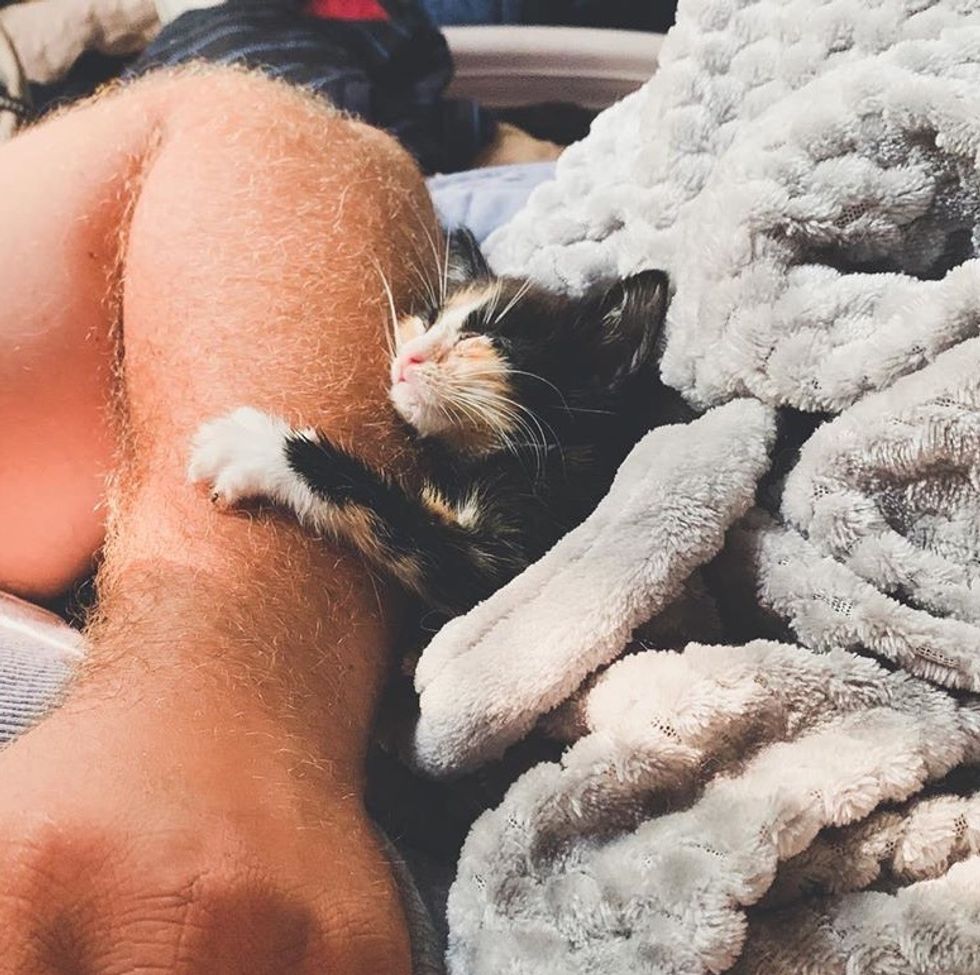 Katie Rodriguez
Around the same time, Katie was contacted about another kitten that needed a foster home.
A little tuxedo wandered up at a car mechanic shop and was brought into the rescue a couple of days later. "Her name is 2% because she looks like a dairy cow," Katie told Love Meow.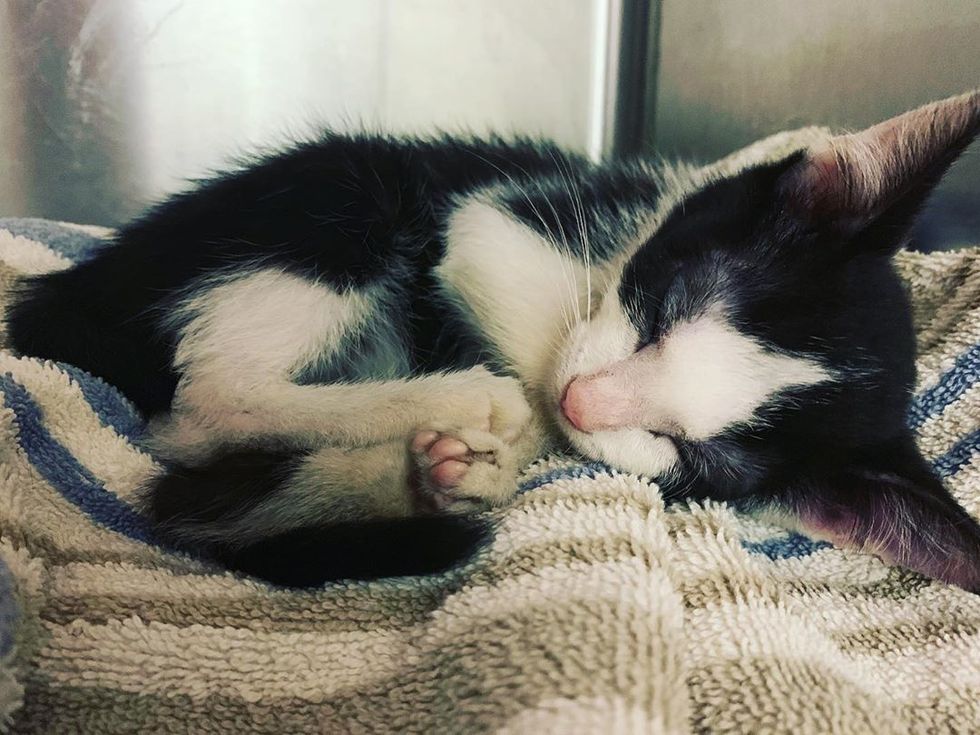 Katie Rodriguez
Knowing that Mala needed a buddy to cuddle constantly, Katie wanted to try pairing her up with the new kitten. Mala walked right up to her and started to snuggle.
Watch Mala and her new best friend in this video:
Calico kitten finds a friend to cuddleyoutu.be
She rubbed her face all over 2-Percent who was a bit confused with all the affection.

"It took her about six hours to finally share a bed with Mala but they've been best buddies since," Katie said.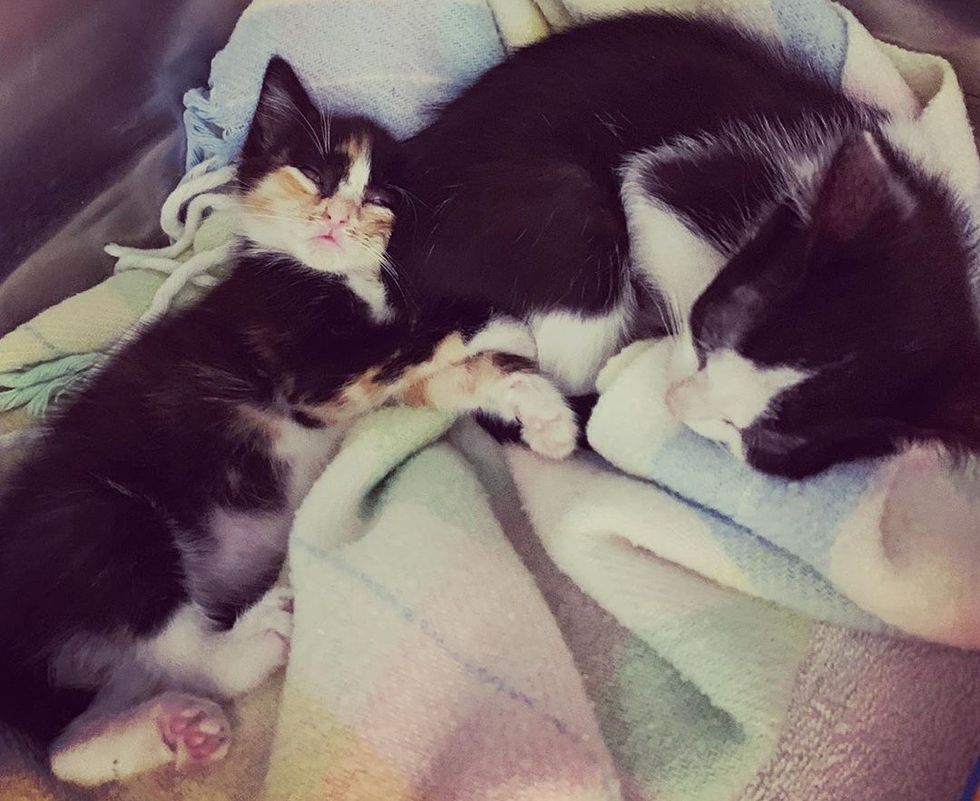 Katie Rodriguez
They like to chase each other and scamper around the room like they own it. When they are tired, they curl up next to each other and fall asleep together.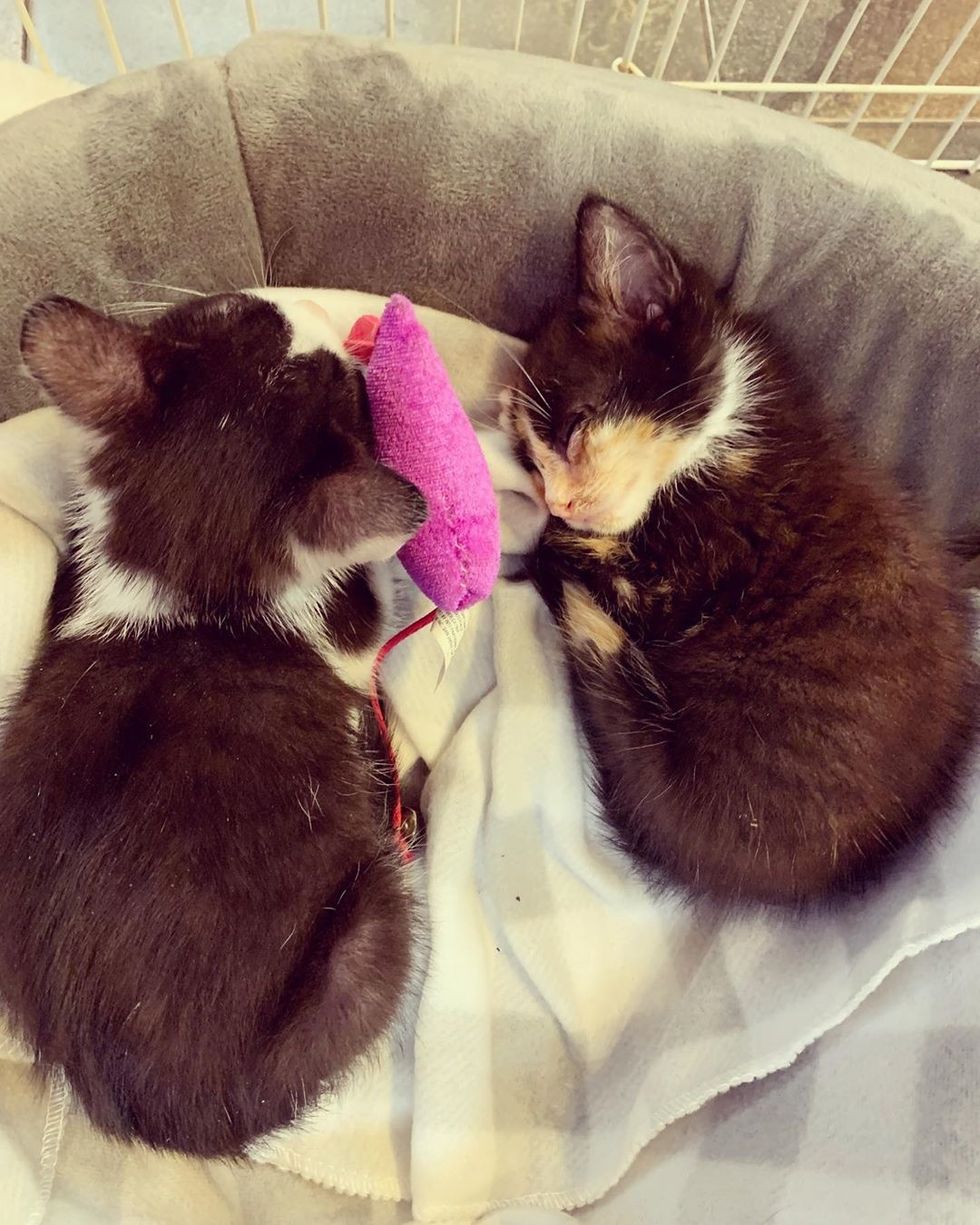 Katie Rodriguez
"These two are getting along swimmingly. They are right around the same age and both as sweet as can be," Katie shared with Love Meow.
"They will keep each other busy and have a friend in one another now."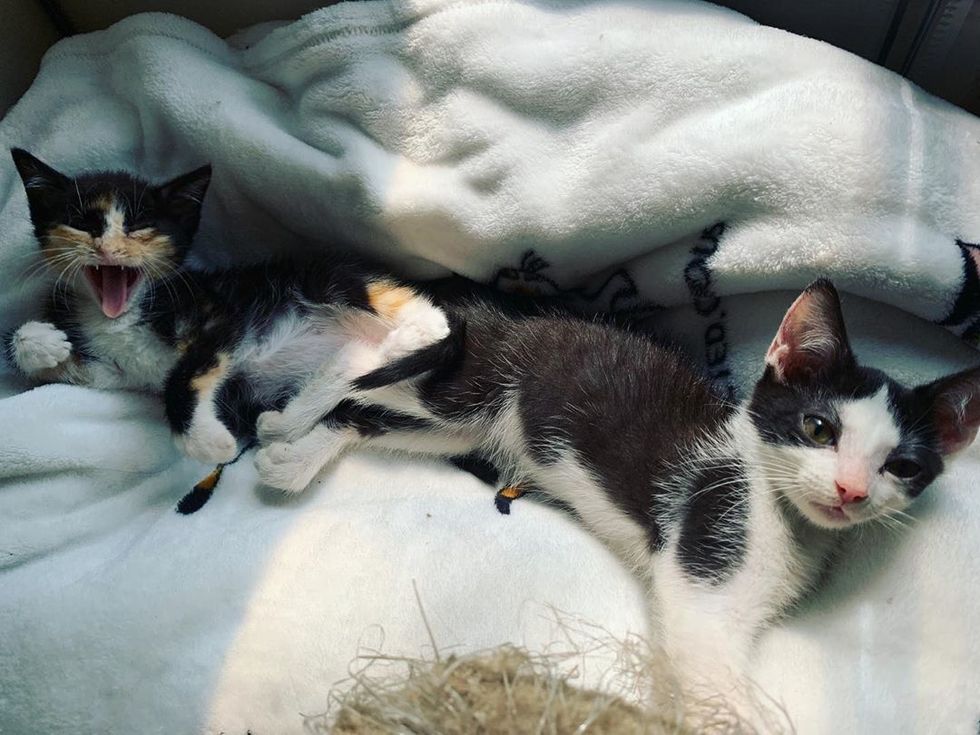 Katie Rodriguez
Mala and her sister from another mother are blossoming in foster care.
"They are very cuddly, not just with me but always with each other," Katie said. "I know they are going to be wonderful additions to any home!"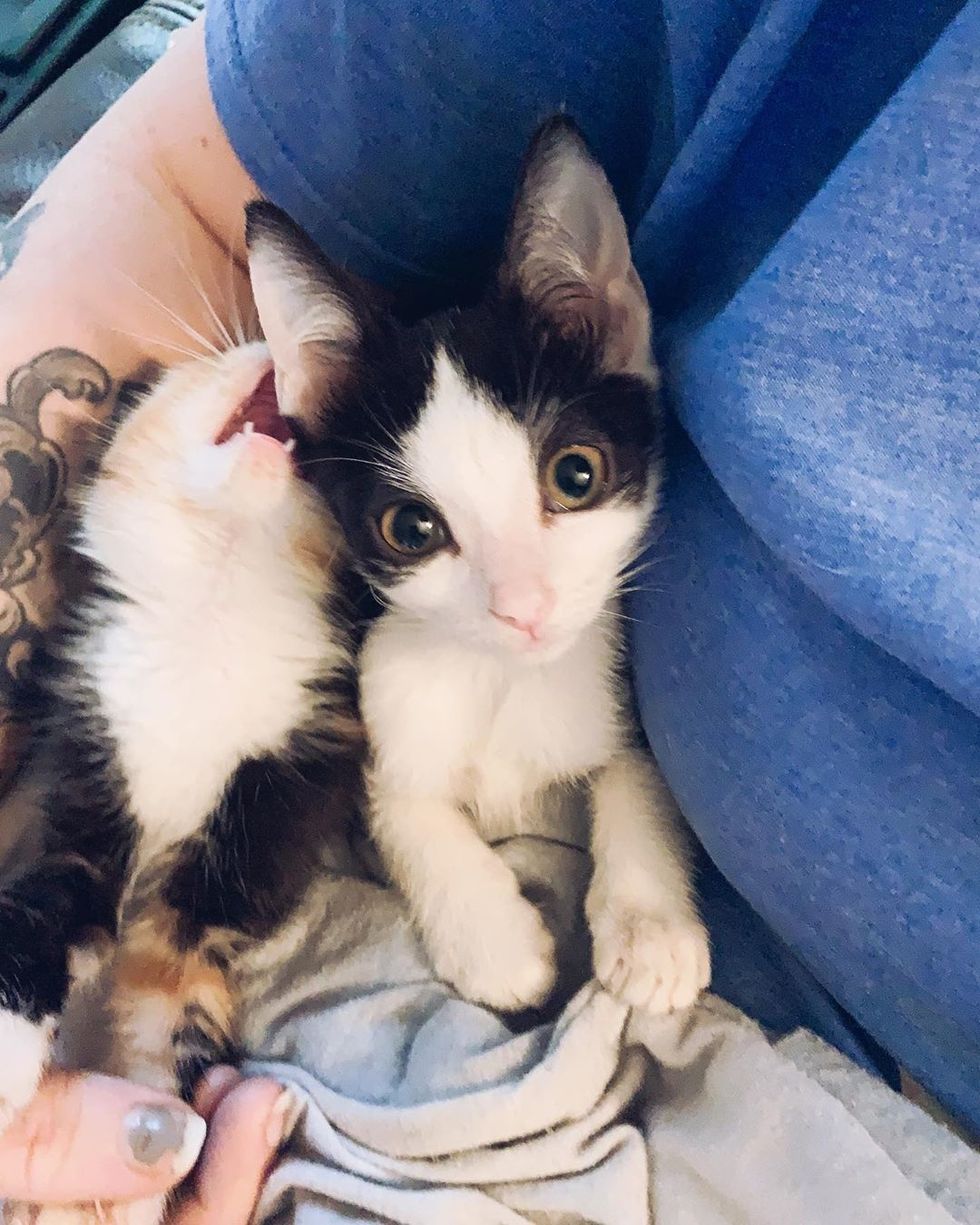 Katie Rodriguez
Share this story with your friends. Follow Mala and 2-Percent and Katie's rescue kitties on Facebook and Instagram.
Related story: Shy Rescued Kitten Finds Family and Another Kitty to Cuddle - It Turns Her Life Around