An one-week-old orphaned kitten named Bjorn was surrendered to the shelter along with his siblings.
It didn't take long for his foster mom to notice that Bjorn was a bit different.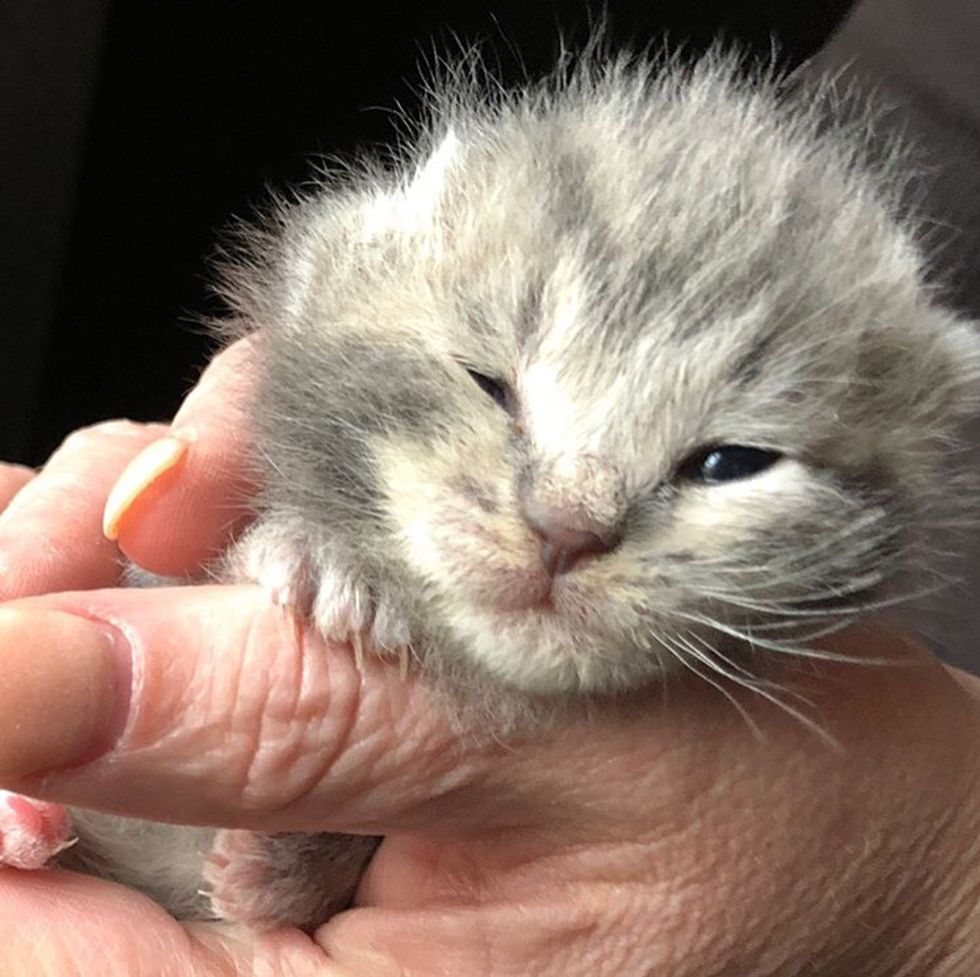 Kelly @kellyfosterkittens
"He didn't exactly fit in the palm of our hand the way he did the very first day we held him," Kelly, an avid foster based in Greensboro, North Carolina, shared with Love Meow.
Bjorn didn't grow or develop much during the first few weeks while his siblings had grown by leaps and bounds. "He was developmentally delayed by as much as a month."
They began Physical Therapy exercises to help him catch up in size and build leg and stomach muscles strength so the little bundle of hope could run and mobilize like any other kitties.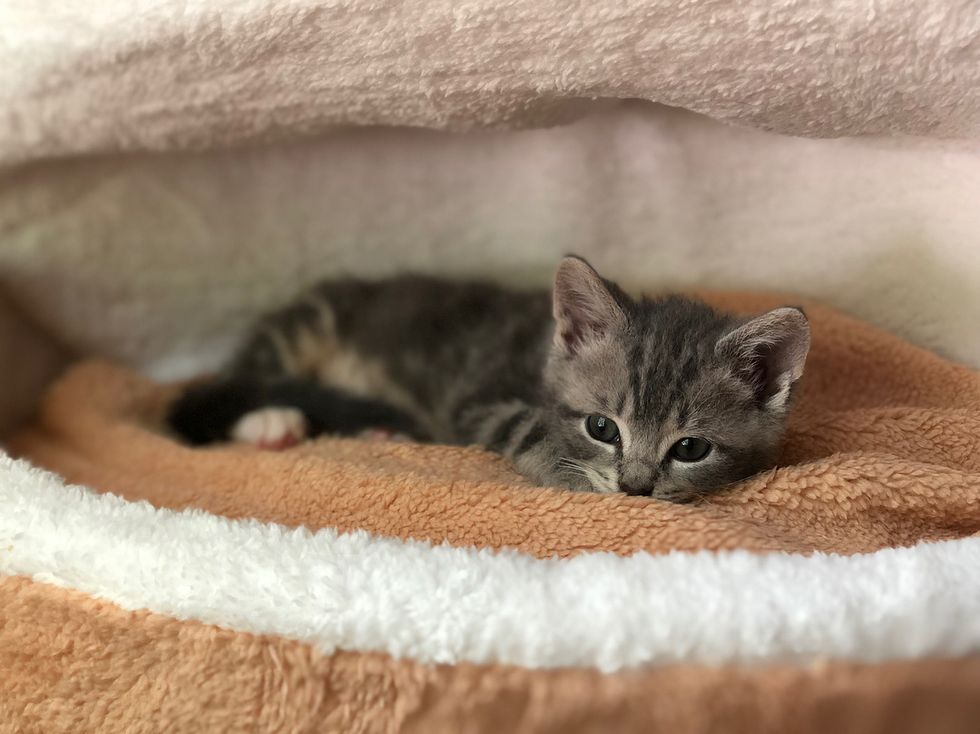 Kelly @kellyfosterkittens
"While Bjorn stayed here to continue growing and developing, his sisters found their forever home together," Kelly said. "It was then that we took in Bean, who was trapped on the side of the road after days of trying to be caught."
Bean was the only kitten saved from his litter after he lost one to a car accident and another who was nowhere to be found. The kitten was very timid, nearly feral, and desperately needed a friend.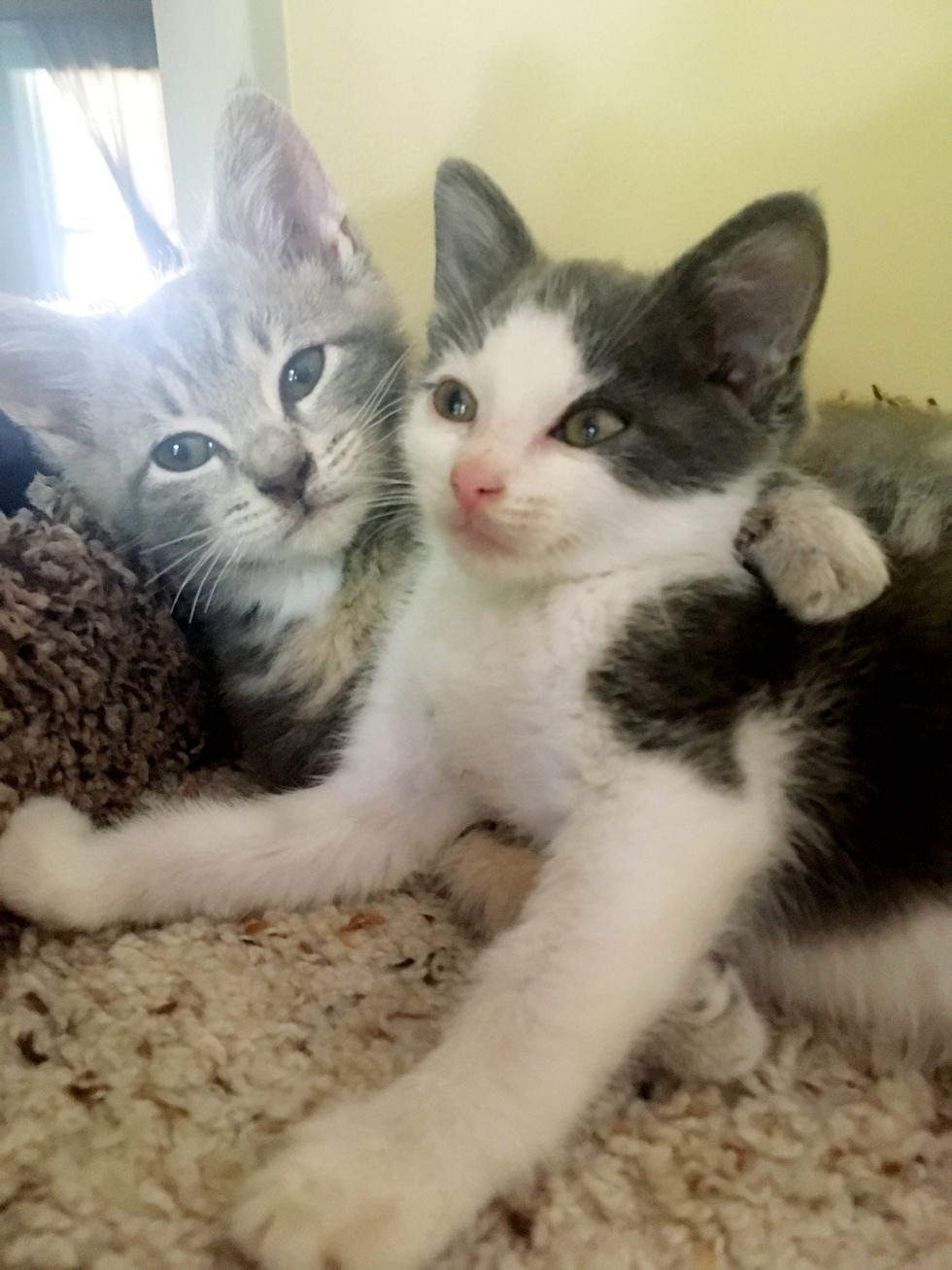 Kelly @kellyfosterkittens
When Bean was medically clear, Kelly introduced him to Bjorn, and it was love at first sight.
Bjorn took a liking to his feline buddy and cuddled up to him as if he could sense that the new kitten needed some TLC.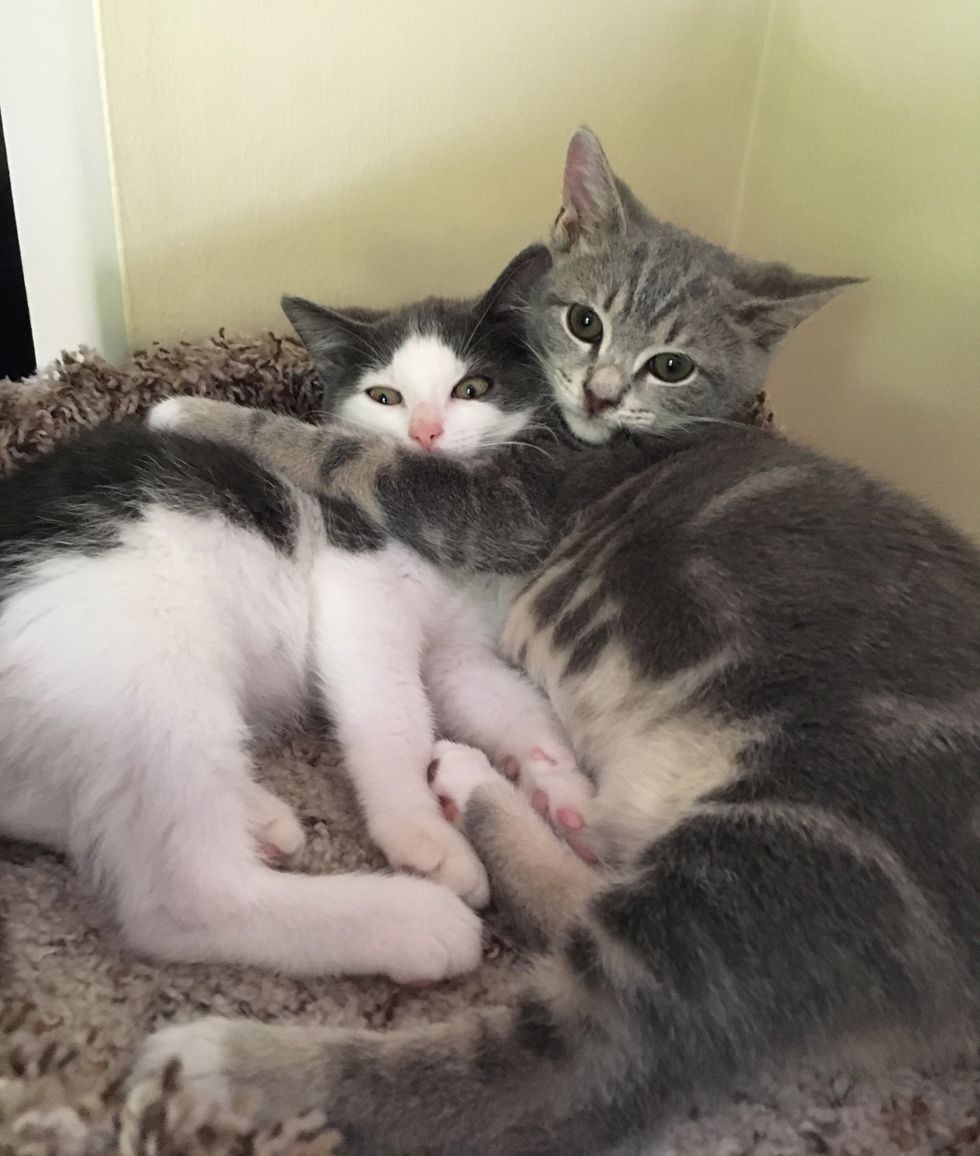 Kelly @kellyfosterkittens
"Bjorn sought Bean out and snuggled up to him the very first night, and they are inseparable after that," Kelly told Love Meow.
Sweet Bjorn showered his new brother with love, kisses and plenty of baths. It was then Bean began to relax and come out of his shell.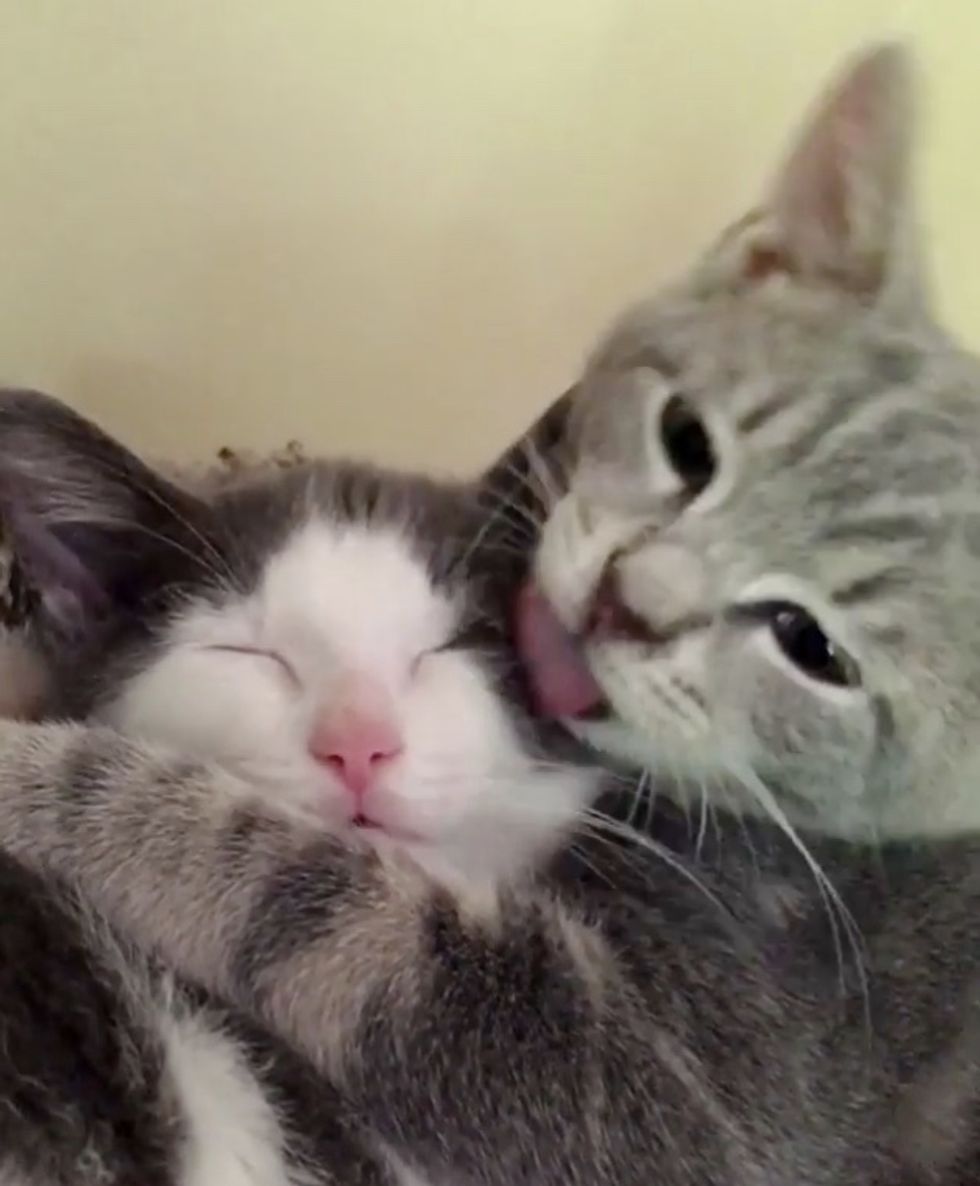 Kelly @kellyfosterkittens
"Bjorn loves cleaning Bean up and they are classic brothers in the sense that they never leave each other alone," Kelly added.
"They constantly are either playing or snuggling or following each other around."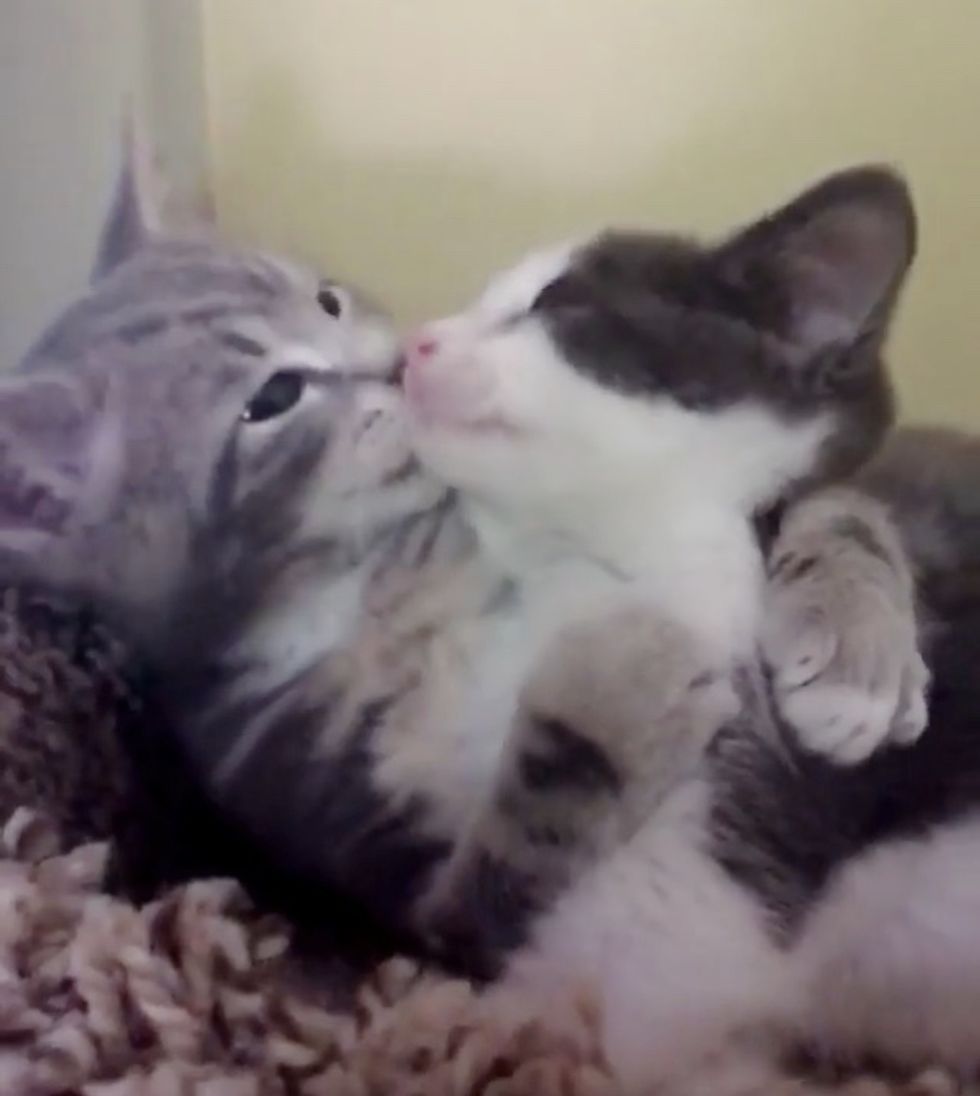 Kelly @kellyfosterkittens
"Bjorn has been fairly obsessed with teaching his new brother about how much fun playing, snuggling, and relaxing can be."

Bean learned to trust humans by watching Bjorn interact with Kelly.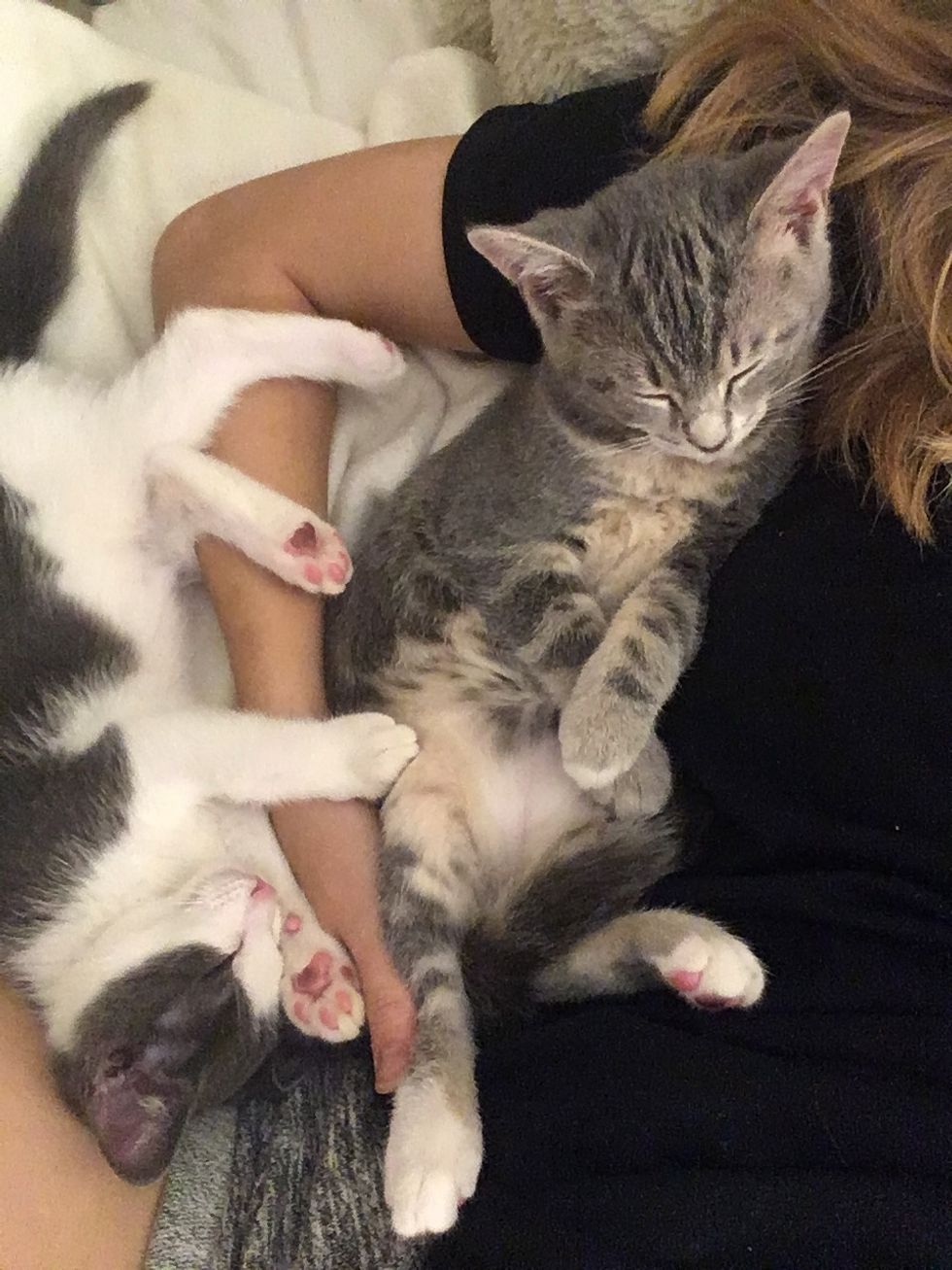 Kelly @kellyfosterkittens
"Turns out, Bjorn's definition of 'brother' is more closely related to the term 'smother.' He's never understood 'personal space,'" Kelly added.

"Bjorn fell in love with Bean the day we took him in and groomed him just like this." (Scroll down for video)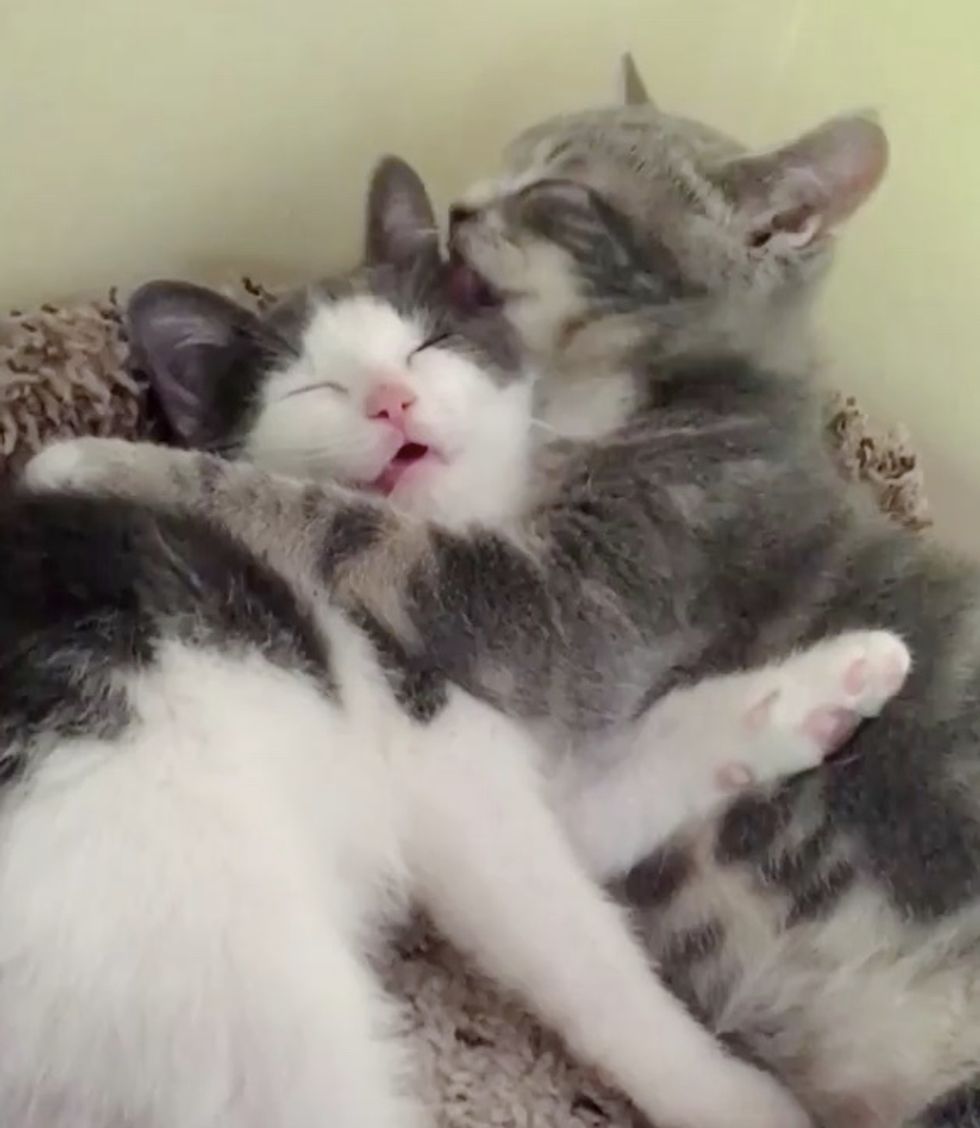 Kelly @kellyfosterkittens
They knew that the two kittens couldn't be separated.
A few days ago, Bjorn and Bean moved into their new home together.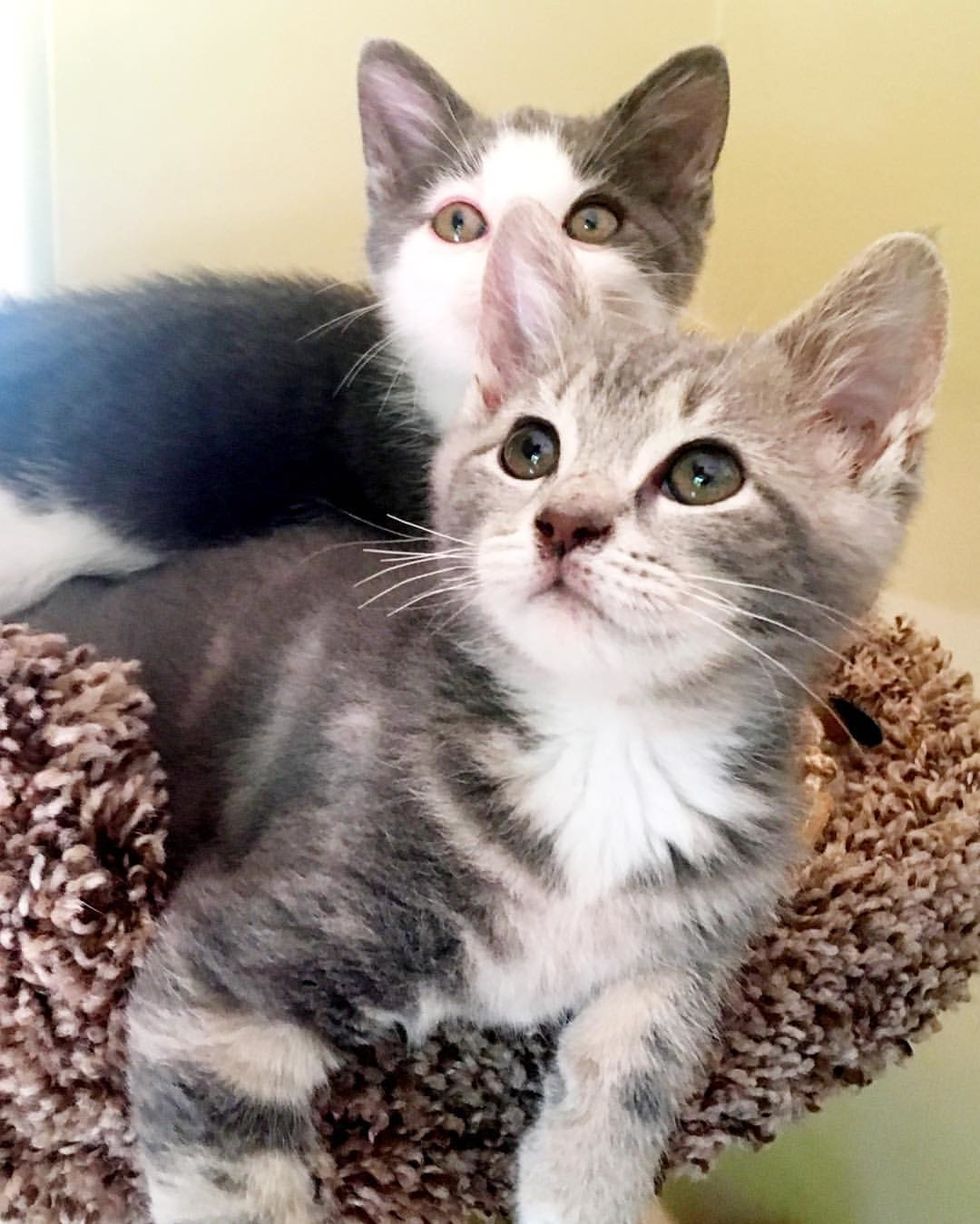 Kelly @kellyfosterkittens
"We are so thankful they found someone so purrfect to love and play with them forever! This duo is in great hands and going to have a fabulous life," Kelly said.
"This is truly the feeling we live for as fosters, and we can't tell you how happy we are for them."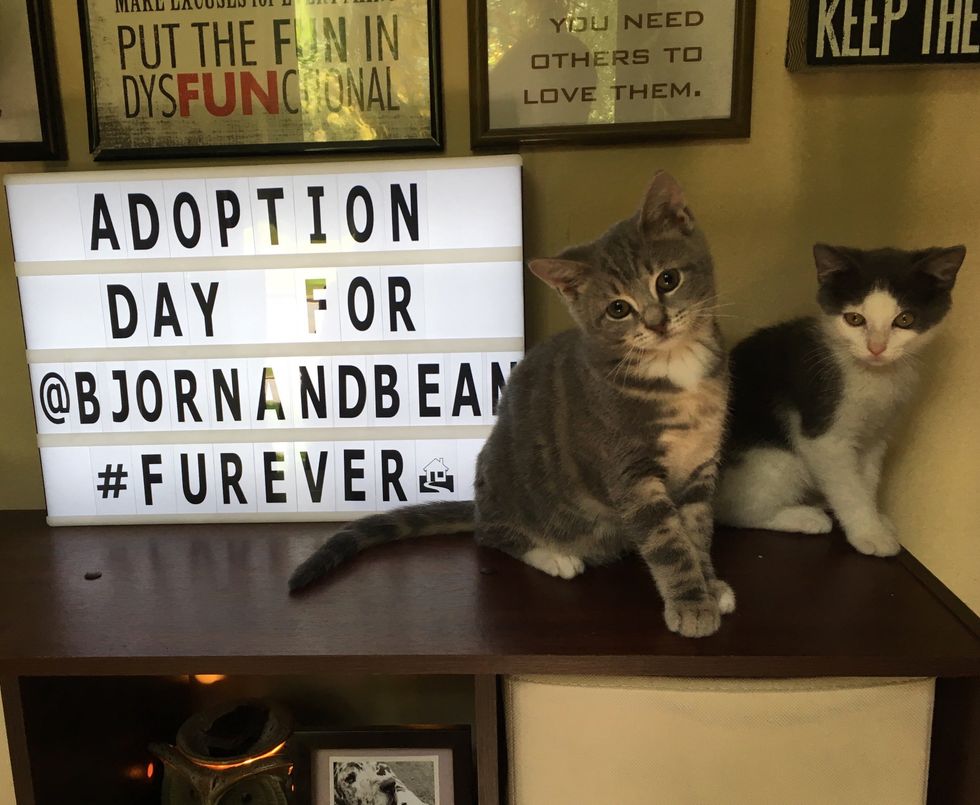 Kelly @kellyfosterkittens
"They really are the sweetest and we are so glad that after two very different, but similar rough starts, that they got a happy ending together," Kelly added.
Bjorn and Bean took their first nap at their new home.
"We are thankful for these boys and all the naps we're going to take together forever," Hannah, their forever human mom, said.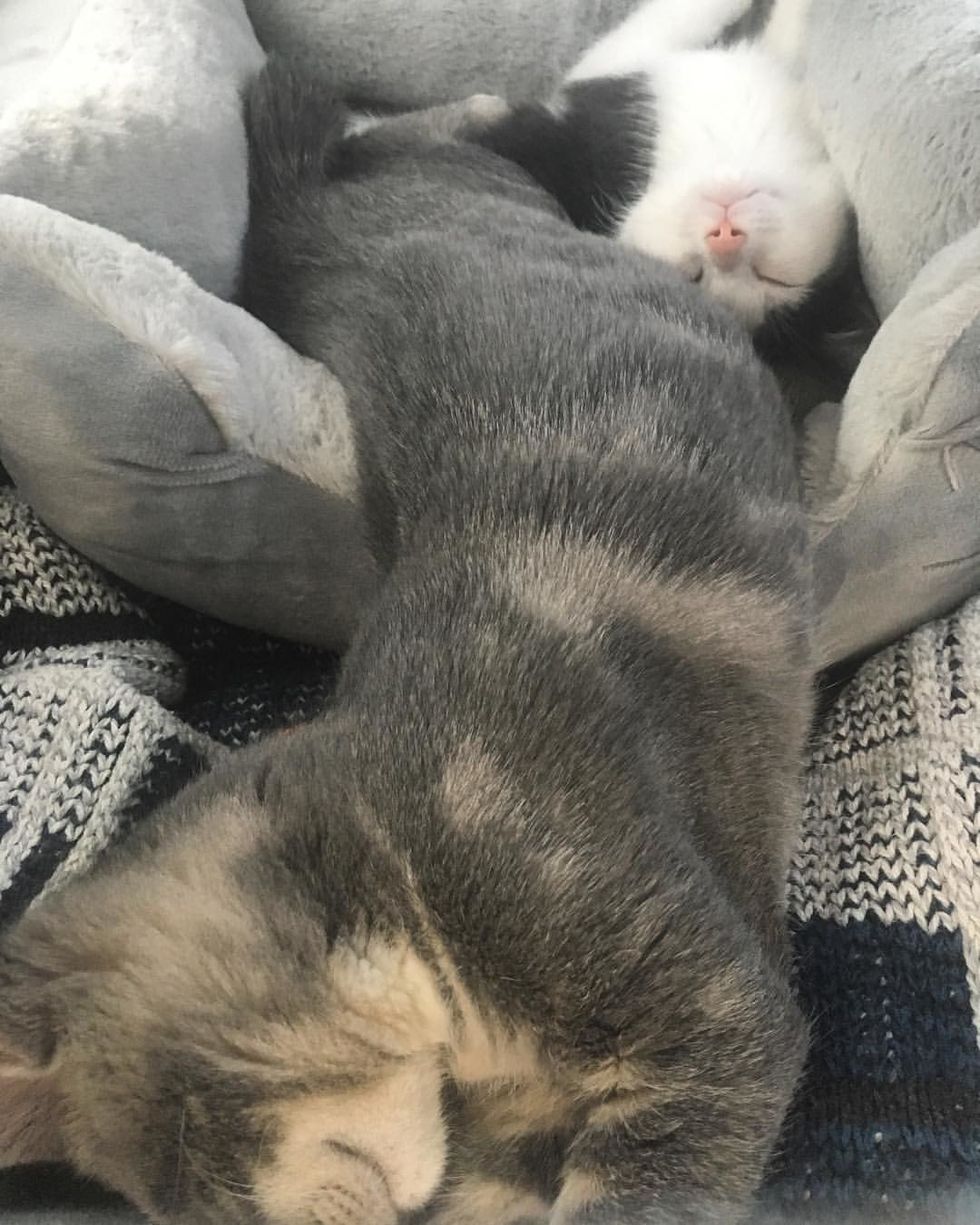 @bjornandbean
Follow Bjorn and Bean's adventures on Instagram. Follow Kelly's foster kitties on Instagram @kellyfosterkittens.
Watch their foster journey in this cute video:
Share this story with your friends.

Related story: Kitten Saved from Shelter Finds New "Brother" Who Looks Just like Him, He Becomes Very Attached