A 3-month old kitten who was rescued from the highway by a police officer, quickly snuck her way into his heart.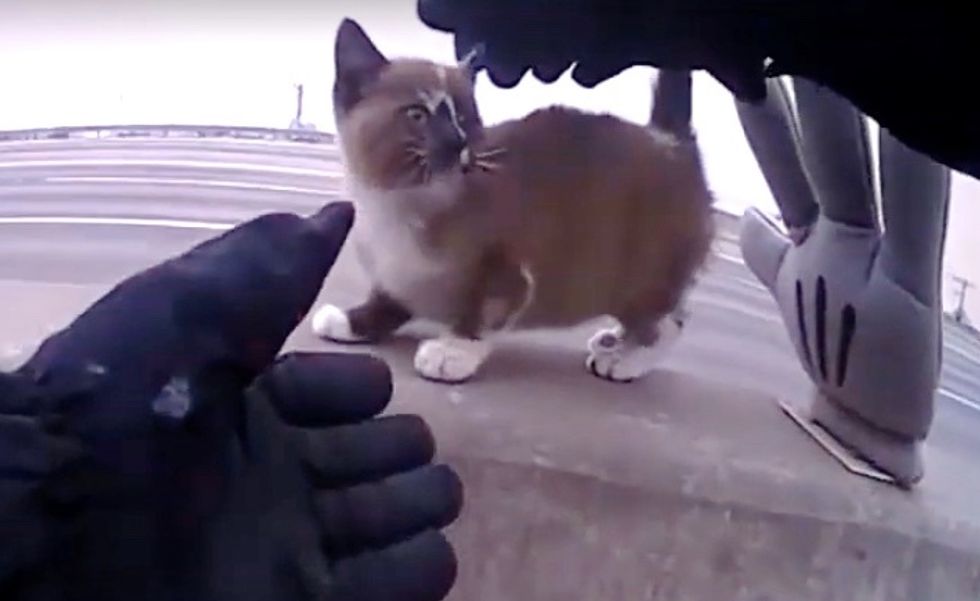 North Kansas City Police Department
Officer Jason Smith at North Kansas City Police Department in Missouri received a call about a kitten stuck on the side of a highway and immediately responded to the location. As he was driving and searching for the whereabouts of the cat, he saw a little ball of fur standing on top of a median wall with a toy glove behind her.

"When he spotted the cat, he worked with another officer to slow traffic down in order to not scare the cat into oncoming traffic," Joshua Smith, Jason's son, told Love Meow.
Jason got out of his car and called the kitty the same way he does with his own cats. "Here kitty kitty kitty… hey kitty," he talked to her in a soft voice. The kitty's tail went up in the air and she started meowing back as if to indicate that she was ready to be taken away somewhere safe.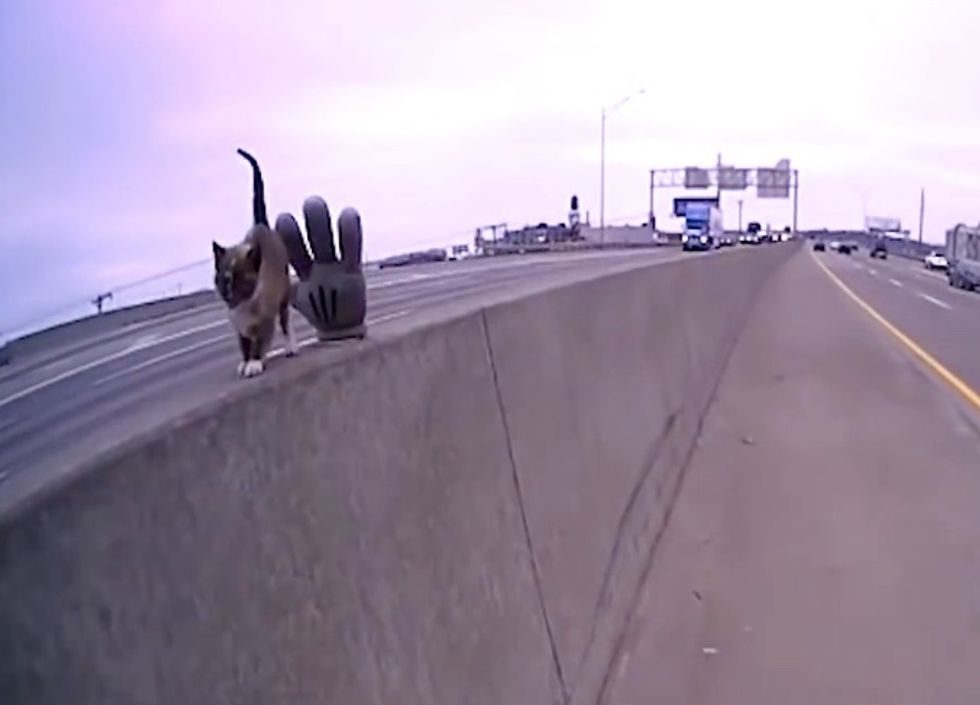 North Kansas City Police Department
"My dad slowly approached, and quickly picked up the cat, bringing her to his patrol car," Joshua said. "Once in the car, she was instantly grateful, purring and hugging my dad's neck."

The kitten insisted on rubbing her face all over her rescuer and the steering wheel. When Jason gently placed her in the passenger seat, she immediately hopped back into his lap and proceeded with another snuggle session.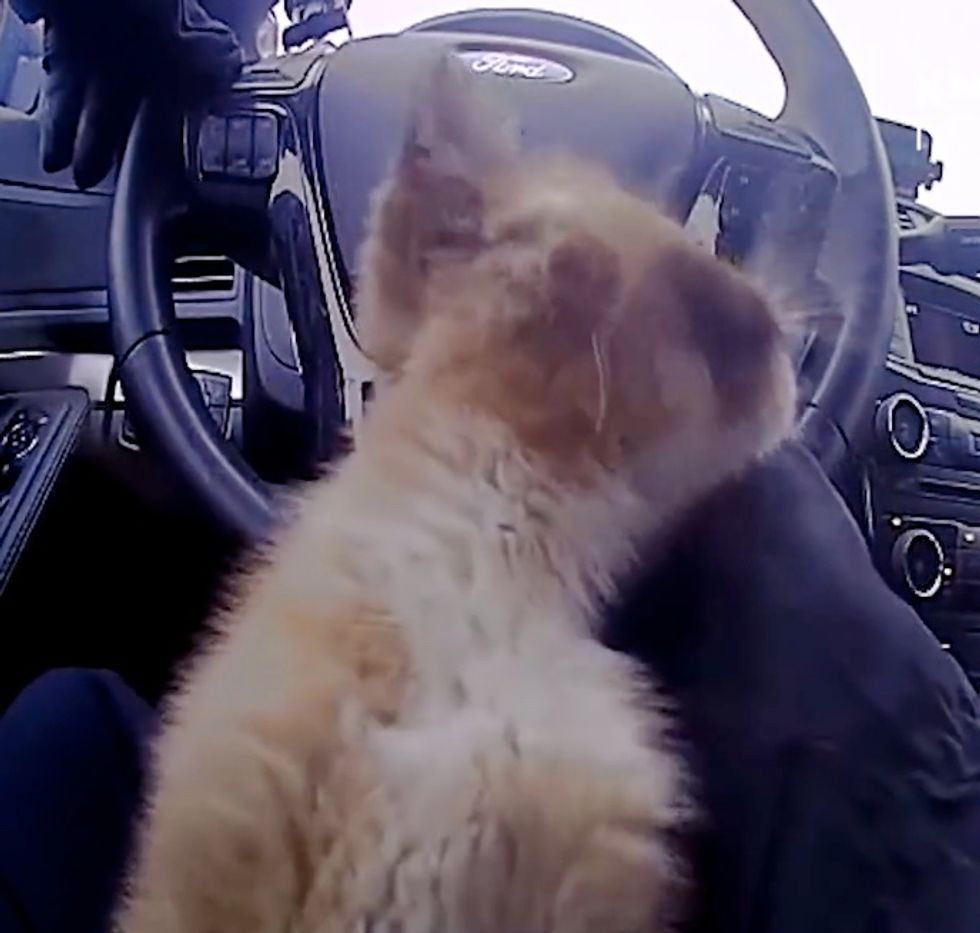 North Kansas City Police Department
"My dad instantly felt a connection to this cat. He knew that we needed to bring her home to the family."

Watch the rescue in this video:
North Kansas City police officer rescues tiny kitten from median wall on I-29www.youtube.com
"In the video you can see that the cat's tail was scorched. We can only assume that the cat was curled up around an engine for warmth and then jumped out around rush hour," Joshua told Love Meow. "We believe she was out there for at least five hours due to a previous 911 call about the cat when the police could not find her."

After a visit at a local shelter to get the kitten spayed and vaccinated, they welcomed her home with open arms and named her Bella.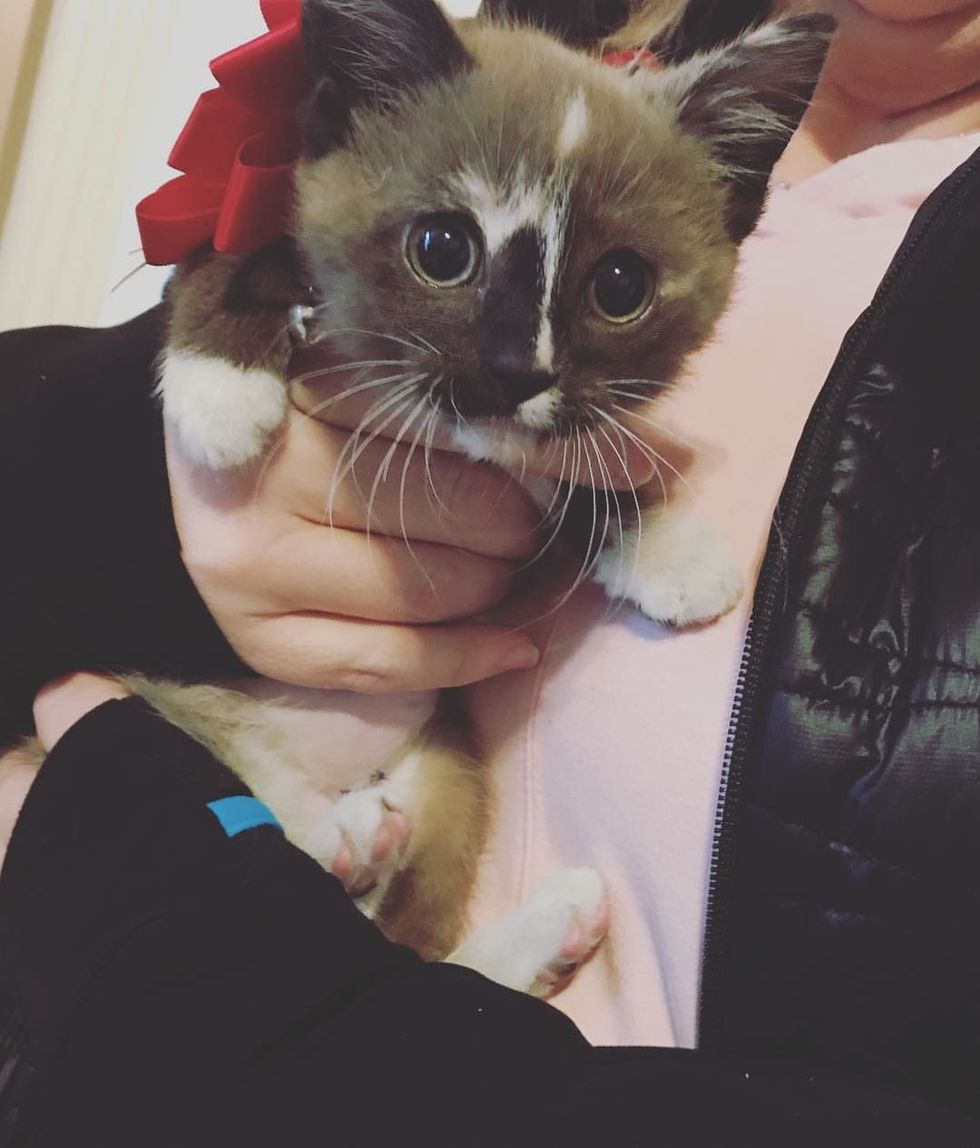 @highwaykitty
Locals reported they had seen the glove on the highway for quite some time before Bella was first spotted.

"According to some comments from locals the glove has been there for months. When someone called the police about the cat on the road they mentioned it was near a glove which helped my dad find the cat," Joshua added.
"We believe the cat was using it to shield the cold wind to stay warm. My dad went back the next day and retrieved the glove as a symbol of the rescue."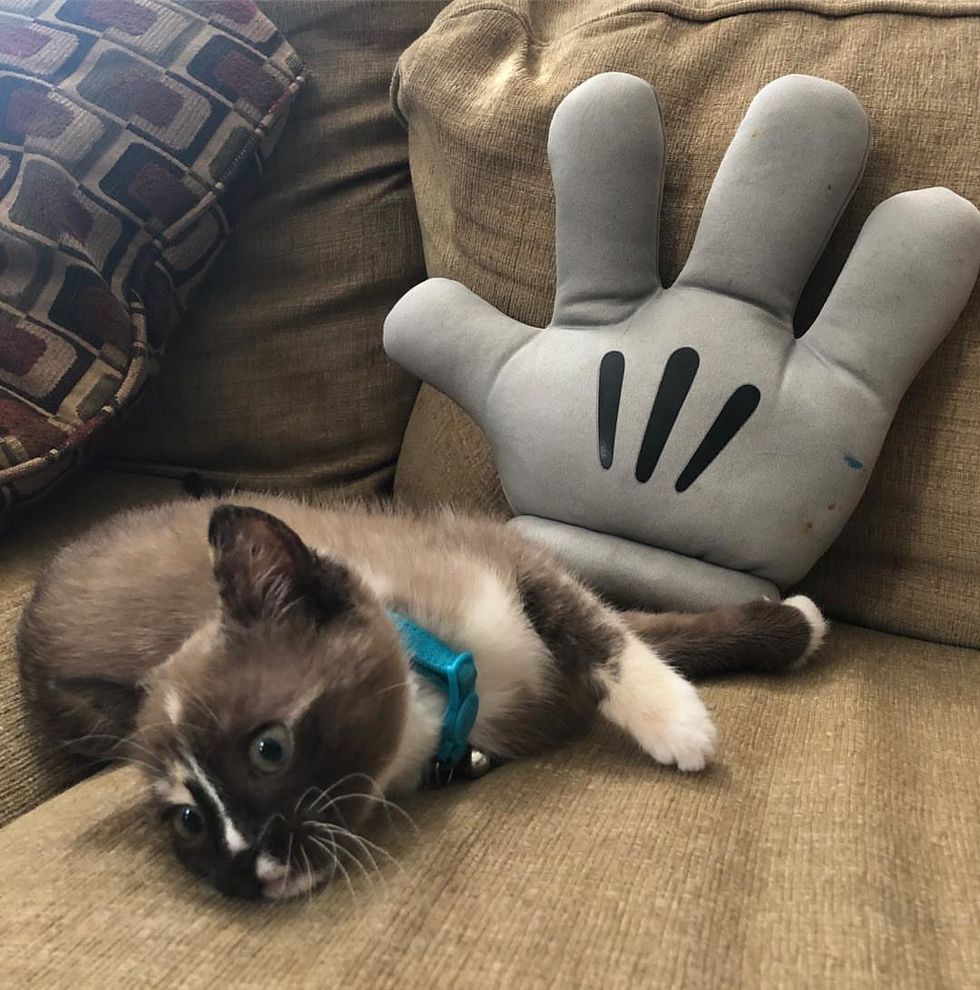 @highwaykitty
Now, Bella has a big family with two rescue dogs, Zoey and Charlie, and one other rescue cat, Jasper.

A few months ago, Jasper's brother, Mocha, passed away. He really missed having a buddy to watch birds with. Bella took to him right away and enjoyed hanging out with him by the window.
"Bella was a good boost of happiness for the family," Joshua said.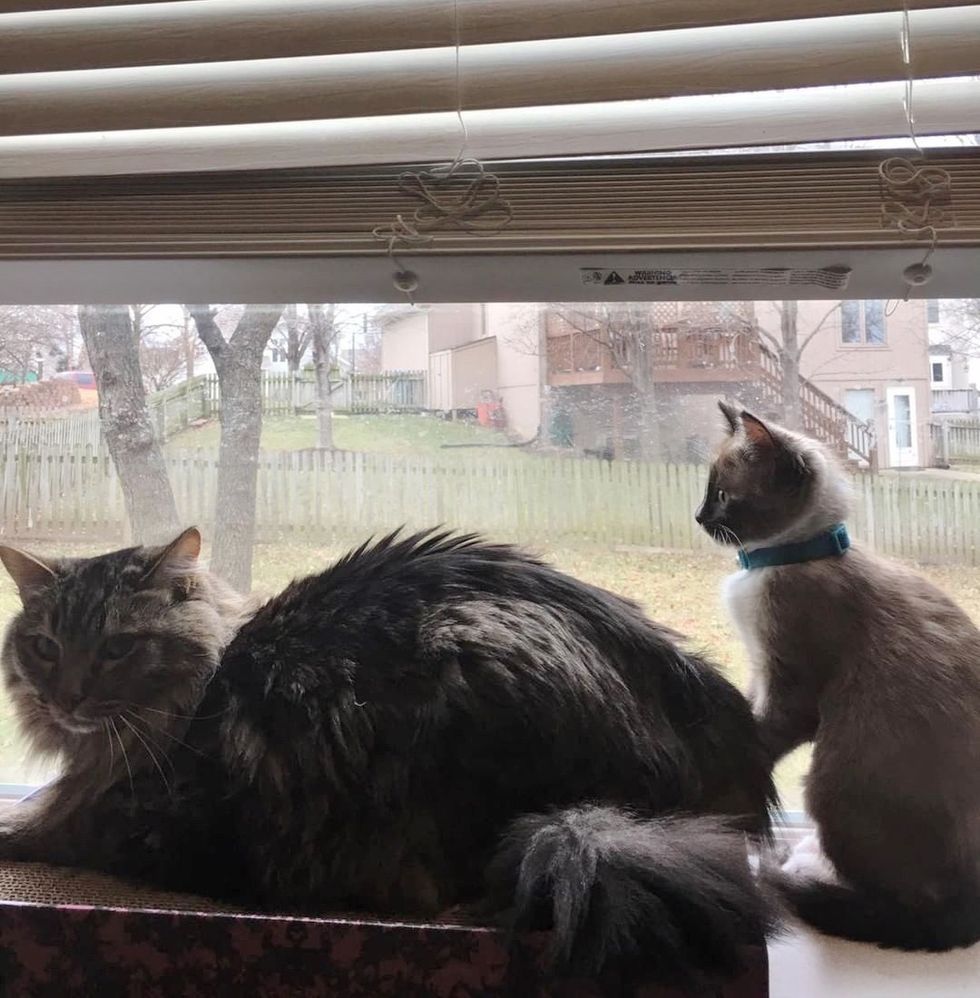 "Bella is a very lovey cat. She is a super loud purrer and loves all humans. She gets along with the dogs but only when she is up for it. They will cuddle from time to time," Joshua said.

Nap time with her canine friend, Charlie.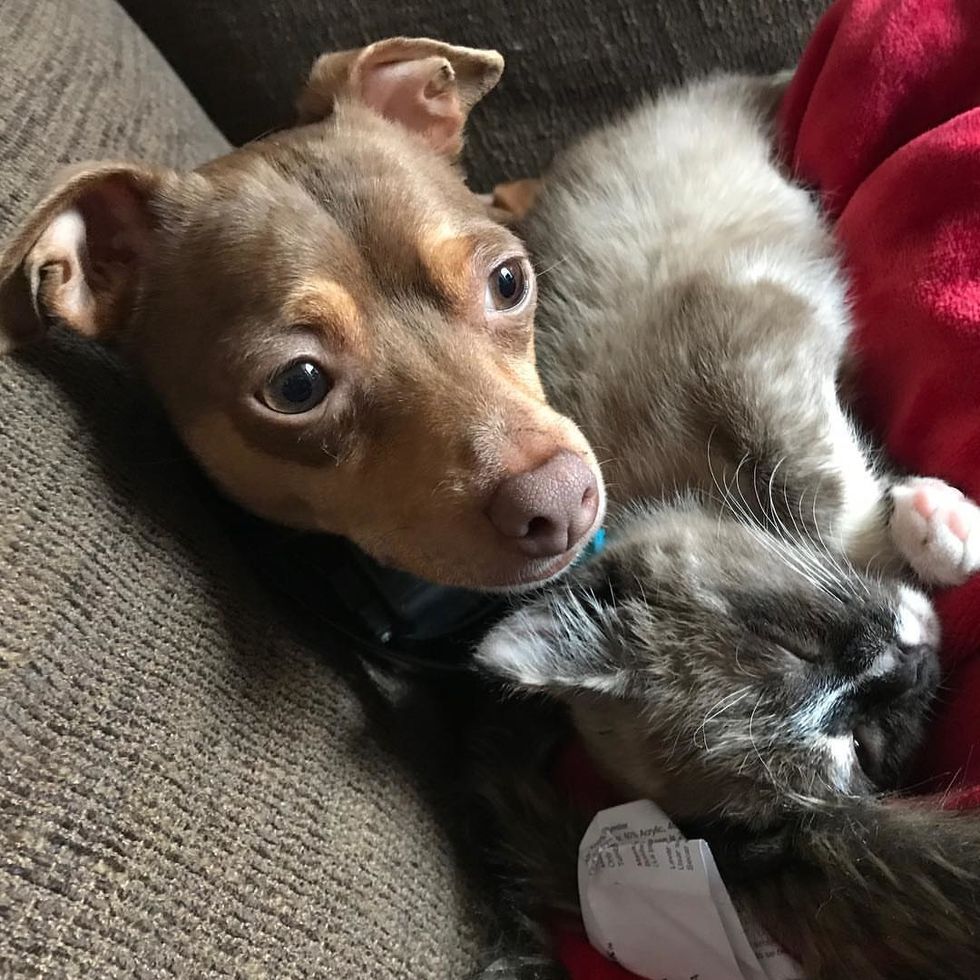 @highwaykitty
"She is also very adventurous and tends to never stay in the same spot and will find new places to hide."

Bella's new morning routine - supervising the humans as they get ready to start the day.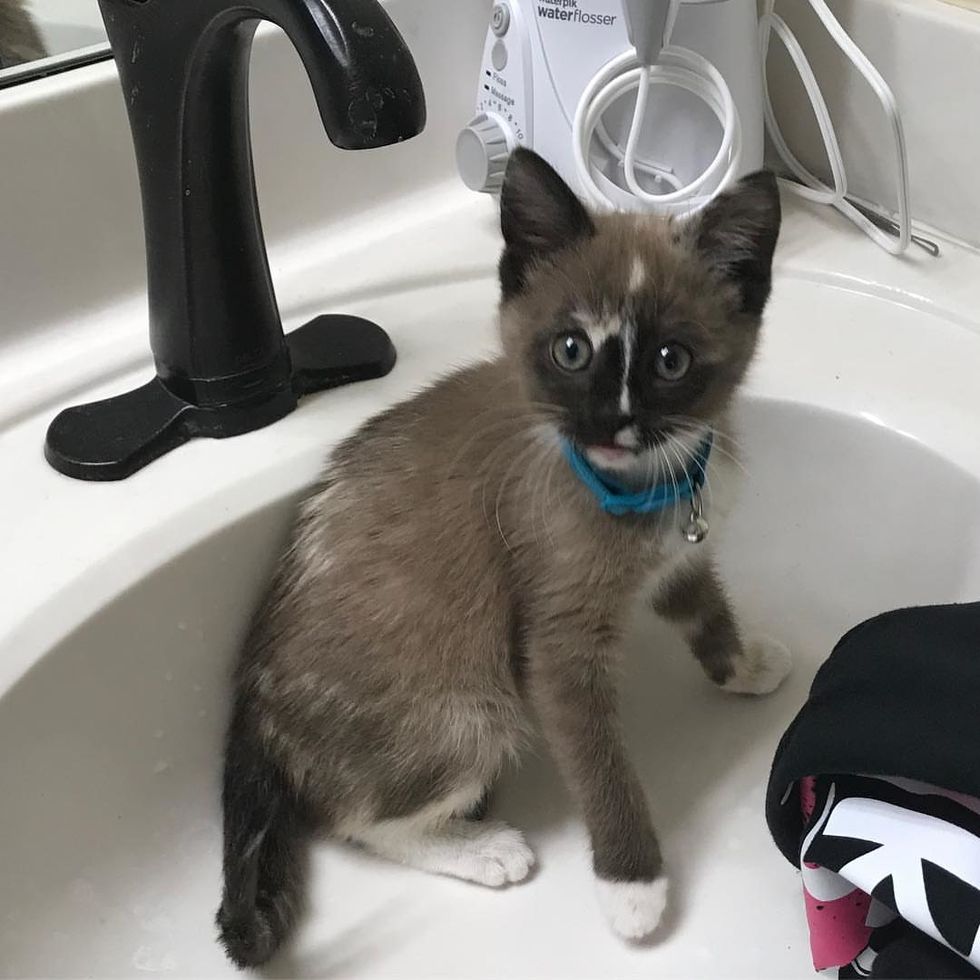 @highwaykitty
A couple of weeks ago, Bella was saved from the highway and leapt into the lap of her forever human. Now, she's living the VIP life she always wanted.
"We are very lucky to have her in our homes. We are just as grateful for her as she was for my father rescuing her."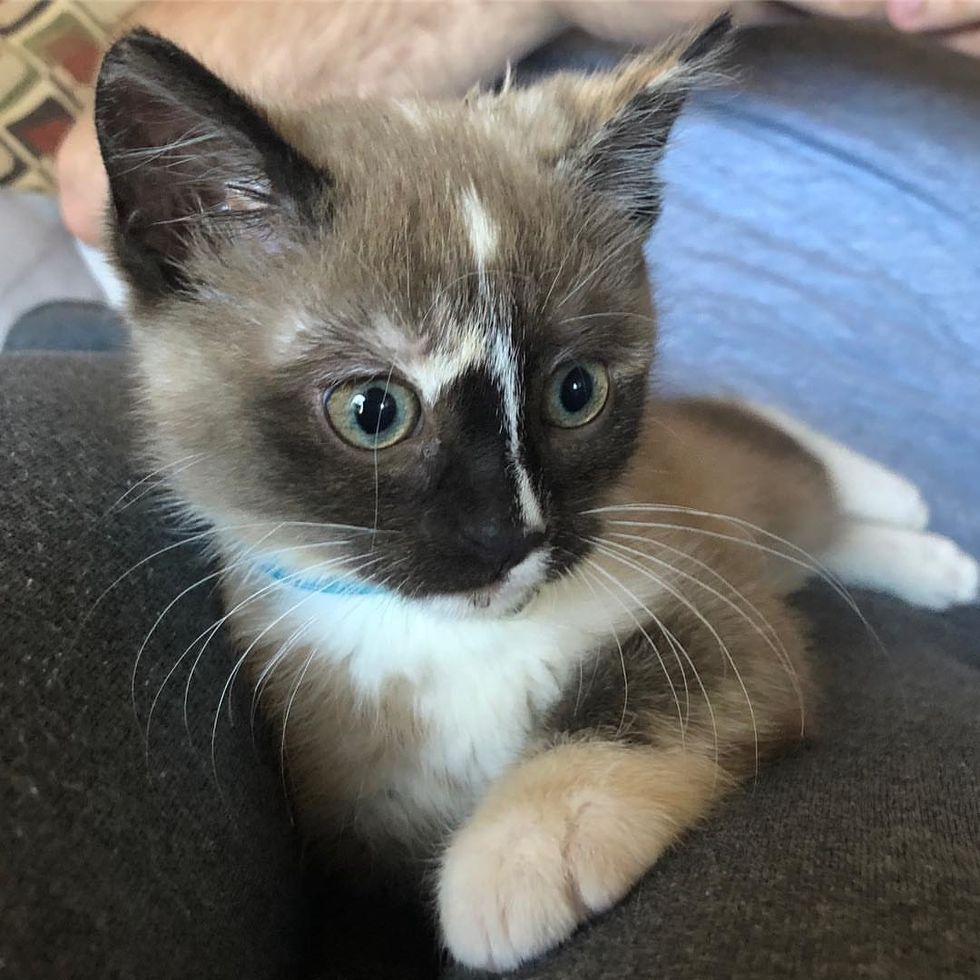 @highwaykitty
Share this story with your friends. Follow Bella and her adventures on Instagram @highwaykitty.
Related story: Man Saves Kitten Stuck on Busy Road While Others Keep Driving by