Friday morning, Chuck Hawley from Silverton, Oregon was on his way to work when he spotted something in the middle of the road.
As he got closer, he realized that it was a kitten stuck in the lane.
(Scroll down for updates)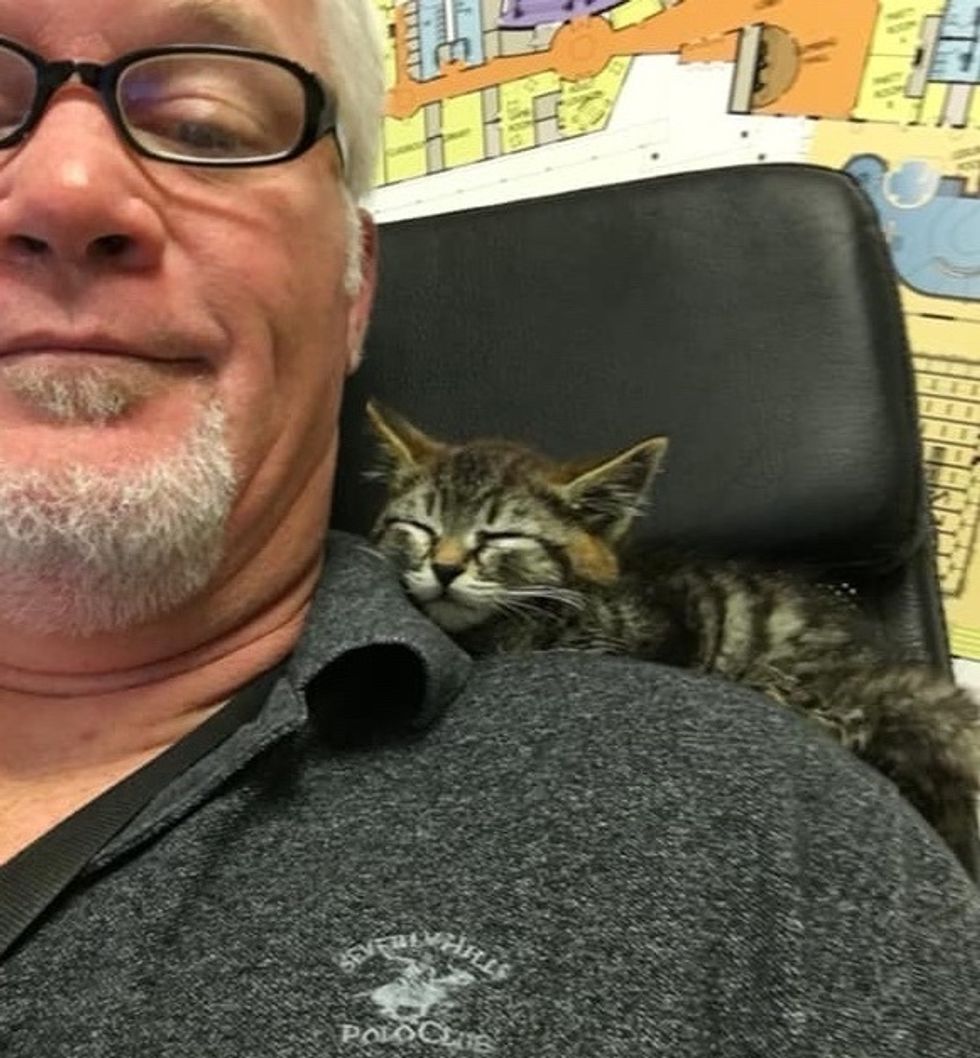 Chuck Hawley
"I was driving to work and saw cars in front of me passing over something in the road, and realized it was a kitten sitting upright shaking like a leaf," Chuck told Love Meow.

The tiny feline appeared to be stuck to the ground and couldn't break free. Many cars drove around her, but no one stopped. Chuck knew that he had to do something quickly before it was too late. He put his hazard lights on, carefully stopped traffic and rushed to grab the kitten. That's when he noticed that the kitty was covered in glue.
"She was wet, freezing and literally glued to the road," he said.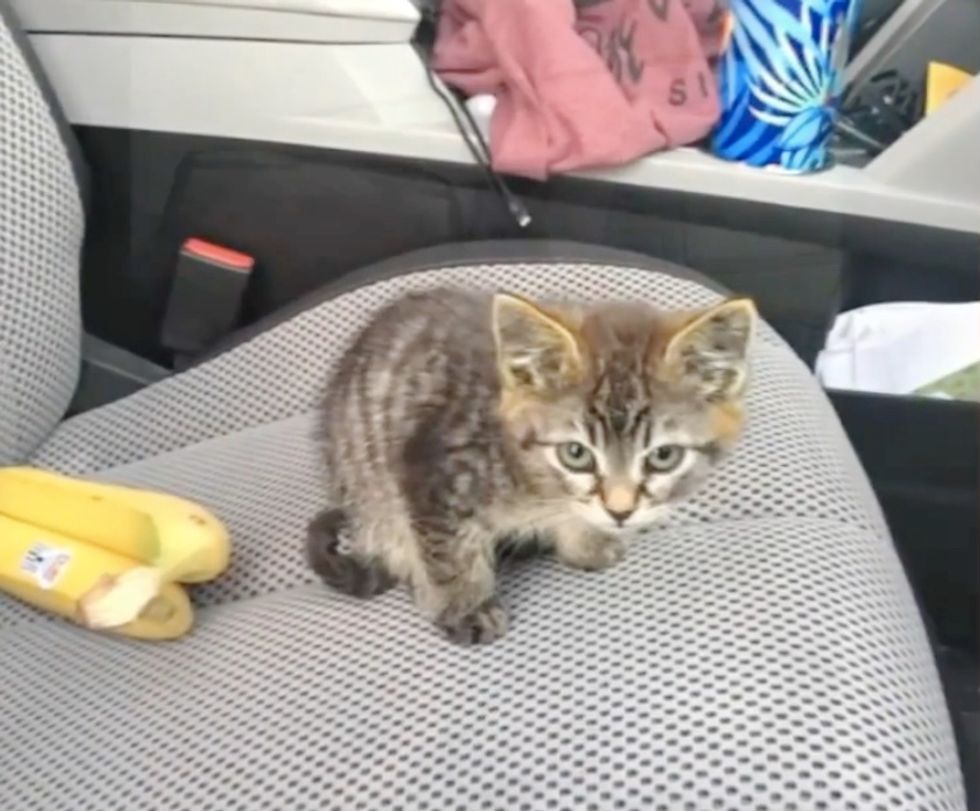 Chuck Hawley
Chuck gently removed the kitten off the pavement. Her paws were very tender and she was shivering from the cold. He put her in his arms to warm her and swiftly brought her back to his car.

After a much-needed bath and some food, the kitten felt much better. "We don't know who put her there or how long she was there, but she was wet and cold and had leaves stuck to her," Chuck told Love Meow.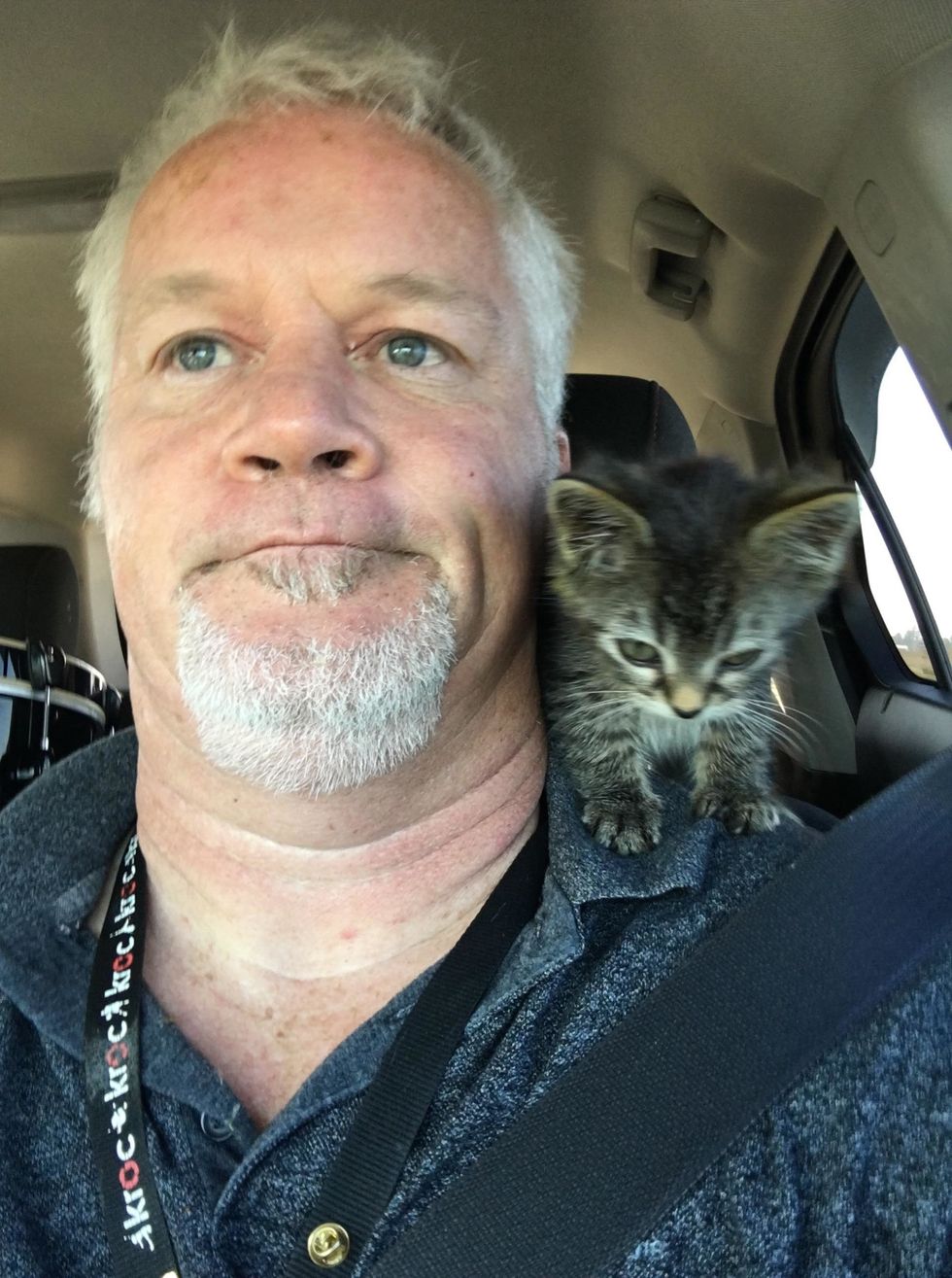 Chuck Hawley
He took the kitten to the Silver Creek Animal Clinic, where they removed the rest of the glue and treated her paws with mineral oil. After a long ordeal, the tabby girl was on the mend. She clutched onto her rescuer and purred up a storm.

On their way home, the 5-week-old kitten curled up in his lap and went right to sleep.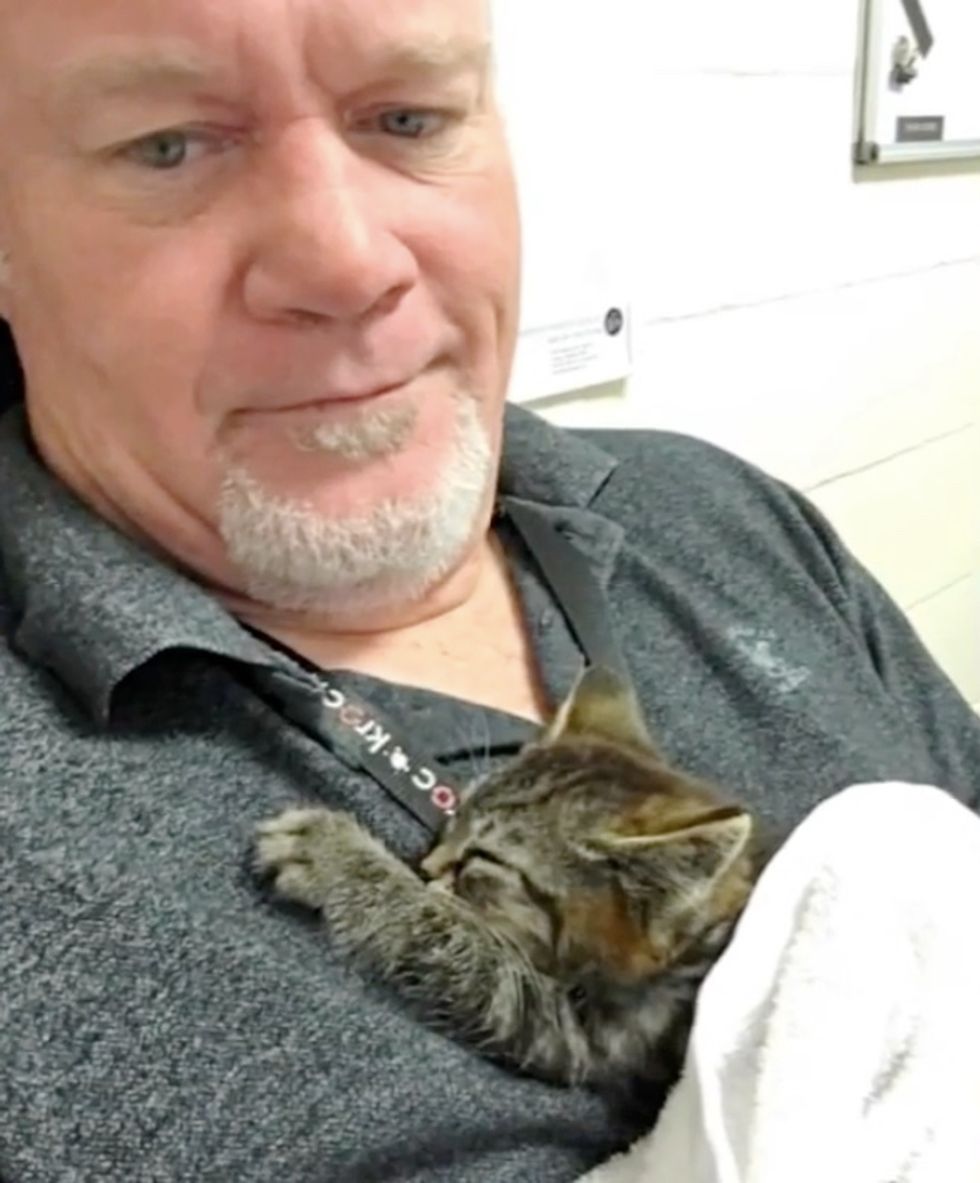 Chuck Hawley
The kitten who could barely meow when she was found, now started getting louder. "She was too sticky to really move when I got her off the road but once she was cleaned up, my shoulder was where she wanted to be," Chuck told Love Meow.

The kitty quickly adjusted to her new abode and even snuggled up to the family's dogs for some much-needed TLC. "She is so tiny and tries to nurse our old male Black Labrador."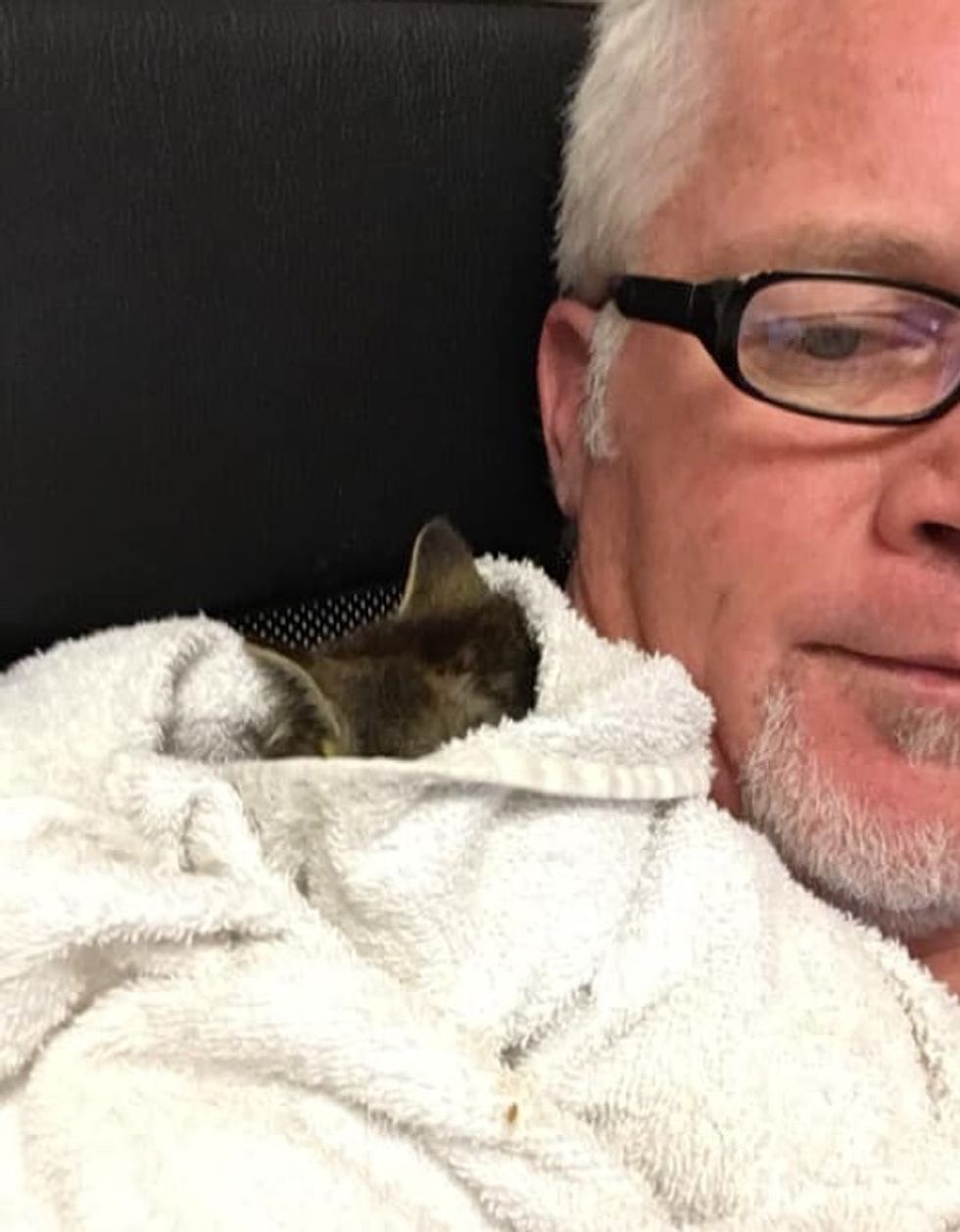 Chuck Hawley
Chuck knew from the beginning that the kitten would be part of their family.
"We were just talking about getting a cat the other night. She could have found an easier way to find us but she found us," he said. "We are definitely keeping her. My wife has named her Sticky."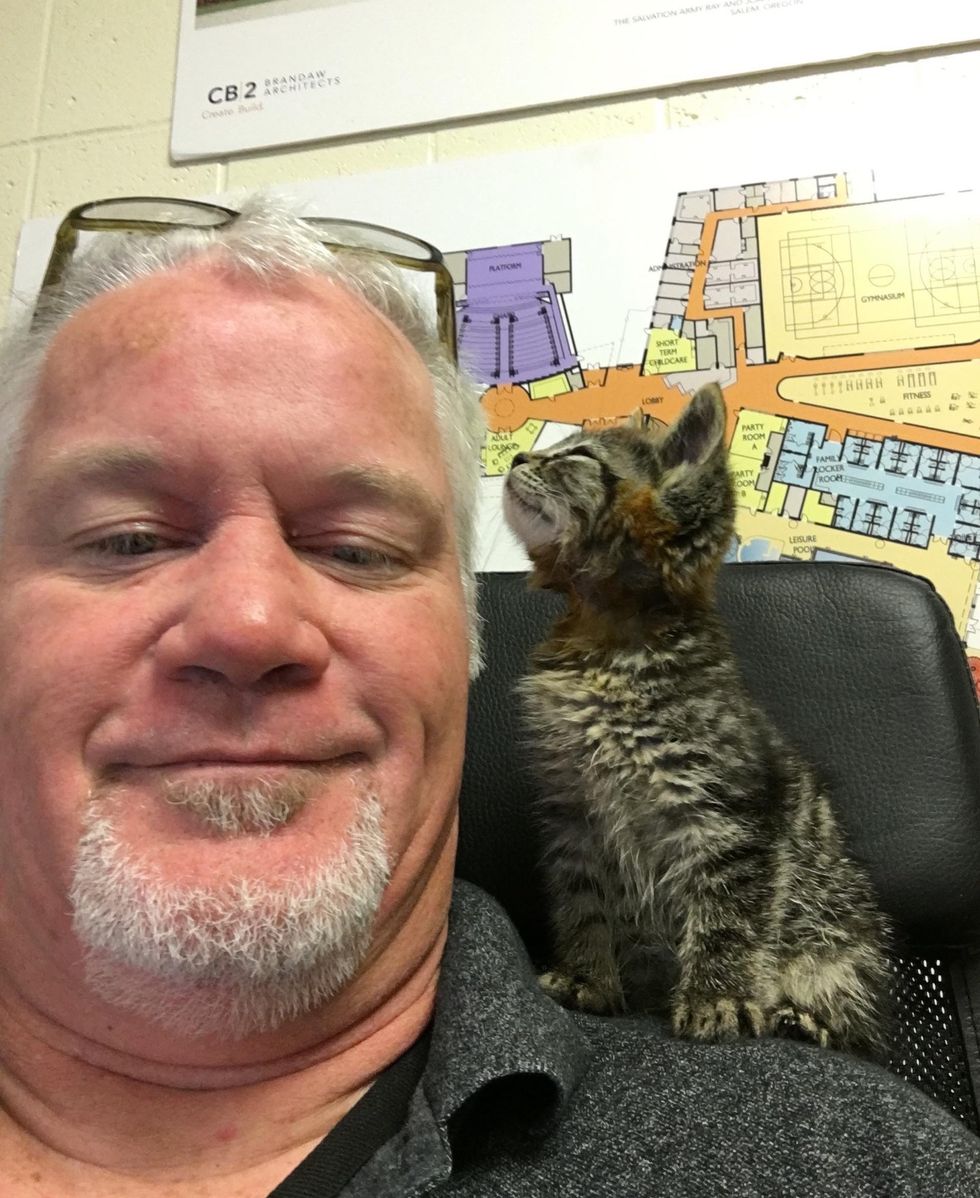 Chuck Hawley
In less than a day, the kitten's life was forever changed.
"She went from the worst luck ever to the luckiest kitten in the world," he added.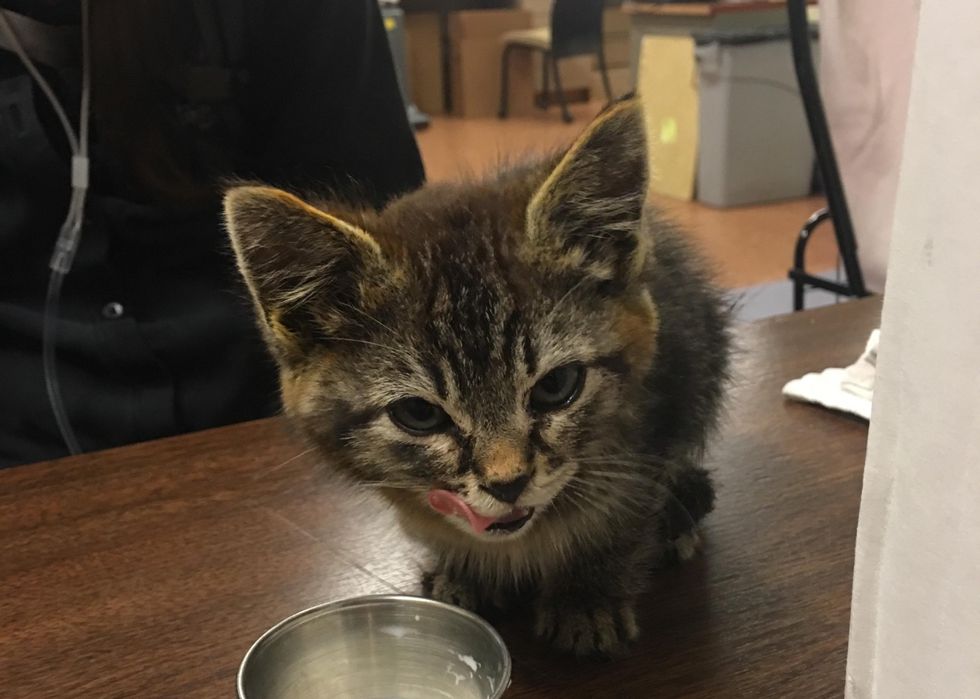 Chuck Hawley
"I feel like I did the normal human being thing, and everyone should have stopped to help her," Chuck said. "She's a super lover and purrer. She slept between my wife and me last night."
"I'm glad I found her because we scored a cool cat! She will be well loved!"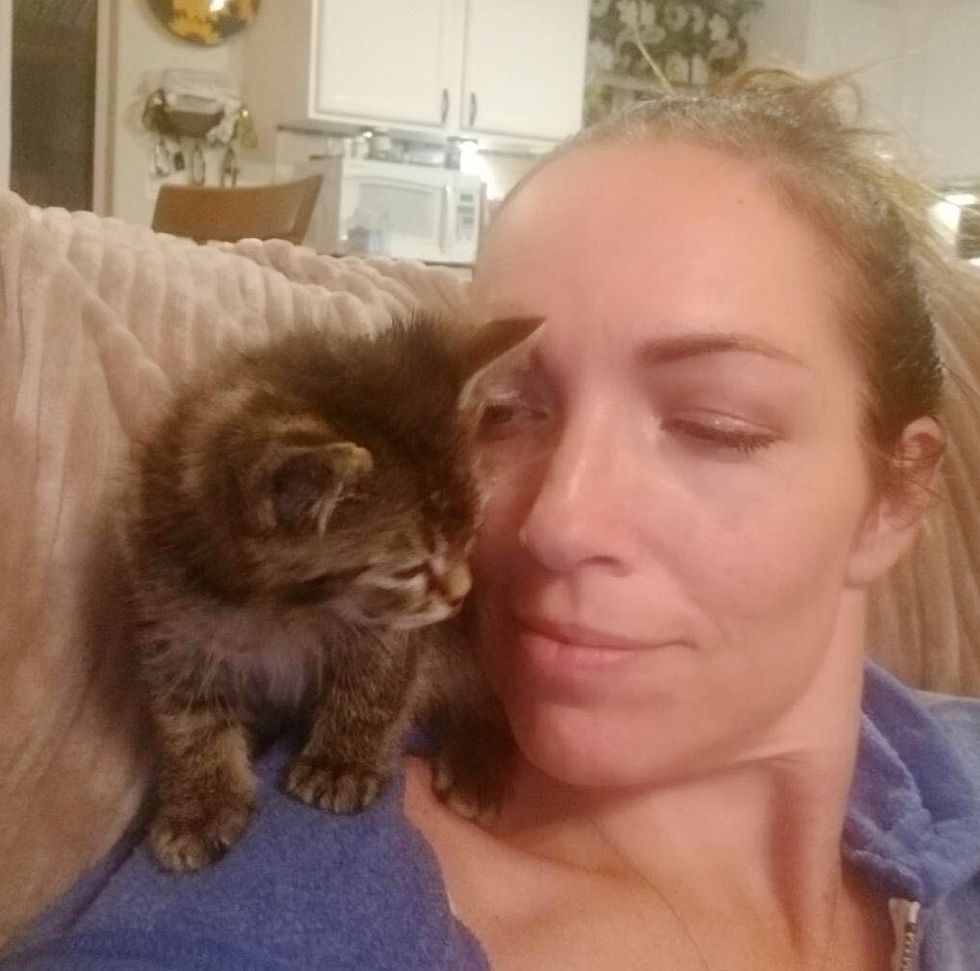 Chuck Hawley
Updates:
Turns out, Sticky is a boy.
Sticky loves to follow his human dad everywhere he goes. He prefers being carried around the house in his arms.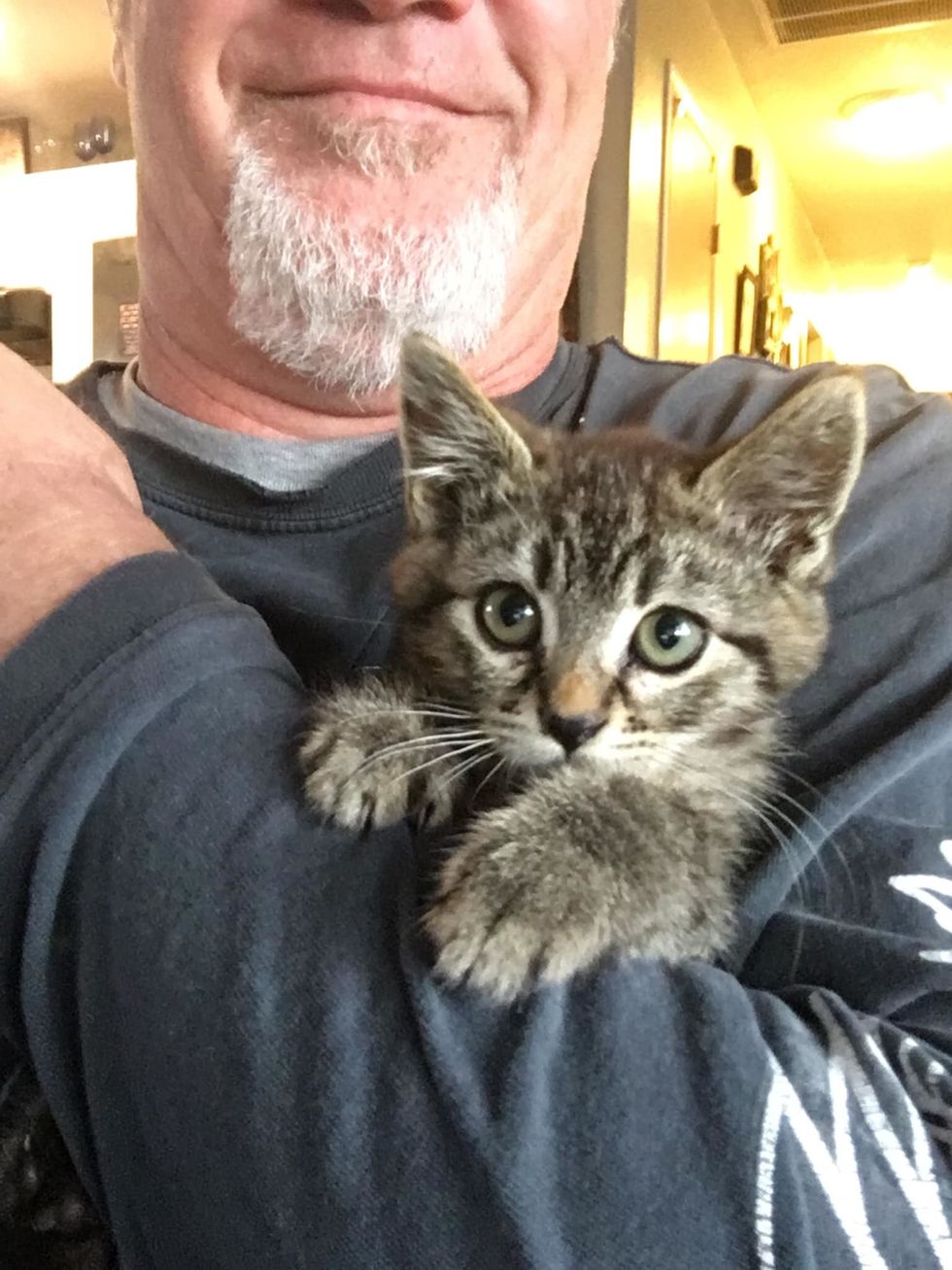 Chuck Hawley
Nothing makes him happier than cuddling with his humans.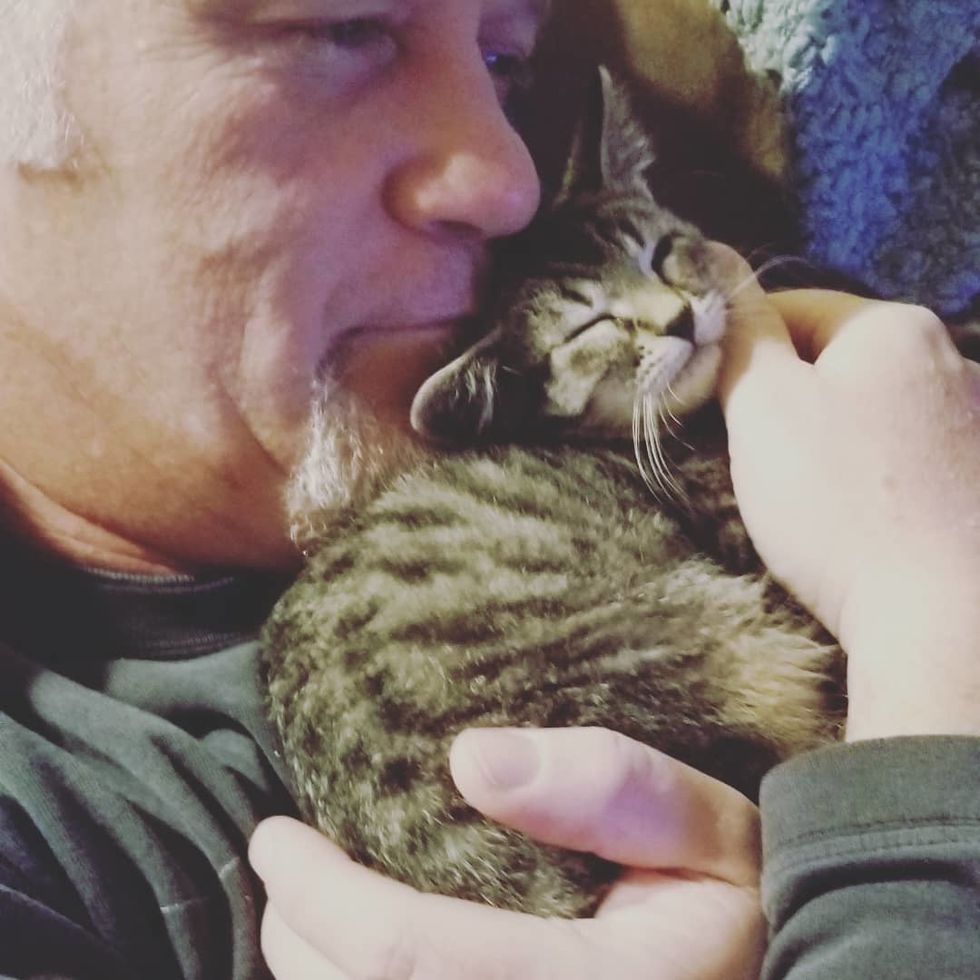 Chuck Hawley
Sticky living up to his name!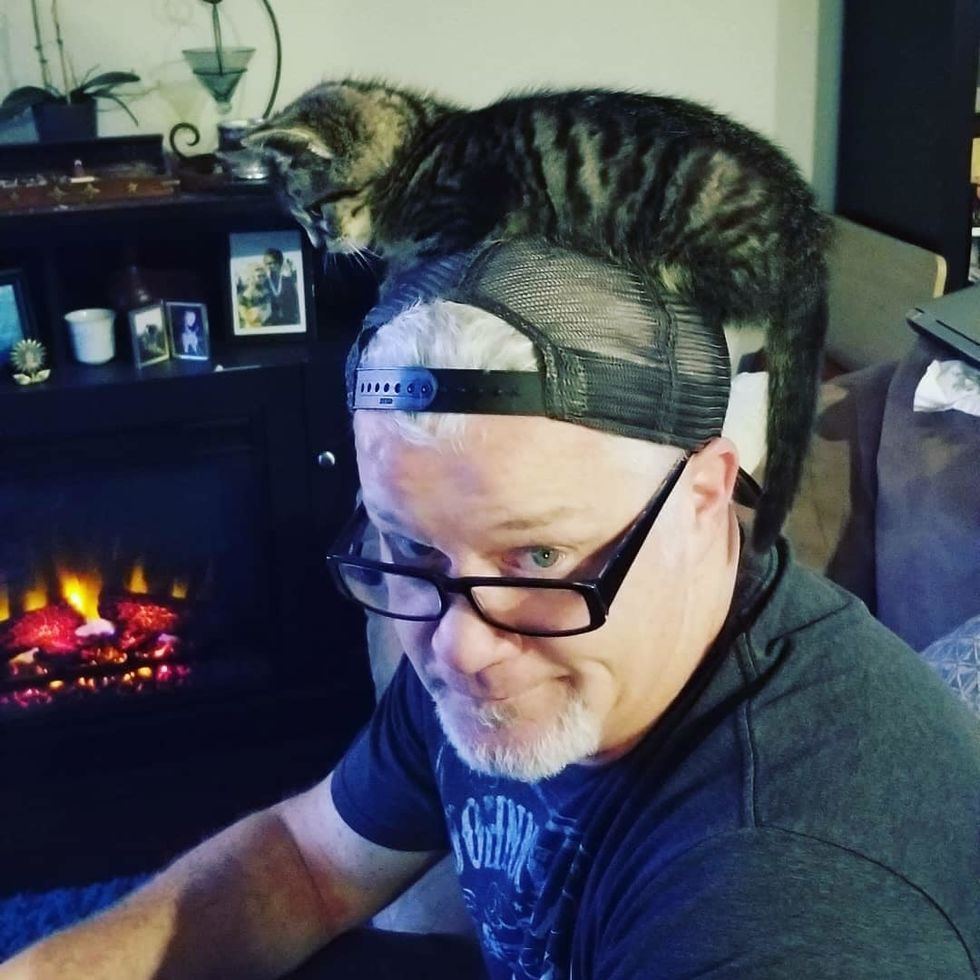 Chuck Hawley
"So this seems to be his spot now."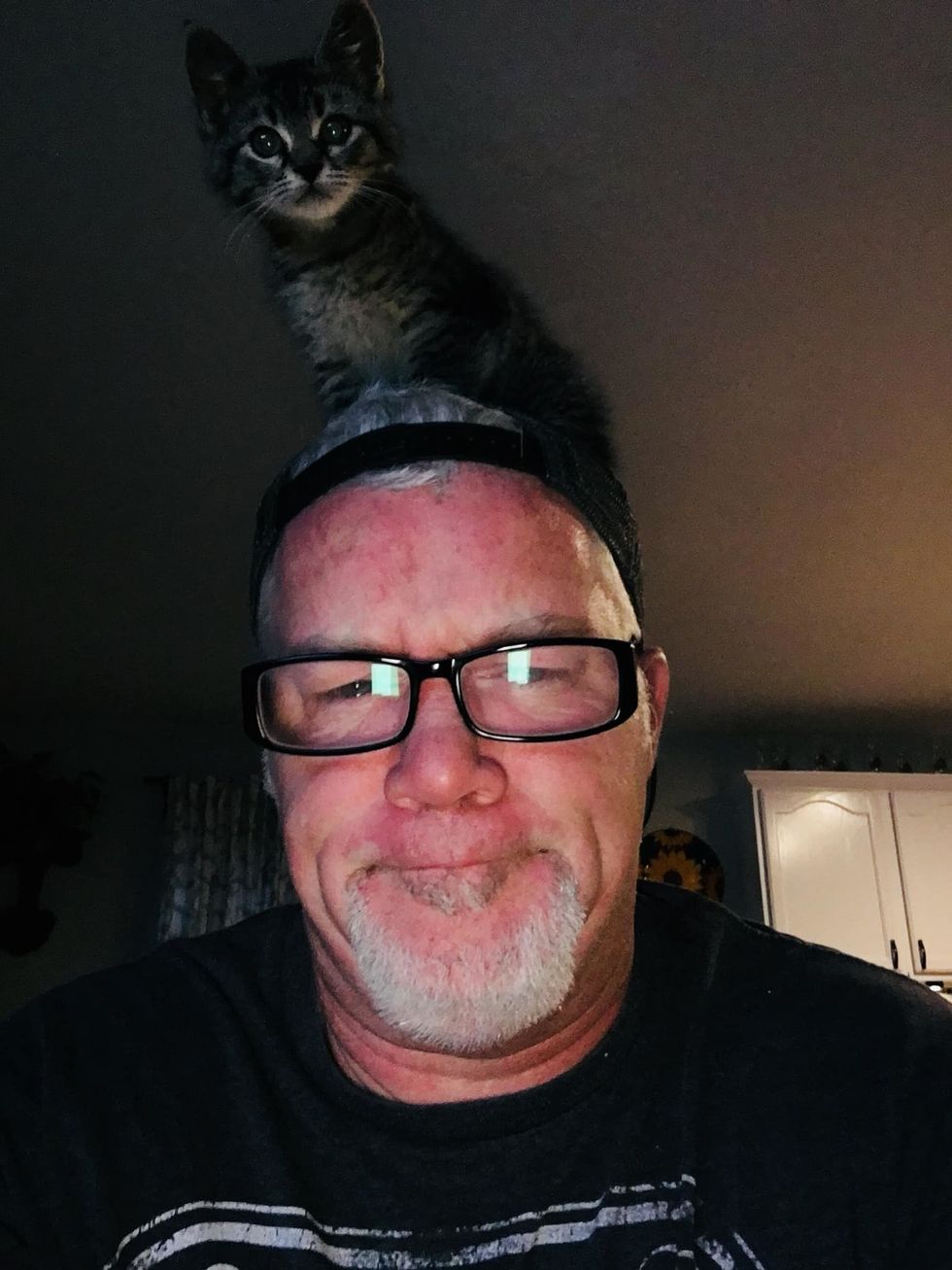 Chuck Hawley
When his human parents get ready in the morning, Sticky comes over to offer some "help."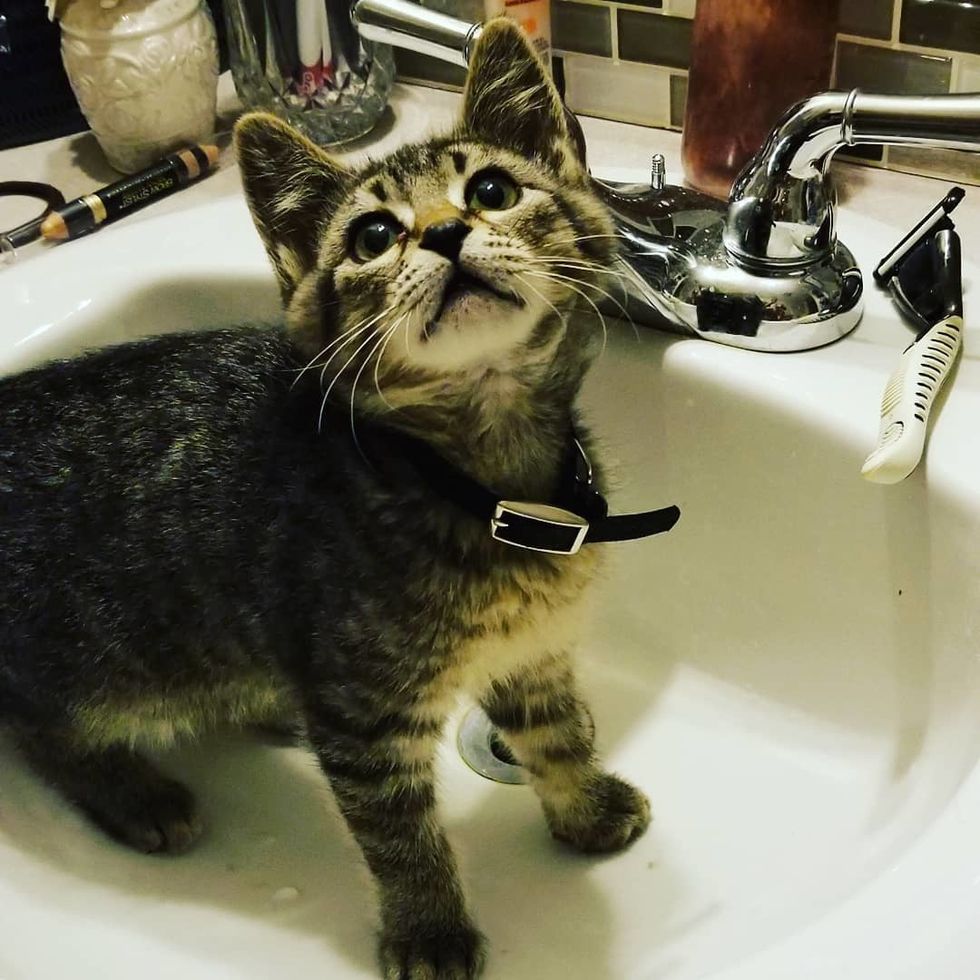 Chuck Hawley
Happiness!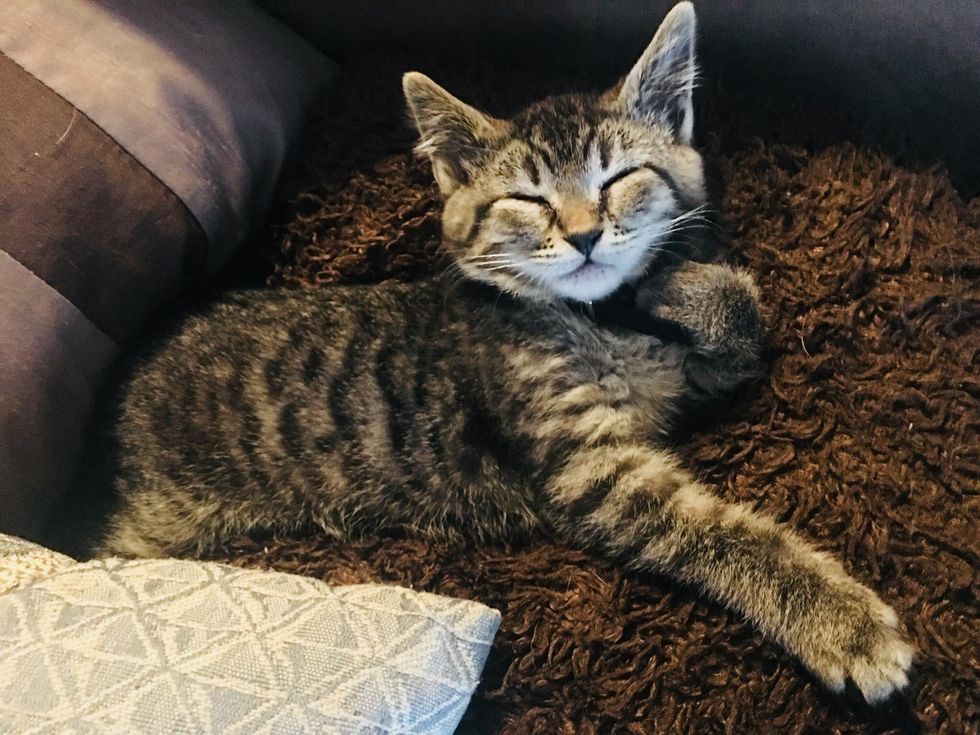 Chuck Hawley
They got a toy for their canine friends. "Sticky likes it way better than the dogs."
Share this story with your friends. Follow Sticky and her adventures on Facebook and Instagram.

Related story: Man Saves Backyard Kitten Who Wouldn't Let Anyone Near, and Changes Her Life