A lone tuxedo kitten was found abandoned outside. With a fighting chance, he began to thrive.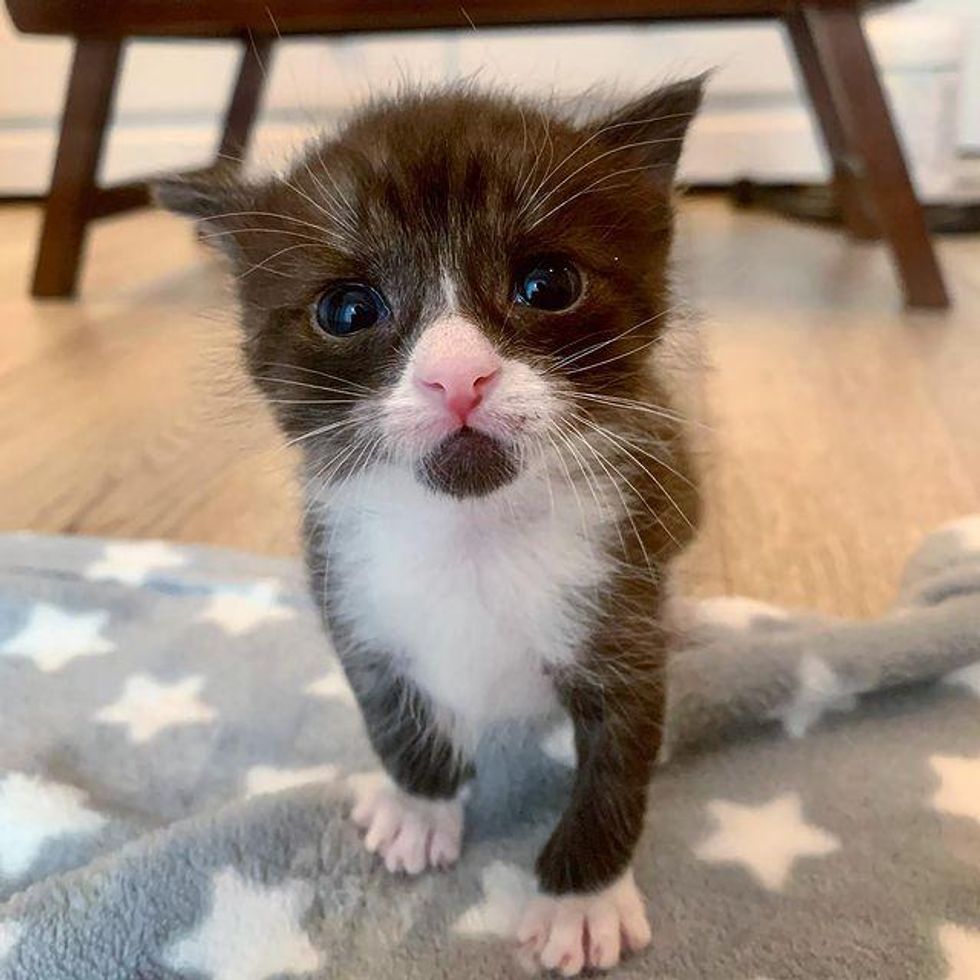 Theo the tuxedo kittenCaroline Grace
2 1/2 months ago, Good Samaritans heard what sounded like cat cries outside their home, and decided to investigate. Much to their surprise, they found a palm-sized kitten all alone.

They waited all night for the cat mother to return for her baby, but she never did. The tiny tuxedo was less than 24 hours old and in desperate need of round-the-clock feedings. They reached out for help, and Caroline Grace, a foster volunteer of Saving One Life, didn't hesitate to take him.
"When I picked him up, he was very small and very cold. But he still had a feisty and fiery spirit from day one," Caroline told Love Meow.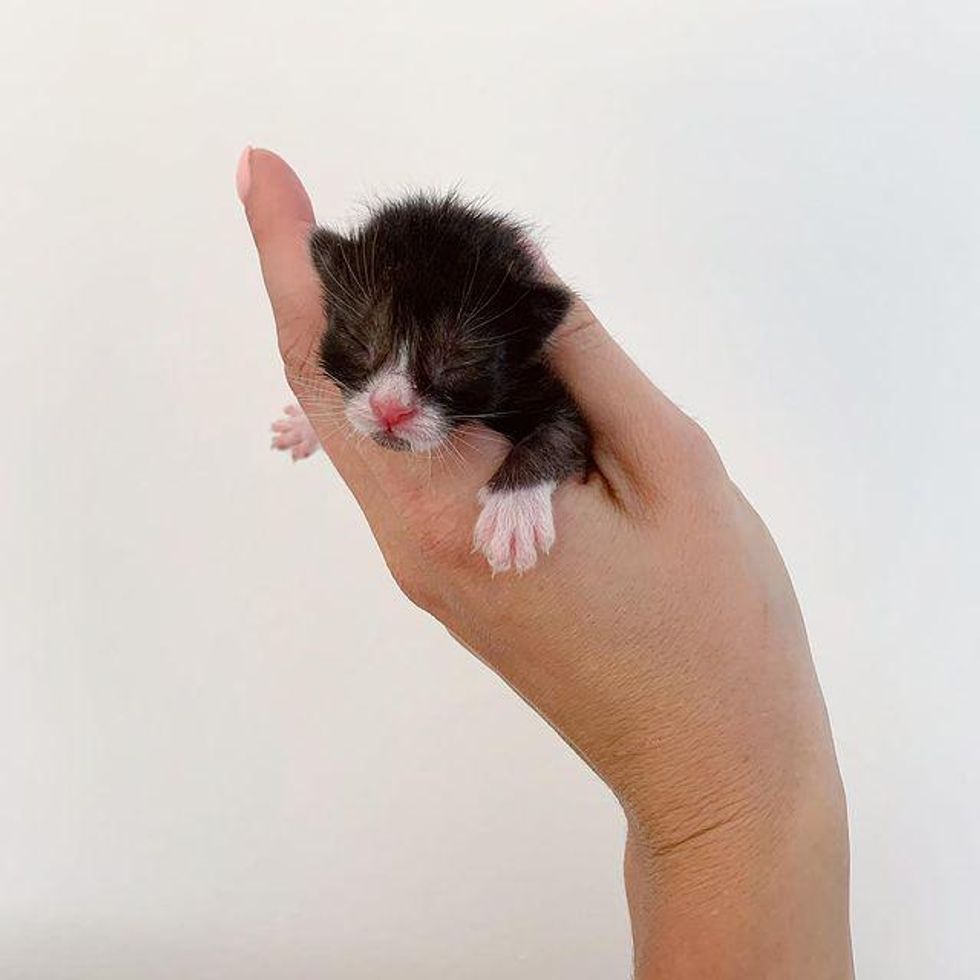 He was so tiny when he was rescued from the outdoorsCaroline Grace
Caroline lovingly named the pint-sized wonder Theodore. He had trouble eating and couldn't swallow formula on his own at first. Caroline had to tube-feed him every couple of hours, and it brought life back into that tiny body.

The next day, Theo perked up, latched on for the first time with his new-found strength, and started eating like a champ. The little tuxedo would scream at his foster mom, as if meal service could never be fast enough.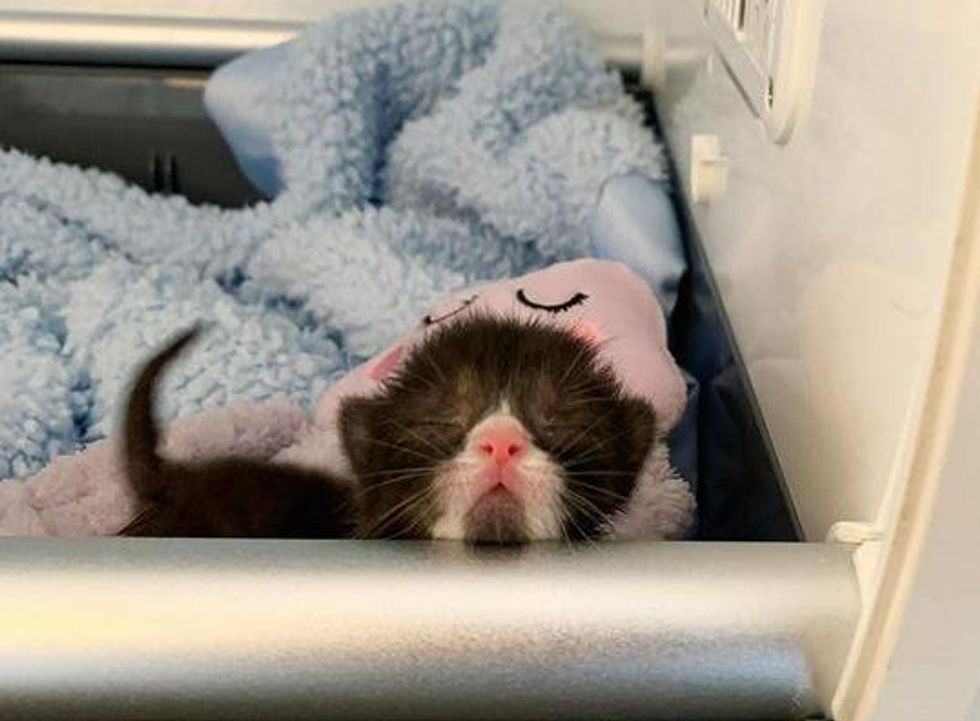 He may be small but has the spirit of a warriorCaroline Grace
"He would open his mouth and yell at me once I opened the incubator door until I put the bottle in his mouth," Caroline shared with Love Meow. "He quickly became one of the healthiest and easiest bottle baby kittens that I've fostered, despite being a tiny 87-gram on intake."

At three days old, Theo discovered his purr motor and switched it on whenever he was touched. He was still the size of a newborn but already showed enormous fight and was always eager to be loved.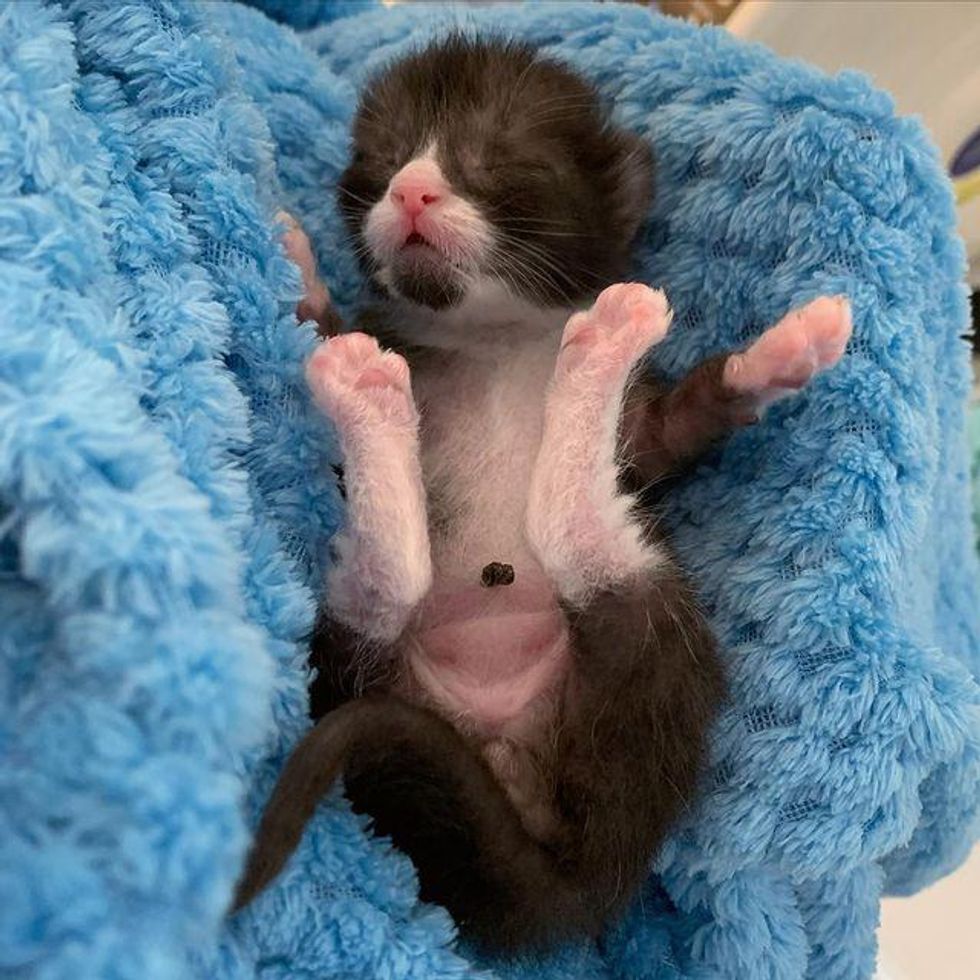 Caroline Grace
"Every time I held him, he would immediately start purring. He's still the same way today at 2.5 months old! He starts purring as soon as you touch him and loves being held and nuzzling into the nape of your neck while purring loudly," Caroline told Love Meow.

Theo was very active even when his eyes hadn't opened. After every feeding, he would crawl around the incubator to exercise his legs before falling asleep.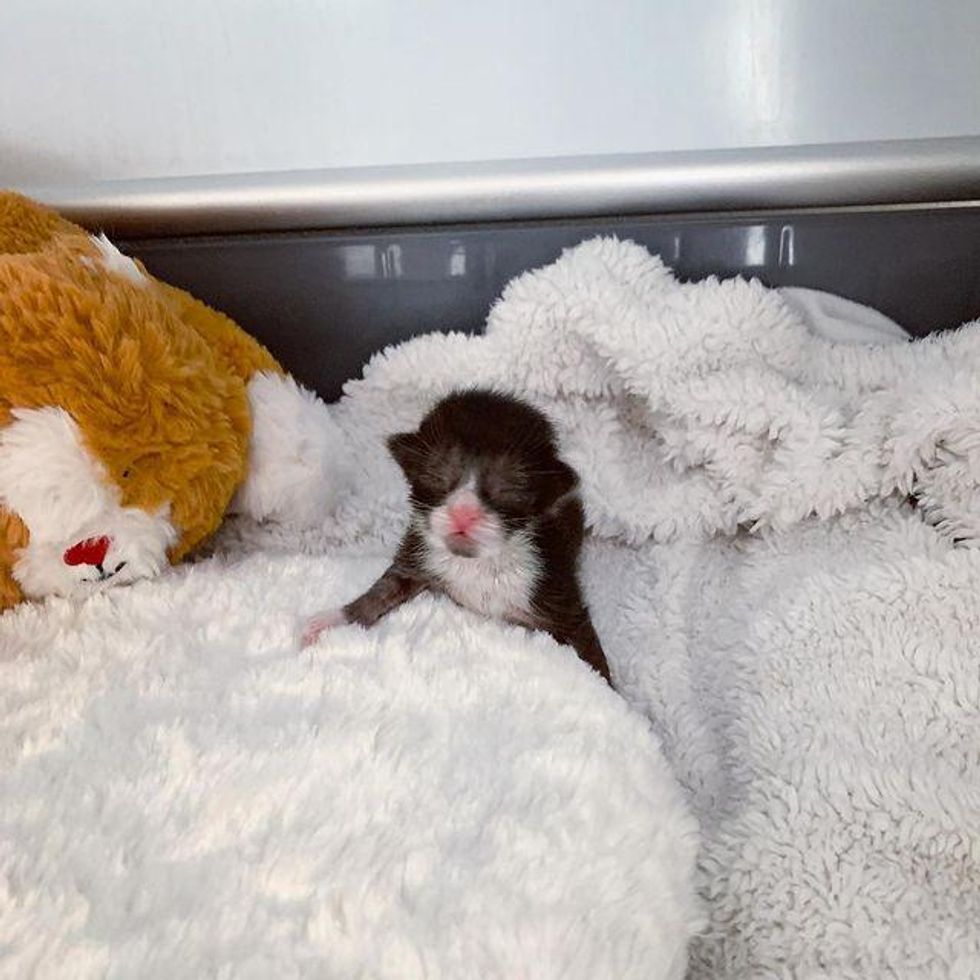 Tiny but mightyCaroline Grace
Theo was a strong purr machine in a small frame. After every feeding, he insisted on being picked up and cradled like a baby while he purred up a storm.
"Every kitten develops a little differently, and sometimes you have kittens like Theo who are quite delayed in a milestone. He's just a special guy and a late bloomer."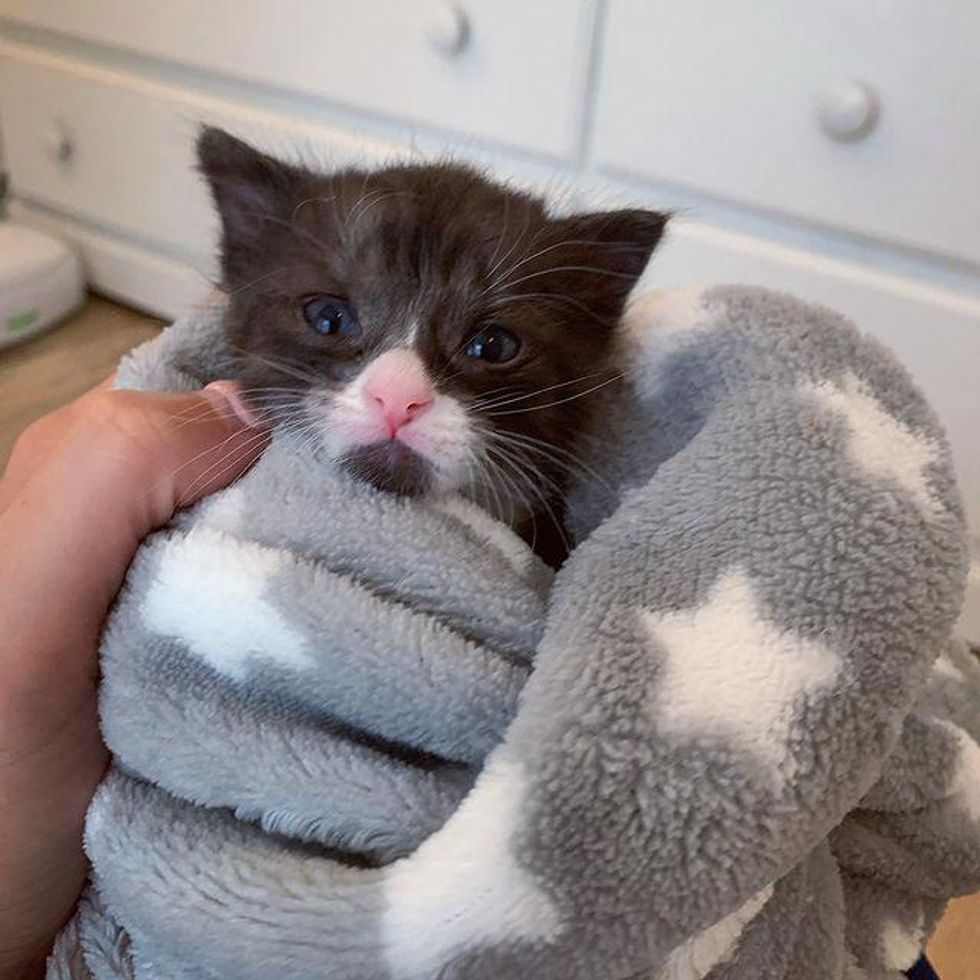 Caroline Grace
Video: Theo the little purr machine and roly-poly.
When Theo moved into his upgraded suite with a spacious playpen, he went to town, scampering around his new digs and claimed every nook and cranny he'd find

He was getting bigger and more coordinated as his playful, rambunctious side emerged. As soon as he laid eyes on a tunnel toy, he was obsessed, zooming through it as fast as he could, and pushing it around by jumping on it from the side.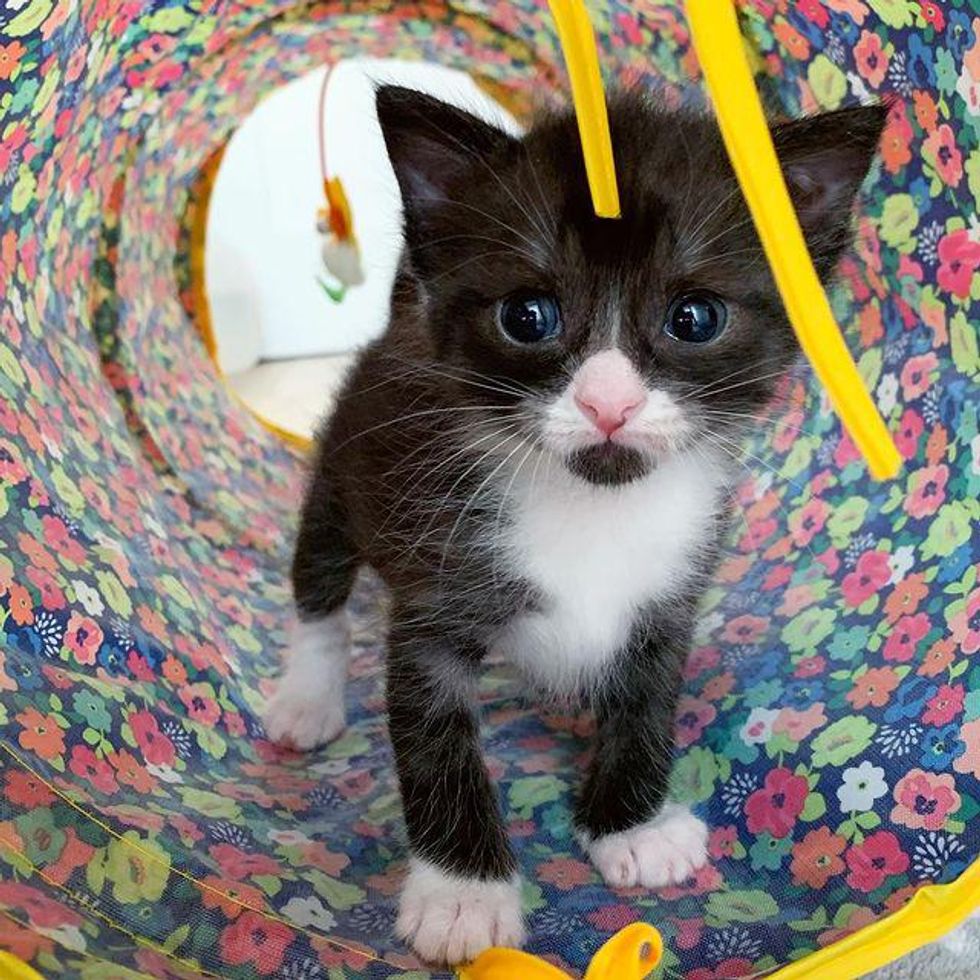 Caroline Grace
"Theo has an undeniable love for life. He loves to chase toys, sprint through tunnels and climb cat trees. But the thing he loves the most is snuggling and being with people," Caroline told Love Meow.

"He's the first to run and greet you at the door as soon as you get home. He immediately jumps into your arms purring and gives you nose kisses."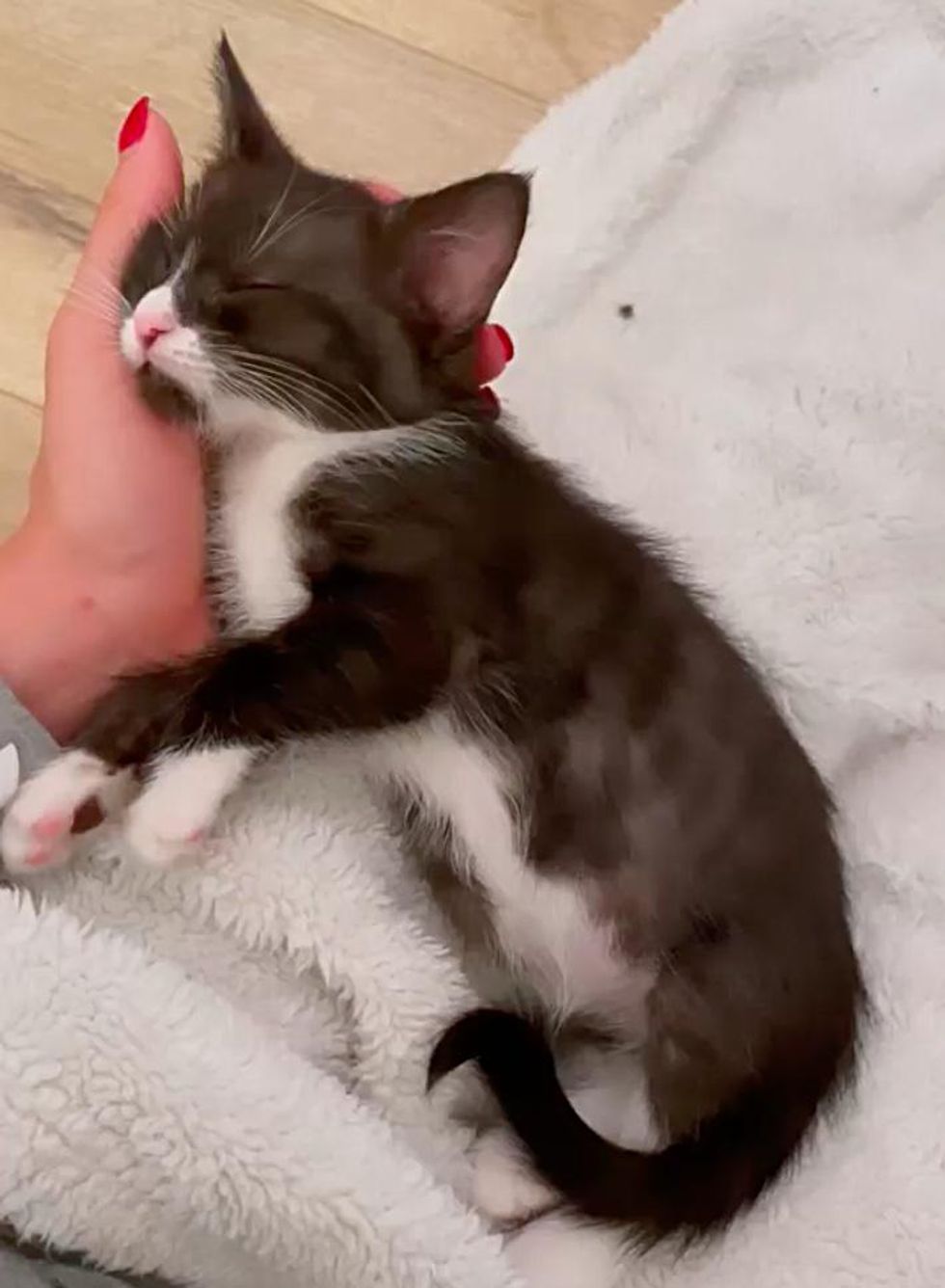 Theo is a cuddle-bug and a purr machineCaroline Grace
The tuxedo boy demands to be the center of attention. He will curl up in a warm lap or perch on a shoulder like a parrot, all the while, rumbling with his adorable purrs.

Theo has befriended other fosters in the house, shown them the ropes, and taught them the art of mischief.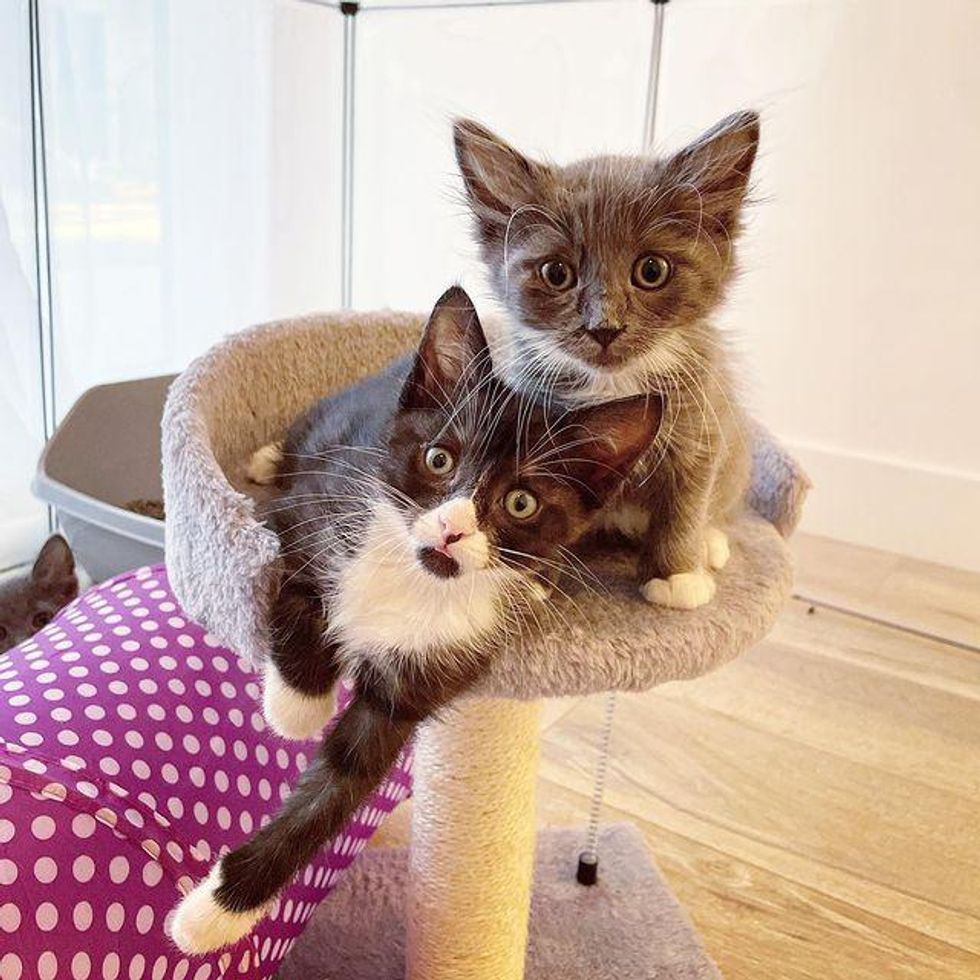 Theo and Alvin playing in the cat treeCaroline Grace
"He is the goofiest, sweetest, most loving boy with the most stunning ghost tabby tuxedo coat. He is such a special boy and will bring his forever family endless love and joy," Caroline shared with Love Meow.

The happy-go-lucky kitty will leap from the comfort of his bed and hop into his human's lap to be up close and personal. His purr is unmatched and his personality is as sweet as can be.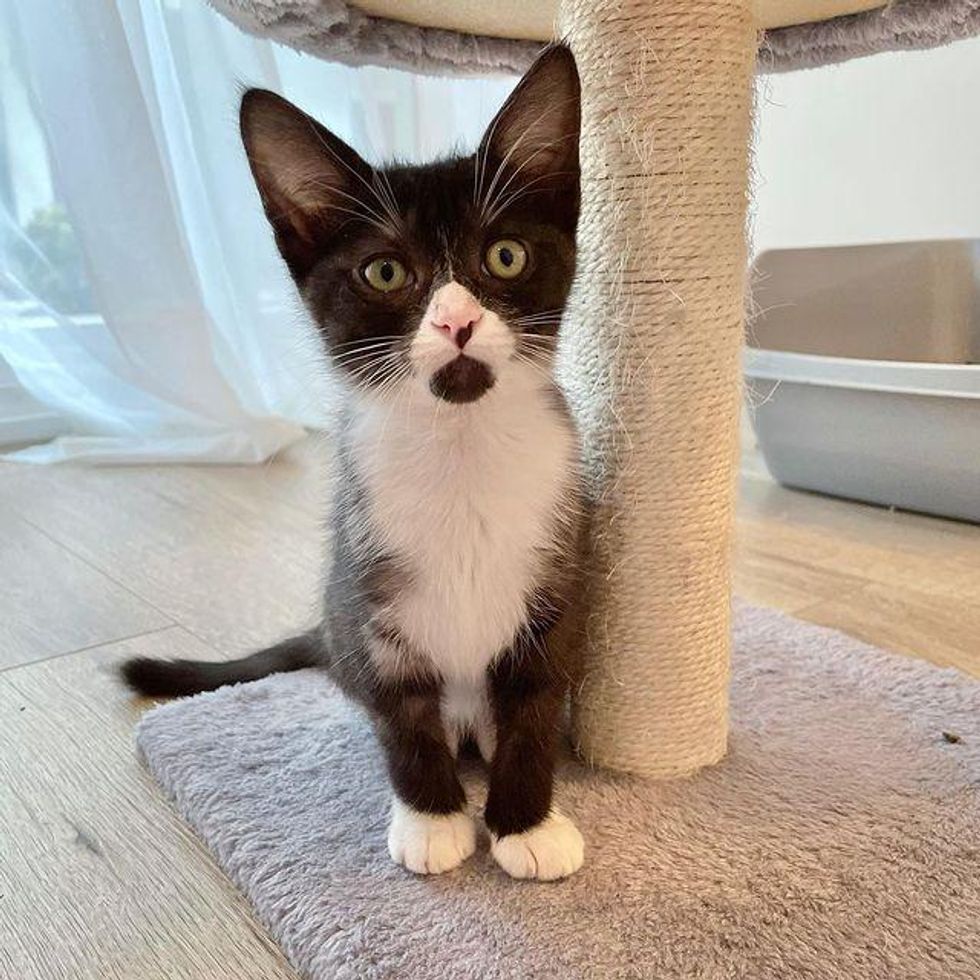 Dapper little tuxedo catCaroline Grace
"Theo came to me as a tiny newborn. I love him so much and so proud of how far he's come," Caroline said. "Whoever adopts this dapper tuxedo boy is in for a lifetime of laughs, snuggles and purrs."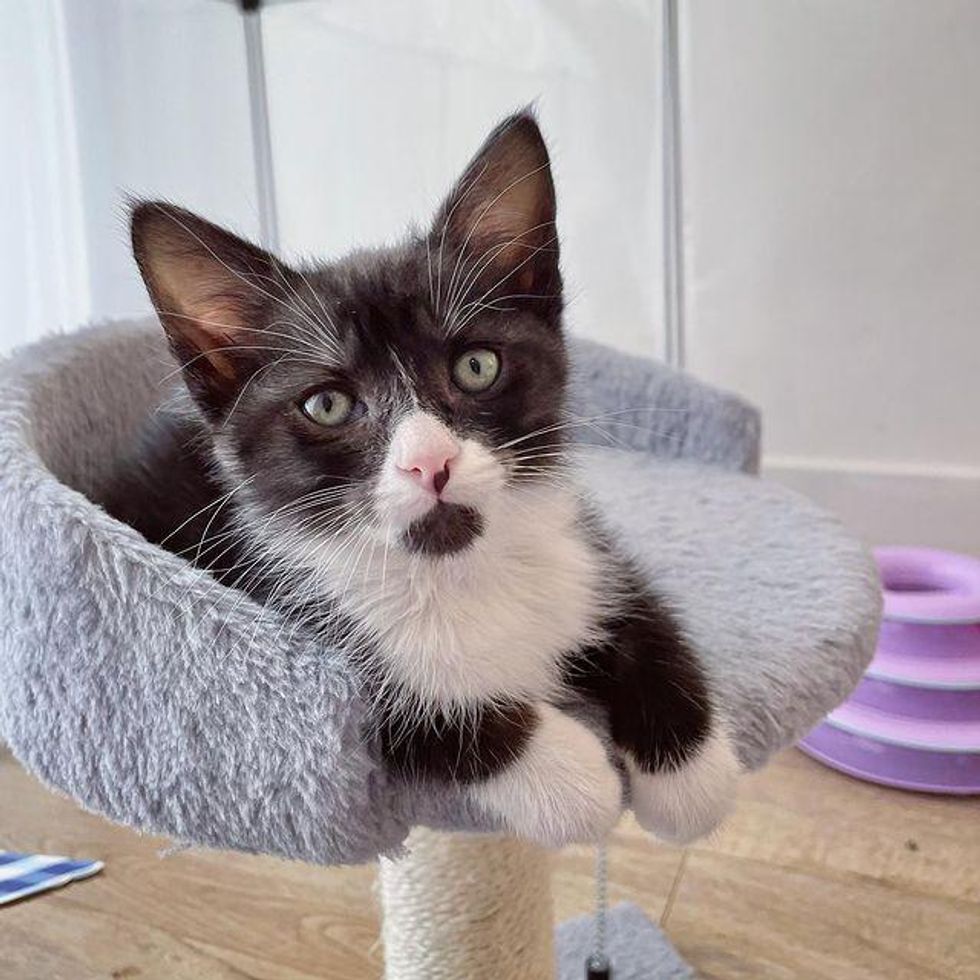 Caroline Grace
Share this story with your friends. Follow updates on Theo (located in the Los Angeles area) and Caroline's fosters on Instagram.
Related story: Kitten Found in Backyard with His Siblings, Grew Unique Coat, Determined to Thrive