An orange tabby kitten who was found in a box, helps other cats like him to thrive.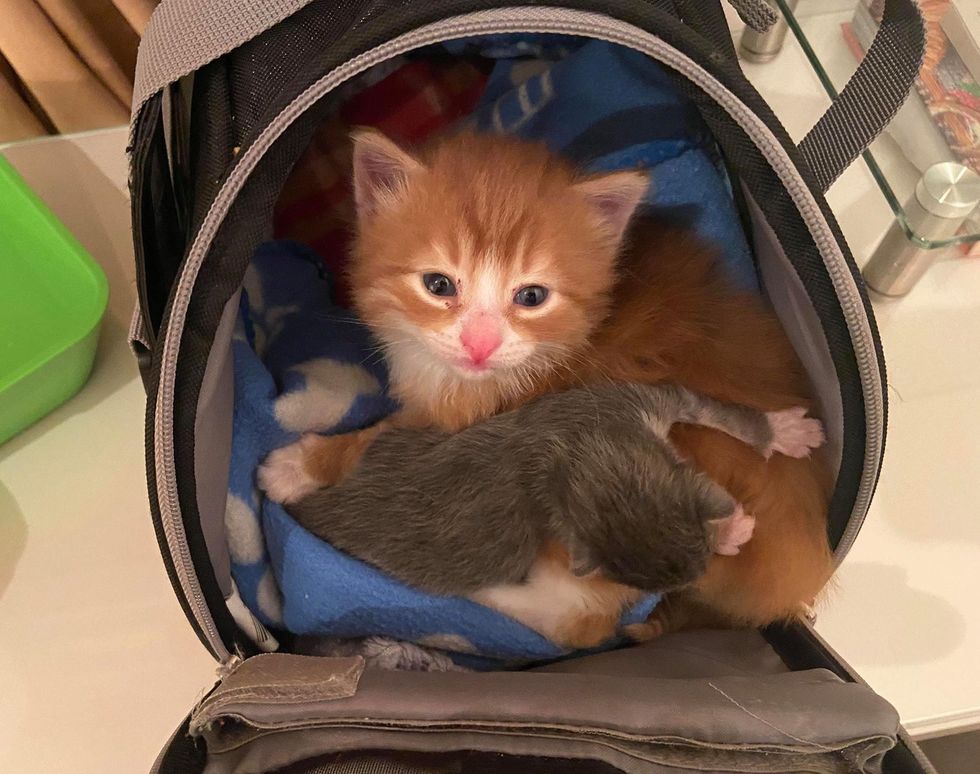 Ron the orange tabby helps care for Ginny the kittenChatons Orphelins Montreal
A family that live on a farm in Northern Montreal, Canada, found a cardboard box on their porch two months ago. To their surprise, they discovered an orange tabby and two smaller kittens inside the box.

One of the tinier kittens lost his fight shortly after despite their best efforts trying to save them. They reached out to their local rescue, Chatons Orphelins Montreal, and pleaded for help.
"The family drove a long way at night to bring the kittens to us, so they could have a chance at survival," Chatons Orphelins Montreal shared with Love Meow.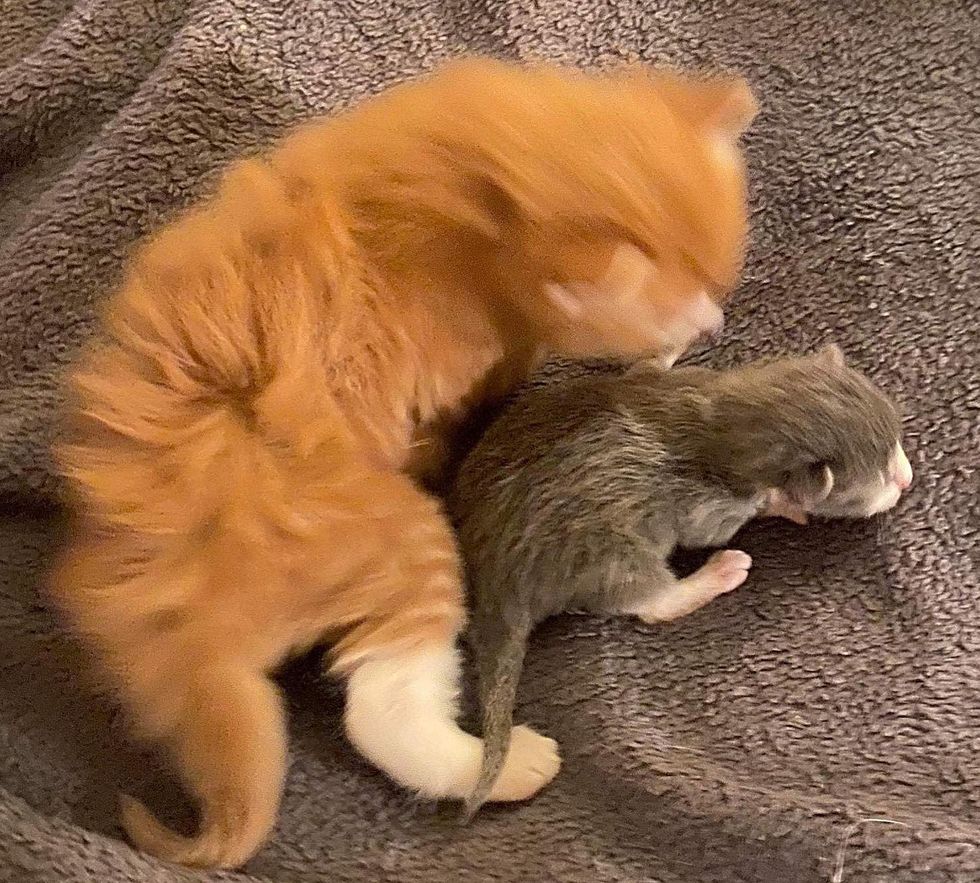 They were found abandoned in a boxChatons Orphelins Montreal
"We found out that the two kittens are not from the same litter. The orange kitten was estimated to be four weeks old, and the gray kitten still had her umbilical cord attached."

They were named Ron (orange) and Ginny (gray). The orange tabby was often seen wrapping his arms around the tiny kitten when they napped. Ginny whose eyes were still closed, clung to the bigger kitty for comfort and warmth.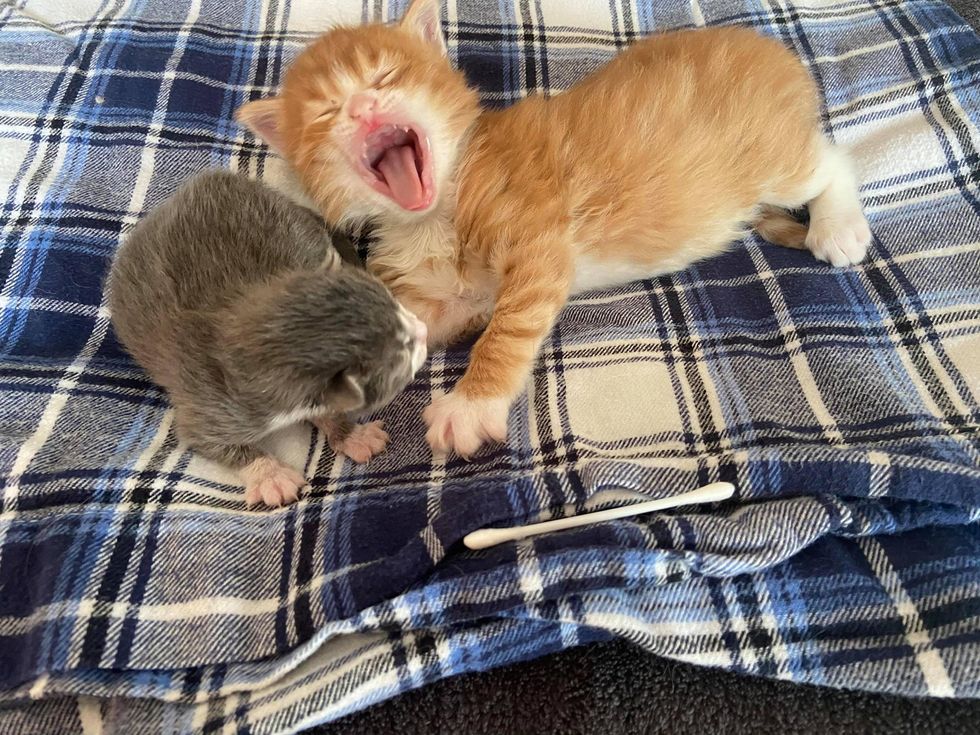 Ron the ginger tabby is very gentle to the smaller kitten GinnyChatons Orphelins Montreal
"Their foster mom bottle-fed them every two hours around the clock. They perked up and started to put on weight," the rescue shared with Love Meow.

"Ron was very small himself but was a great help to the other kitten and tried to care for her. Despite being three weeks apart, Ron was with Ginny the whole time showering her with snuggles and kisses."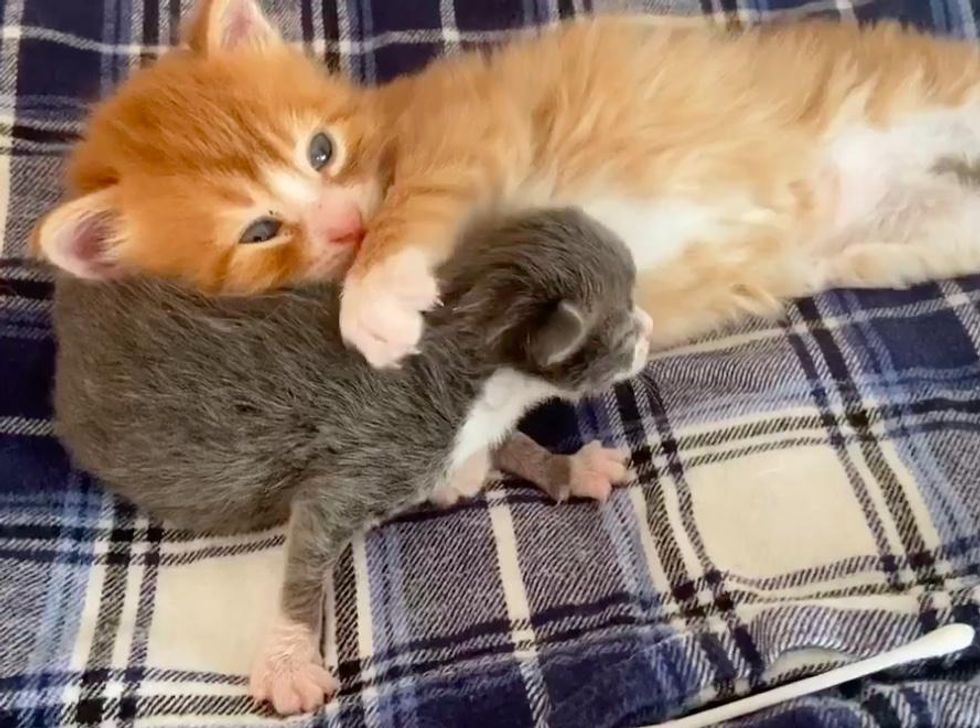 He wraps his arms around her and she clings to him for warmthChatons Orphelins Montreal
Around that time, the rescue had a little singleton named Scottie who was eager for a feline companion. She had been left behind along with her siblings inside a wall after birth. Scottie, the runt of the litter, was the only kitten that pulled through.
Through painstaking care from her foster mom, a veterinarian, she beat a host of health issues and got a new lease on life.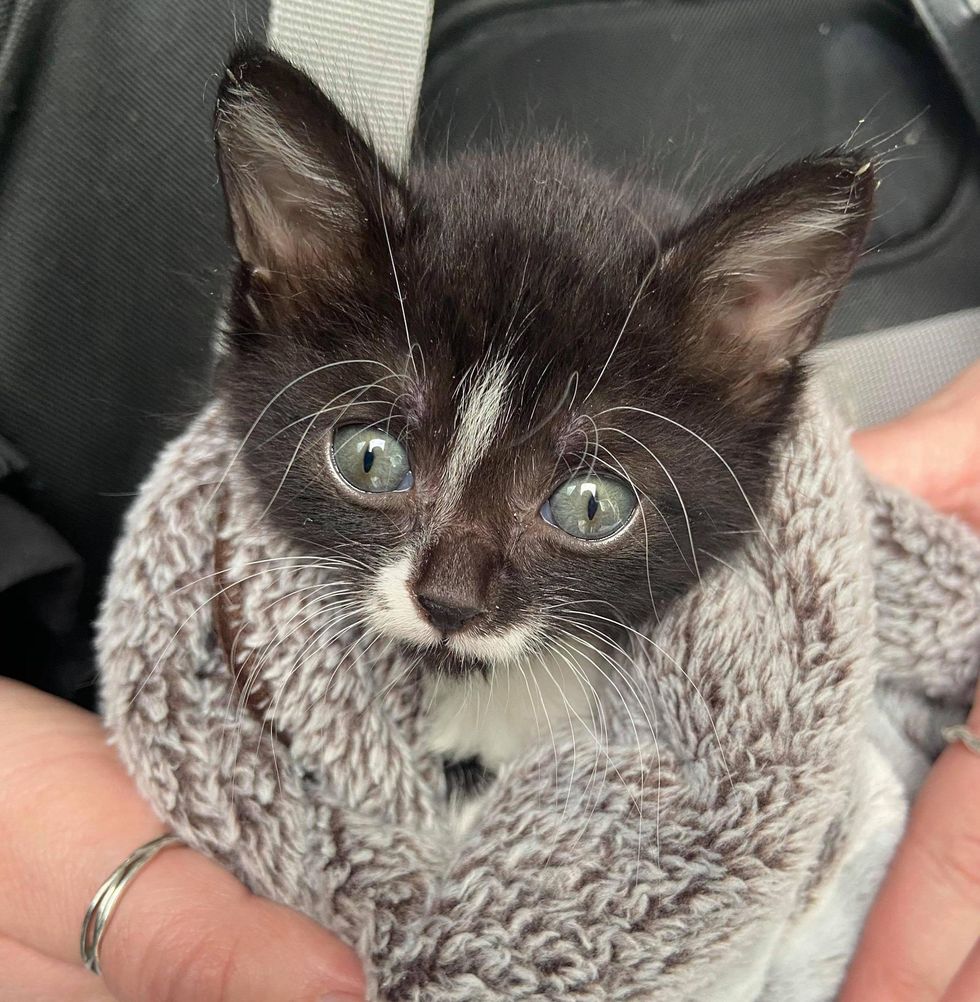 Scottie was found inside a wall and pulled through with the help of rescuersChatons Orphelins Montreal
When she was ready to meet other fosters, they decided to introduce her to Ron who was the same age as Scottie. The tabby boy stepped up to the plate and took her under his wing.
Watch Ron and his buddies in this cute video:
Ron the orange kitten and his friendswww.youtube.com
Ron encouraged Scottie to play and wrestle and smothered her with cuddles. It was as if he knew just what the tuxedo needed. The two kittens became fast friends and a dynamic duo.

The orange tabby was at the age where he was getting rather rambunctious. He was excited to have a friend who could handle his unbridled energy.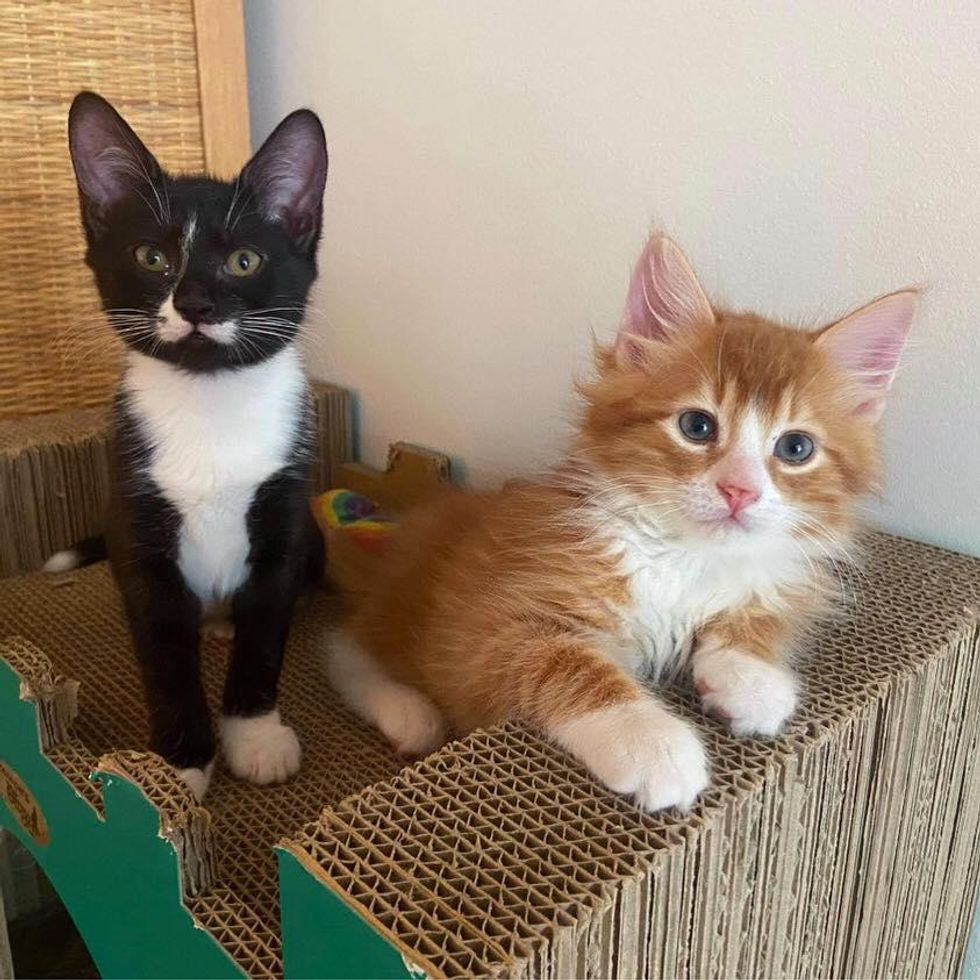 Ron took Scottie under his wing and they became fast friendsChatons Orphelins Montreal
"If we try to look for Scottie, we will find Ron too. They do everything together, and Scottie is so happy to have a friend to play with at last," the rescue shared with Love Meow.

"Scottie doesn't like to be alone and will cry for attention until she finds company. She adores other cats especially Ron. Even though they aren't from the same litter, they have been acting like siblings since the start."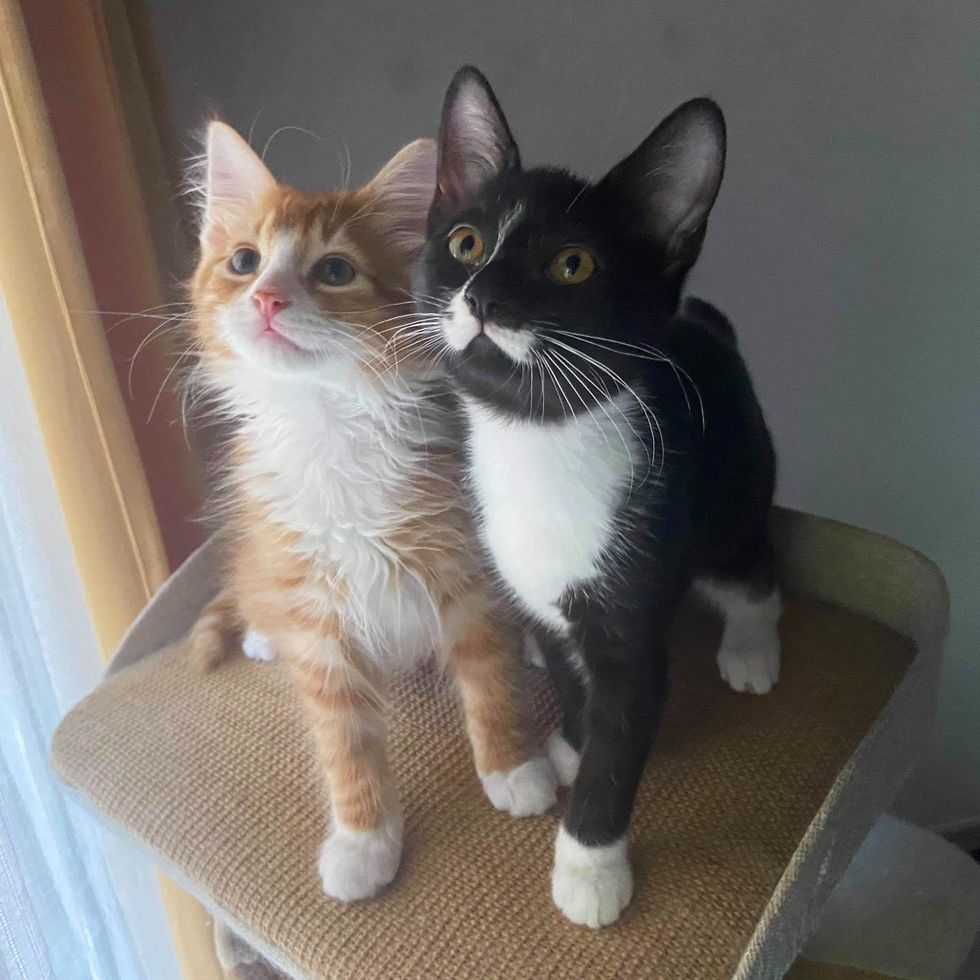 They do everything togetherChatons Orphelins Montreal
Ron continues to give other fosters cuddles and licks. He is thrilled to have a friend like Scottie whom he can roughhouse with all day and nap with between play sessions.

These kittens had a rough start to life, but with a second chance, they will never have to worry about food and shelter, and have a wonderful future ahead of them.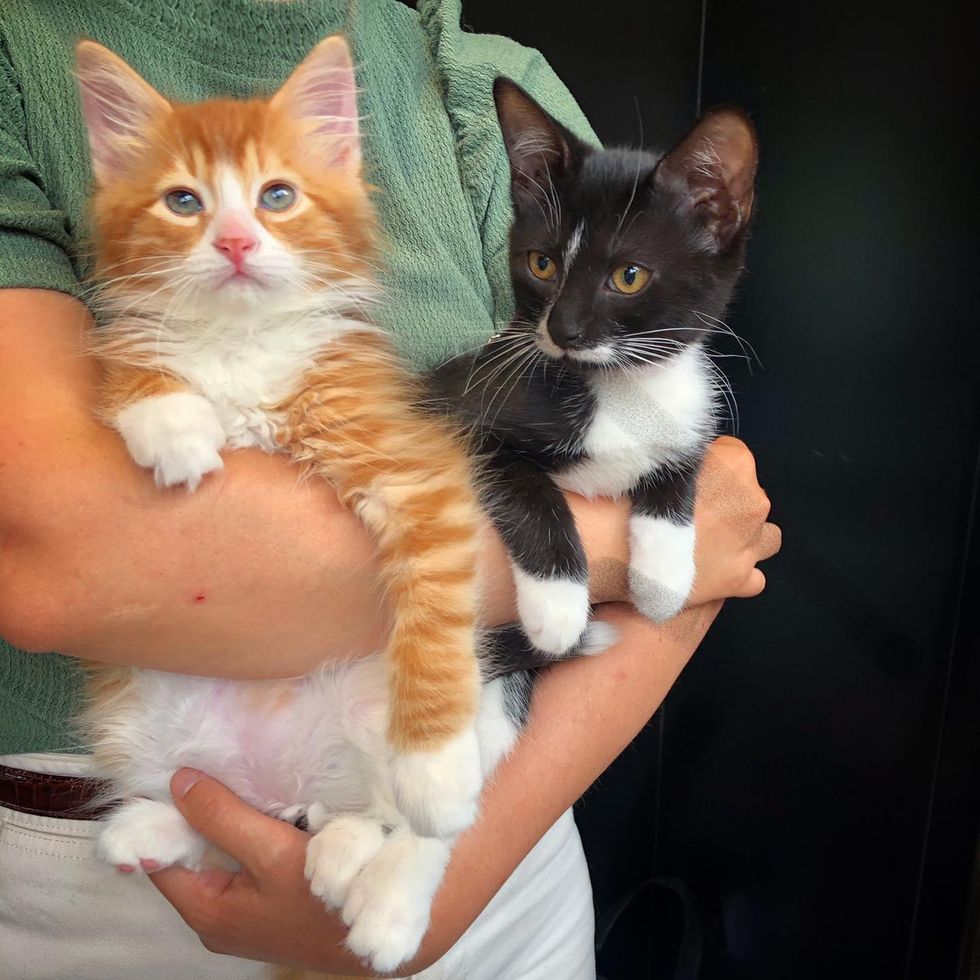 Chatons Orphelins Montreal
Share this story with your friends. Follow Chatons Orphelins Montreal on Facebook.
Related story: Kitten Found Alone in Driveway Has Strong Personality and Turns into Beautiful Fluffy Cat