A woman rescued a tiny 4-week-old wobbly kitten when others had given up.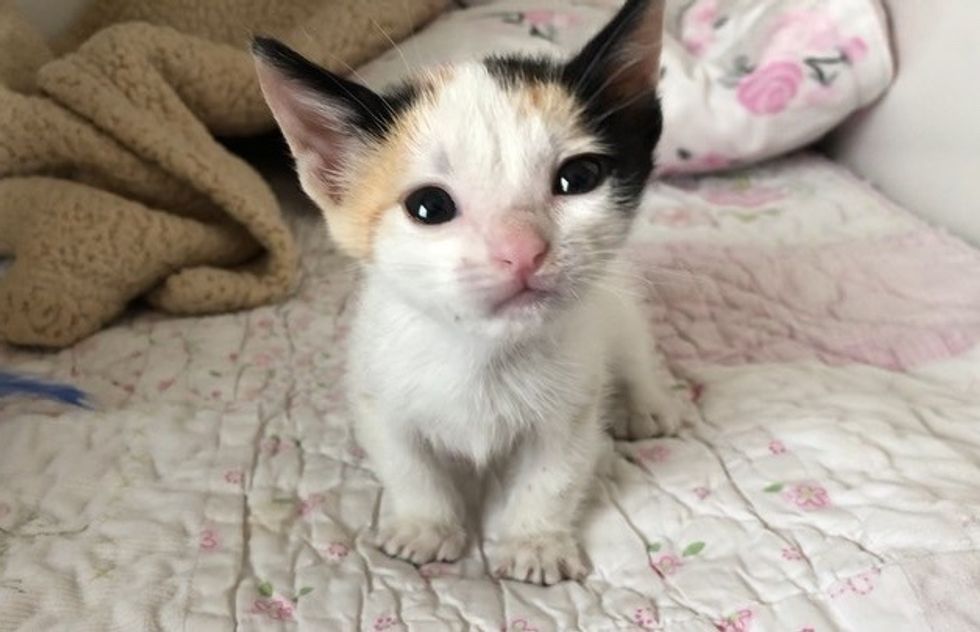 Nikki Martinez @myfosterkittens
Nikki Martinez, a rescuer and foster based in Las Vegas, was at the municipal shelter when she met the little calico lying in her kennel all alone. "She was found as a stray and not eligible for adoption because she had an unknown medical condition," Nikki told Love Meow.

The kitten had no energy and couldn't get up on her own. "They thought she might have Cerebellar Hypoplasia because she was falling over and having a hard time standing up."
Nikki pulled the kitten from the shelter, took her home to foster and named her Whitney.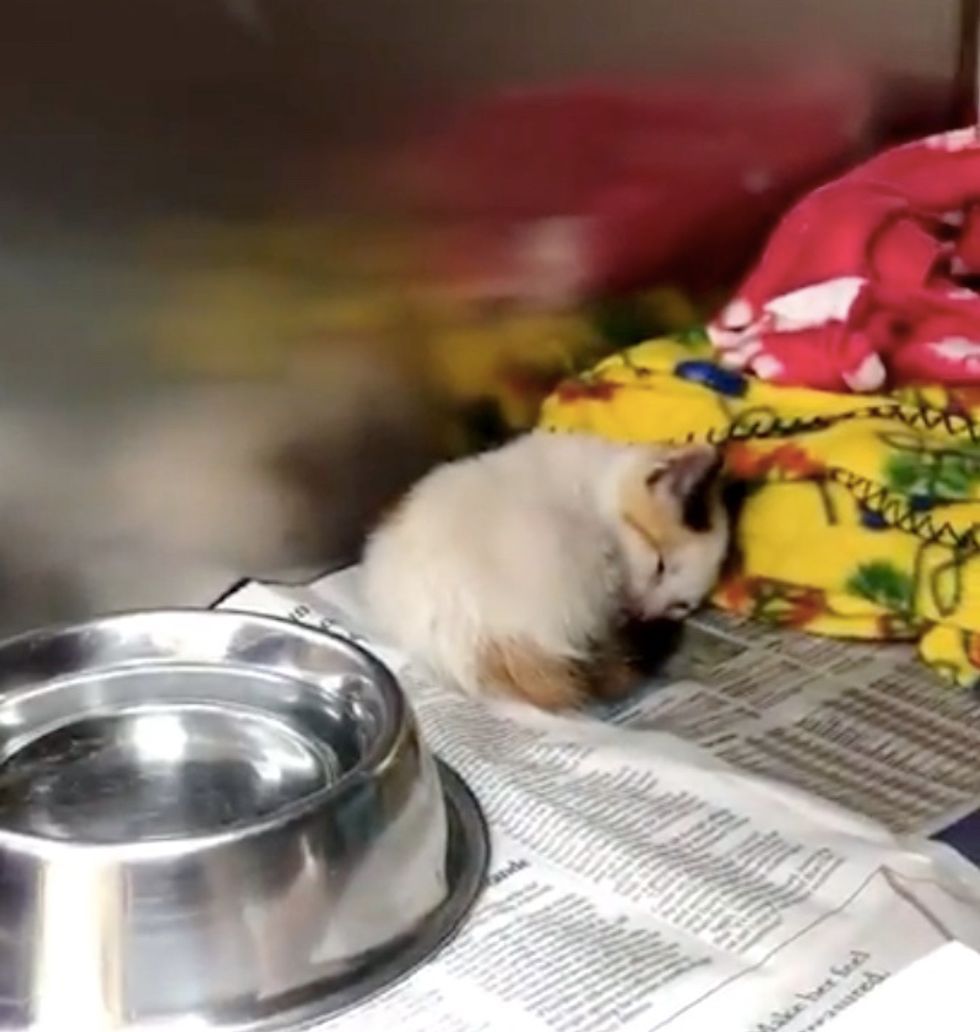 Nikki Martinez @myfosterkittens
"When she first came to me, she had no strength and it would take her so long to be able to roll over and get back up," Nikki told Love Meow. "She used her claws to pull herself up — another reason why paws need claws."

From being in a cage to her new plush kitty condo, Whitney quickly perked up. Her condition was still a mystery at the time but Nikki knew with a fresh start, the kitty would only get better from there.
Within a day, Whitney was already up on her paws, walking around and using the litter box on her own. She was a bit wobbly but nothing could stop her.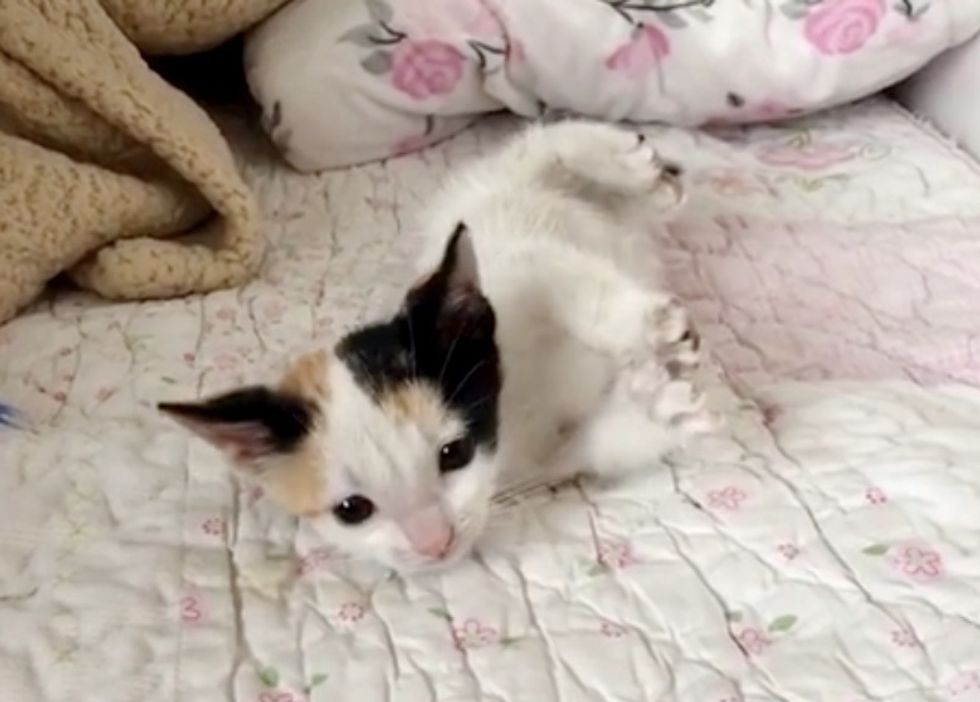 Nikki Martinez @myfosterkittens
"She is a little unsteady on her feet. She will sometimes fall over and take a minute to get up. When she walks, you'll notice she will drag her front feet a little bit. Other than that, she does very well," Nikki said.

"She can walk herself to her bed, her litter box and her food bowl. She even likes to play with toys. I think her unique qualities just make her more charming."

As soon as the calico got to know love, she was hooked and would cry for Nikki's attention and pets constantly.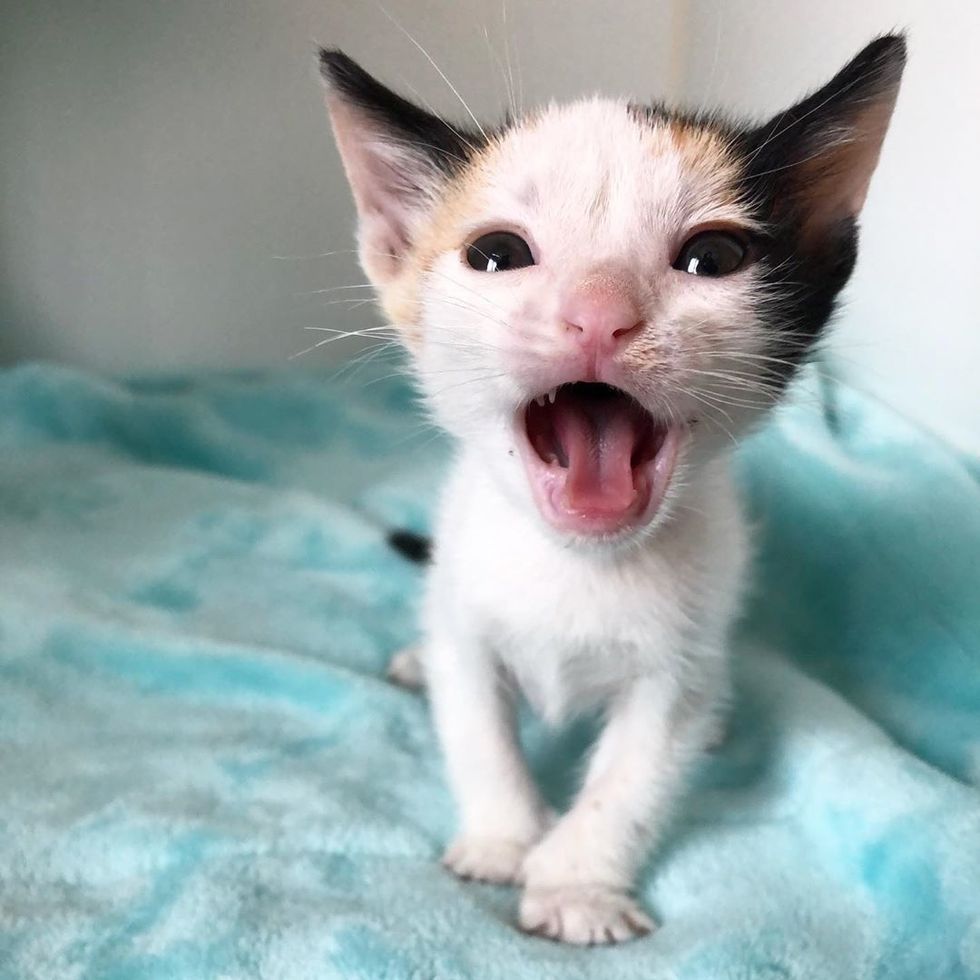 Nikki Martinez @myfosterkittens
"No matter how much one-on-one time I spend with Whitney, she is still very lonely and will cry non-stop. She desperately needed siblings her own age."

Nikki decided to pair her up with two other rescued kittens who came to her care from a similar fate.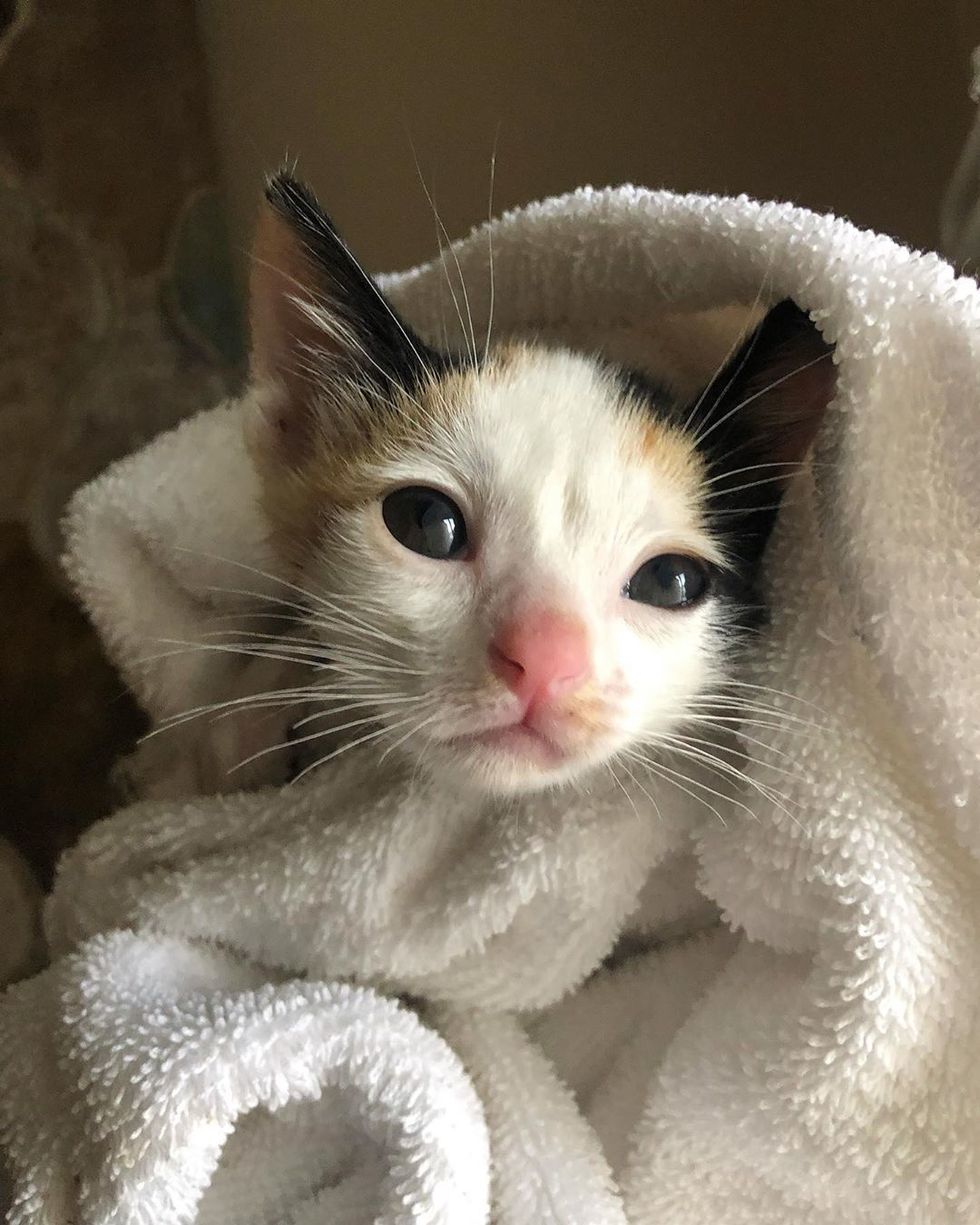 Nikki Martinez @myfosterkittens
Piccolino and Bambina, a brother and sister duo, were found in a dumpster as orphaned newborns. Nikki nursed them back to health after weeks of round-the-clock bottle feedings and a lot of TLC.

"I know that being with Piccolino and Bambina will not only help Whitney emotionally, but the playtime will help her agility," Nikki told Love Meow.
When they were ready to meet, Whitney took to her new siblings right away. The three started playing together as if they had always been family.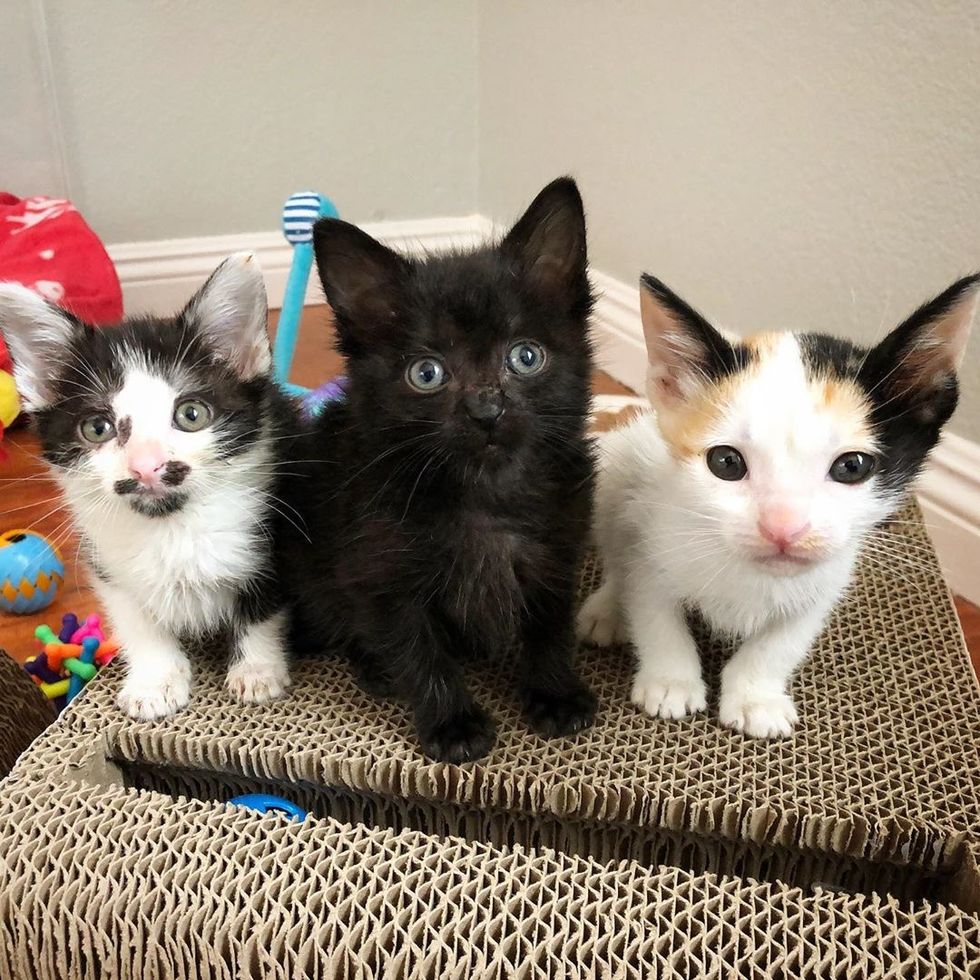 Nikki Martinez @myfosterkittens
Over the next several days, Whitney wobbled less as her legs became stronger. Being in foster care and having kittens to cuddle and play with really helped the little calico come around.
"It was great feeling to know that not only was her life saved, but she would never be lonely again," Nikki told Love Meow.

Watch Whitney's rescue journey in this video:
Wobbly kitten rescued from shelter - foster journeyyoutu.be
Yesterday, Whitney went to the vet and received her diagnosis. "The vet feels strongly that she has Swimmers Syndrome, an uncommon developmental deformity of newborn cats whereby the limbs, primarily the hind limbs, are splayed laterally resulting in an inability to stand or walk," Nikki said.
"He thinks that placing her with Piccolino and Bambina have been fantastic and he encouraged me to continue playtime with her to strengthen her muscles."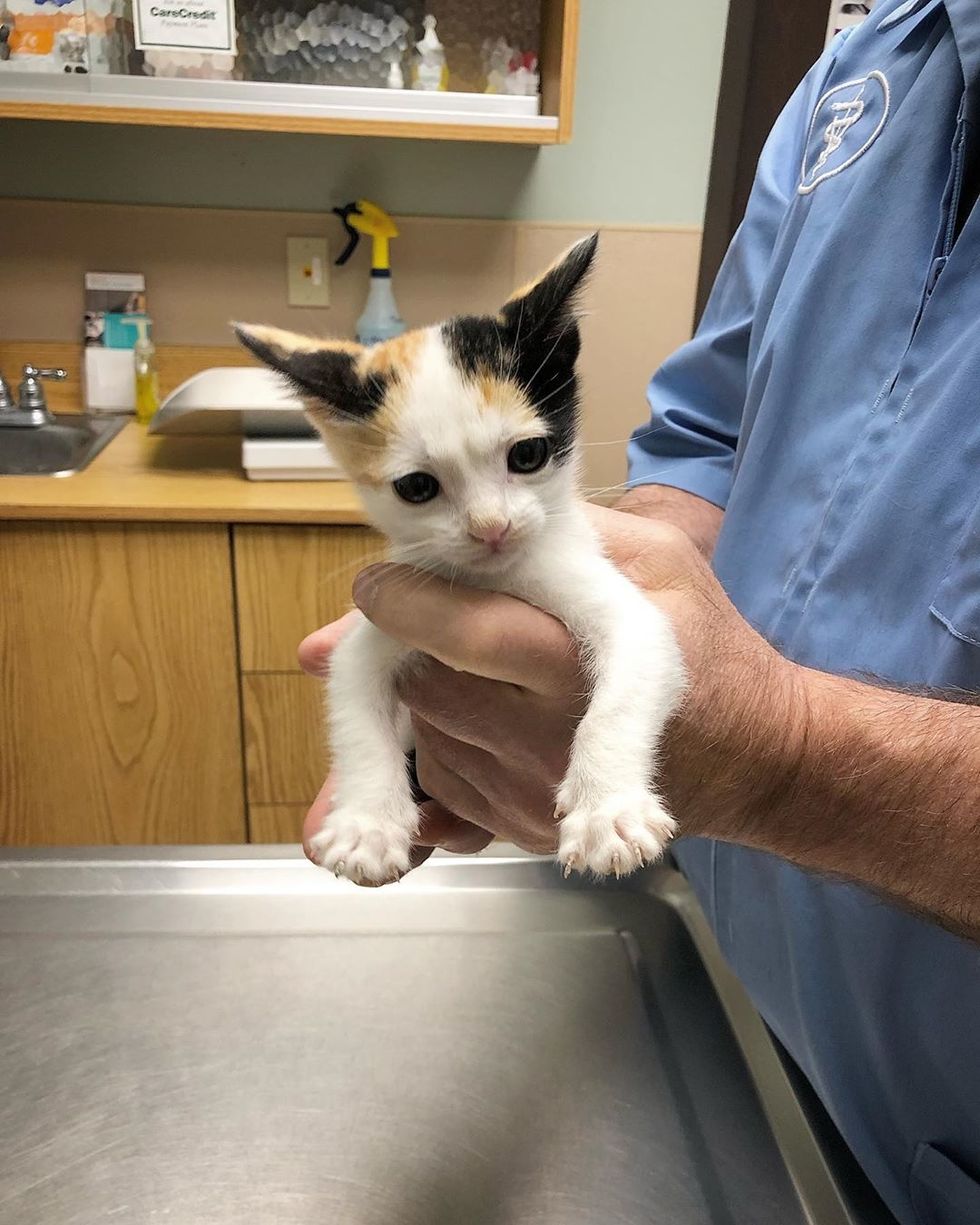 Nikki Martinez @myfosterkittens
Whitney is in no pain and just a bit wobbly when she walks. The sweet calico got a clean bill of health and is almost ready for her next chapter of life.

Knowing how much she has bonded with her siblings, Nikki hopes there's a great family out there, willing to adopt them all together and love them all the same. "Whatever their future is, I'm their advocate… and I will make sure they get the best forever homes."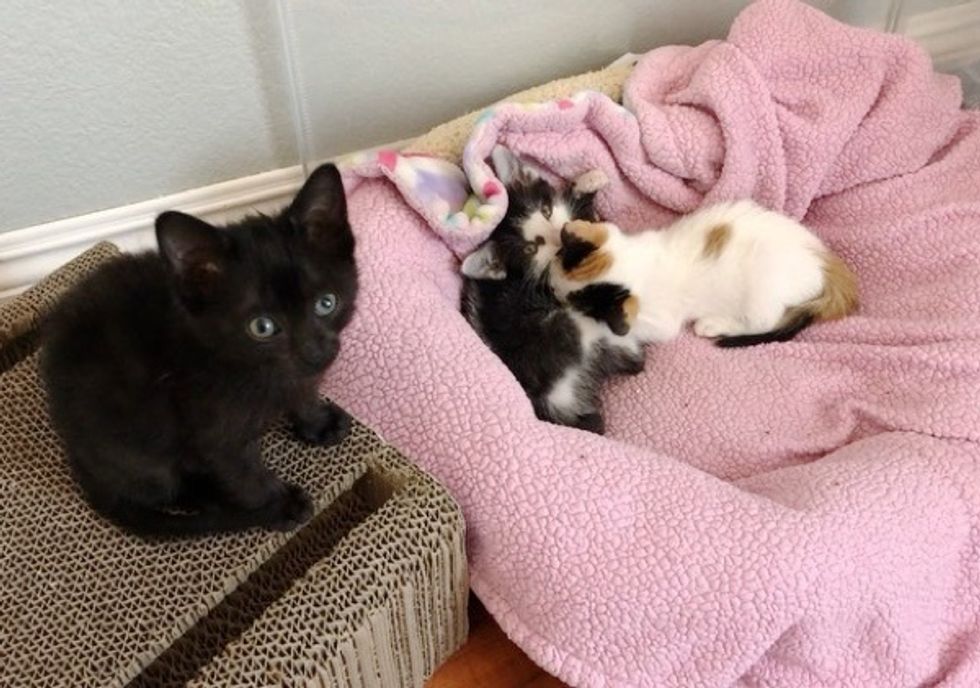 Nikki Martinez @myfosterkittens
Just a few weeks ago, Whitney was at the shelter and could barely sit up on her own.

Now, she is running around the room, creating antics with her feline siblings, and is as happy can be.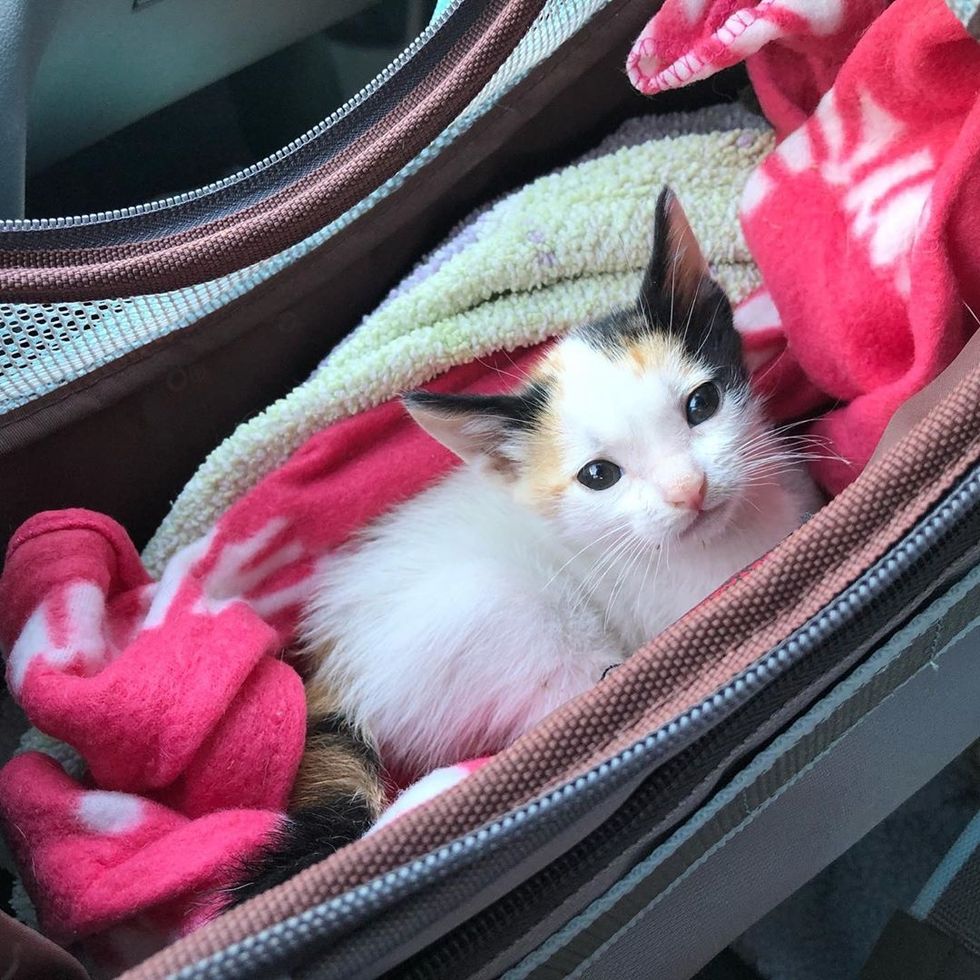 Nikki Martinez @myfosterkittens
Share this story with your friends. Follow updates on the kitties on Facebook and Instagram.
Related story: Stray Kitten Walks into Man's Apartment and Decides to Stay and Change His Life