A 3-week-old kitten named Nakia was just the size of a newborn.
She was the only survivor in her litter. Despite the odds, the little kitty had amazing fight to grow big and strong.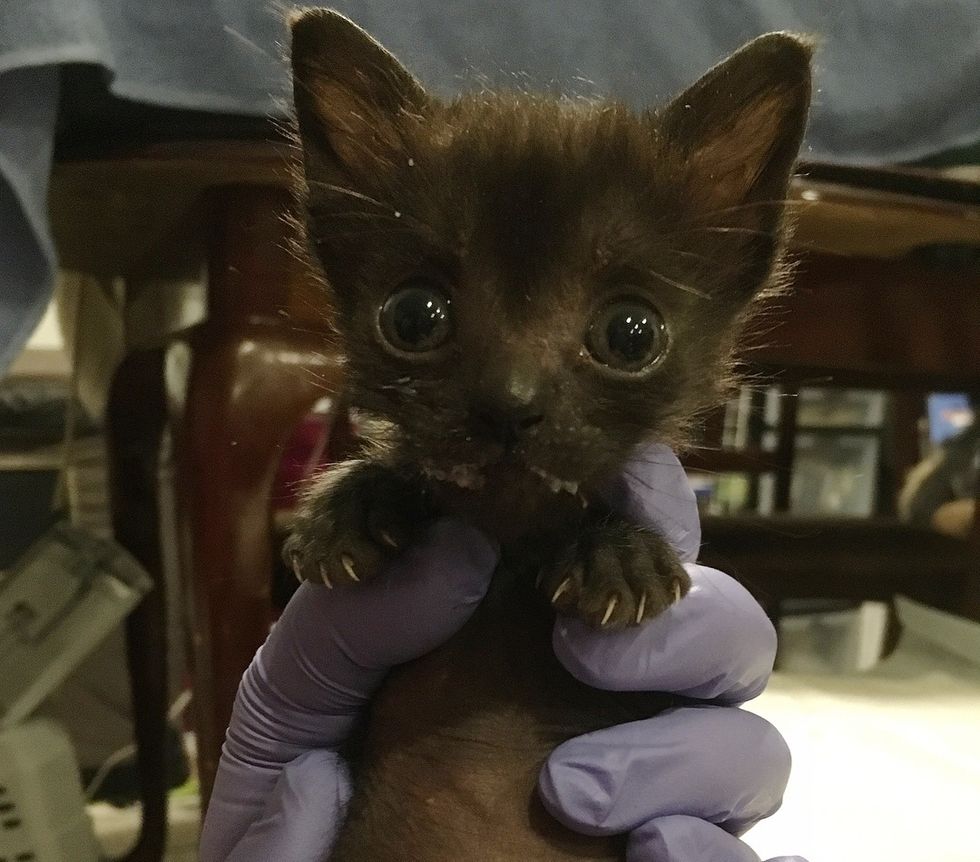 Mini Cat Town
Nakia was brought to the shelter along with her sister after they were found abandoned two months ago. Mini Cat Town, a rescue group in San Jose, California, picked them up from the shelter along with a few other rescue kittens. Nakia and her sister were very weak due to severe malnourishment.

Sadly, her sister lost the battle but Nakia refused to give up. Despite her frail body, she used the little strength she had to eat and clung to her rescuer for comfort.
Nakia had a large head and a tiny body, which are typical signs of a kitten who is malnourished. She was only 1/3 of the normal weight. "We made a special formula for her, that involved turkey baby food, kitten formula and a mixture of water and pedialyte, to hydrate her and help her gain weight," Thoa Bui, co-founder of Mini Cat Town, told Love Meow.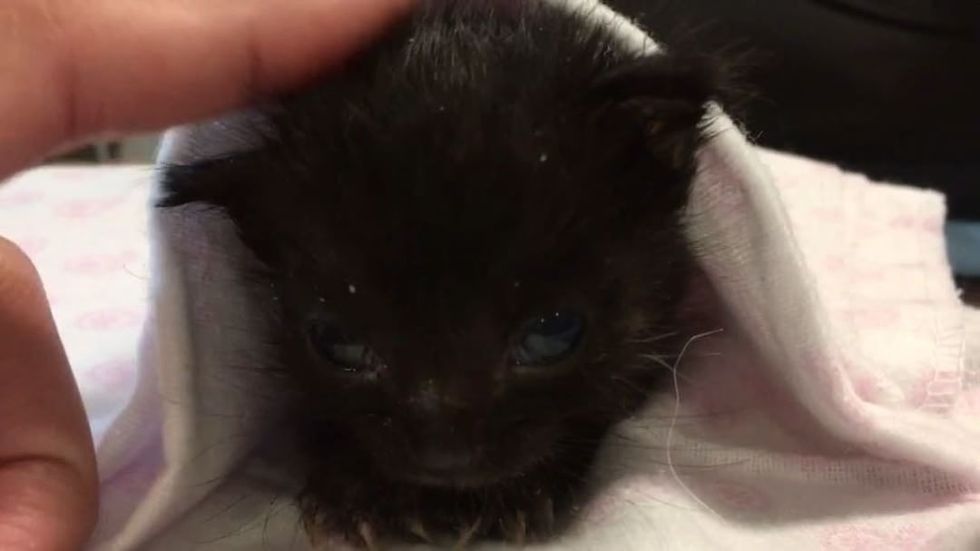 Mini Cat Town
After a few days of round-the-clock feeding, the little girl began to gain some strength in her tiny legs. When she was able to stand, she slowly began to walk and even try to explore.

Due to malnourishment, Nakia had lost most of the fur on her belly and back legs. Thoa's sisters made a few kitten-sized sweaters out of socks to keep her warm.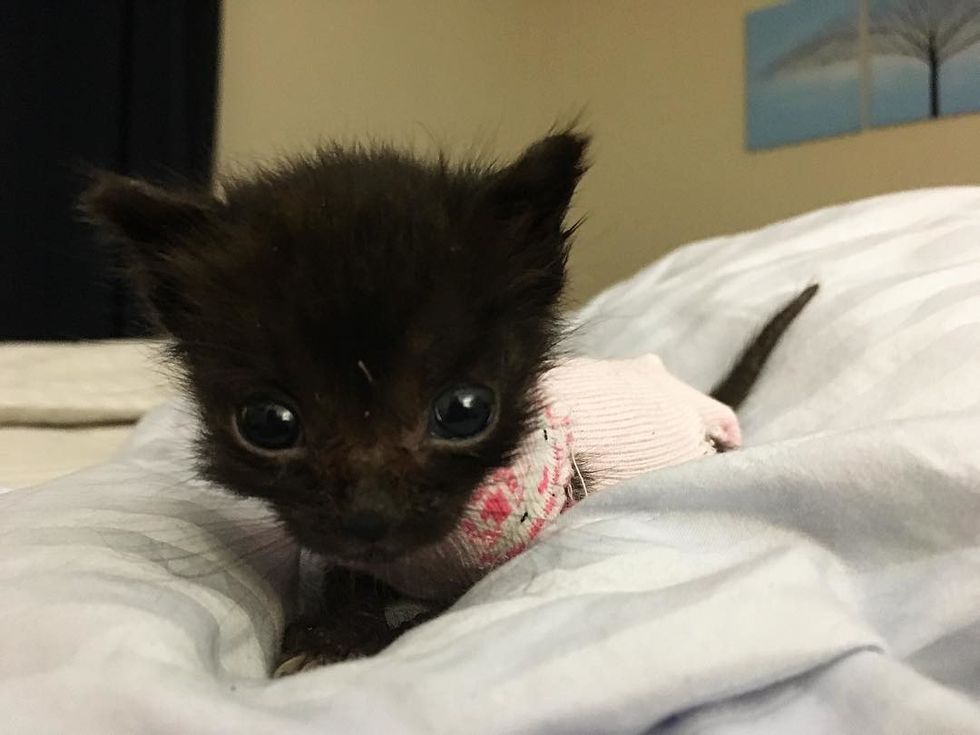 Mini Cat Town
In just a few days, the kitten had gone from barely moving to running circles around her humans, purring nonstop.

"She gained enough strength to climb out of her carrier during meal time and eating like a horse," Thoa added.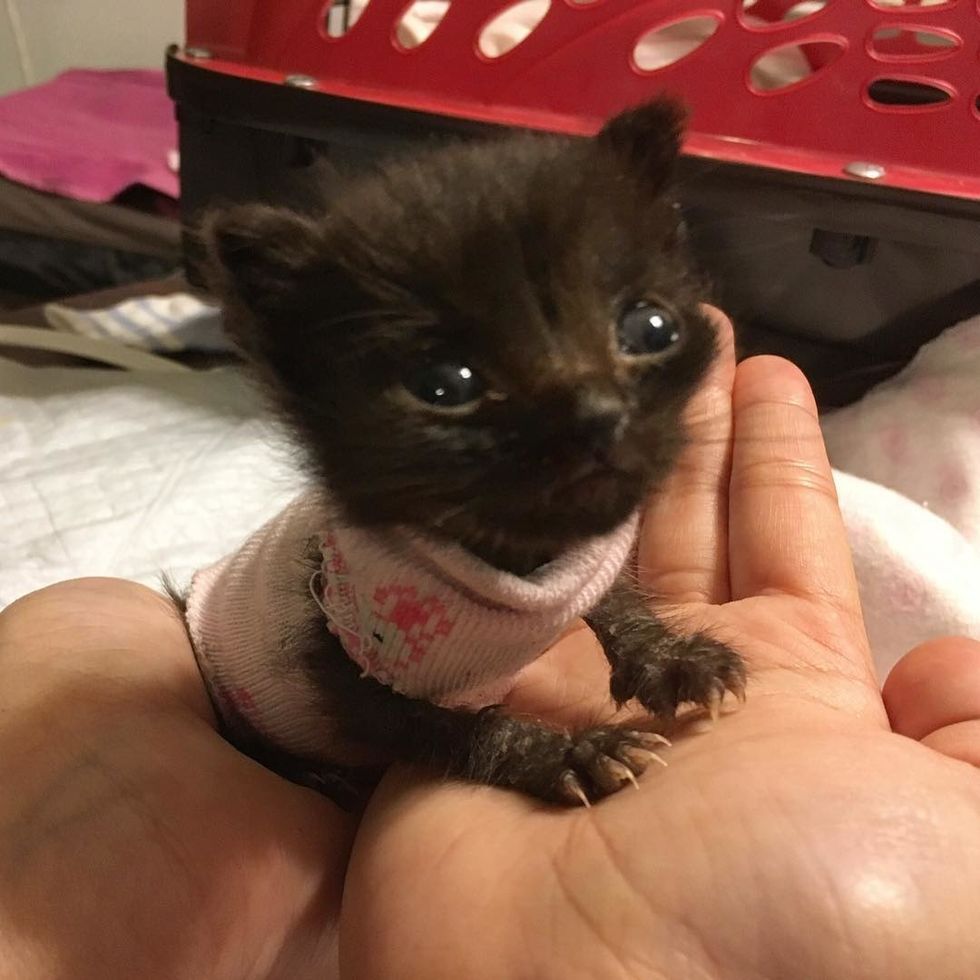 Mini Cat Town
Nakia's development was slowly catching up. She started to play and even figured out how to groom after meals.
They knew that she still had a long way to go but were so proud with how far she had come.
Mini Cat Town
Another rescue kitten, Rosemary, who was two weeks old, weighed about the same as Nakia who was five weeks old at the time.
Despite being three weeks apart, they were about the same size.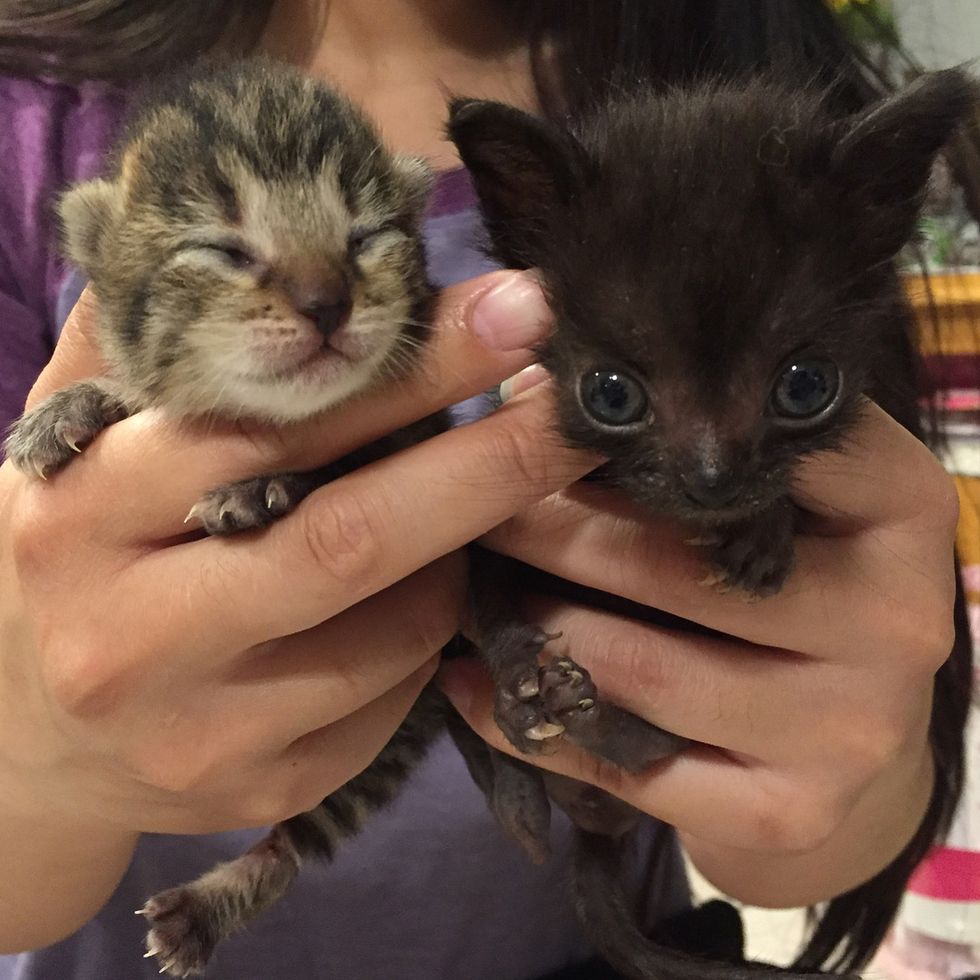 Mini Cat Town
When Nakia began to eat solid food, she cleaned off the plate and left nothing to waste. "Her fur was starting to grow back and she was steadily gaining weight."
She was still very small, but her personality was shining through.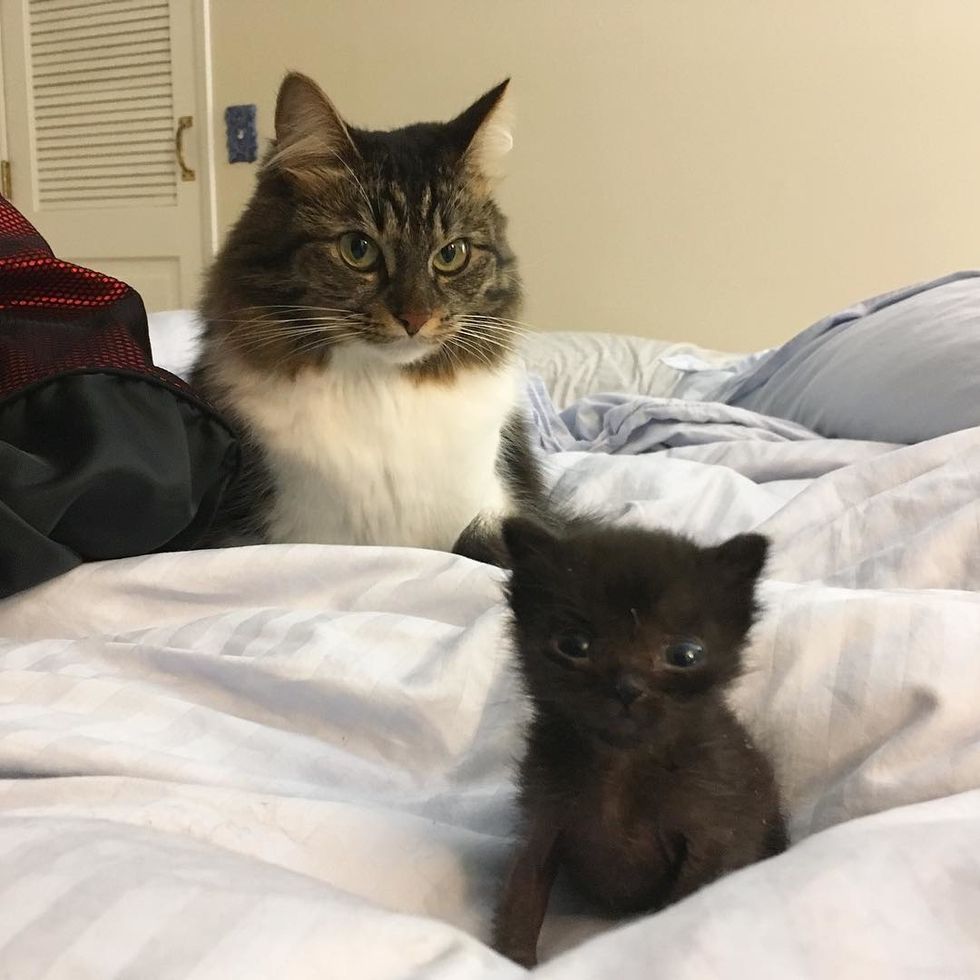 Mini Cat Town
"She's a bit shy, but always wants to cuddle with the closest person available! She's playful, and there's something special about the way she looks at us that makes us melt," Thoa added.

At eight weeks old, she finally reached one pound. "Most of her fur had grown back, she had developed more muscle in her legs, and she was thriving!"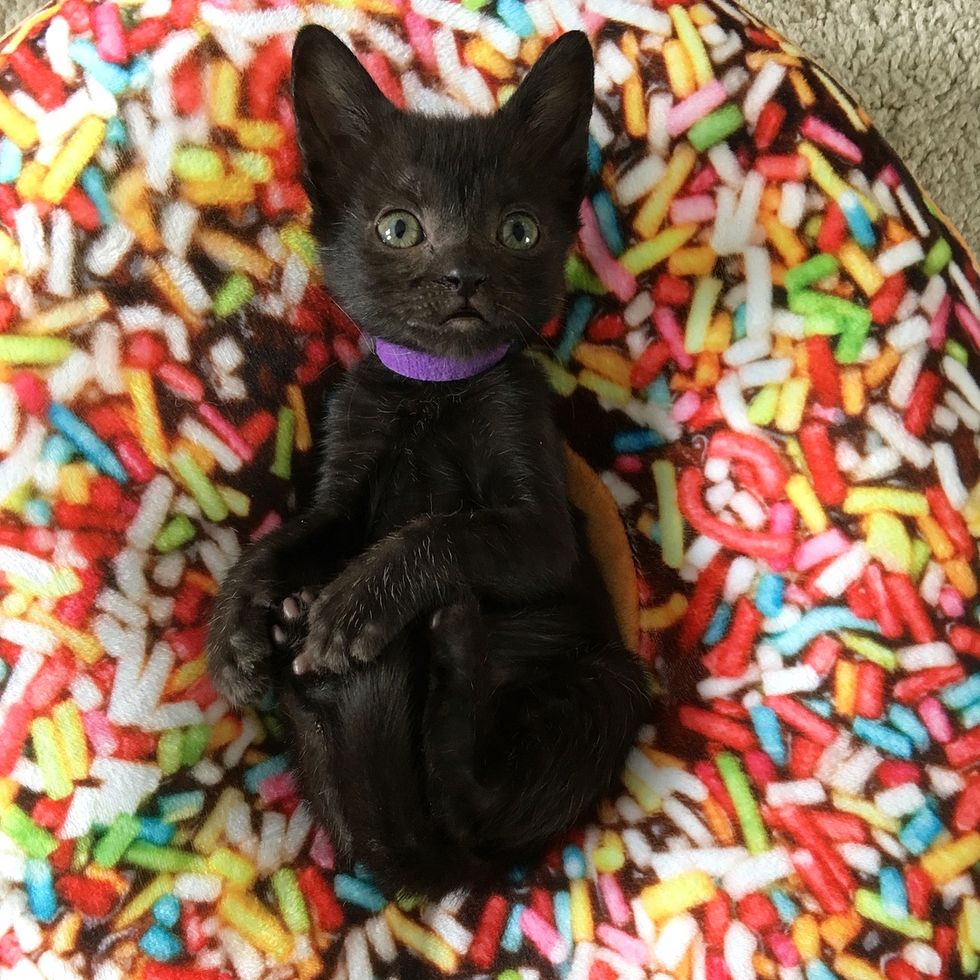 Mini Cat Town
Five days ago (at around 11 weeks old), the little miracle kitten had her dream come true!

"Nakia, now named Elle, went to her new home! She has a kitty sister named Lily and her new parents, so she'll never be lonely! We're excited to see what life has in store for them!"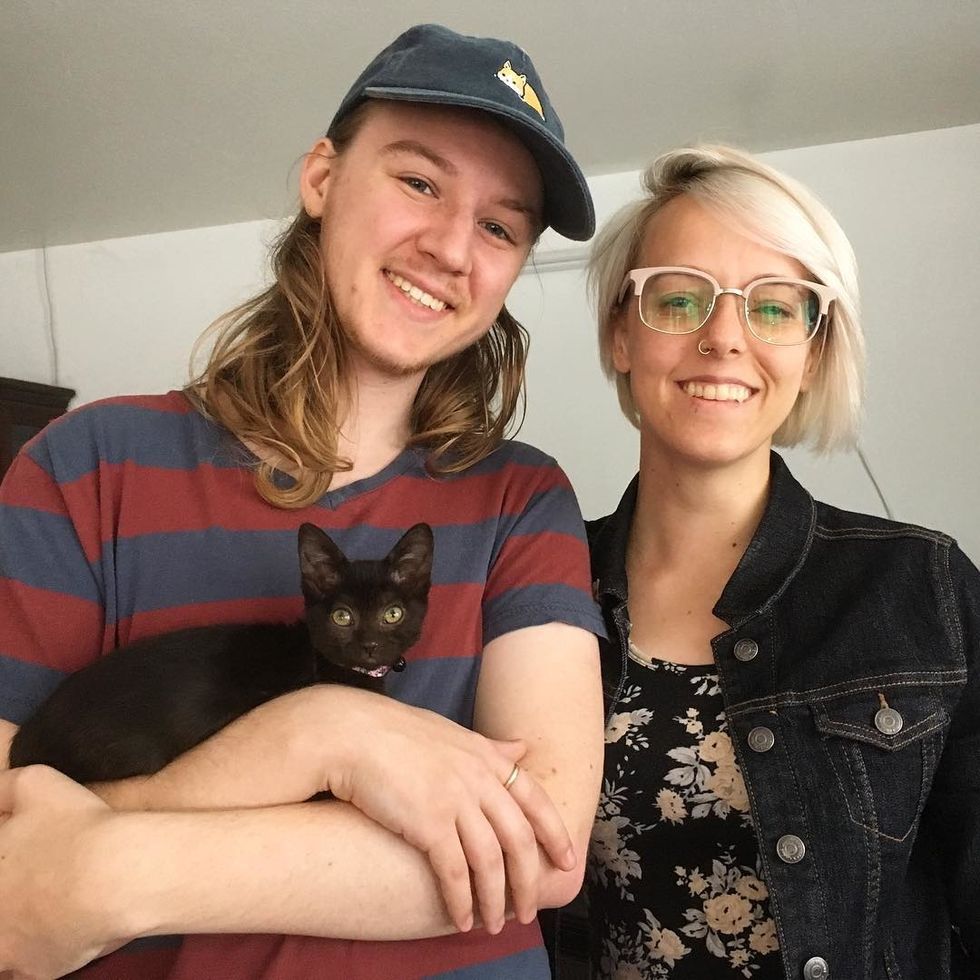 Mini Cat Town
Sweet Elle adores her human parents and has already become very attached to them.
"Elle spent the night curled up between us, purring away," her forever humans said.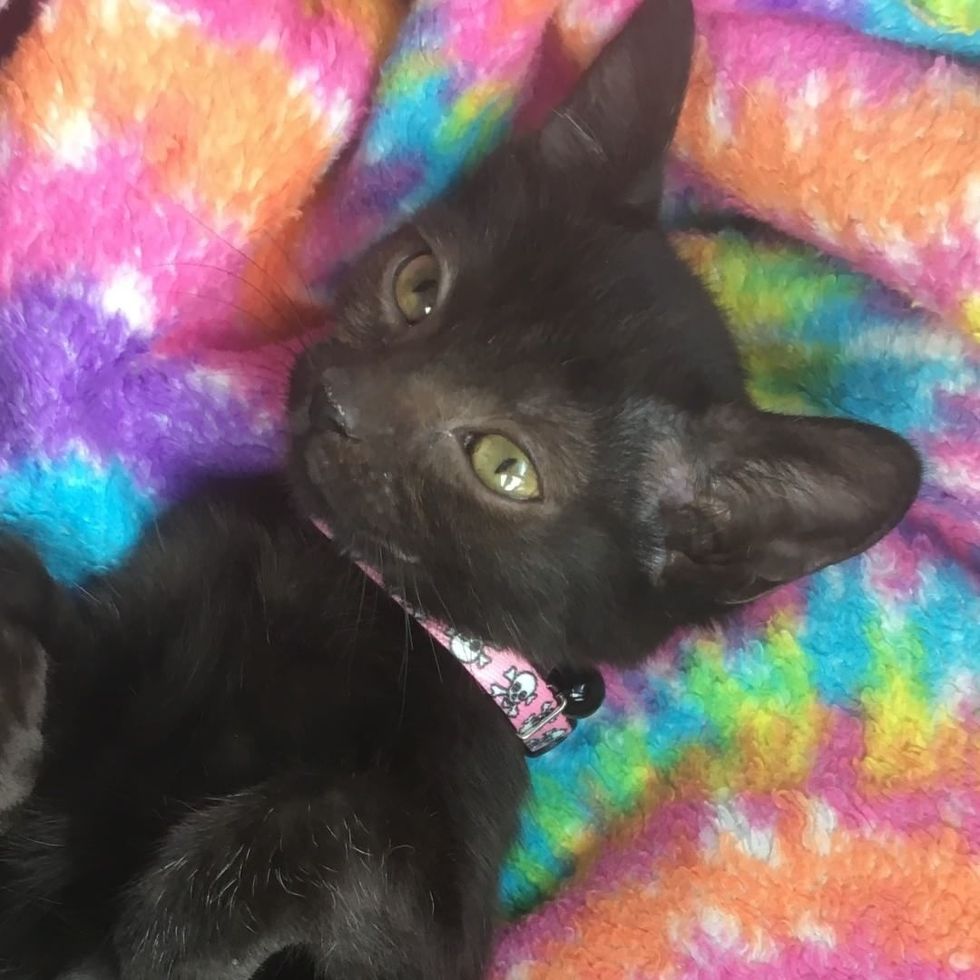 Elle and Lily-belle @elleandlilybelle
Share this story with your friends. Follow Elle's adventures on Instagram. Follow Mini Cat Town on Facebook and Instagram.
Related story: Kitten Who Stays Forever Tiny in Size, Is So Happy to Be Loved After Finding a Home