A cat found himself stuck in a tree 20 feet up from the creek. The little black and white feline was too afraid to climb down on his own until two police officers spotted him and were able to guide him down the tree with something most cats love - a laser beam.
Officer TJ Markowsky of the La Vista Police Department in Nebraska reported on his twitter that he and Officer Harold Rappold found a cat stranded on a Central Park tree around midnight.
[Scroll down for video]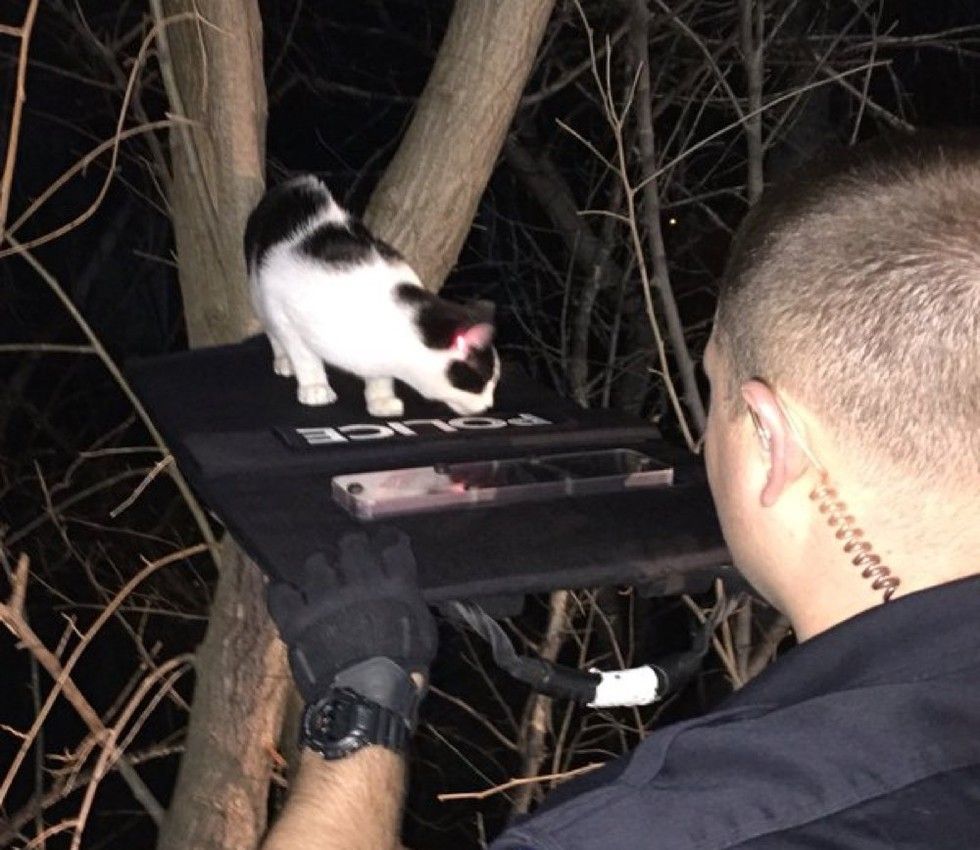 Photo: TJ Markowsky
They knew they had to do something to get the cat down safely from the tree, so they came up with a brilliant idea.

Officer Rappold used the laser beam on his Taser to coax the kitty down the tree and onto a bulletproof shield that Markowsky put up as a bridge for the cat to cross over to him.
They took the kitty to the local Humane Society and a few days later, he was adopted according to Huffington Post.
Ofc. Walter found a cat stuck in a tree in Central Park. @lavistapolice https://t.co/I6plbGRU3i

— Ofc TJ Markowsky (@Ofc TJ Markowsky) 1458189275.0
I used a Bulletproof bunker as a bridge for the cat. Cat was 20 feet up from the creek. @lavistapolice https://t.co/rgJLiLCUzK

— Ofc TJ Markowsky (@Ofc TJ Markowsky) 1458189915.0
Cat is in custody. Humane Society on the way. Charges pending for scratching me. @lavistapolice https://t.co/SvKhkVmlcc

— Ofc TJ Markowsky (@Ofc TJ Markowsky) 1458189991.0
Ofc. Rappold uses Taser red dot to coax cat onto our "bridge". By policy has to do paperwork now. @lavistapolice https://t.co/uC2GXXOsPz

— Ofc TJ Markowsky (@Ofc TJ Markowsky) 1458190214.0
Watch the full story here: