A few months ago, a stray kitten walked up to a group of gamers at a house, meowing and trying to get their attention.
They offered him some tuna and he just kept coming back.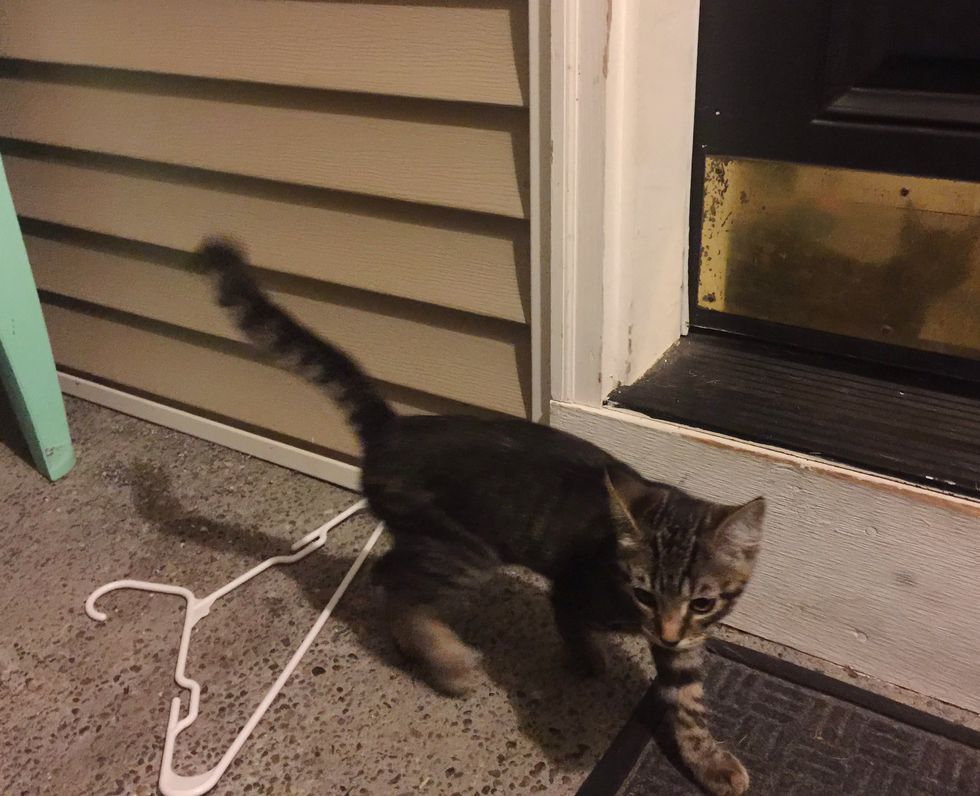 Supplied by Tori
James from Pacific, Washington noticed a kitten coming from the woods when he was at a friend's house for game day. As soon as the kitten smelled the food they offered, he came running and scarfed it right down. At the time, they couldn't tell if the kitten belonged to someone.
When James returned to the house the next time, the kitten showed up again for food. "He ate it so quickly that James had to feed it to him a measured amount at a time to avoid making him sick," Tori, Jame's partner, told Love Meow.
"He was noticeably thinner but we still had hope that he had a family. His demeanor seemed to say 'I have decided to be your cat now. Food and love please.'"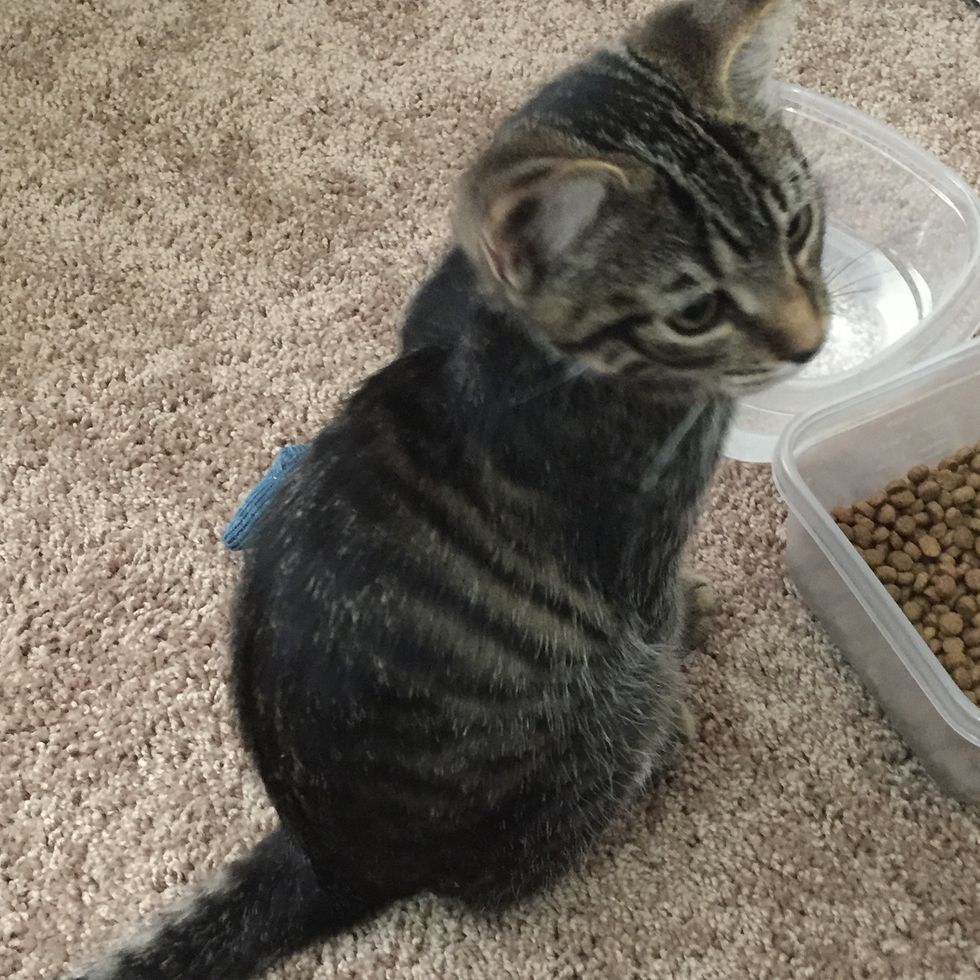 Supplied by Tori
A week later, as the weather started to change, they noticed that the kitten was deteriorating quickly. They knew that they had to do something to help him. "It became obvious that no one was taking care of him and if we didn't do anything he would die."
"Our friends who were hosting the game day called us one stormy evening and told us that they managed to get him inside but couldn't keep him because they have two big dogs and were worried about his safety," Tori told Love Meow.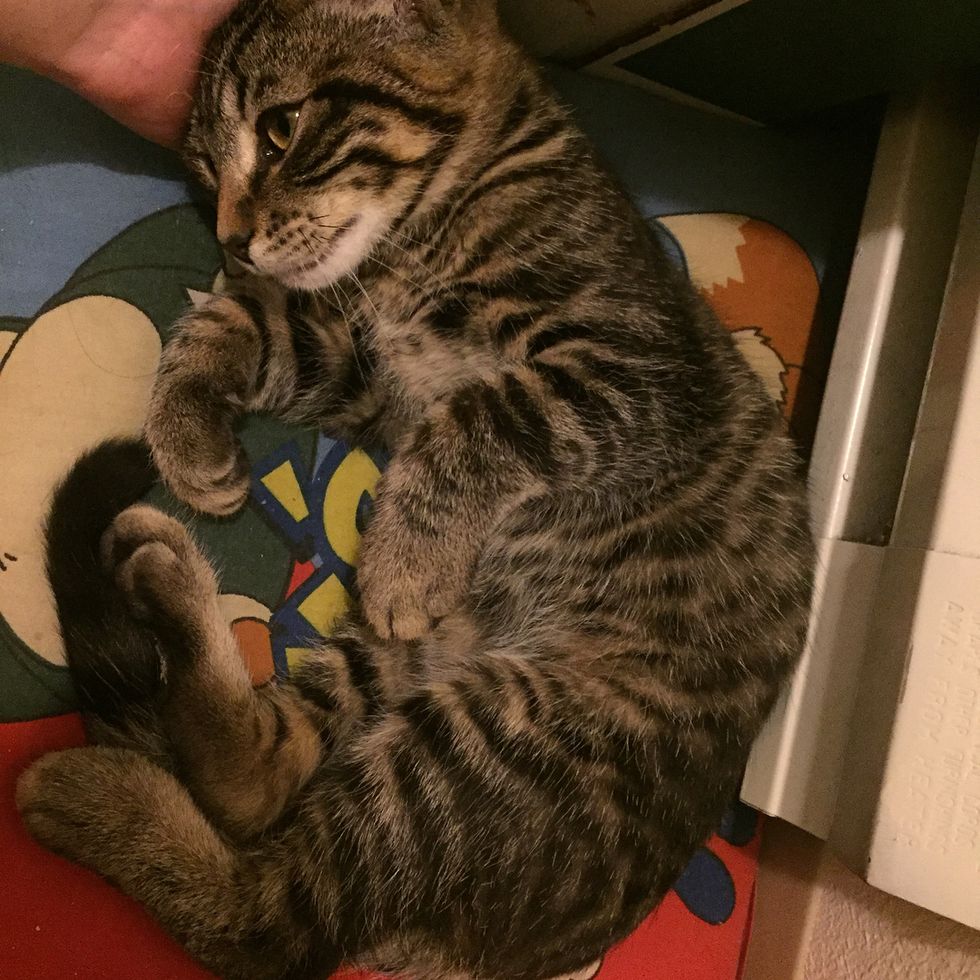 Supplied by Tori
"They asked us if we could take him and we did, with the intent to find him a forever home. We picked him up and he was painfully thin and dehydrated. We got him settled and started to get to know each other.

"He was timid but seemed determined to prove to us that he was ours. I think he knew that he wouldn't survive much longer without someone to care for him."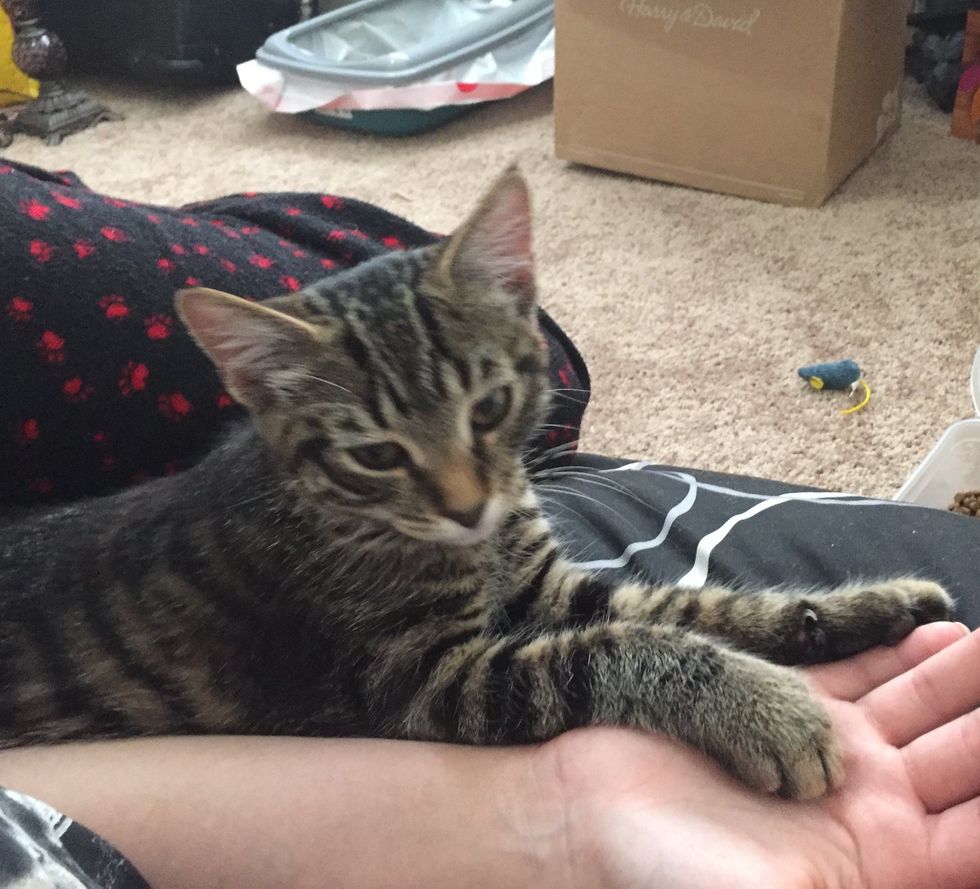 Supplied by Tori
The tabby boy would try to nurse and chew on Tori's hair. He had a habit of reaching out and touching everything with his paws as if it was a way of him claiming ownership.
"Because of that, we decided to call him Pawl."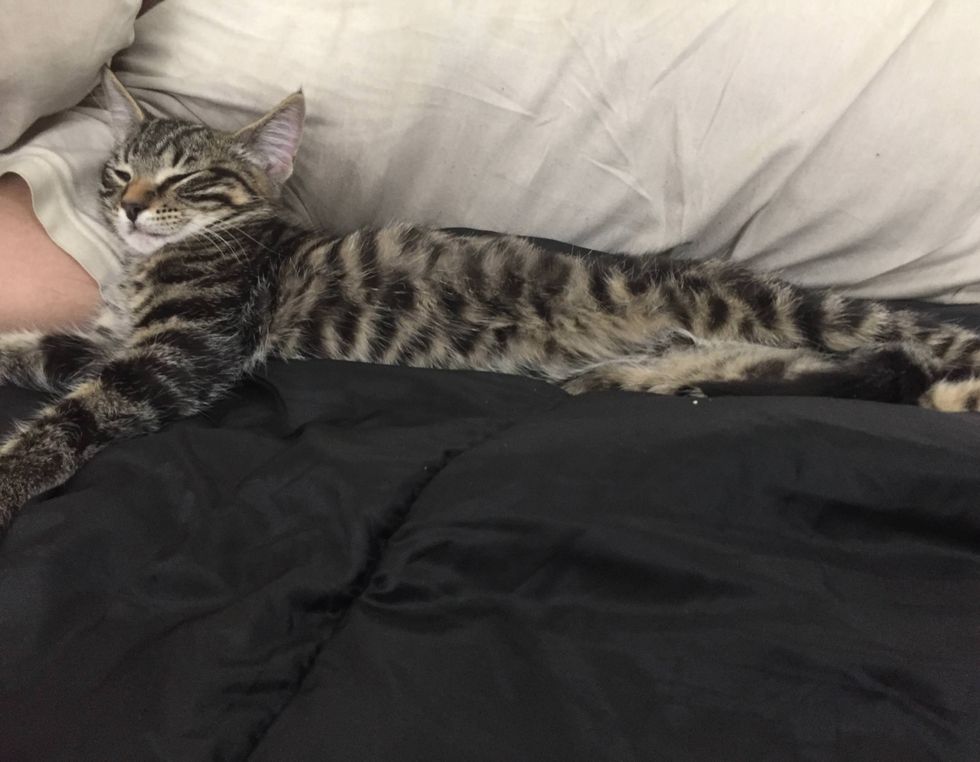 Supplied by Tori
A few days later, it was time to find Pawl a forever home, but the couple was not ready. "I said, 'you know he already has one, right?.' And James just sighed and said, 'You're right.'"
What they didn't foresee was what an affectioinate snugglebug he would turn out to be.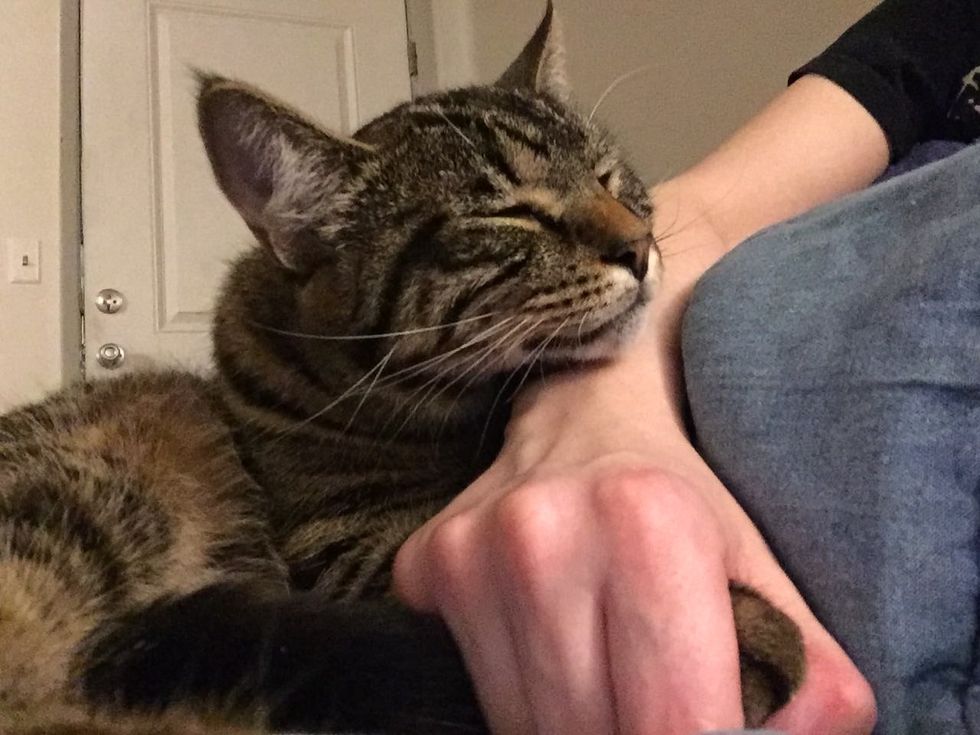 Supplied by Tori
The couple has two other cats at home, so Pawl stayed in the spare room until he was vaccinated.
James and Tori would sleep in his room as a way of getting him used to them.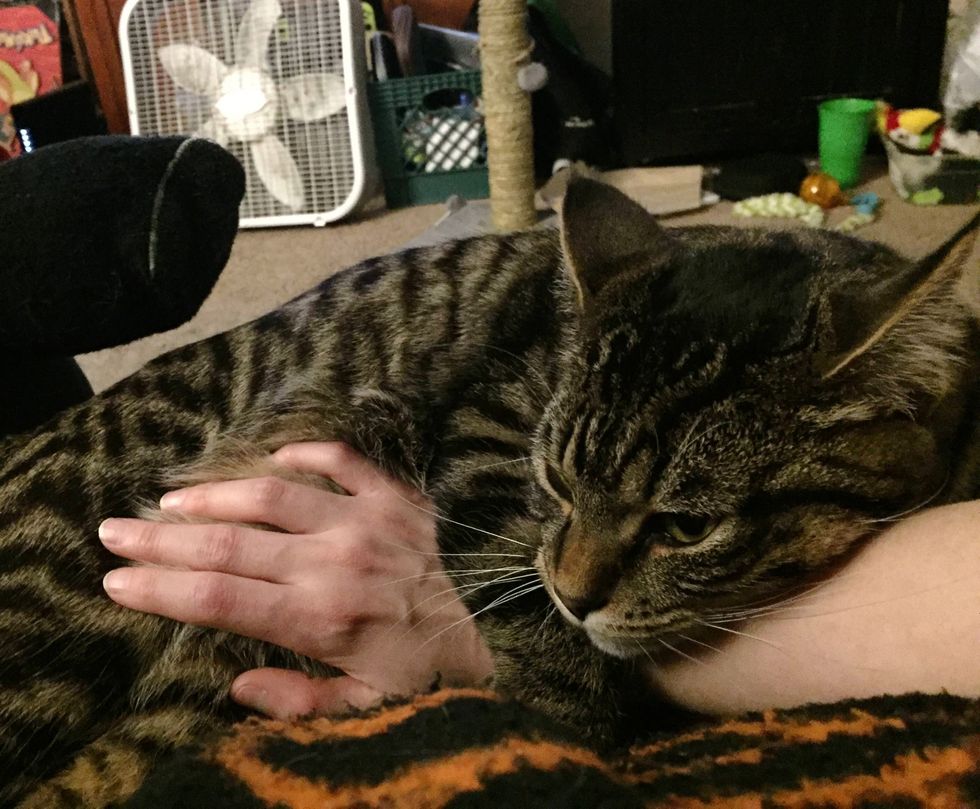 Supplied by Tori
"It was only a few days before I started waking up to him curled up in my hair and chewing on it gently," Tori told Love Meow.
"From then on he wanted all the love and attention we could possibly lavish on him."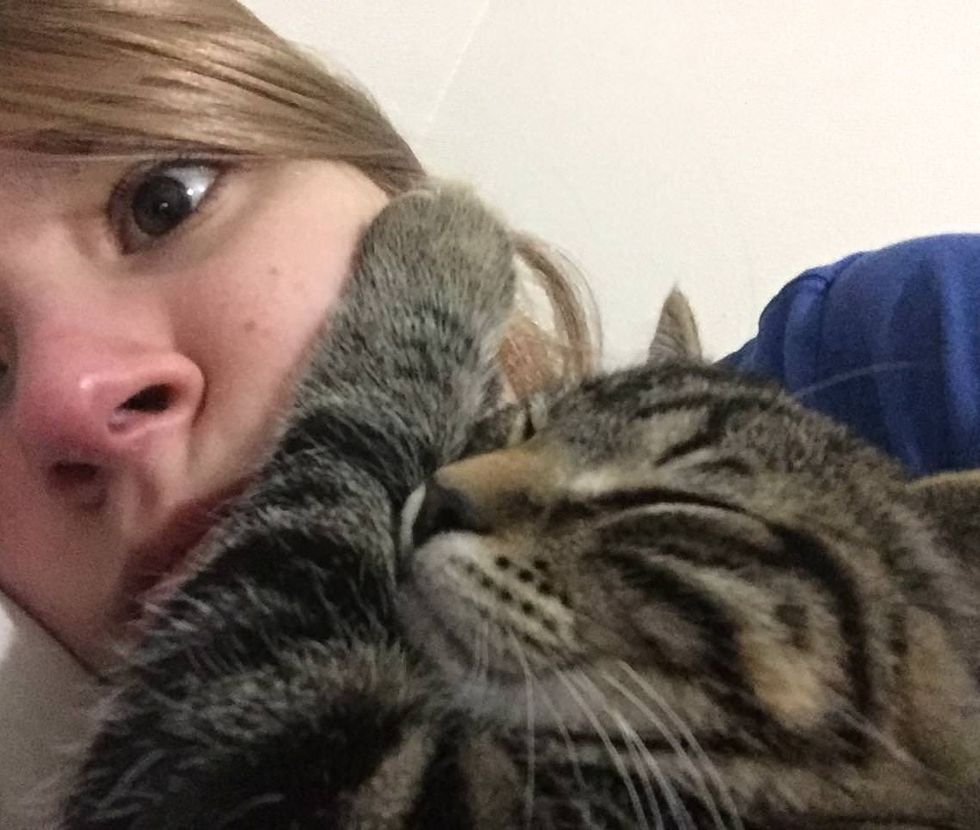 Supplied by Tori
Pawl is the most quirky kitty that the couple has ever met.
"As he grows up, the lasting effects of his childhood become apparent," Tori told Love Meow. "He is really attached almost to the point of separation anxiety."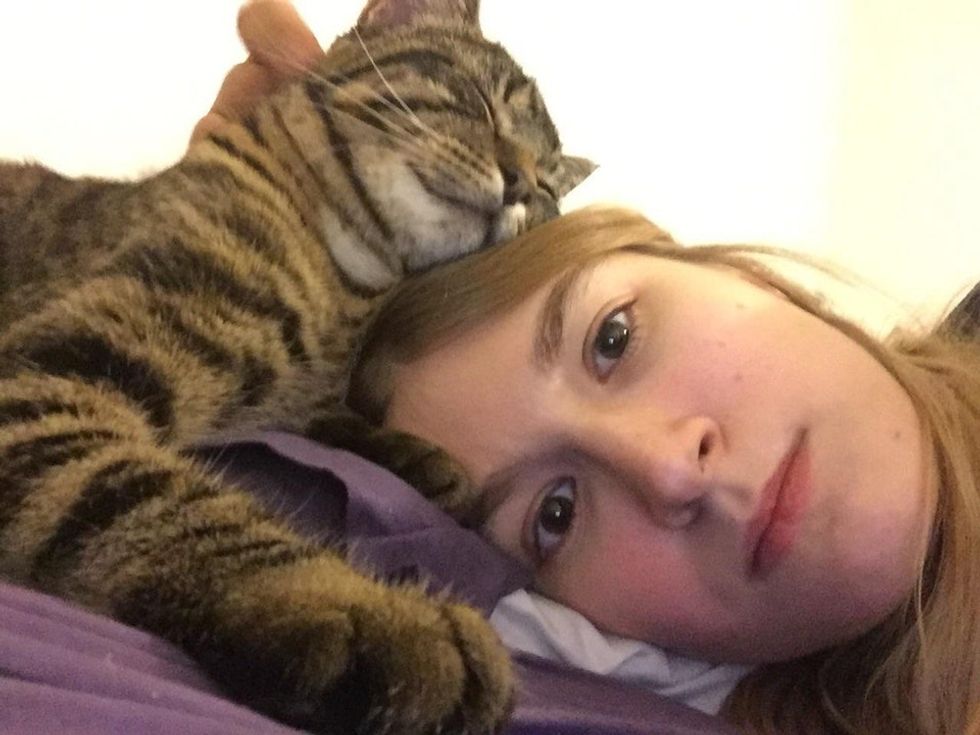 Supplied by Tori
"He absolutely loves attention and cuddles but he doesn't purr. He is very food motivated and will beg for a taste of whatever we are eating."

But nothing makes him happier than snuggling with his humans.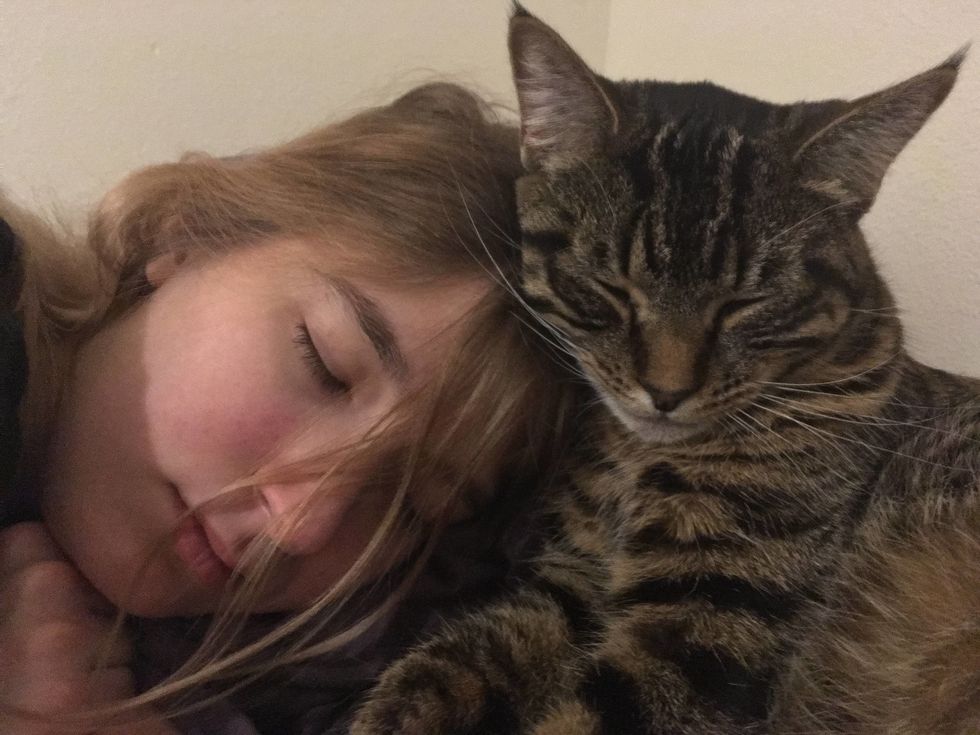 Supplied by Tori
The tabby kitty has come a long way.

"There is no trace of shyness or timidity within him now and he loves having people over, especially members of that Dungeons and Dragons (game day) group. I often joke that he is way more of an extrovert than I am."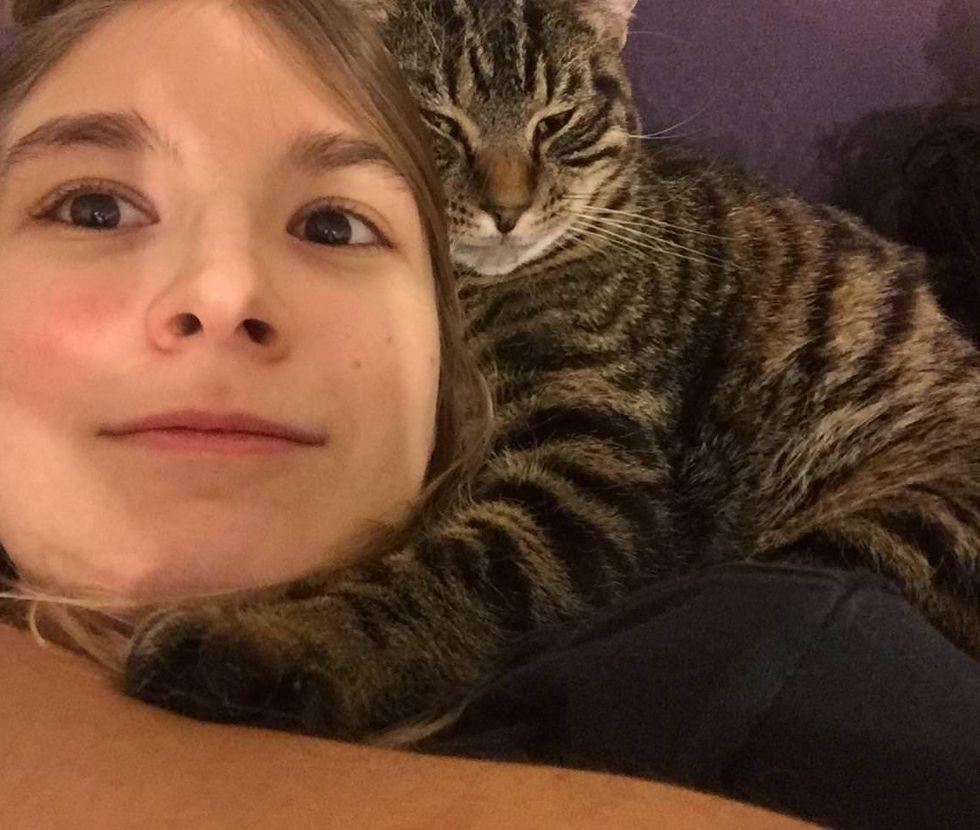 Supplied by Tori
"He enjoys playing in water, jump-tackling our other cats and destroying every pair of head phones we own."

Pawl only naps exclusively on his humans and often falls asleep in their arms.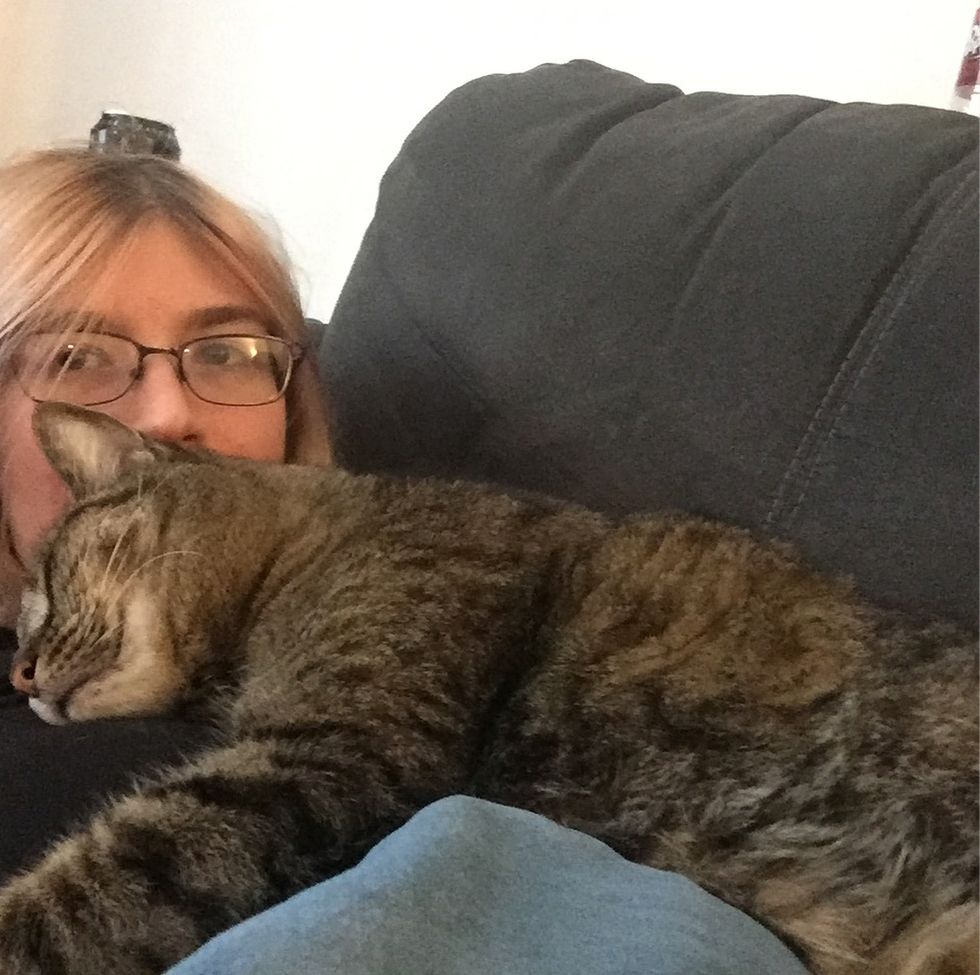 Supplied by Tori
"I wouldn't have it any other way. He's one of the most affectionate and quirky cats I've ever met."
Seven months after the rescue… look at him now!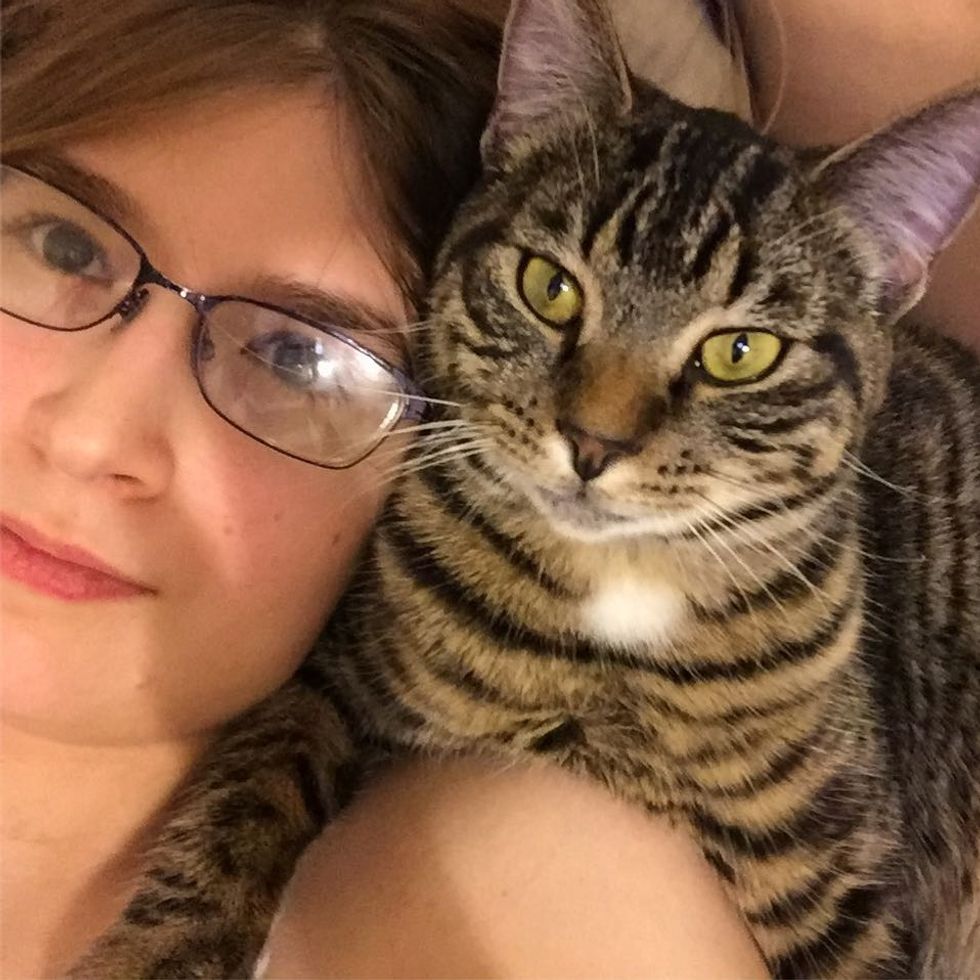 Supplied by Tori
Pawl dreaming while cuddling with his mom.
Share this story with your friends. Follow Pawl on Instagram @smallpawlandco

Related story: Man Saves Orphaned Kitten from Backyard and Raises Her into Snuggle Bug, Now a Year Later