A feral cat who was rescued along with her kittens, took in three other babies who were in need of motherly love.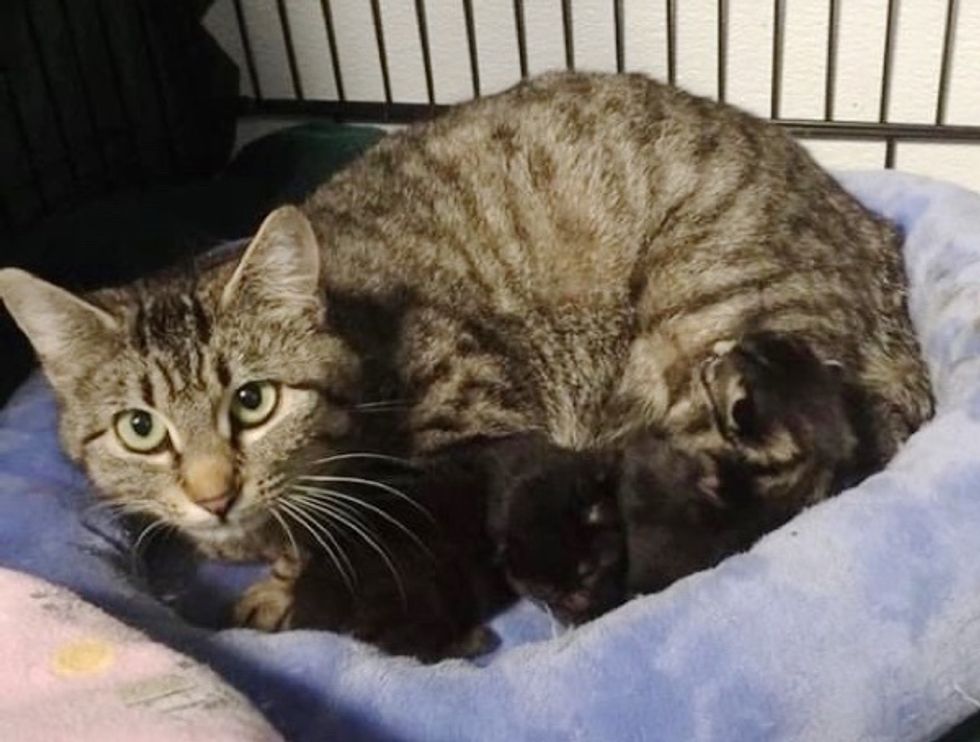 Kelsey @kelseymcknight
Three weeks ago, Kelsey Mcknight, an animal rescuer based in British Columbia, was working on a TNR (trap-neuter-return) project for a colony of cats that had found their home at a farm.
She discovered a cat mom nursing a litter of newborn kittens. "They were at risk of getting run over by the cows on the farm once they got mobile," Kelsey told Love Meow.
The cat mom was very protective of her kittens and didn't want anyone to come near. "She hissed at me and made it very known that she had her babies and I was not to touch them or even look at them. I was worried that she was going to attack me when it came time to rescue them."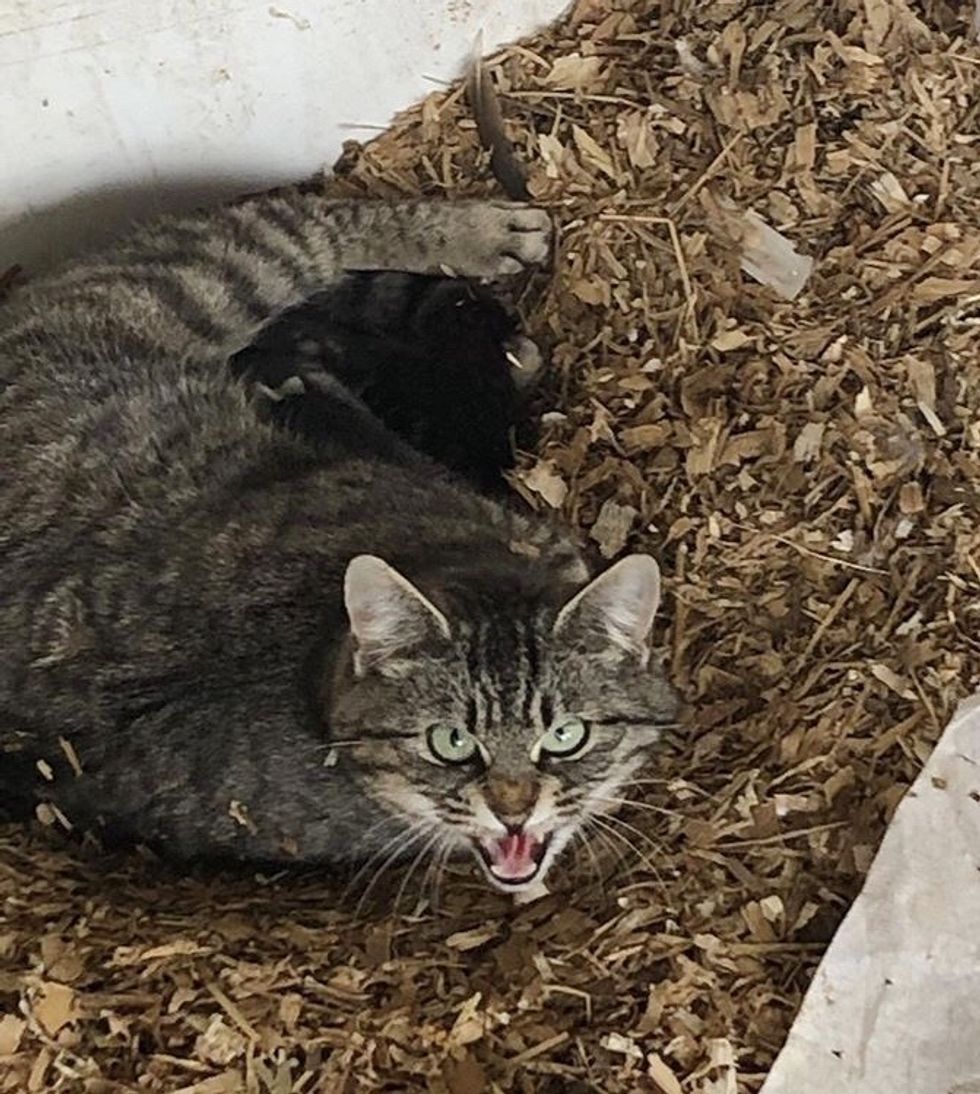 Kelsey @kelseymcknight
"Thankfully, she was more bark than bite, and she allowed me to move her kittens into a small kennel under her watchful eye," Kelsey said.

To get the mom to safety, Kelsey set a trap for her with the kennel placed at the end, hoping that she would walk right into the trap. And she did.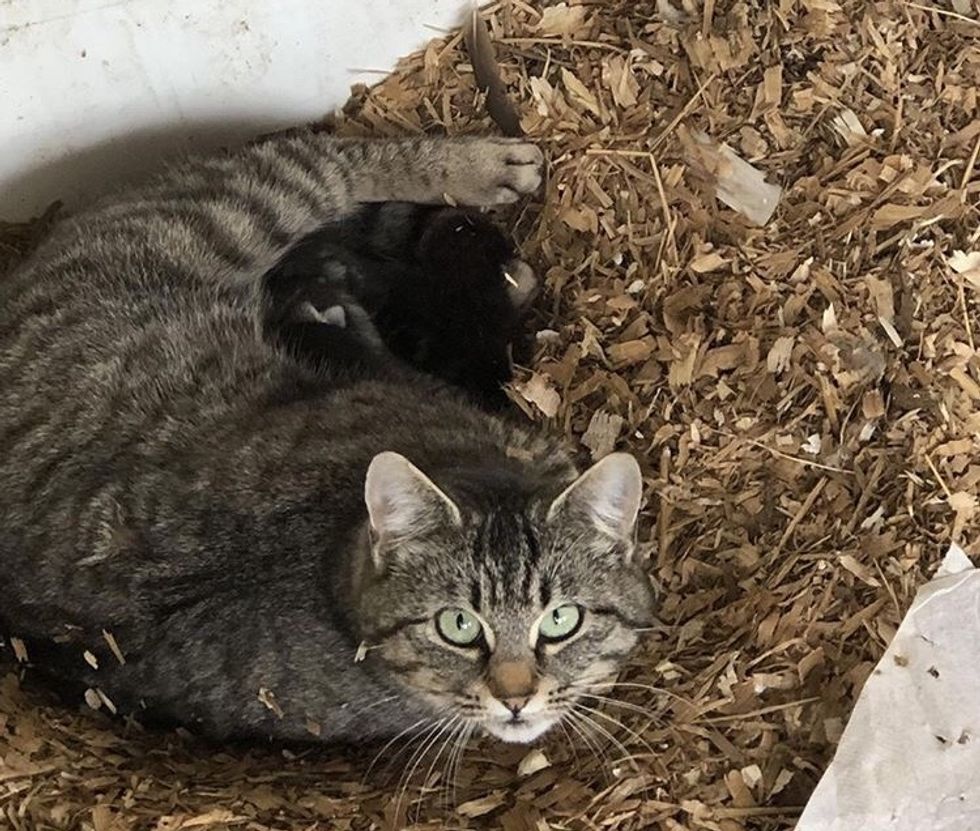 Kelsey @kelseymcknight
"It took less than 10 minutes and the family was safe."
Kelsey connected with her rescue, Shuswap Paws, and they were able to secure a foster home through Critteraid Sanctuary. Barb Gosselin transported the little family to their new abode an hour and a half away.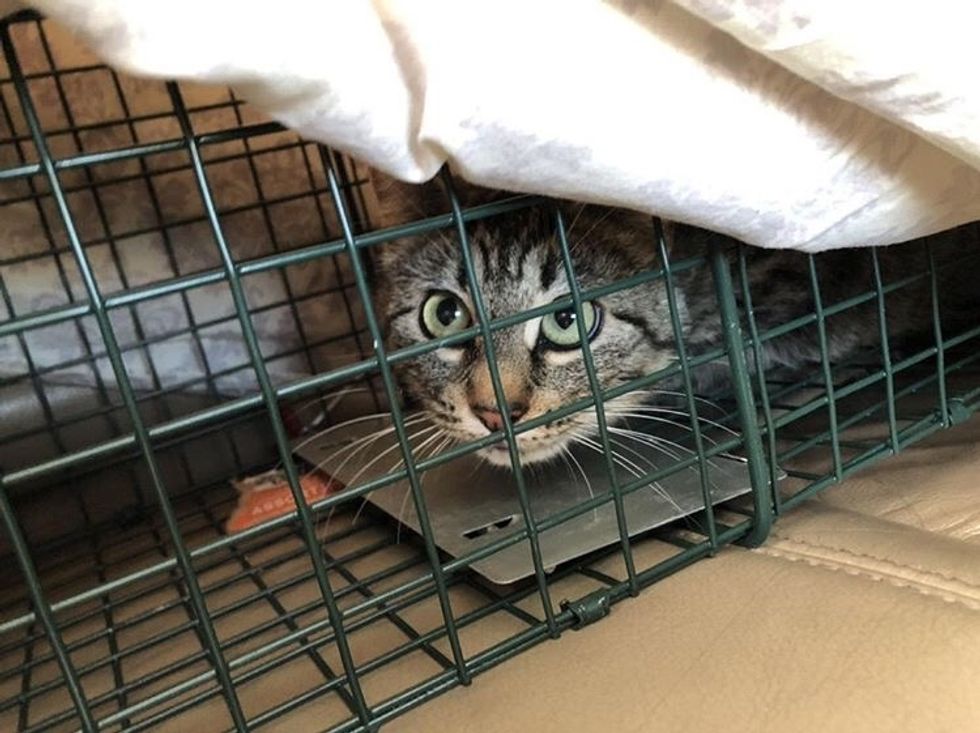 Kelsey @kelseymcknight
They named the cat mom Winnie the Moo and her three girls Lova Moo, Daisy Woo, and Lucky Moo.
"Momma and babies are doing well, they are getting the best care possible and the best shot at growing into happy healthy kittens."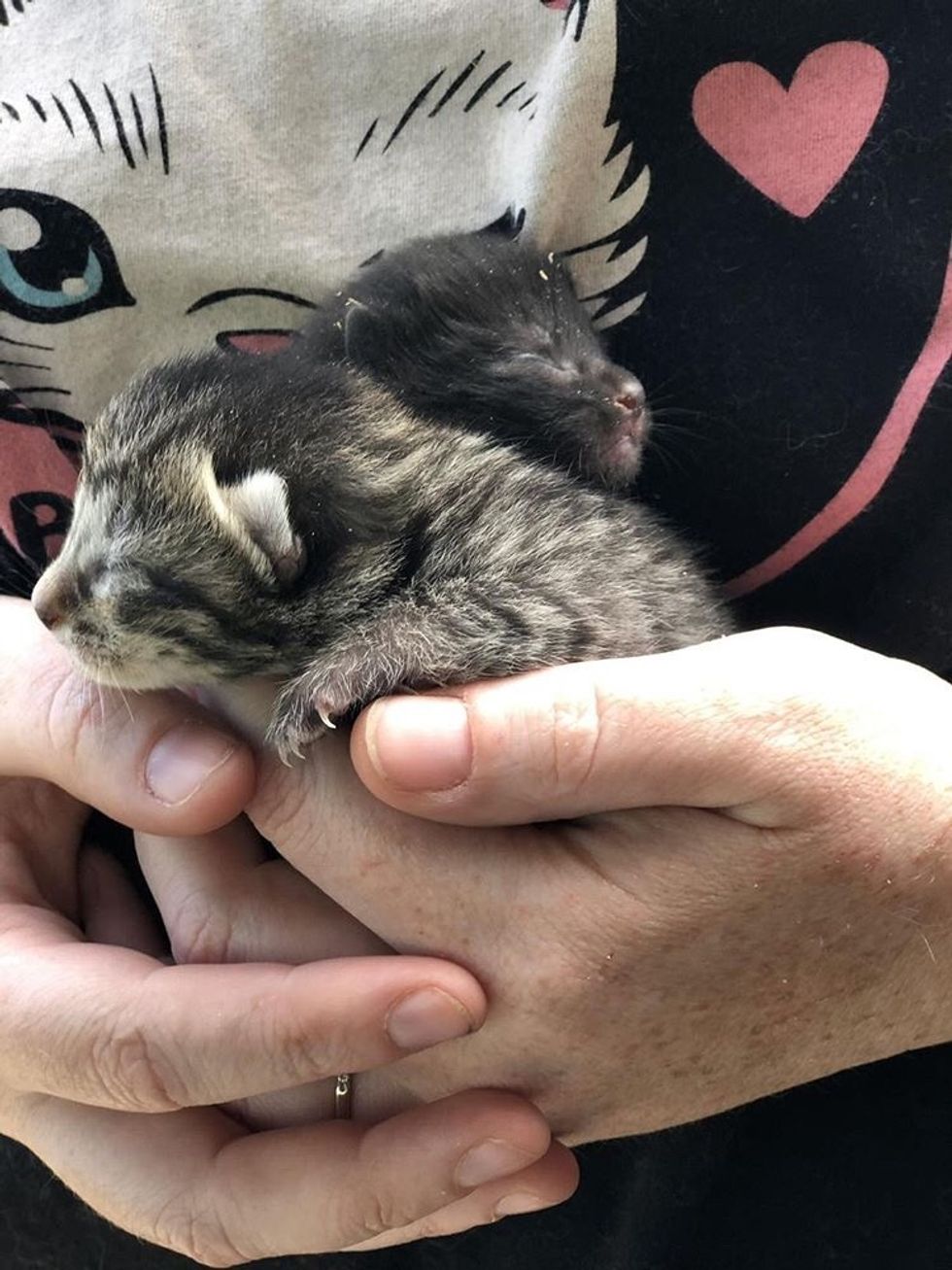 Kelsey @kelseymcknight
Critteraid Sanctuary had a tiny singleton (black kitten) who had been rejected by his young mother. Last Tuesday, they decided to try introducing him to Mama Winnie.

"The little baby's mom wouldn't feed it, and it was dehydrated and weak. A last minute thought was to see if Winnie would take on the baby. Well, she did," Kelsey said.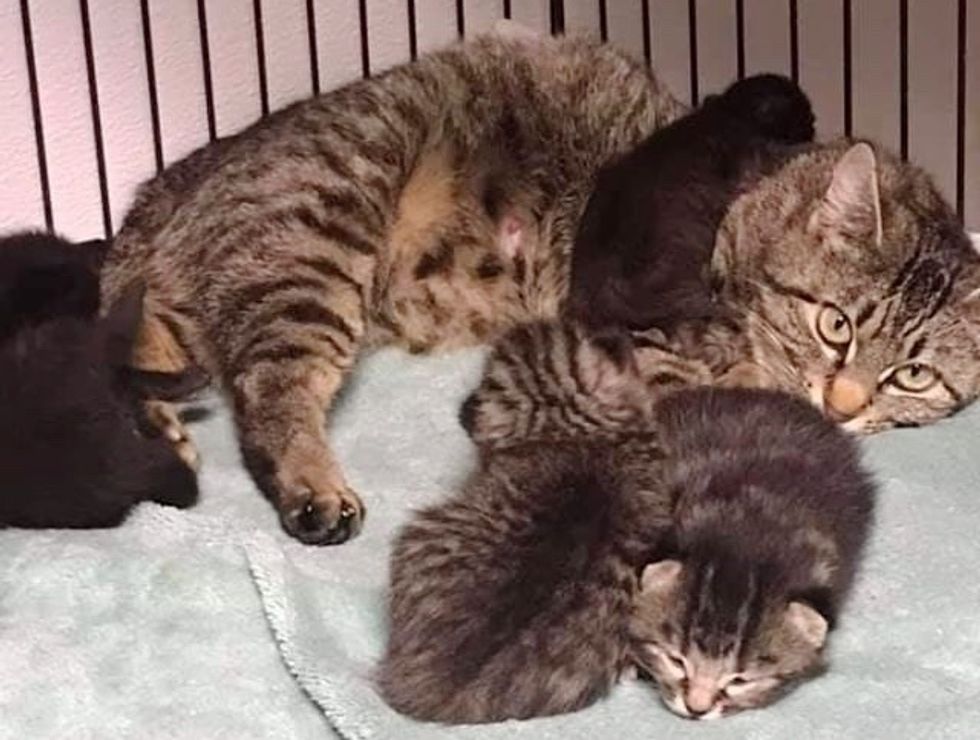 Jacenda Byer
Watch Winnie and her kittens in this video:
Feral cat mom cares for her kittens and other kitties in needyoutu.be
"Winnie stepped up her game and is now raising four kittens. Without her the tiny baby's chance of survival would be reduced," Kelsey added.

A few days later, another two kittens were brought into the rescue, who desperately needed a mom. They immediately thought of Winnie.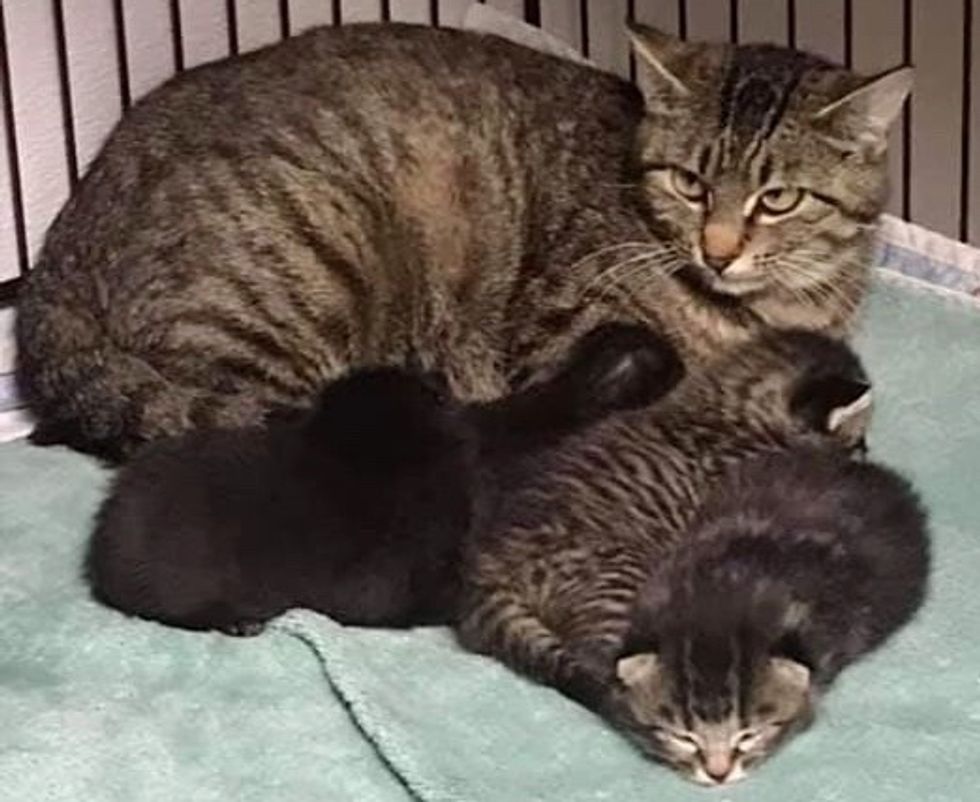 Jacenda Byer
They placed the new babies in the nest with Winnie. Without hesitation, the sweet mama took them in and started feeding and cleaning them as her own.
"She is nursing her own (three) children and these three who needed her so much without any fuss or fanfare. She loves unconditionally. She is strong and brave. That is motherhood and it is a wonder to behold," Critteraid Sanctuary said.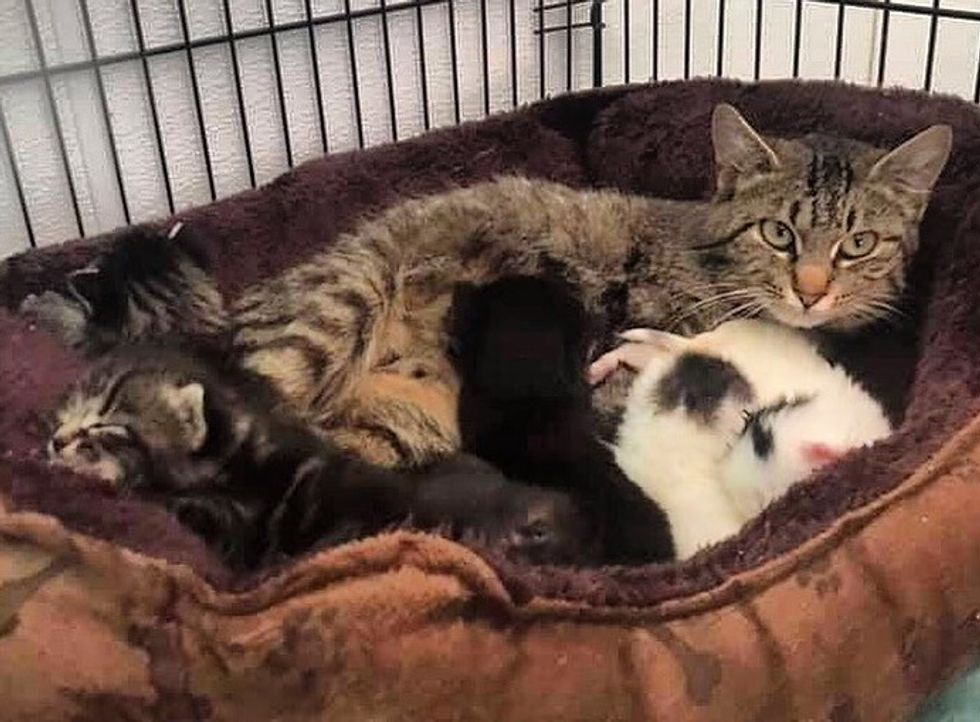 Mama Winnie cuddling with her six kittens.Jacenda Byer
Share this story with your friends. Follow their updates and Critteraid Sanctuary on Instagram and Facebook.

Related story: Cat Sneaks into Man's Home to Have Kittens and Forever Changes His Life