A cat forever changed a man's life when she snuck into his home last summer and decided to have kittens there.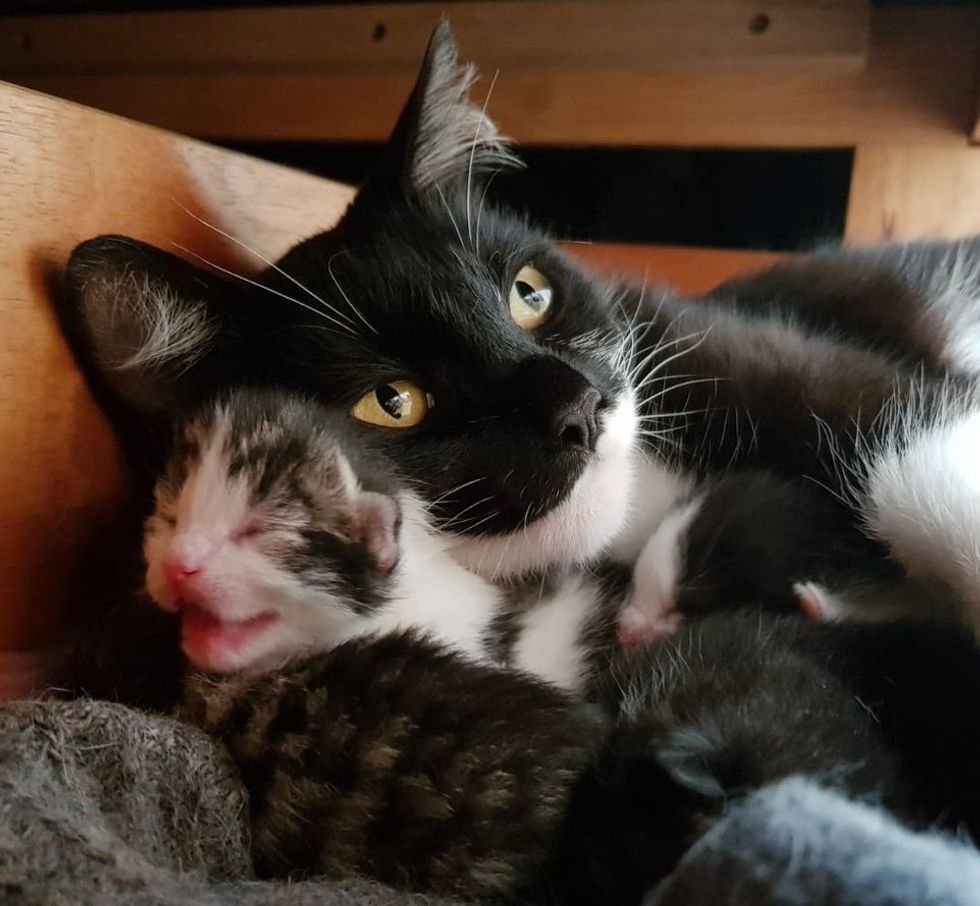 Paris Zarcilla
When Paris Zarcilla, a London-based film producer, woke up that one morning, he was shocked to find a cat whom he had never seen, and her newborn kittens under his bed.

"Am I dad now," he asked himself.
He was overwhelmed but knew that the cat had chosen his dwelling for a reason. His room suddenly became a kitten nursery and he felt a sense of responsibility to help raise the kittens alongside the cat mom.
So... I JUST FOUND A CAT THAT IS NOT MINE AND IT HAS HAD BABIES UNDER MY BED. https://t.co/83ktBHGgT5

— Paris Zarcilla (@Paris Zarcilla) 1527670414.0
"Any work commitments I have are now temporarily on hold," he wrote on twitter.

Paris wasn't sure where the cat came from. After reaching out an animal rescue group in the UK, he was advised that the mom should stay with the kittens until they were weaned.
Greetings from the pride. https://t.co/fH4SglvRhX

— Paris Zarcilla (@Paris Zarcilla) 1527843225.0
He planned to take her to the vet to scan for a microchip in case she belonged to someone, and held onto the idea of naming them as he didn't want to get too attached.

Over the next few weeks, the adorable feline family brought much joy into Paris' life. As they grew bigger and more playful, he found himself falling harder for them each day.
"I may have learnt more about myself in the past 4 weeks than I have in the past 4 years," he wrote.
I'm at a friend's wedding. Was just talking and bonding with a guest about our love for our new born children. Show… https://t.co/CJvYgnsNHu

— Paris Zarcilla (@Paris Zarcilla) 1528556461.0
When the cat mom went for her first vet visit, they couldn't find a microchip. "No one has come forward to claim her," he said on twitter. "So I will."

He decided to name her "Forever" as she has forever changed him since her arrival.
If it's not already obvious yet, I'm in love and I intend to keep all 5 wonders. Yep, officially gone cray. It's ti… https://t.co/cwRceXCNEA

— Paris Zarcilla (@Paris Zarcilla) 1529885856.0
The four feline siblings have grown by leaps and bounds.

They are reaching adulthood in a few months. Each kitty has a unique personality, but they all adore their human dad and enjoy snuggle time with him.
I became a sofa today. And I'm ok with this. https://t.co/2Rb3qldR3a

— Paris Zarcilla (@Paris Zarcilla) 1549202940.0
The tuxedo cat chose Paris' home and delivered four little bundles of fur under his bed, and it forever changed his life.
Look at them now!
A Sunday kind of love at the house of Zarcilla. https://t.co/Ai7TOJUIOb

— Paris Zarcilla (@Paris Zarcilla) 1551625330.0
Share this story with your friends.
Related story: Couple Went to See Cats and Kittens But Ended Up Being Chosen by This Little Guy