A man from Brooklyn came across a scraggly stray cat who was looking for someone to help him.
The kitty was just skin and bones and covered in dirt.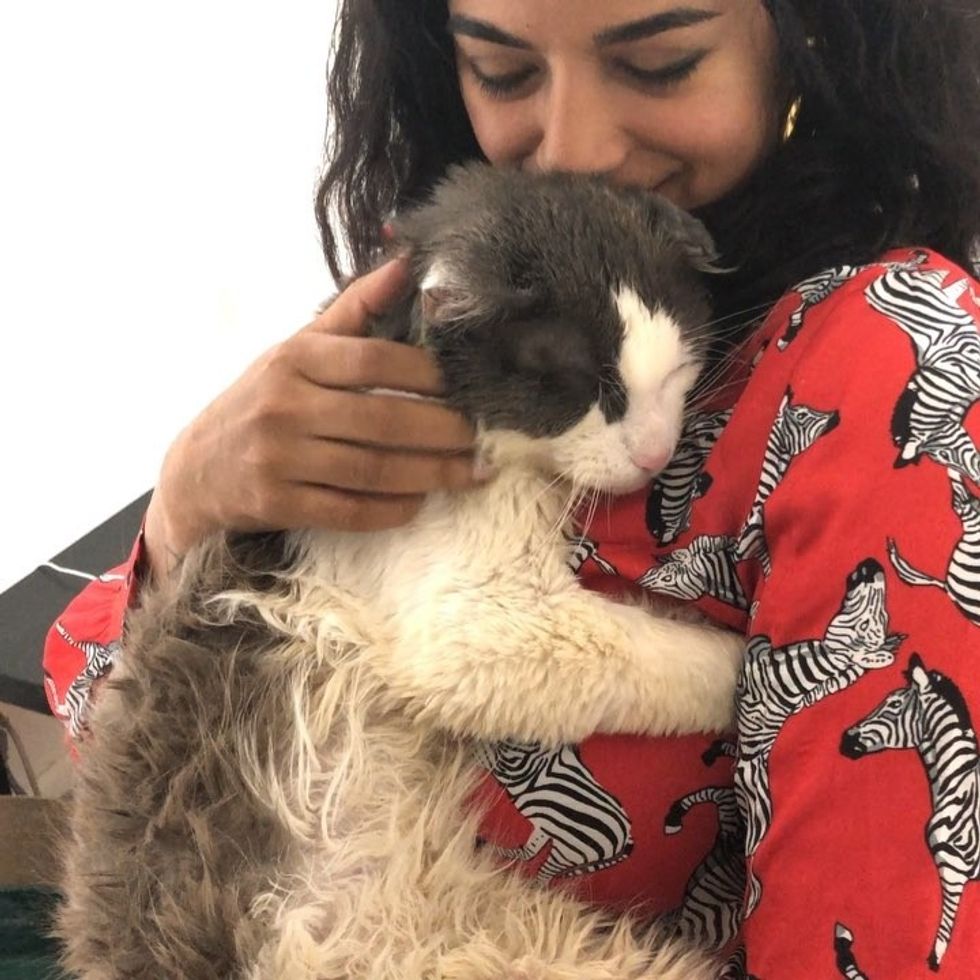 Flatbush Cats
Will of Flatbush Cats, a TNR rescue group in Brooklyn, New York, found this little guy when he was on his way to a cat colony a month ago. "A concerned neighbor was sitting with him and about to get some food. I ran to get my carrier and we used the food as a lure to bring him in," Will shared with Love Meow.

The kitty was so hungry that he walked right in and was ready to leave the street life behind. "He was in rough shape with weight/muscle loss from starvation and dehydration. Easily the dirtiest cat we've ever seen with tons of thick, matted hair clumps, but that can be fixed."
They named him Teddy. "He was a worn, raggedy-eared teddy bear, discarded and forgotten on the street. The pain in his eyes tells me that he'd once been loved, and is patiently hoping that maybe someone would love him again," Will said.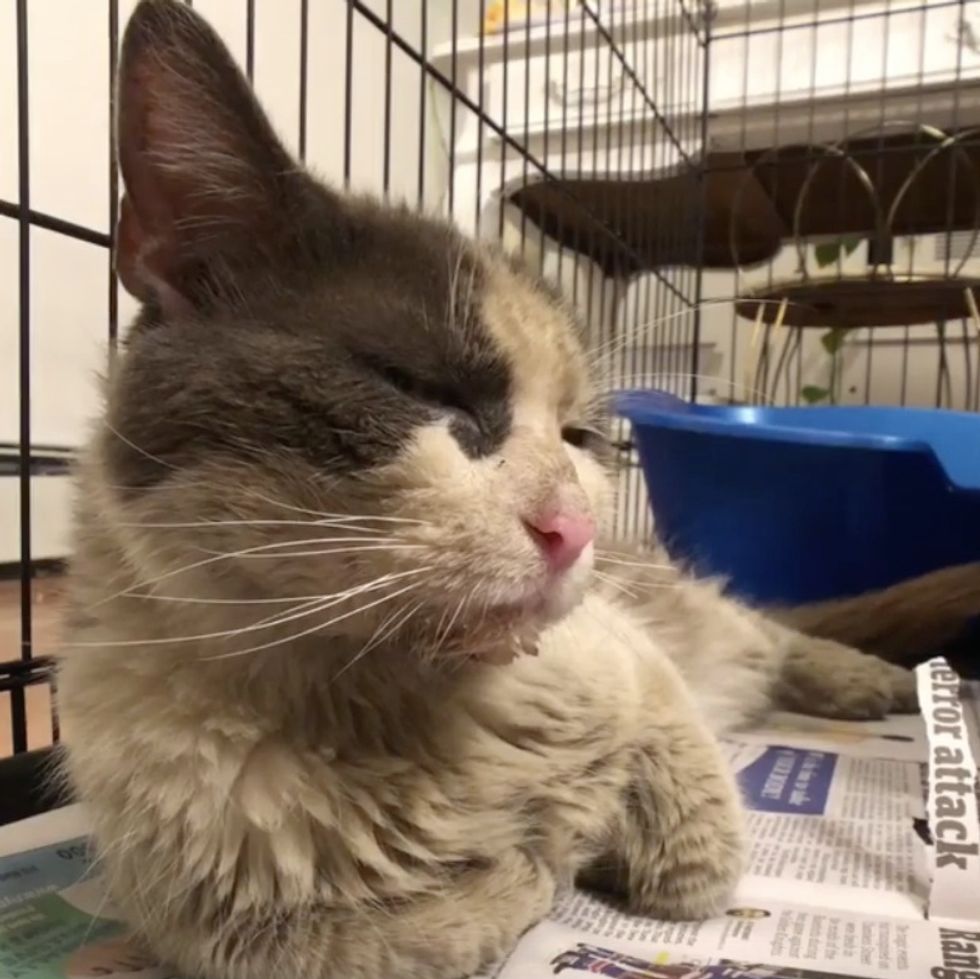 Flatbush Cats
After having a bowl of food and plenty of water, Teddy got some much-needed chin rubs. Because he was so dirty, they had to wipe him and brush him thoroughly before getting him into a bath.

After four rinses and more brushing, Teddy was finally clean and free of matted fur. He felt so much better and purred himself to sleep in his rescuer's lap.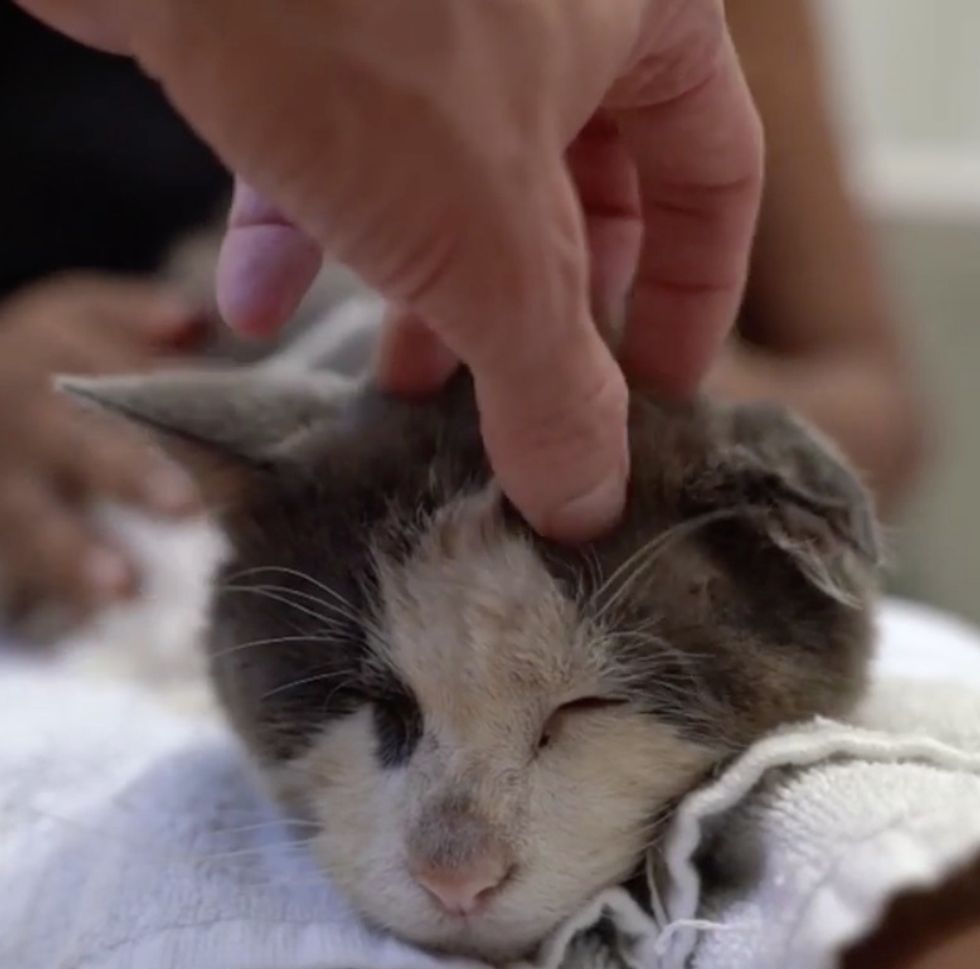 Flatbush Cats
Watch Teddy's full rescue journey in this video:
"Blood work showed compromised kidney function and anemia, and his urinalysis indicated a urinary tract infection of some sort," Will added. "He received subcutaneous fluids, an iron and b12 injection, and began 28 days of a broad spectrum antibiotics, along with weekly lab work to monitor progress."

They cleaned Teddy daily as he couldn't groom himself. Luckily, the kitty kept up with his appetite, which was important for his recovery. They showered him with constant cuddles and all love he needed to get better.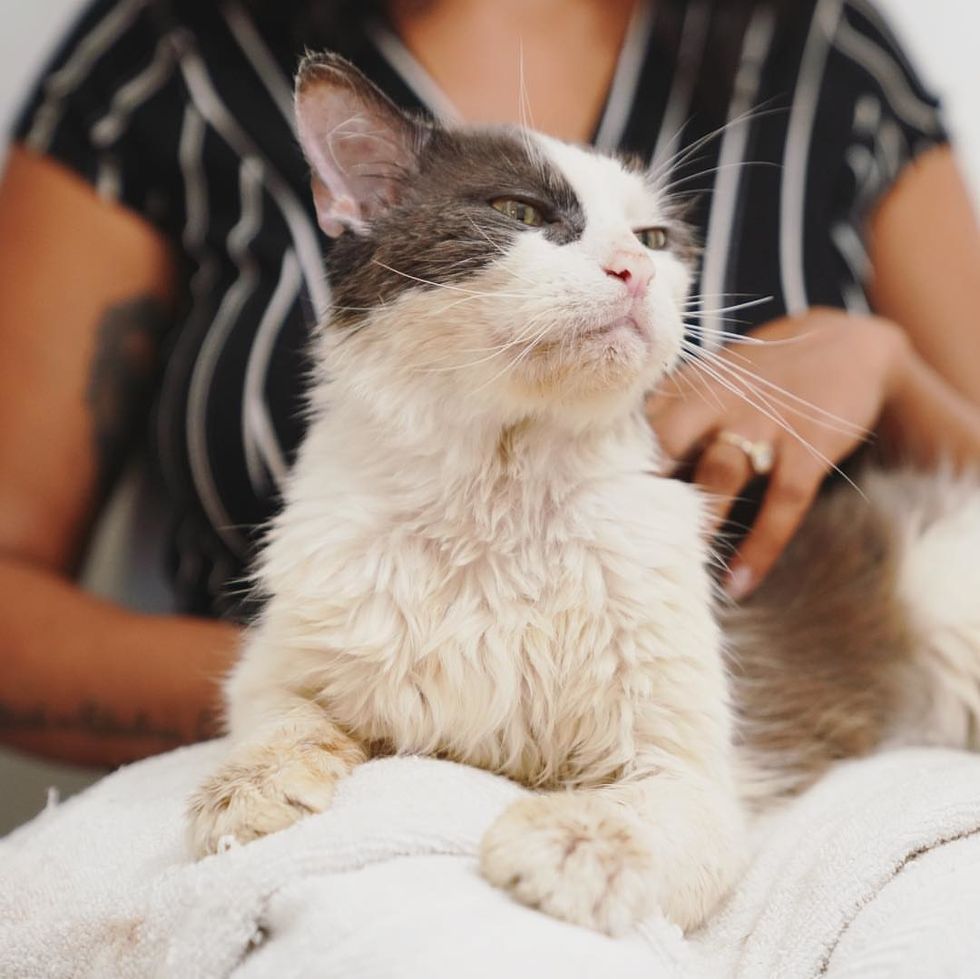 Flatbush Cats
When he returned to the vet a few days later, they received good news. Teddy made some improvement and was getting stronger.

With a lot of love and around-the-clock care, Teddy continued to make progress. A few days ago, the sweet kitty surprised everyone when he decided to give himself his very first bath.
Teddy was very proud!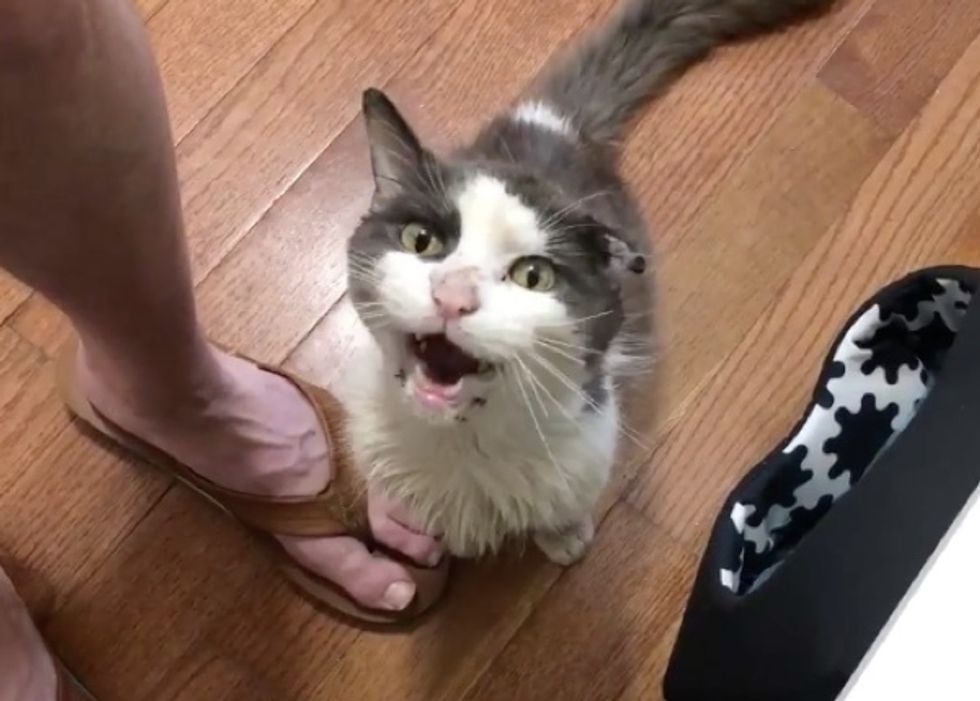 Flatbush Cats
"He still has several more weeks of antibiotics before we do updated blood tests, but appetite and energy levels are good. So we're thrilled," Will said. "When he's well, we'll start looking for his new forever home where he can be the center of attention."

He is a love-bug, a cuddly teddy bear. "I love how he latches on for cuddles," Will said.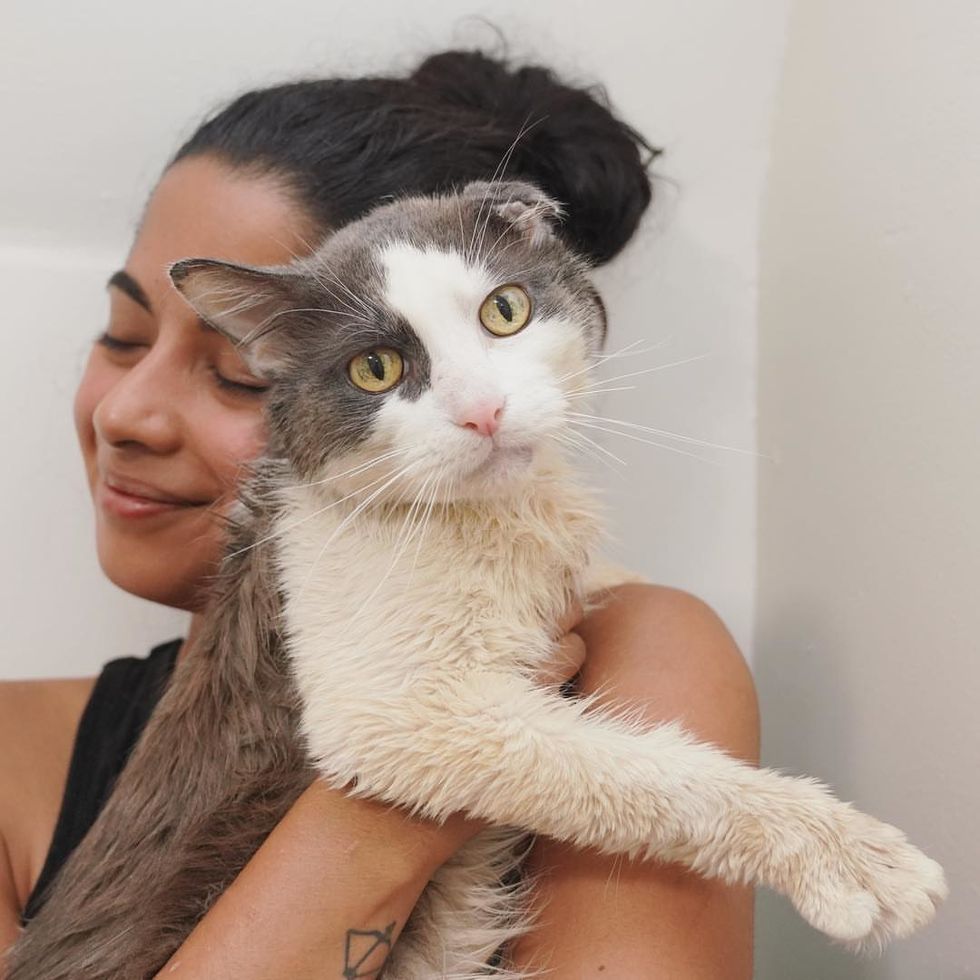 Flatbush Cats
Teddy was in rough shape with battle scars all over his body, but things began to change when he found someone to love again.

Look at him now!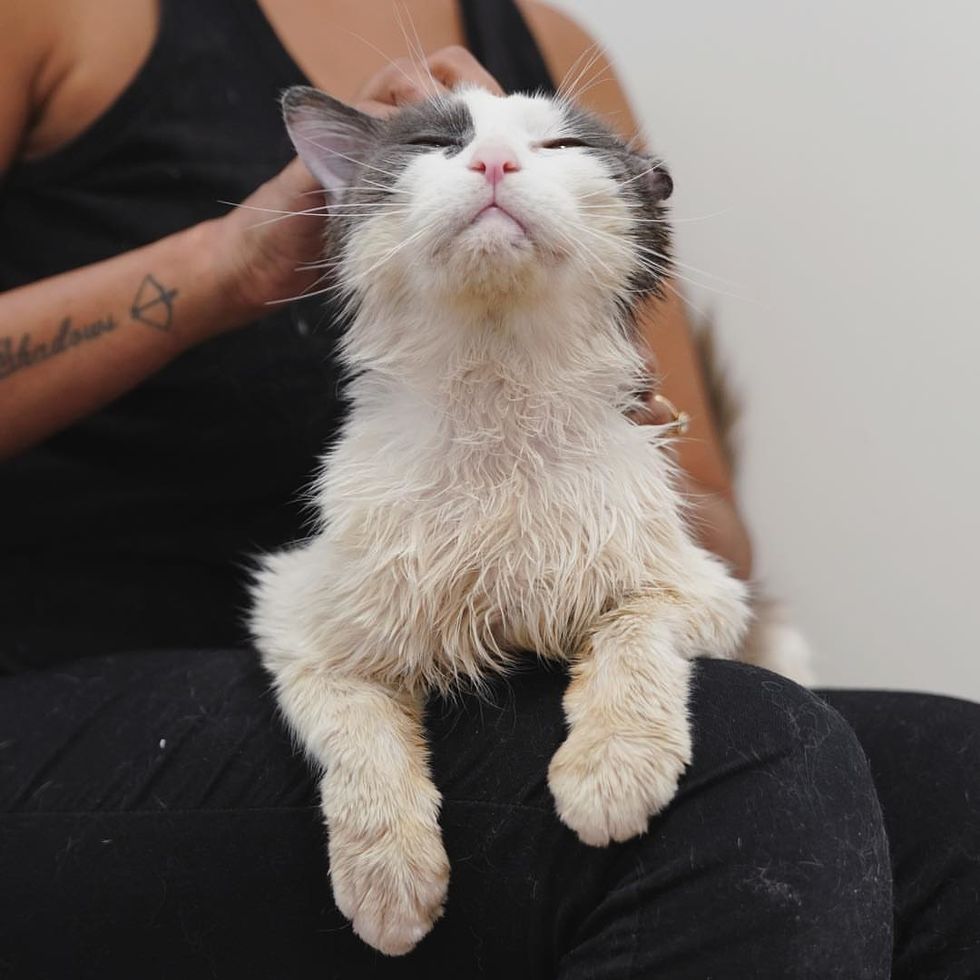 Flatbush Cats
Share this story with your friends. Follow updates on Teddy and Flatbush Cats on Instagram and Facebook.
Related story: Shelter Cat Gives Everyone Hugs and Won't Take No for an Answer