13 years ago, Erin Merryn met a ginger kitten who needed a home. He leapt into her arms and refused to let her go.
Now over a decade later, the cat named Bailey is still with her. He has become the guardian angel to her children and shares an amazing bond with her 4-year-old daughter Abby.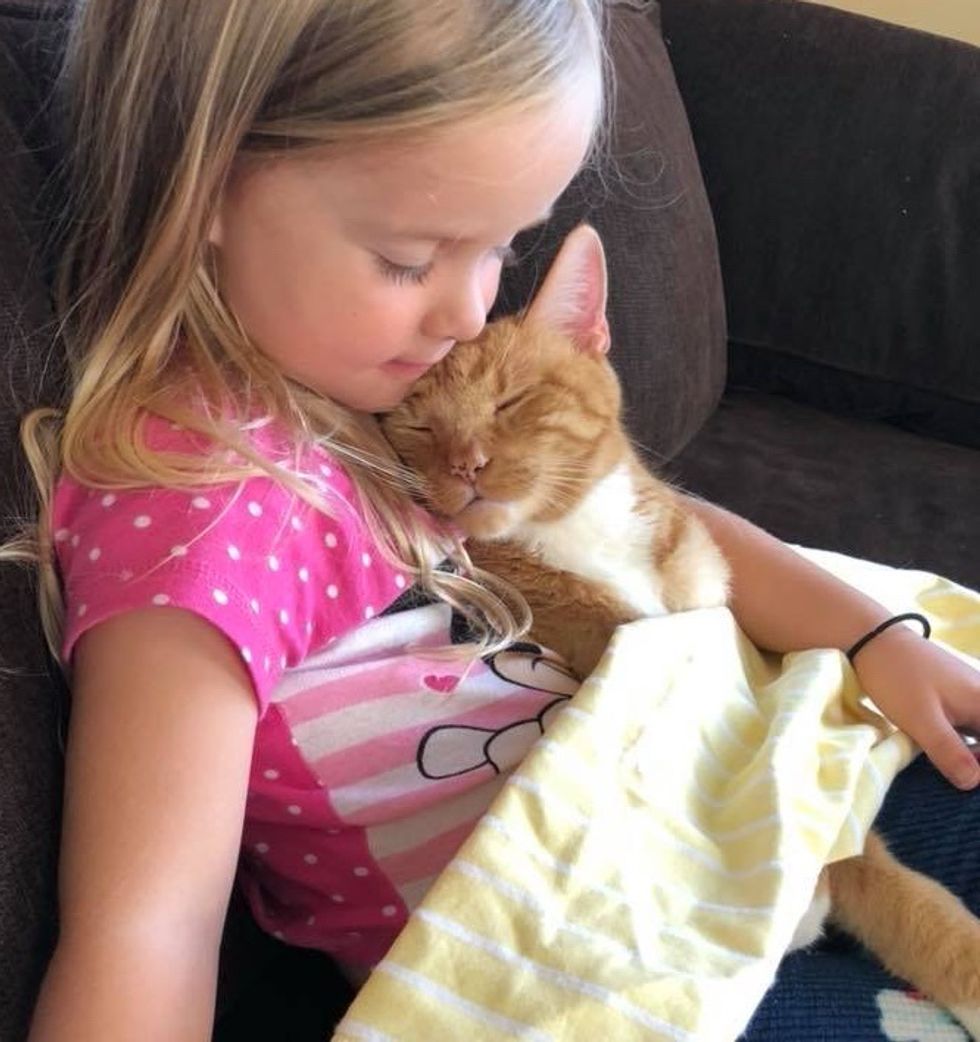 Erin Merryn
Erin from Illinois met Bailey when she was a student in a small college town. Little Bailey hopped into her arms, grabbed her with his paws and wouldn't let go.

"He fought with everything he had to keep me from closing the cage after hours sitting on the floor with him. I was attached immediately and decided that I would take a risk and try hiding a kitten in my college dorm where animals are obviously not allowed," Erin told Love Meow.
She snuck Bailey into her dorm on the 8th floor, and a week later she was caught and given 48 hours to remove the cat. "I was heartbroken. My parents already had a dog and two cats at home, and they were not about to take another one in."
After several phone calls, Erin was able to find a woman in her 80's to take Bailey. "I cried almost the entire four hours back to college. When my dad called and heard me crying he said, 'Erin there will always be other kittens out there.' I explained, 'no dad, not a kitten like Bailey. He is one of a kind, and you will never find another with a personality like his."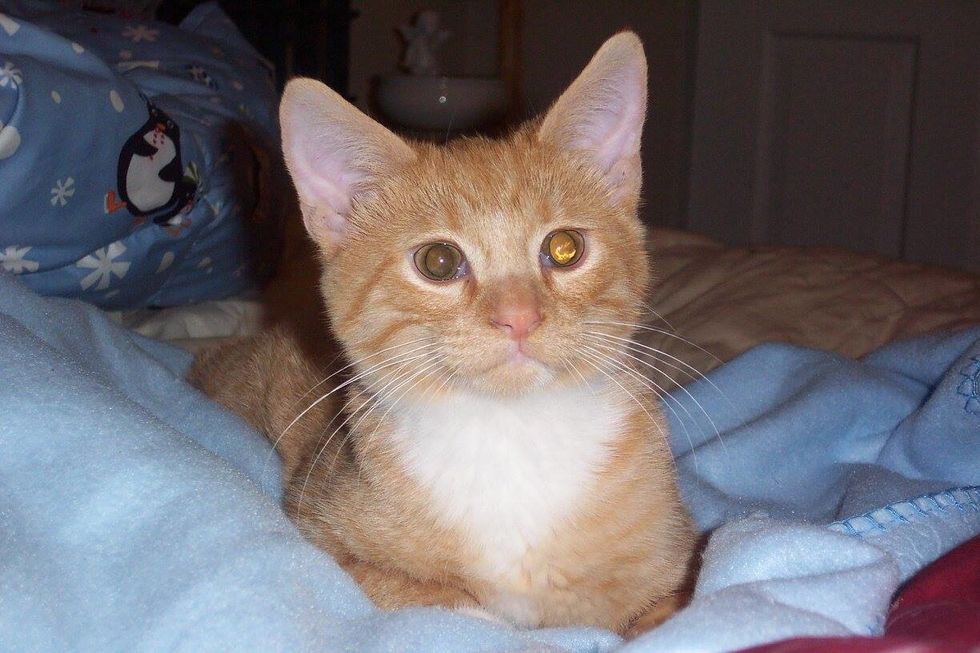 Little BaileyErin Merryn
Bailey did not get along with his new feline housemate. As soon as Erin learned that he would need a new home, she immediately offered to take him back as it was winter break for college. "I plotted for a month to convince my parents to let me keep him. Mom finally gave in. Dad never said yes but I won and got my way."

Fast forward to four years ago, Erin had Abby, her beautiful daughter. She didn't know what Bailey would think about the new addition when she brought her home from the hospital.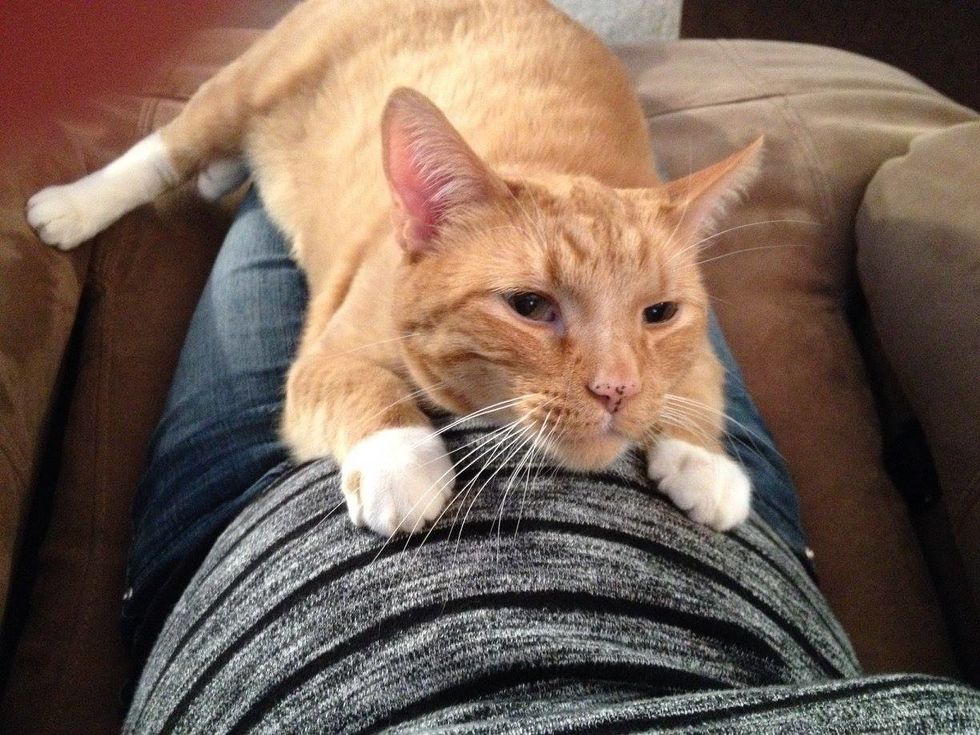 Bailey cuddling with Erin when she was pregnant with Abby.Erin Merryn
"But it was love at first sight, and I captured some darling photos of her as a newborn with him," Erin told Love Meow.
Bailey stayed by Abby's side, guarding, snuggling and showering her with love and purrs. As Abby grew, he became her protective brother, watching over her every step of the way.
The sweet ginger boy was there when Abby started crawling. He was there to witness her first spoken word. Bailey didn't want to miss all the wonderful adventures along with Abby and would follow her everywhere around the house.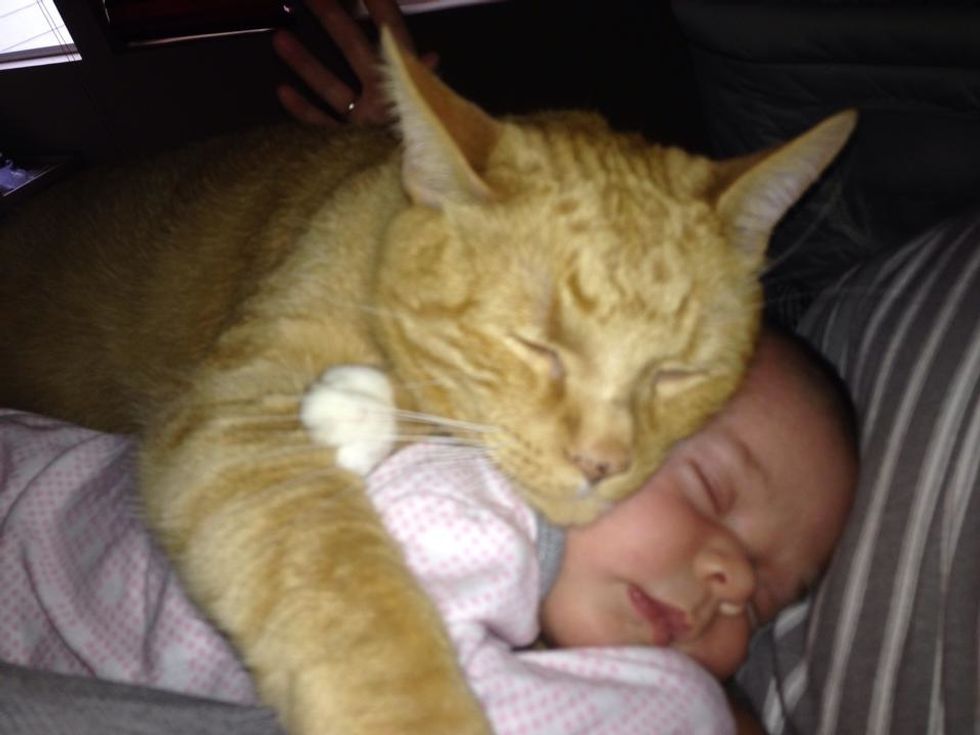 Erin Merryn
"He is attention hungry and will follow us from room to room. He never wants to be left alone," Erin added. "If we are in the kitchen, he is. If we are in the bathroom, he follows."
Abby picked up a book one day and tried to read it with Bailey by her side. He became her perfect audience, and the sweet boy was completely enamored by Abby as she told him stories of wonder.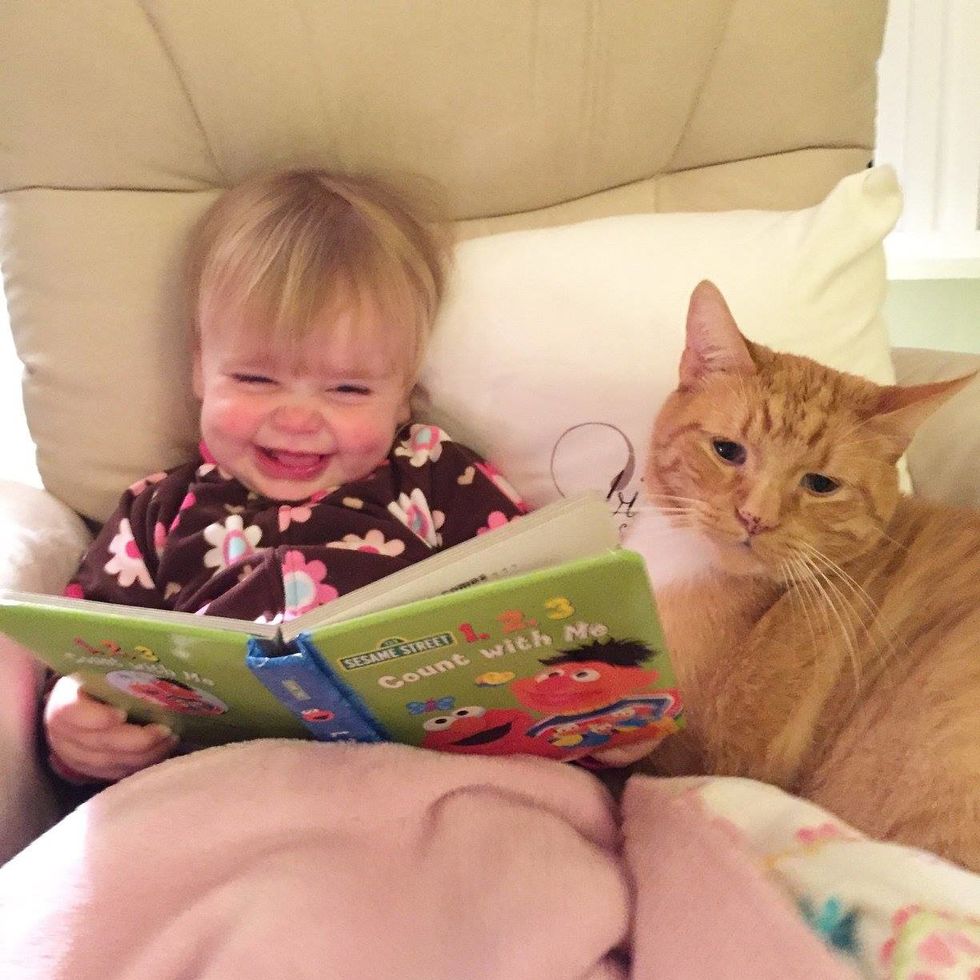 Erin Merryn
When Abby was two years old, they welcomed another beautiful baby girl Hannah into the family, and Bailey was over the moon. He volunteered to be her baby-sitter, and even put his paw around Erin as if to tell her what a great mom she is.
He never forgets to cuddle with his best friend, Abby, whenever she naps.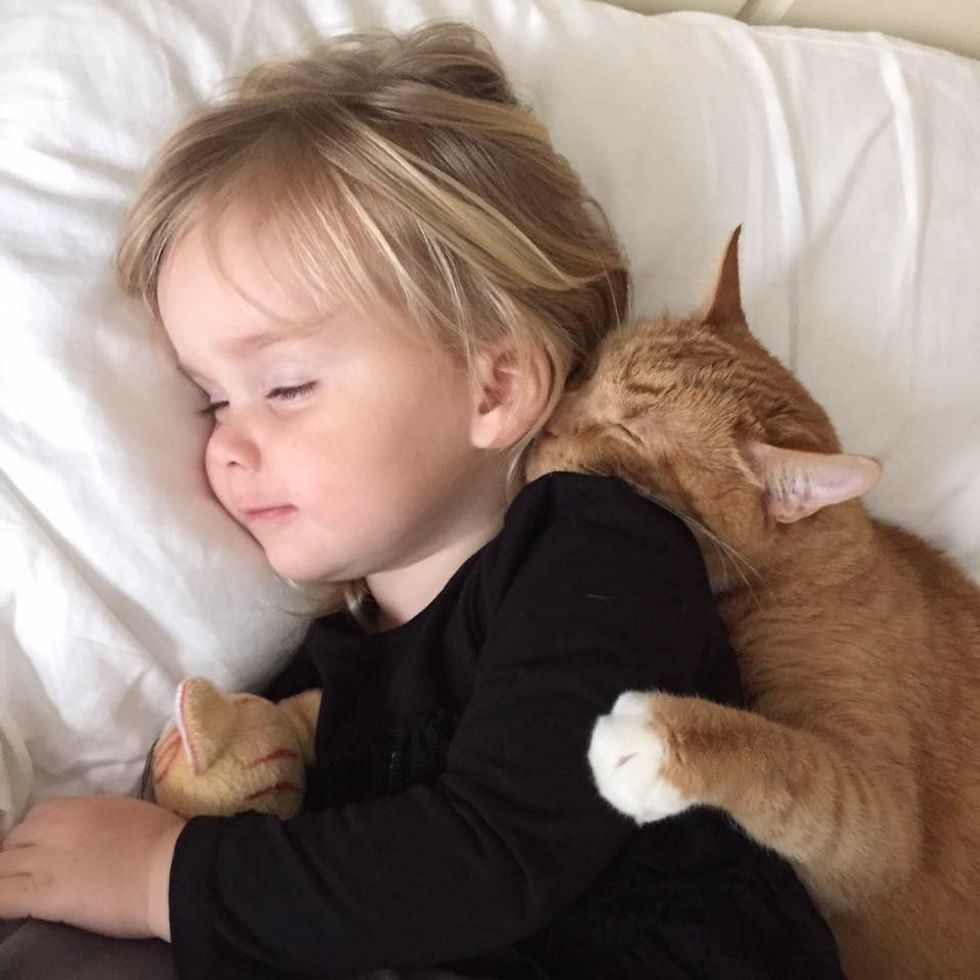 Erin Merryn
"His personality has captured the attention over the years of a lot of people. Friends will come over and he instantly wants to sit in their laps and snuggle," Erin told Love Meow.

"If I put the girls down for naps he follows us upstairs and climbs in their beds."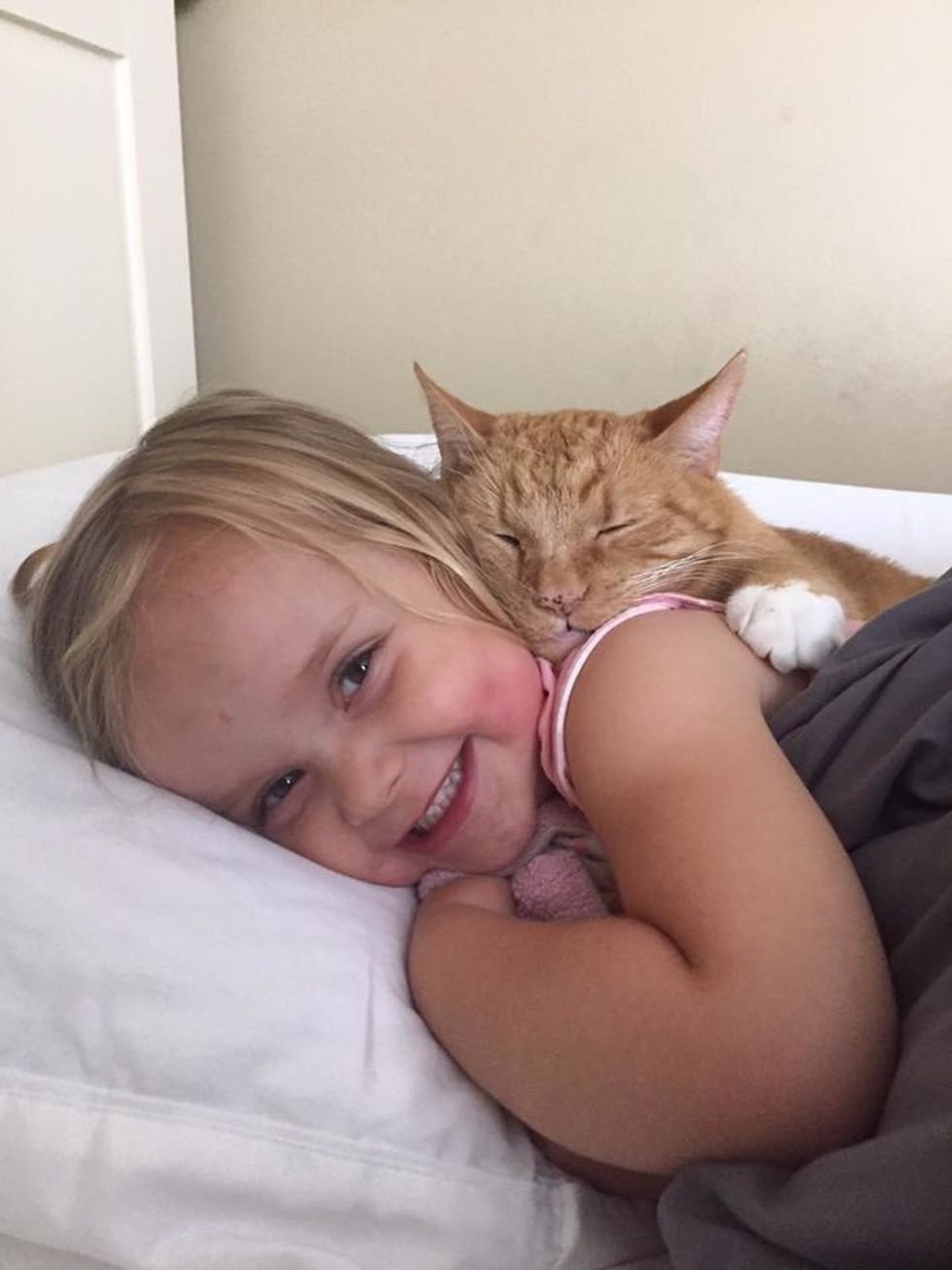 Erin Merryn
Bailey loves to be with the girls especially Abby who now reads stories to him every day. It's one of his favorite pastimes. "Their bond is so so sweet. She reads to him all the time."

Abby found the story of Bob the street cat and immediately shared it with Bailey.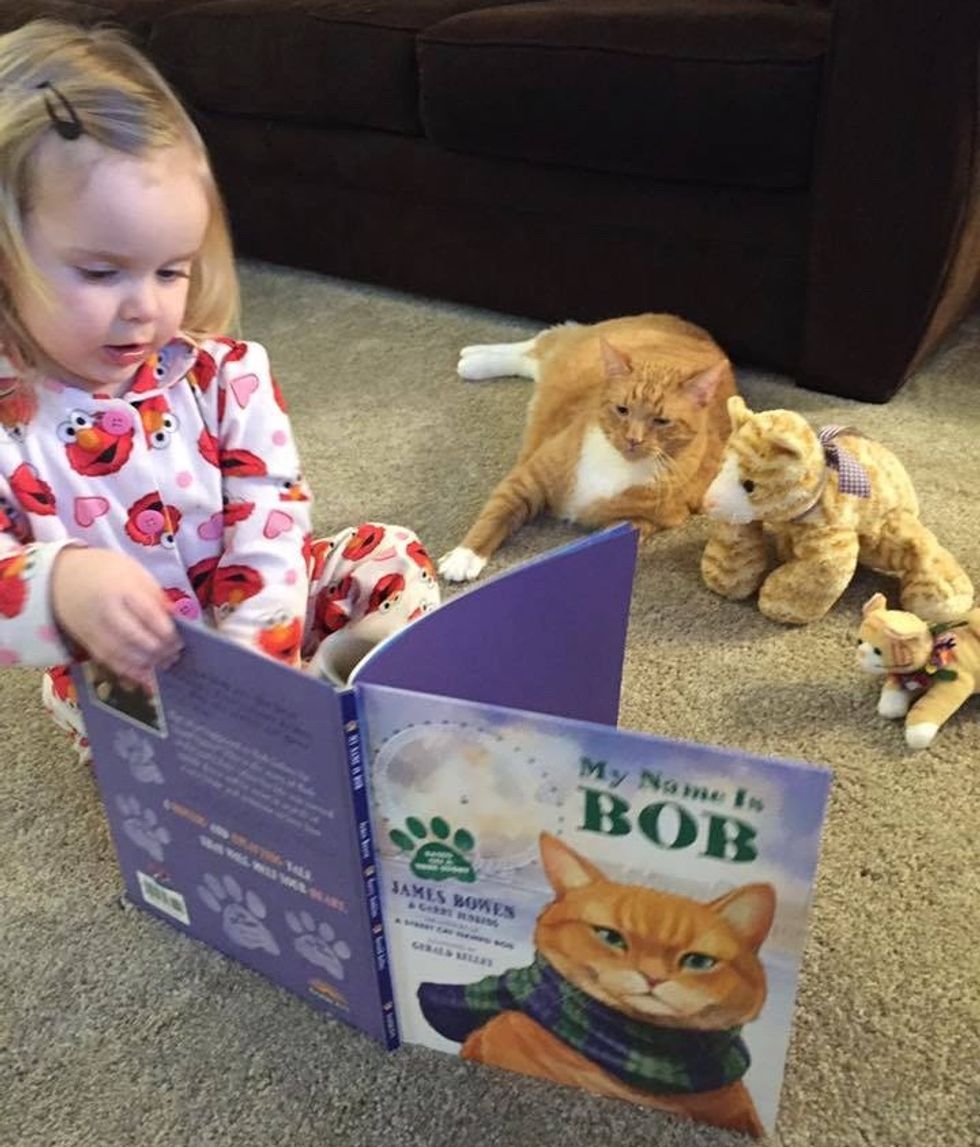 Erin Merryn
Bailey is Abby's biggest fan and can't get enough of all the stories she tells. It motivates her to keep on reading.

Whenever she picks up a book, Bailey will curl up in her arms and watch her read with adulation.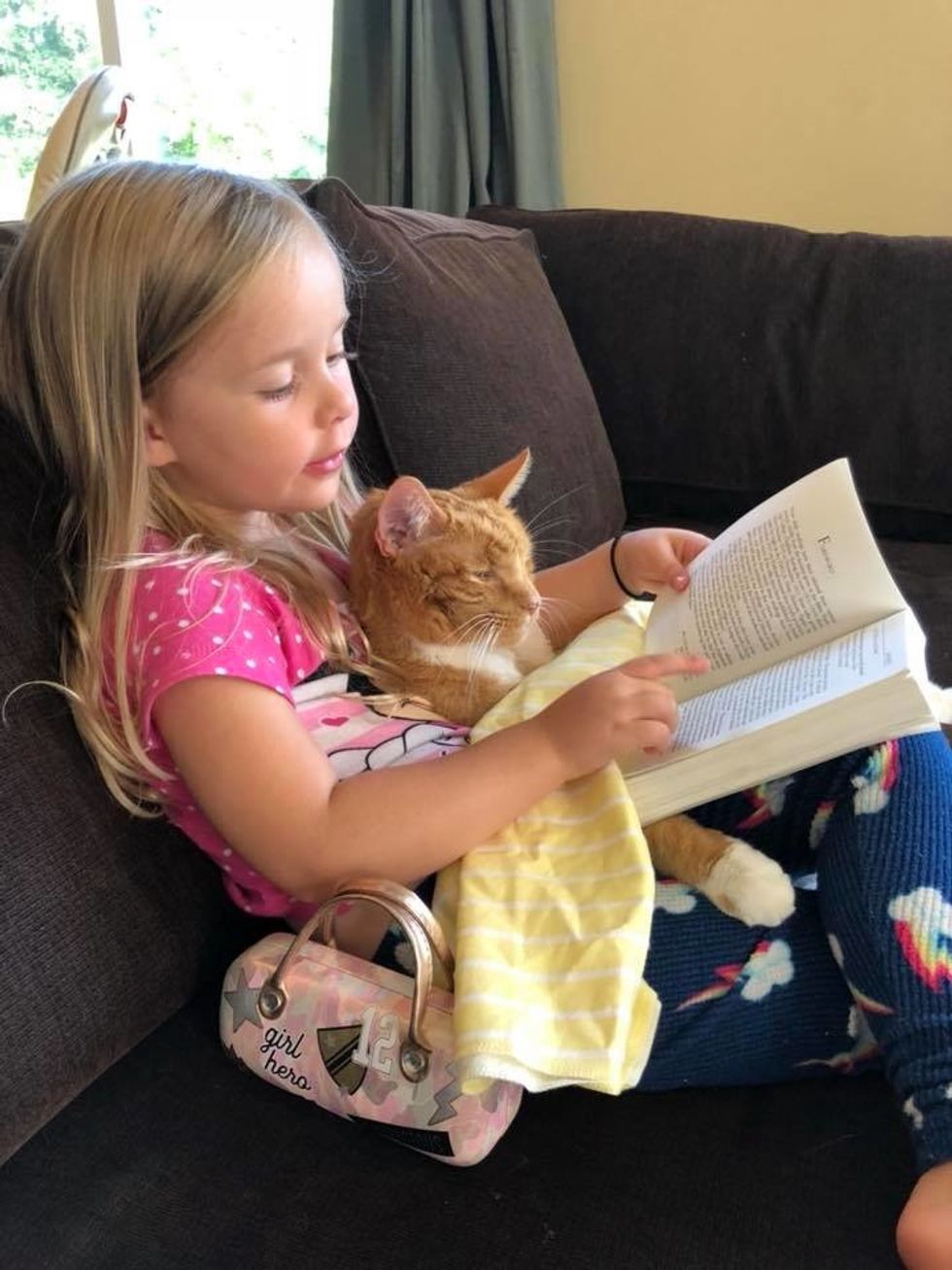 Erin Merryn
Bailey feels so loved when Abby tells her their daily stories. He will nuzzle her chin and put his head on her shoulder in pure bliss.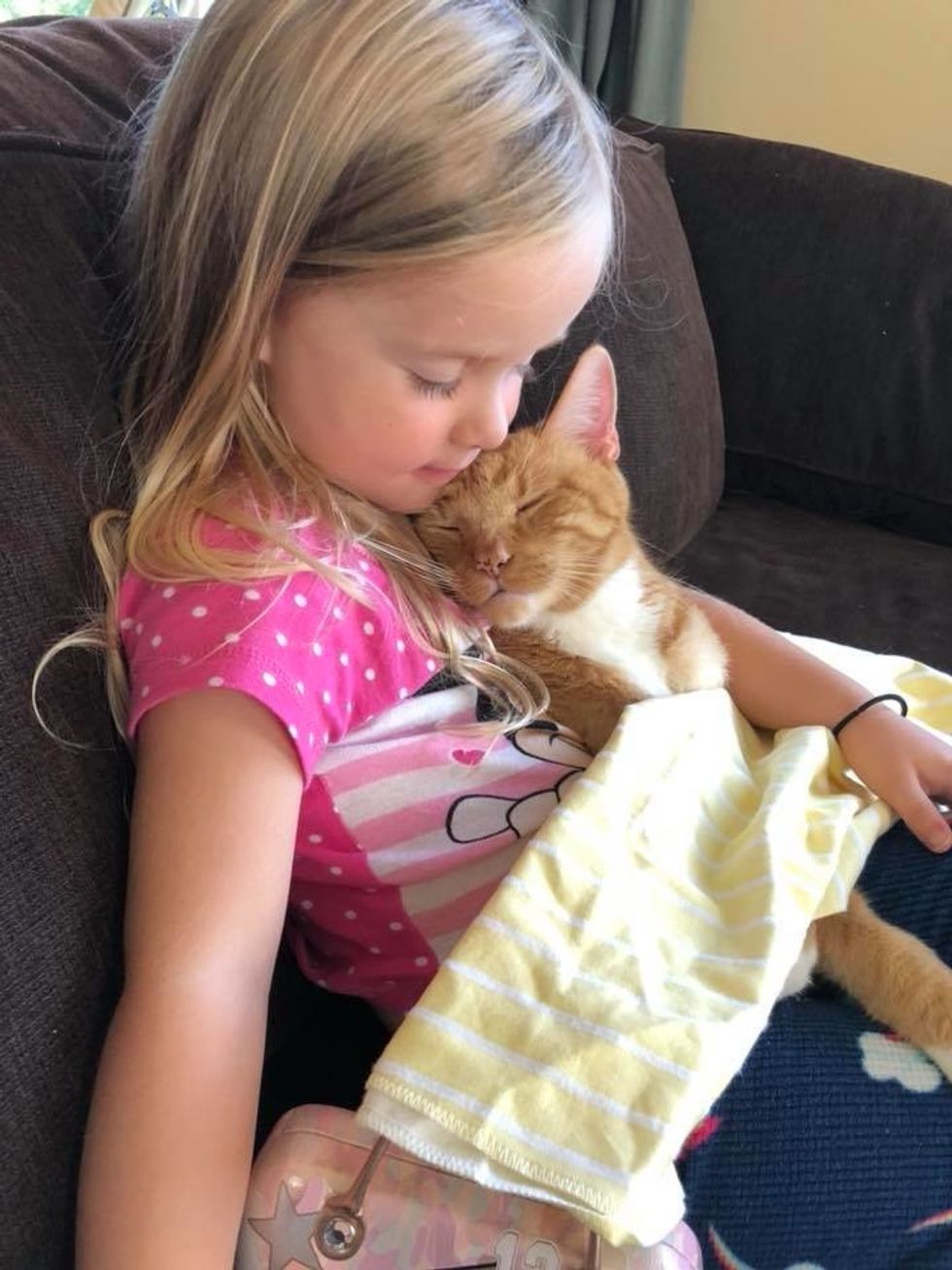 Erin Merryn
Watch Abby as she reads a story to her beloved friend Bailey:
The beautiful ginger cat is 13 years old now. He has been Abby's constant cuddle-buddy since they first met.
The two share an incredible bond that will make even the toughest heart melt.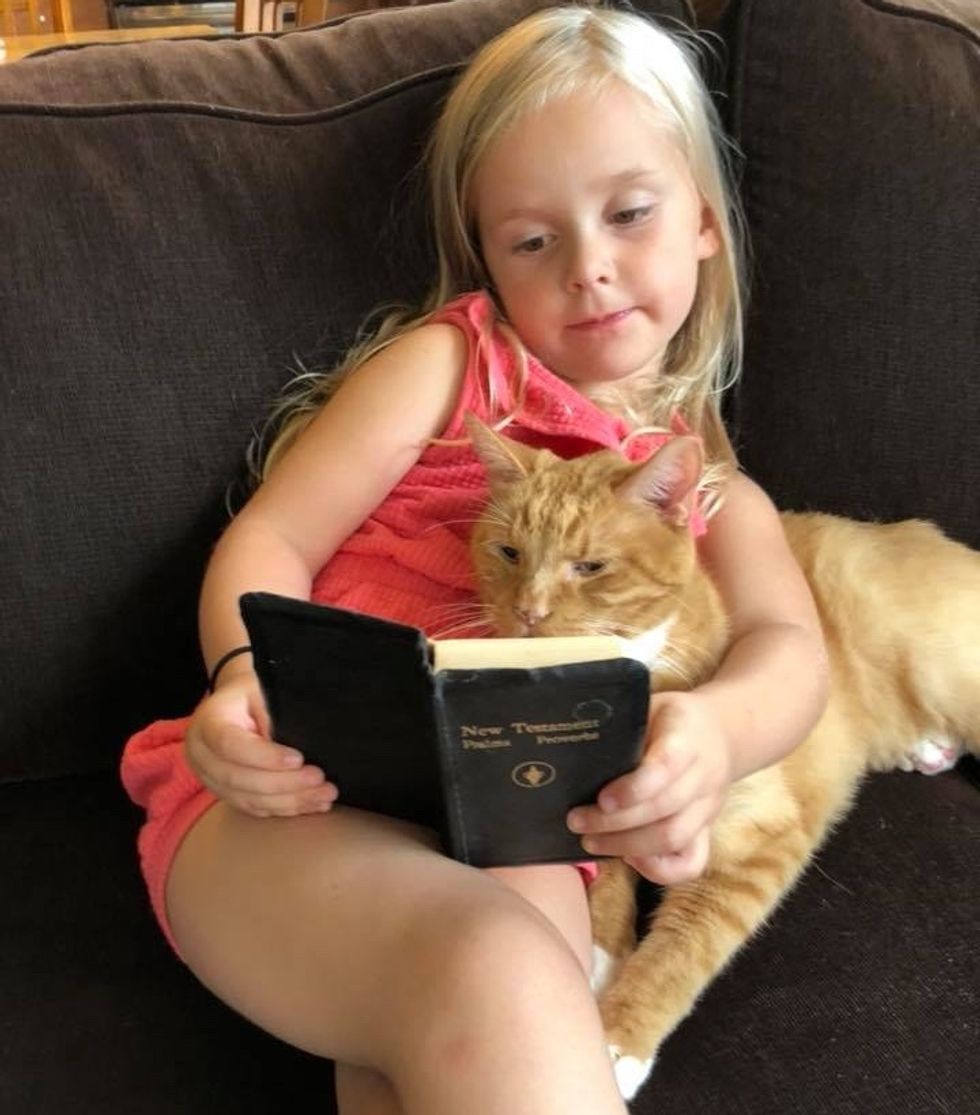 Erin Merryn
Erin gave Bailey a home he'd always wanted...
He returned the favor by loving everyone in the family with his whole heart and beyond.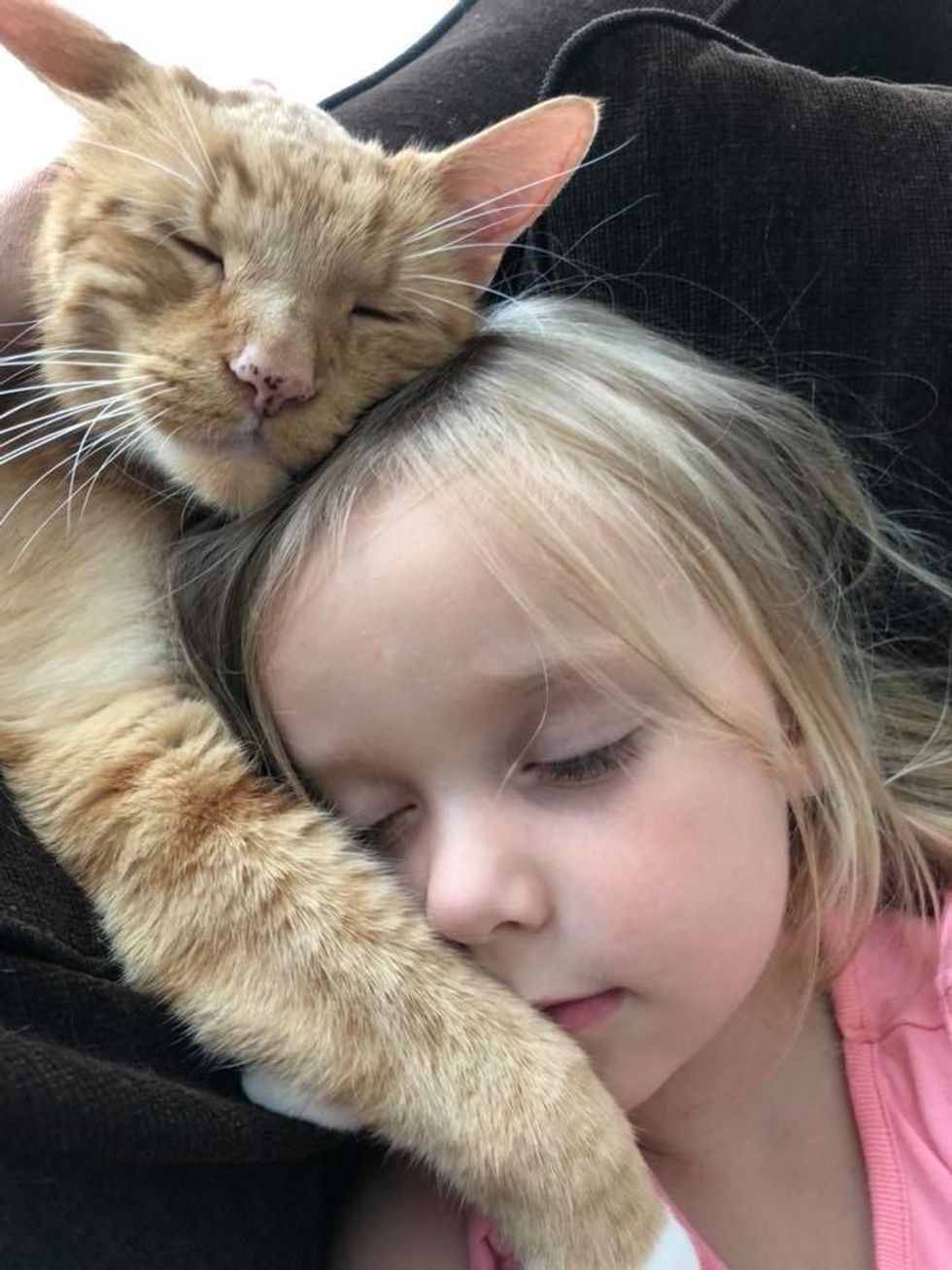 Erin Merryn
Follow Bailey and his adventures on Facebook and Instagram @bailey_no_ordinary_cat.
Reading is fun with Bailey purring along!
Share this story with your friends.
Related story: Girl Bursts In Tears When She Meets Kitten Who Looks Like Her Best Friend That Passed Away