A kitten was found on the sidewalk, unable to move her hind legs but she never gave up trying to walk again.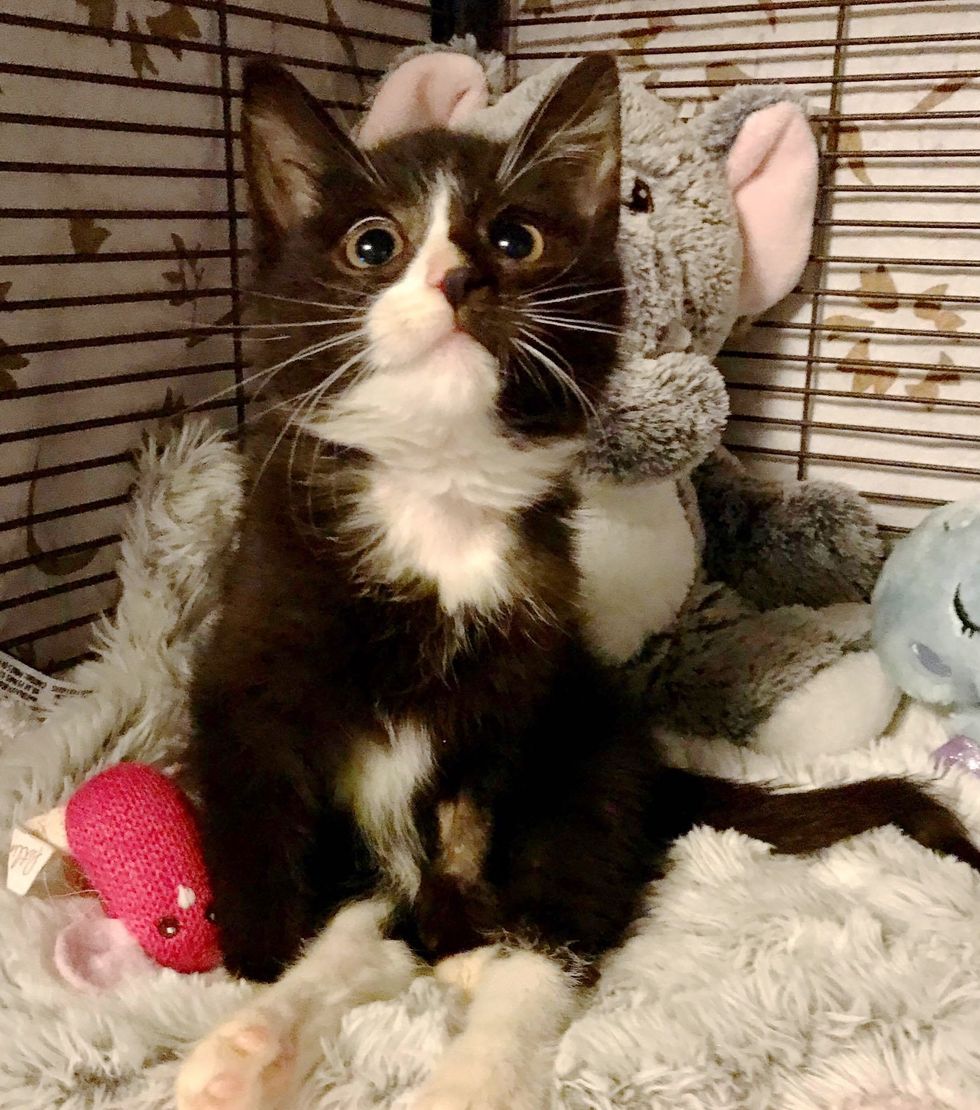 Kelley Peters
Sophie the kitten was just six weeks old when she was rescued from the streets of Coney Island, New York. Kelley Peters, founder of The Kitty Krusade, was contacted about the tuxedo.

"She was so tiny, not moving, and so very helpless. A cat rescue friend wondered if I could help," Kelley told Love Meow. "'Of course,' I said."
The kitty had a broken back (fractured vertebrae) and a broken rib that pushed into her spinal cord, all of which left her paralyzed in her back legs. Yet, she continued to purr, cuddle, knead on her snuggle toy, and just couldn't get enough of the attention.
She never complained when her legs were examined as if she knew she was finally getting help.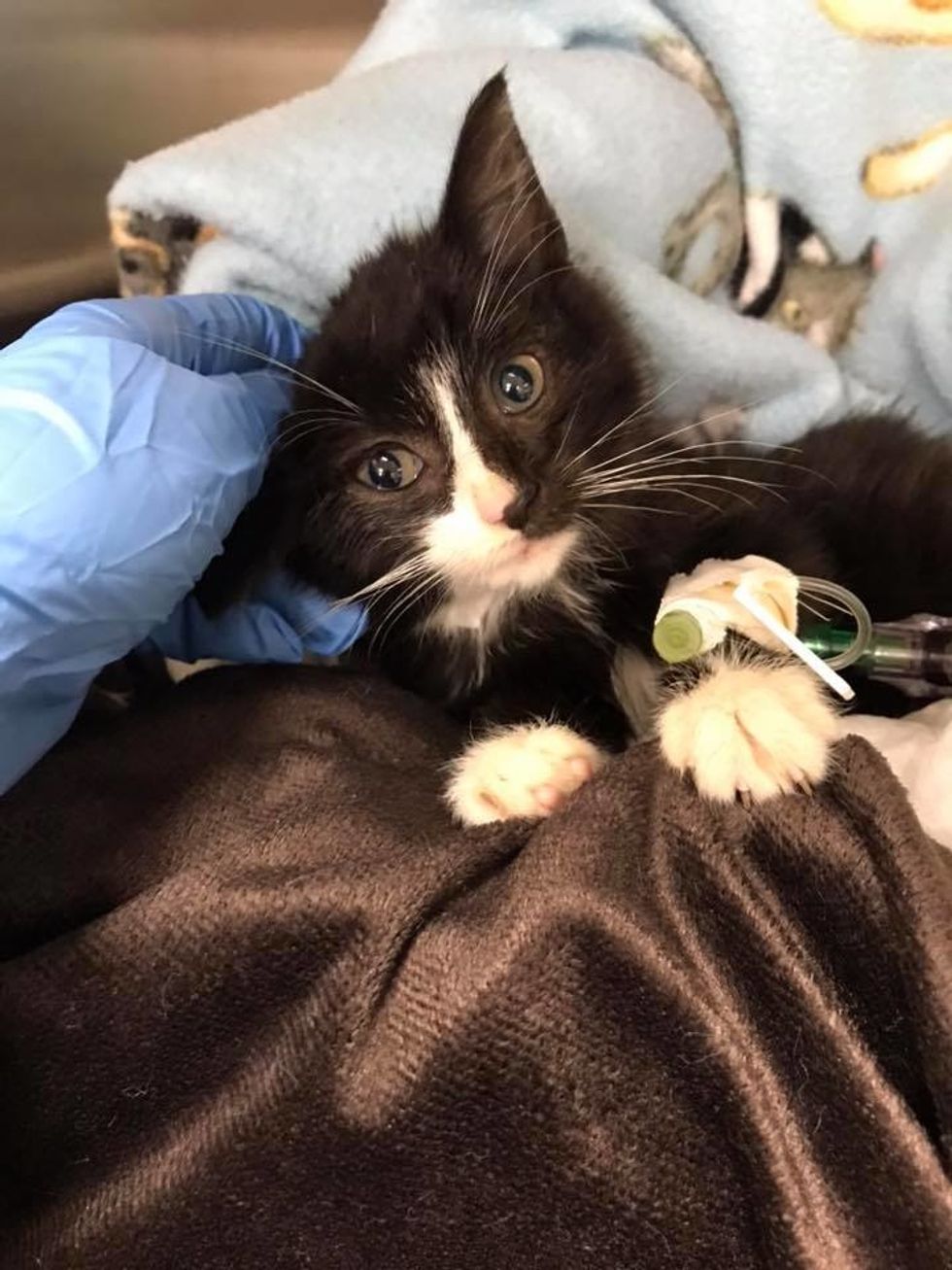 Kelley Peters
There was hope that she would be able to regain her mobility. "A very tricky surgery was her only chance," Kelley added.

Sophie needed to build up strength before the procedure. She was on pain medication, antibiotics and steroids to help with the spinal cord injury.
Despite it all, she was always in good spirits, being so brave and sweet to everyone she interacted with. She had a great appetite and loved to eat.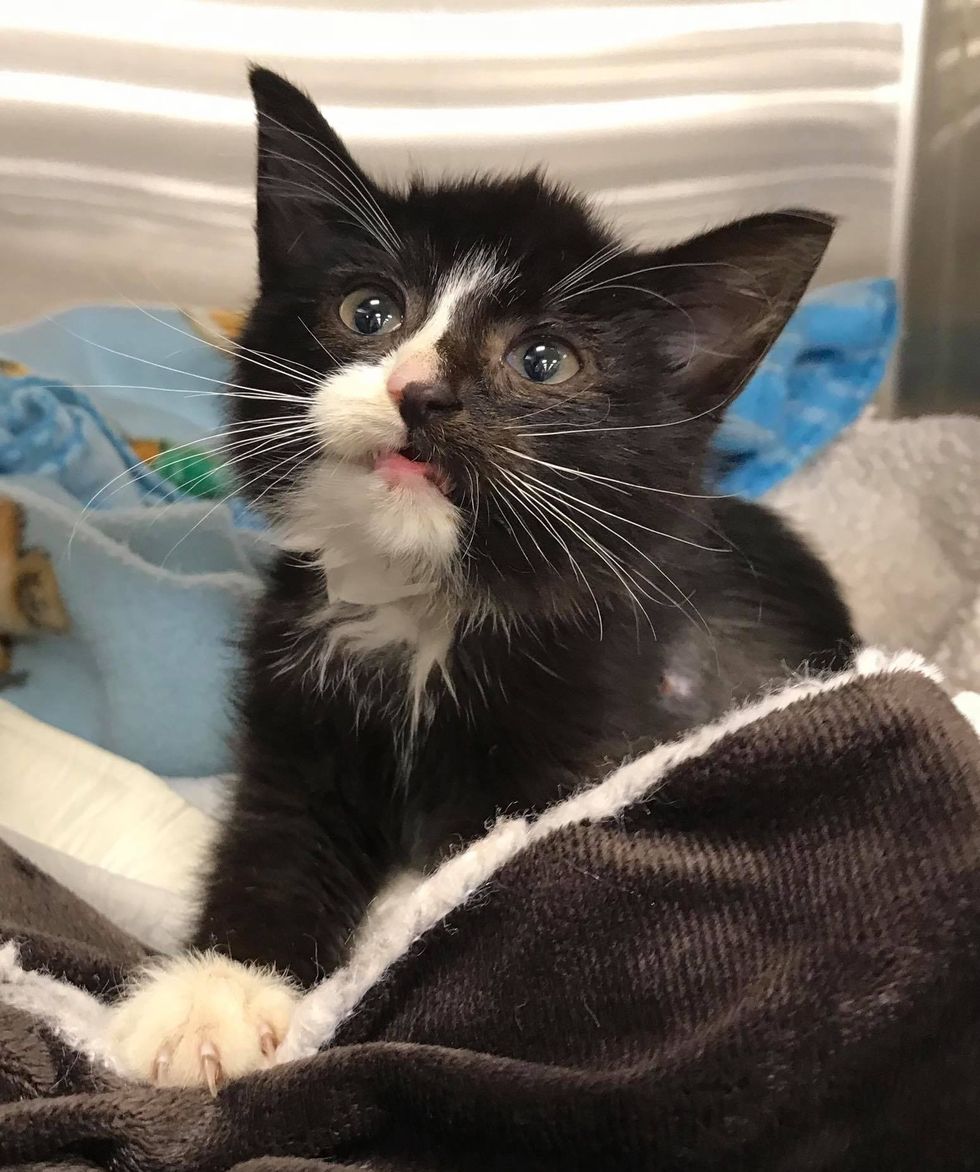 Kelley Peters
After surgery, Sophie went back to her jolly self in no time, kneading on her pink blanket, purring nonstop. She even started to stretch her back legs a little as she regained her sensation.

They put her in a custom sling to help strengthen her legs. Sophie started exercising, moving those little feet, making tiny steps forward. Everyone at the hospital was so proud.
(Scroll down for video)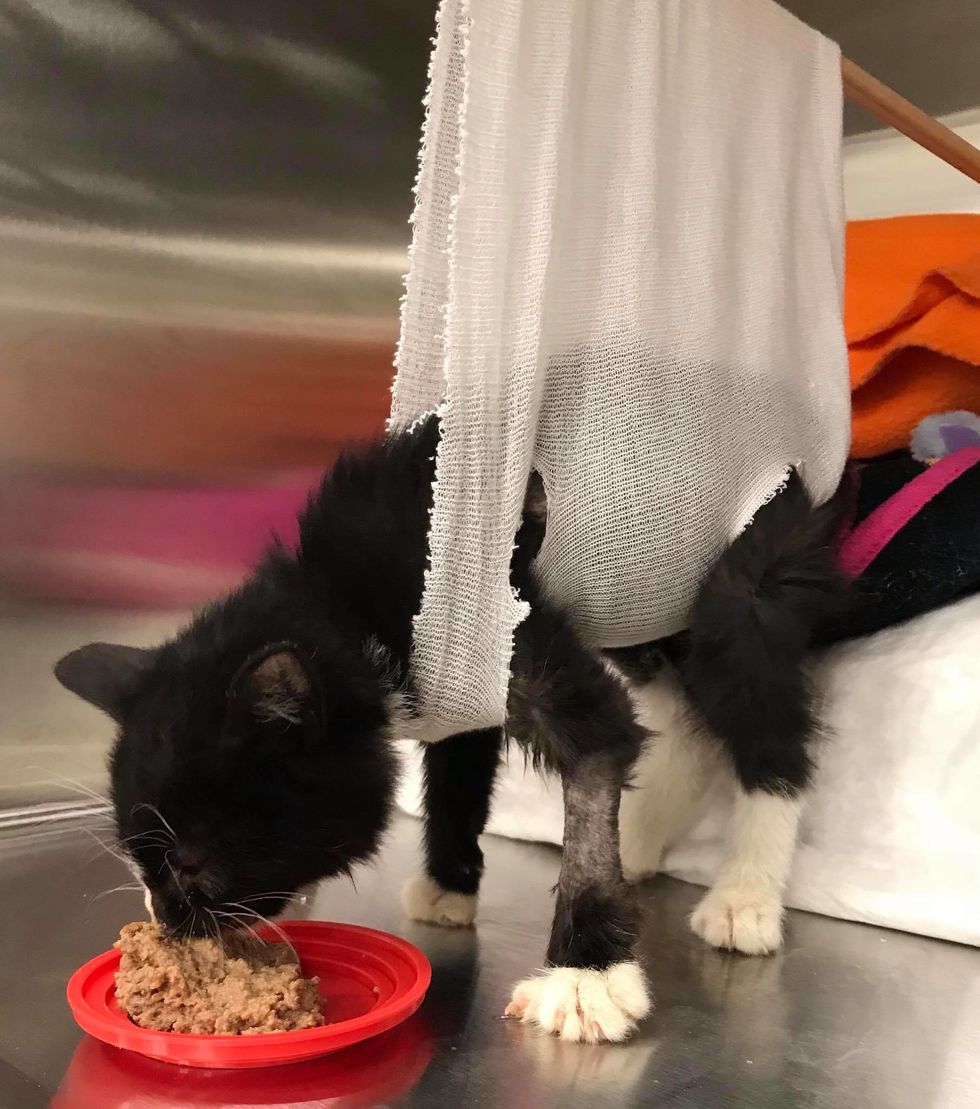 Kelley Peters
"After recovering from surgery, she and I did daily physical therapy together. First, building strength in her hind legs through different exercises. Then, practicing every day to walk, climb, and mimicking other kitty natural movements," Kelley told Love Meow.

Sophie got in a solid routine of daily exercises, and she never missed a session.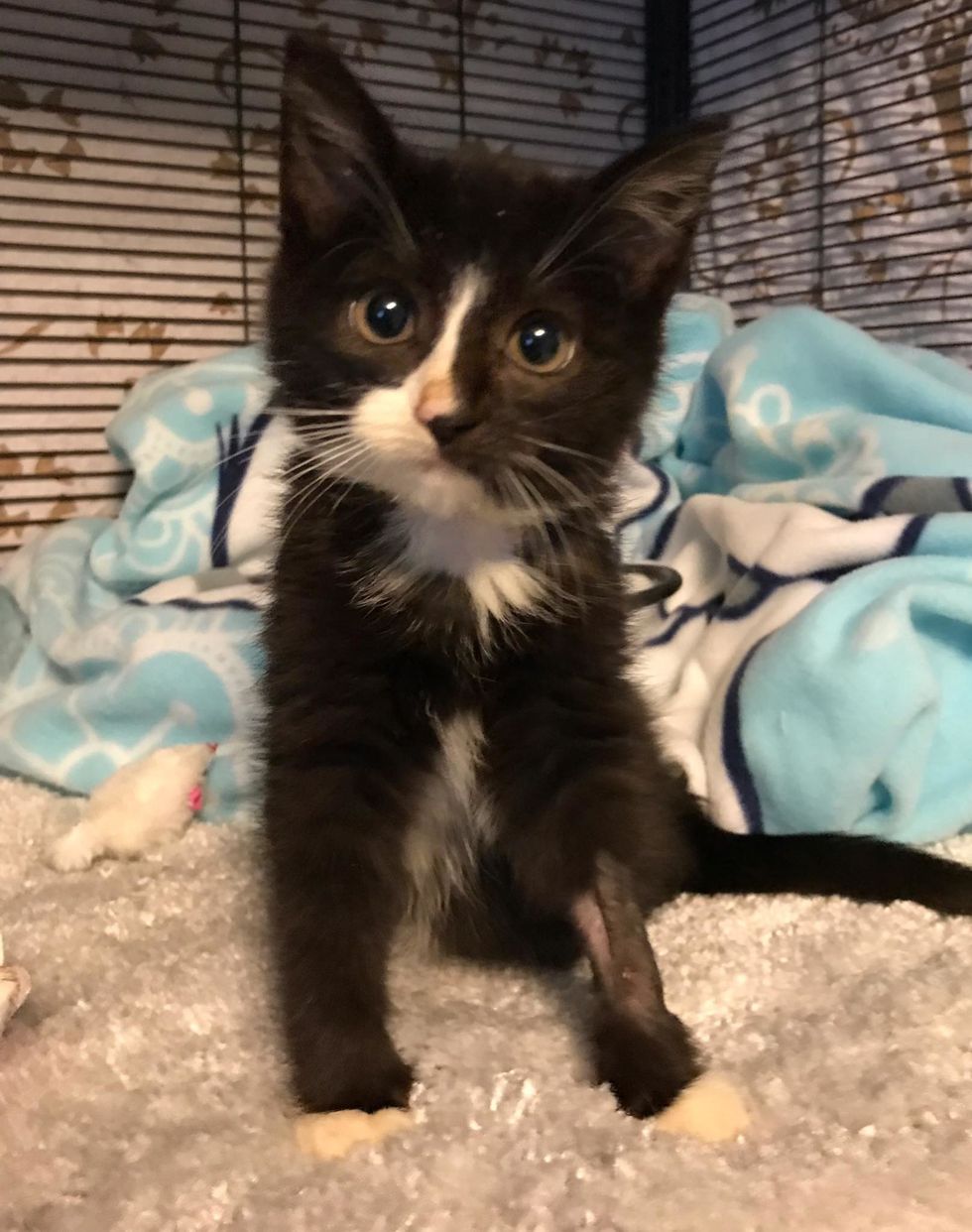 Kelley Peters
After a few days of physical therapy, she was able to stand to eat without assistance for almost a minute. Sophie completed every task like a champ and was eager to get those legs back in tip-top shape.
Six weeks later, Kelley was stunned when she saw what the kitty had accomplished.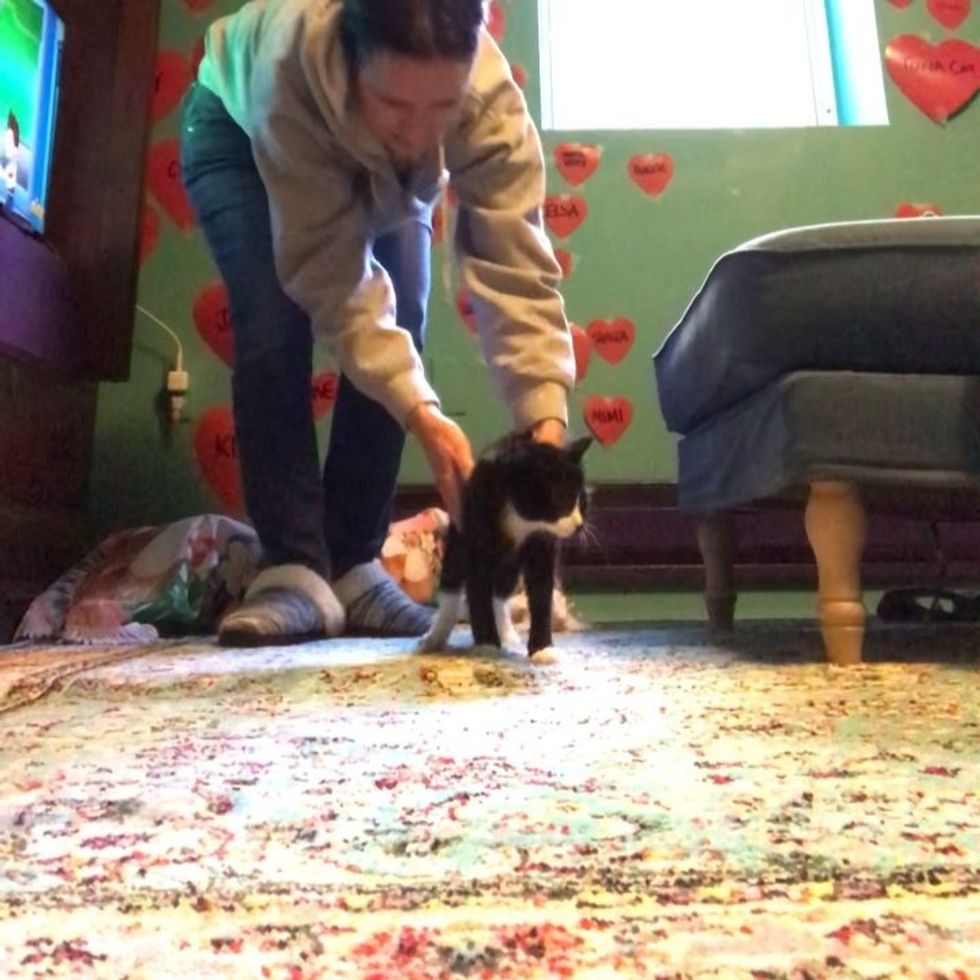 Kelley Peters
"She took her first steps on her own," Kelley said.

Once Sophie realized she could walk without help, she immediately started playing with toys, doing what cats do without a care in the world.
Watch her rescue journey in this video:
Kitten who couldn't use her back legs, gets help to walk againyoutu.be
She might take a little fall here and there, but she always got back up, believing that one day she would climb and run like nothing had ever happened.

"Sophie is full of personality and loves life. She is always so sweet, happy, outgoing and willing to do everything," Kelley said.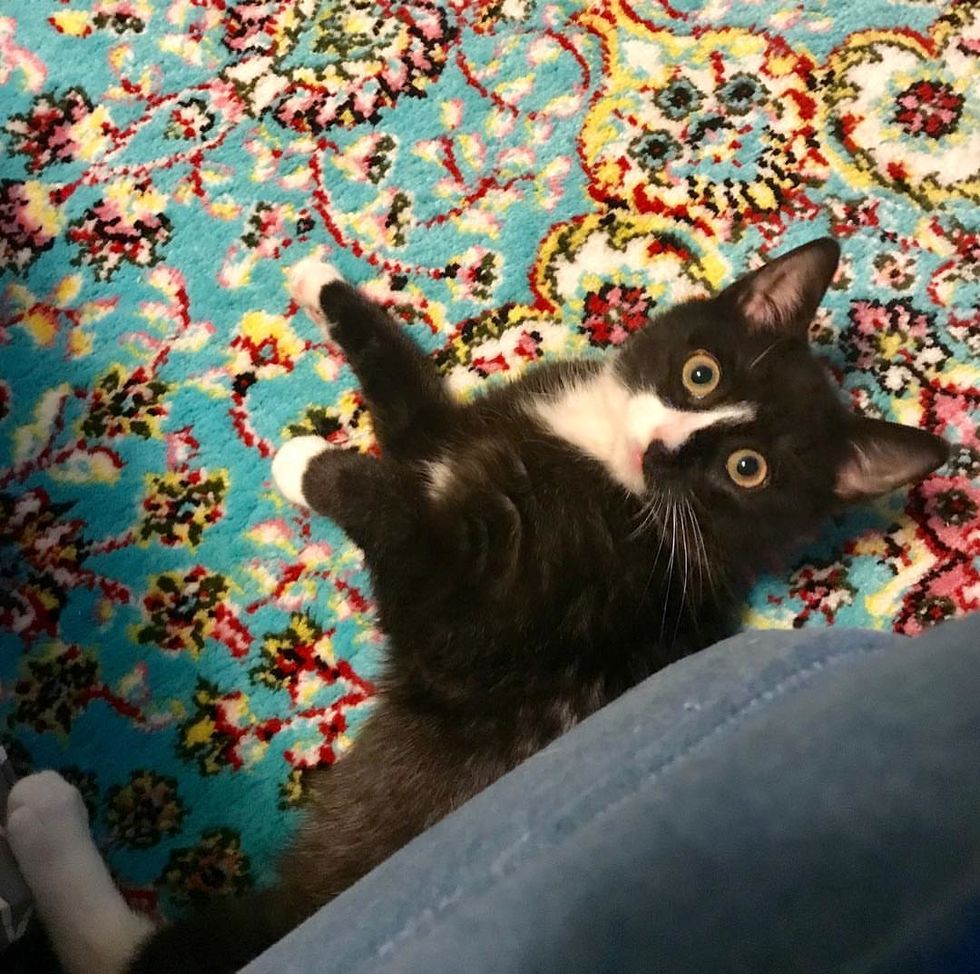 Kelley Peters
After 10 weeks of hard work, the tuxedo girl got fast, happy feet that allowed her to run around the room, play with other cats and chase after toys.

Sophie climbed onto a tall, empty chair like she had never been paralyzed.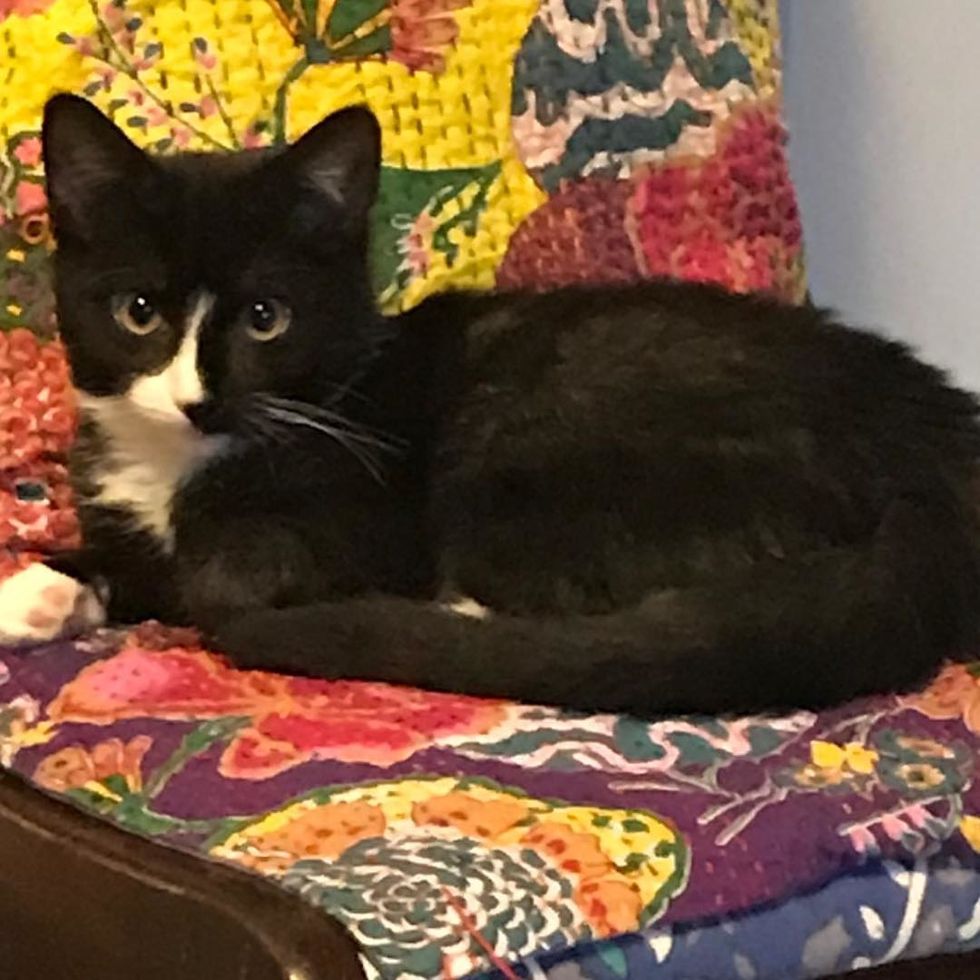 Kelley Peters
"She never gave up or felt bad for herself. She loves to purr, give headbonks, cuddle. She snuggles right in," Kelley told Love Meow. "Sophie has the cutest little butt wiggle which only adds to adorableness."

Sophie kept going when no one knew for sure if she would ever walk.
10 weeks later, she's back on her paws, running around the room like any other kitten.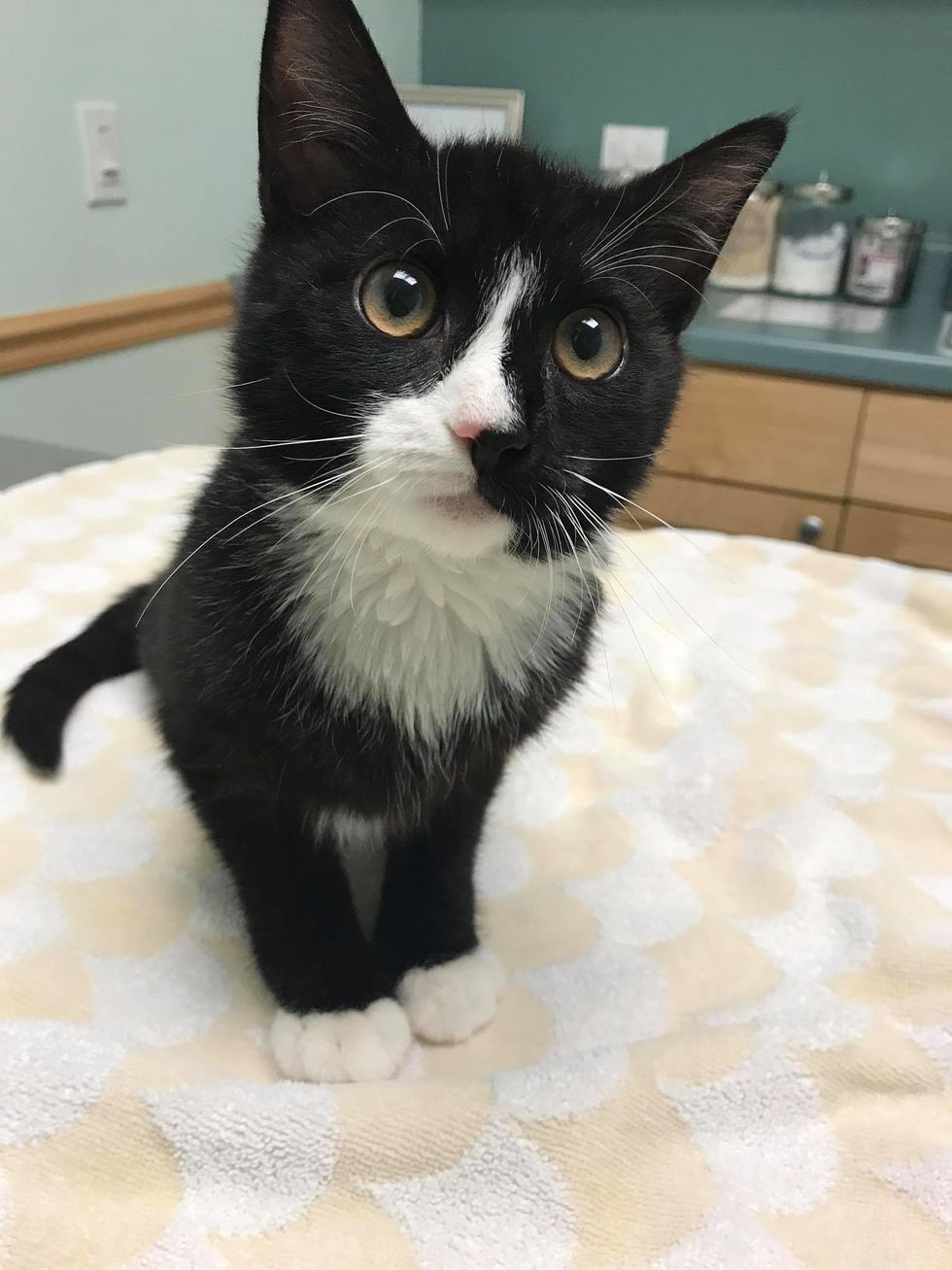 Kelley Peters
Share this story with your friends. Follow updates on Sophie and Kelley's rescue kitties on Facebook and Instagram.

Related story: Cat Gets Help for Her Kittens All Born with Large Feet, Twisted Legs and Hop Like "Kangaroos"