A little feline family came to their foster home for a chance at a better life. The runt was born very special.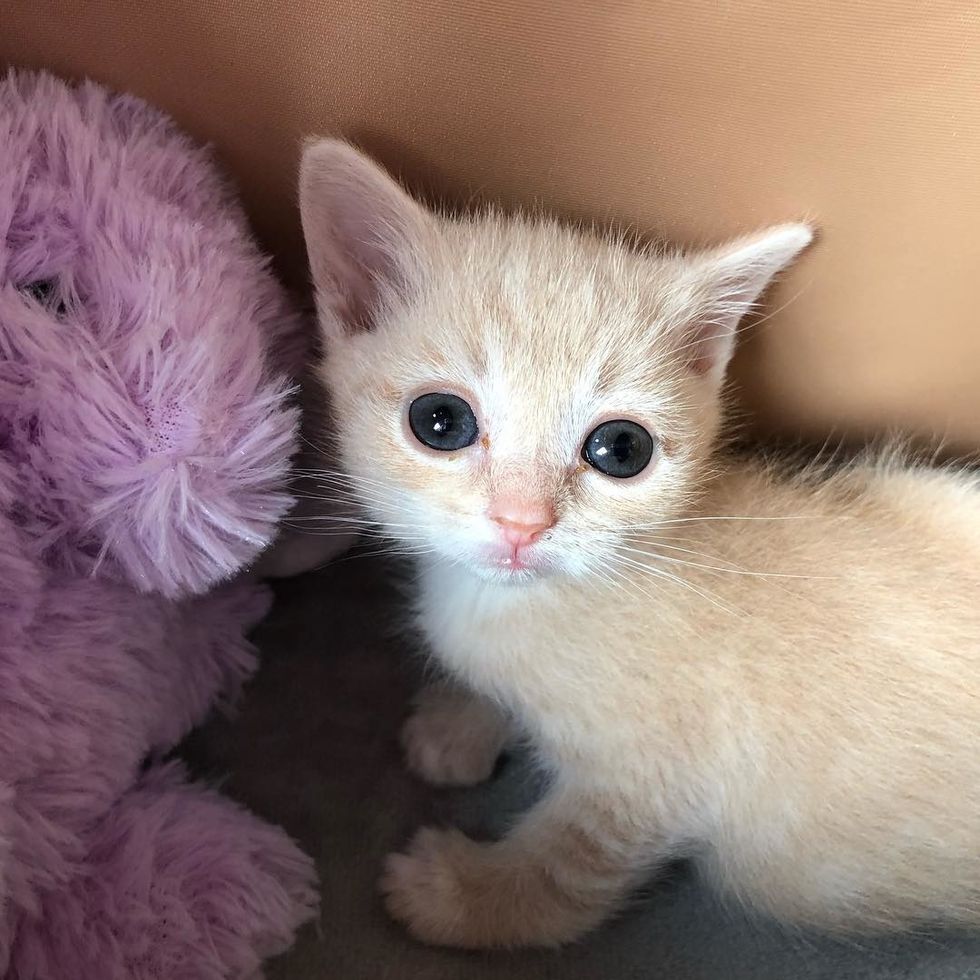 Krystle Waldron @acleverkitten
A few weeks ago, four tiny kittens along with their cat mom were brought to a local shelter in need of help. Henrico Humane Society in Richmond, Virginia took them in and immediately arranged a foster home so they could be cared for in a home environment.

"We were called the same day (they were rescued) and were able to take mom and the babies home to foster them," Krystle Waldron, a volunteer of the rescue, told Love Meow.
The kittens all had upper respiratory infections but one of them had the biggest fight.
Krystle Waldron @acleverkitten
Pukini, the runt of the litter, was born with deformities in her legs. She was less than half the size of her siblings and was having trouble growing. Her eye infection was the most severe out of her litter.

"Her poor little eyes would end up sealed shut again within a couple hours of being cleaned. Mom was only about 4.5 pounds when we got her and wasn't producing enough milk for all of them," Krystle said. "Her siblings would push her out of the way so she had to be supplemented with a bottle for a few weeks until she was strong enough to eat real food on her own."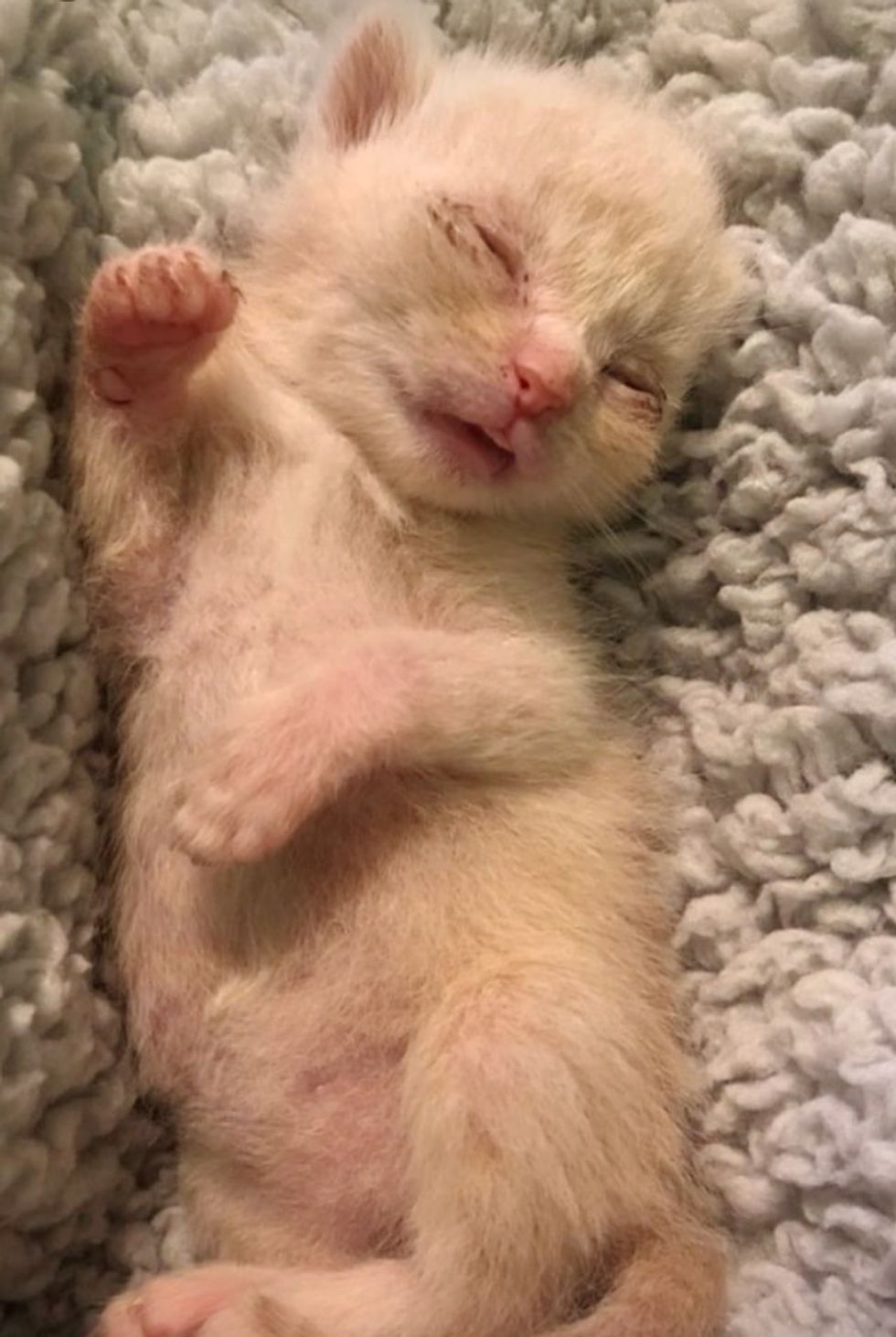 Krystle Waldron @acleverkitten
"She was always more tired than the others and didn't really start moving around much until she was about five weeks old."

Despite all the challenges, the tiny ginger girl was a warrior, always in good spirits and just wanted to be loved. "We didn't think she was going to survive for the first few weeks. But she's a fighter."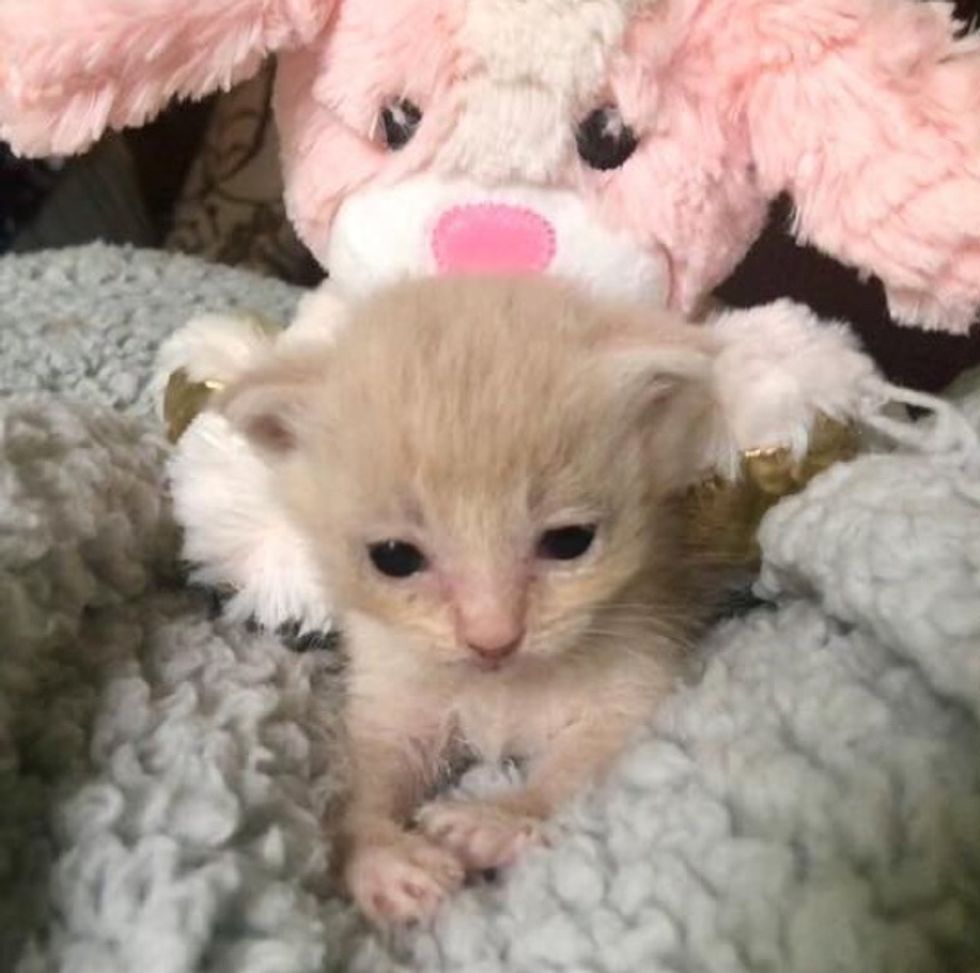 Krystle Waldron @acleverkitten
With round-the-clock care in a comfortable home, Pukini and her siblings bounced back and no longer had goopy eyes and runny noses. She was still very behind in growth and needed some help with her walk.

"We tried to have her little legs splinted to help her walk correctly but she's just too small," Krystle told Love Meow. "When they did her X-rays, they found that her bone development was consistent with a 3-week old kitten even though she was almost seven weeks old at the time. They aren't sure what has caused that at this point and are still doing tests to try to figure that out."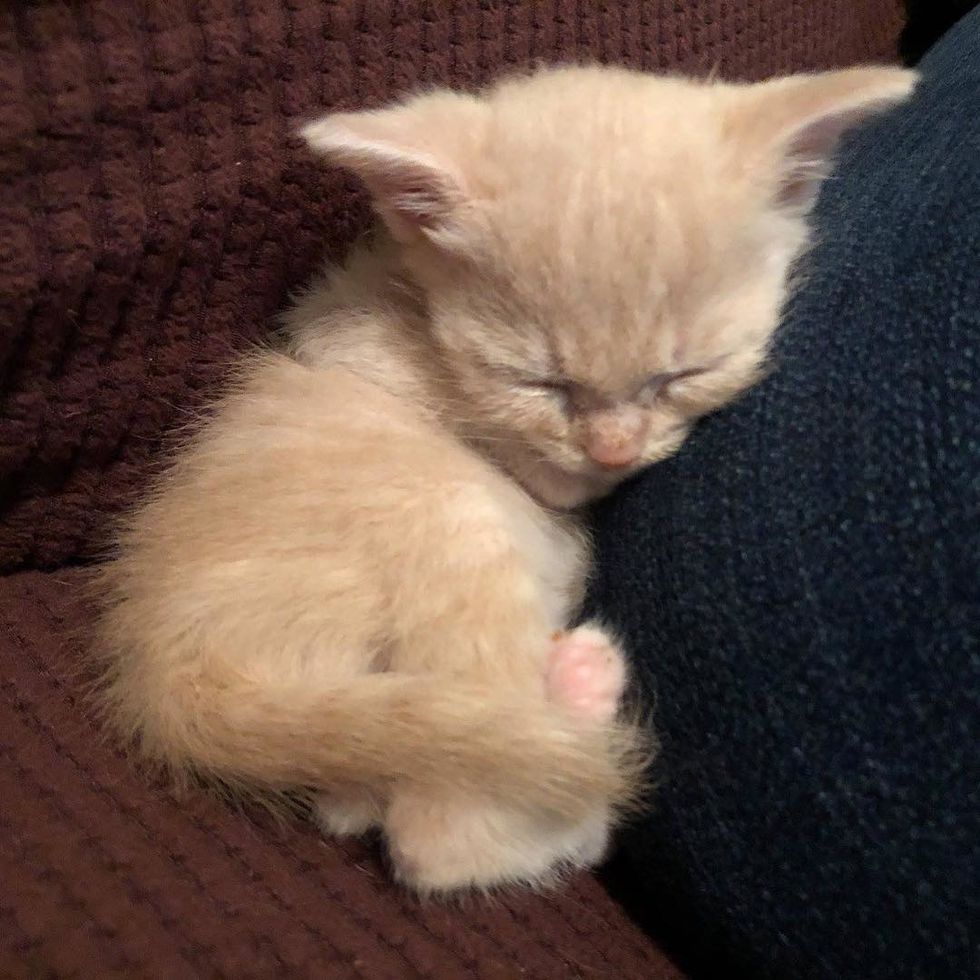 Krystle Waldron @acleverkitten
"Despite being so tiny, she has a lot of spunk. She doesn't seem to know that there is anything wrong with her and tries her best to keep up with her siblings."

When she gets tired, she naps to replenish and gets up and plays again once she's fully recharged.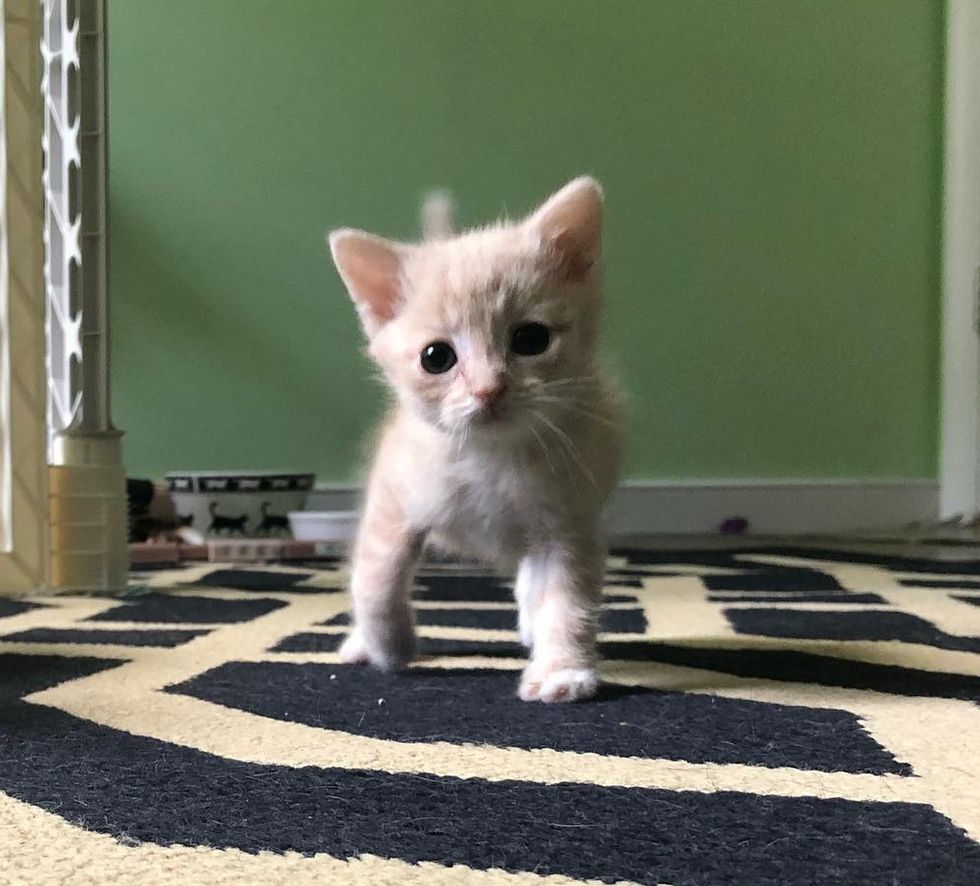 Krystle Waldron @acleverkitten
"Her favorite things are soft snuggly blankets and trying to play with toy balls even though she trips over them a lot. She's incredibly sweet and loves sleeping on top of me and my husband."

Watch her rescue journey in this video:
Rescue journey of Pukini the kittyyoutu.be
Pukini is about nine weeks old now and has finally reached the one-pound milestone.

She's still much smaller than her siblings, but what she lacks in size, she makes up for in her endearing personality.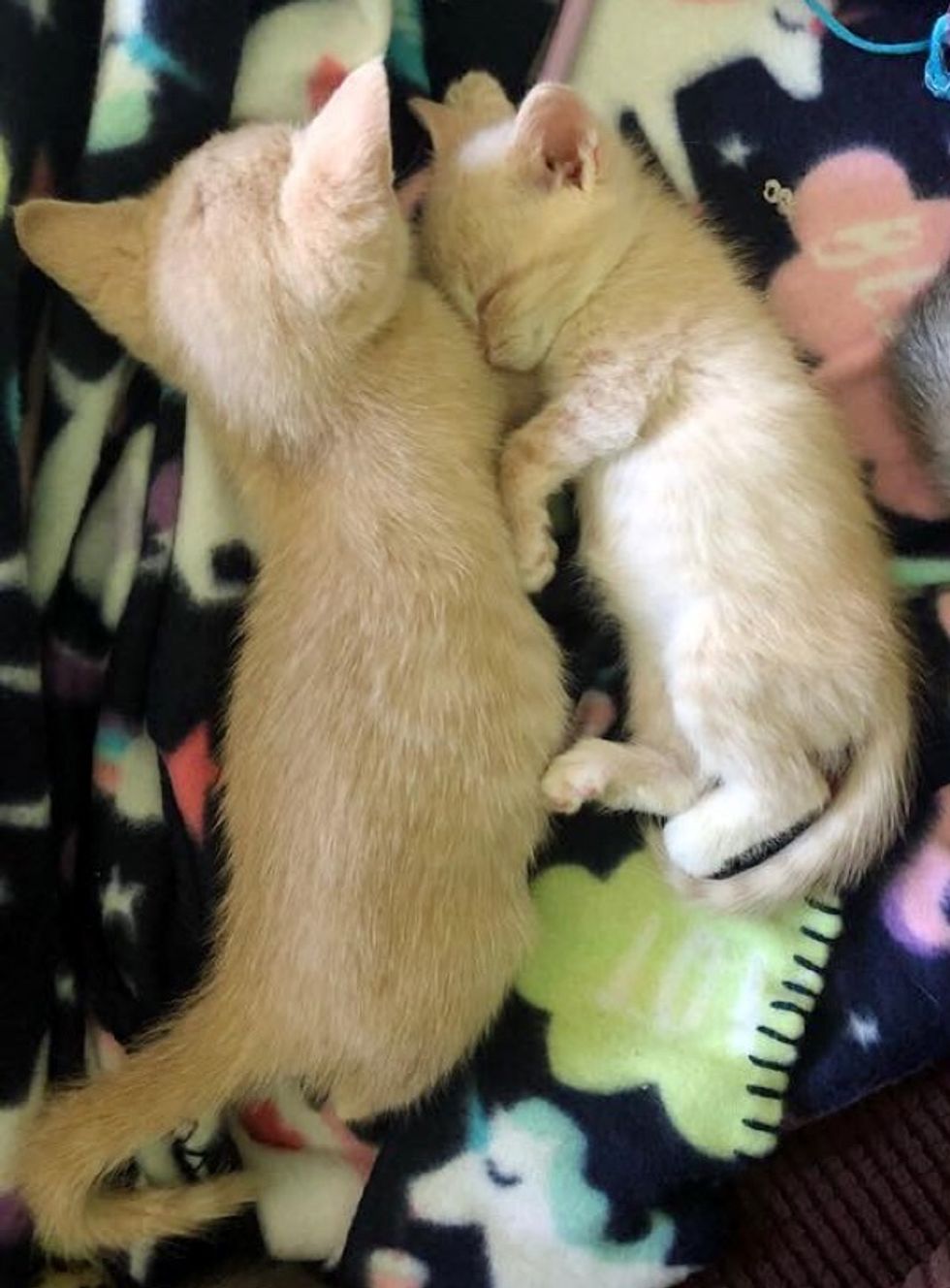 Krystle Waldron @acleverkitten
"She's become a really feisty, playful little kitten. I don't think she has a clue that there's anything wrong with her, and she doesn't seem to be in any pain," Krystle said.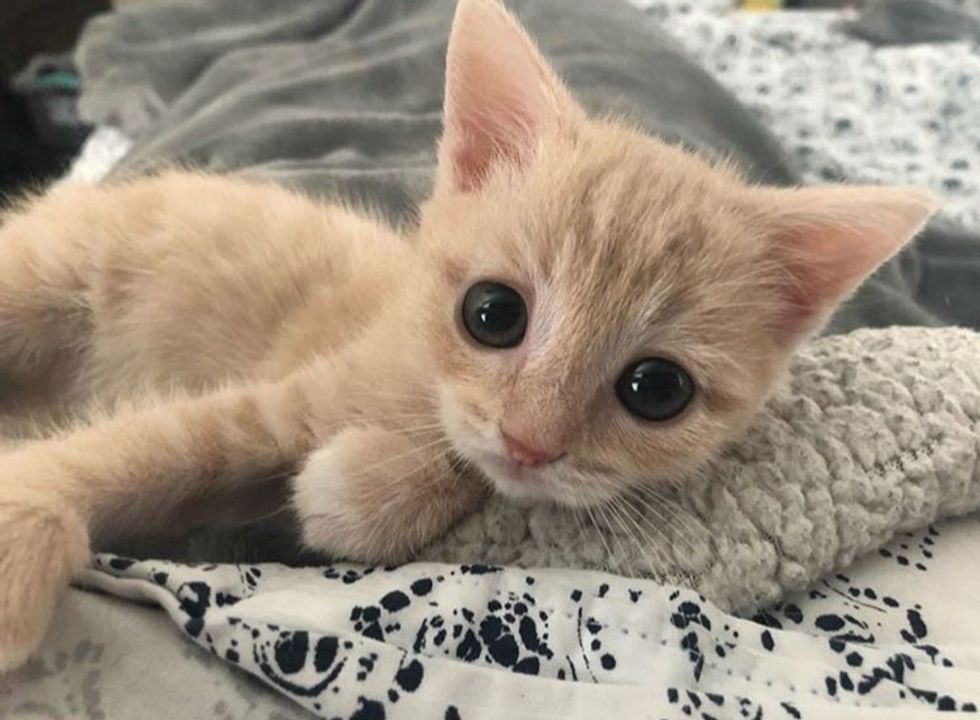 Krystle Waldron @acleverkitten
The little kitty has come so far since the day she arrived. She continues to make strides every day.
Pukini may stay tiny forever, but she's a mighty warrior.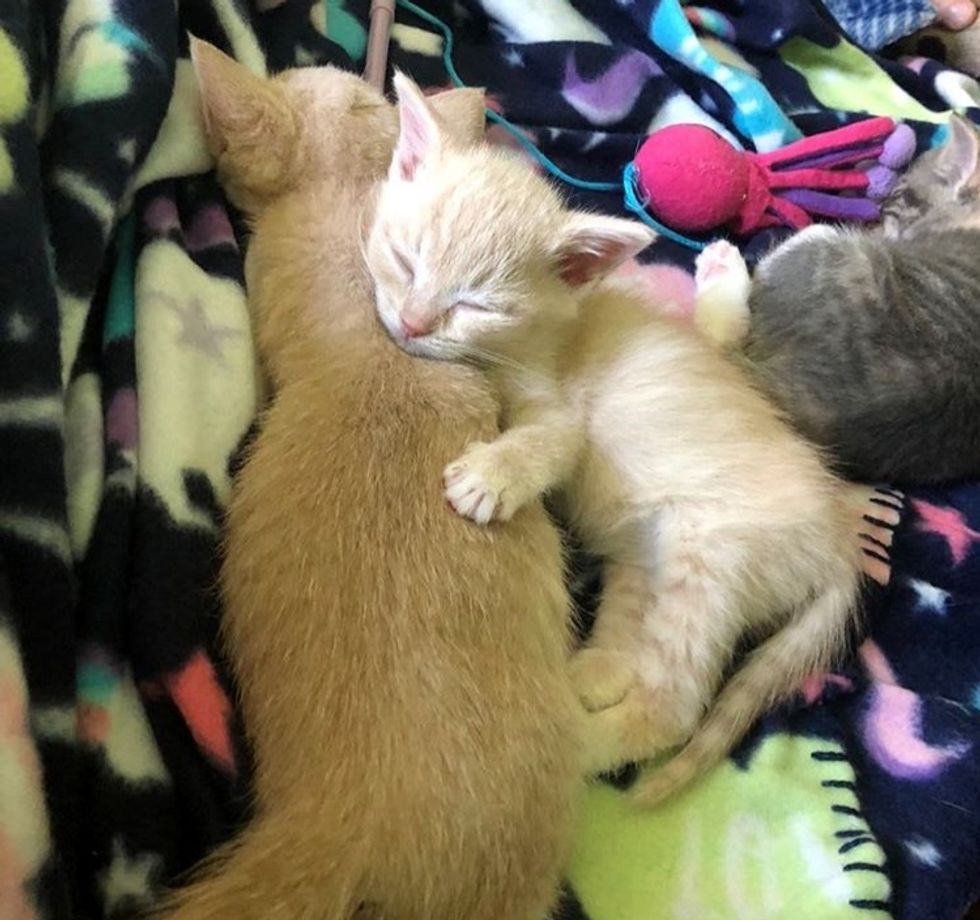 Krystle Waldron @acleverkitten
Share this story with your friends. Follow updates on this warrior kitty on Instagram. If you would like to support their rescue efforts, click here to see how you can help.
Related story: Cat Gets Help for Her Kittens All Born with Large Feet and Hop Like "Kangaroos"