A kitten came to a local rescue for a chance at a better life. She was born very special and is quite the cuddle-bug.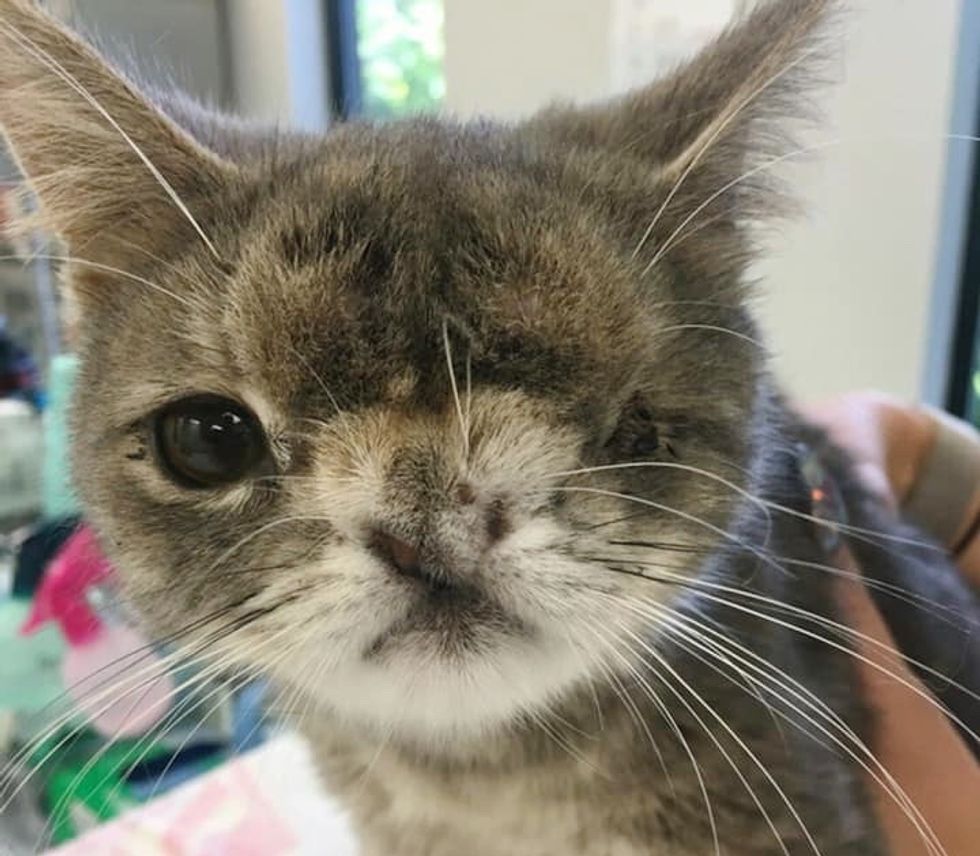 Itty Bitty Kitty Committee
An 8-month old kitten named Zara was brought to the Fix'Em Clinic in Charleston, West Virginia for her spay surgery. The vet noticed her breathing issues and decided she would need to be seen by a specialist first.

They reached out to Itty Bitty Kitty Committee (IBKC), a local rescue group in Charleston, for help. Little Zara was surrendered as her owner was unable to provide the medical care she needed to thrive.
The rescue took her in with open arms. "She was taken to a local vet for exam. It was quickly determined that we needed an MRI for intensive diagnosis and possible treatment," Kathy Lucas, board member of IBKC, told Love Meow.
Everyone from the vet's office came to meet the sweet kitten and gave her what she wanted - cuddles and more cuddles. "She loved every minute! I've never heard so many 'awws' in my life!"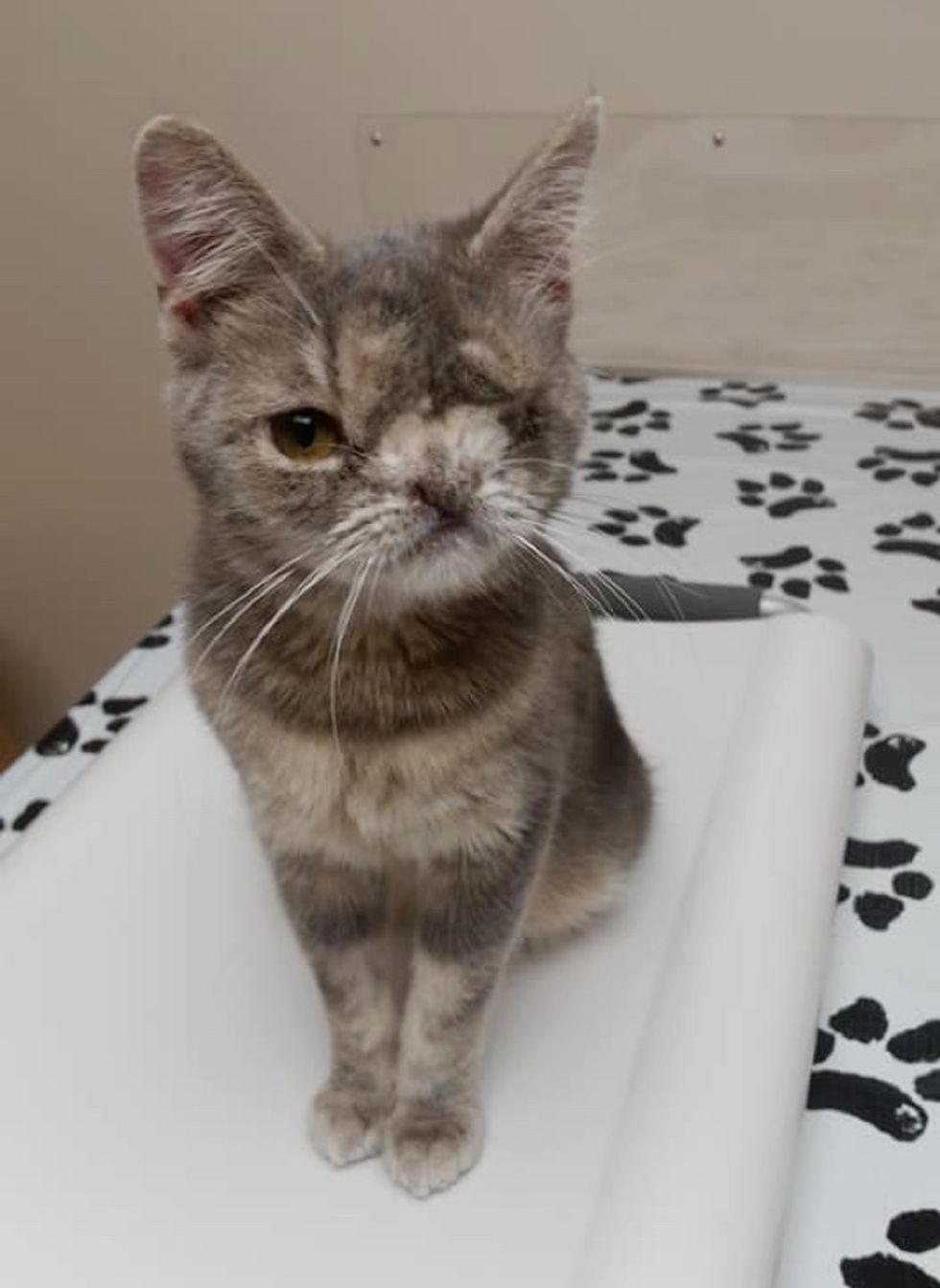 Itty Bitty Kitty Committee
Two IBKC volunteers stepped up to travel with the kitten out of state to Ohio State University Veterinary Medical Center in hopes of identifying her medical condition. After a few days, they got answers for the sweet feline.

"Zara has sight and can breathe normally on her right side. She has no left side nasal passage and one cannot be created for her. Her left eye did not develop. Her brain is asymmetrical but protected. No surgery is required."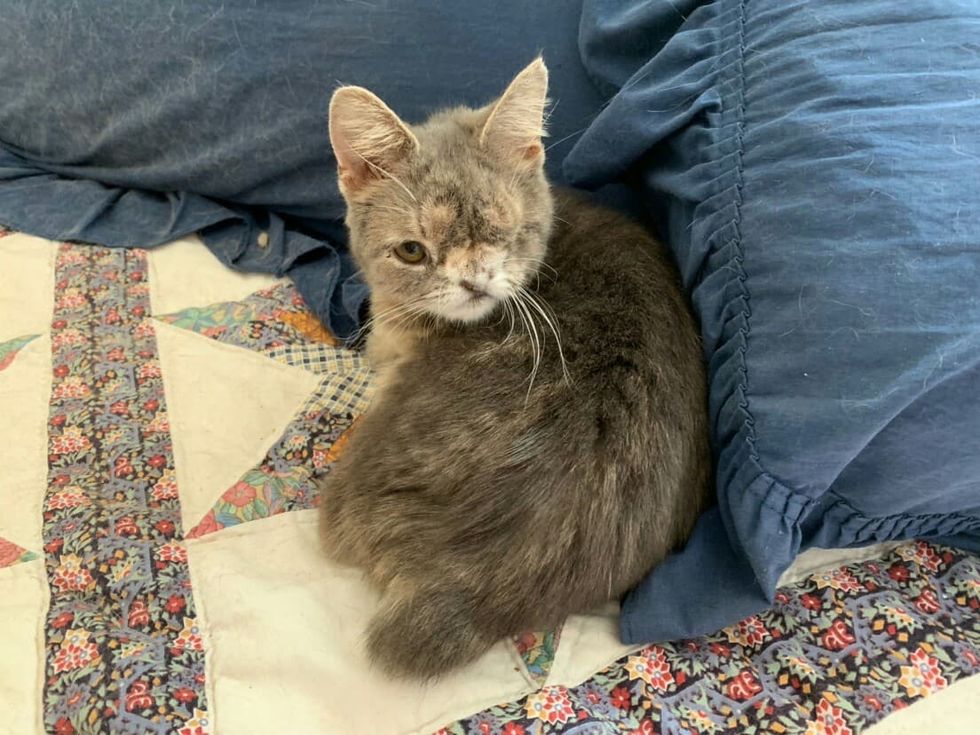 Itty Bitty Kitty Committee
Her condition is believed to be congenital. According to the vet, "Zara is who she is," and she is adorable, calm and absolutely trusting.

"Most new fosters hide when they reach safety. Not Zara! She immediately jumped up on the bed in her foster room and made herself at home," Kathy told Love Meow. "She doesn't hiss, scratch, bite or squirm to get away. She just wants to be loved and cuddled."
The one-eyed kitty is the happiest when she is snuggling with a friend. She never complains when she is given medication for her ear infection and always makes sure no one feels alone in the house.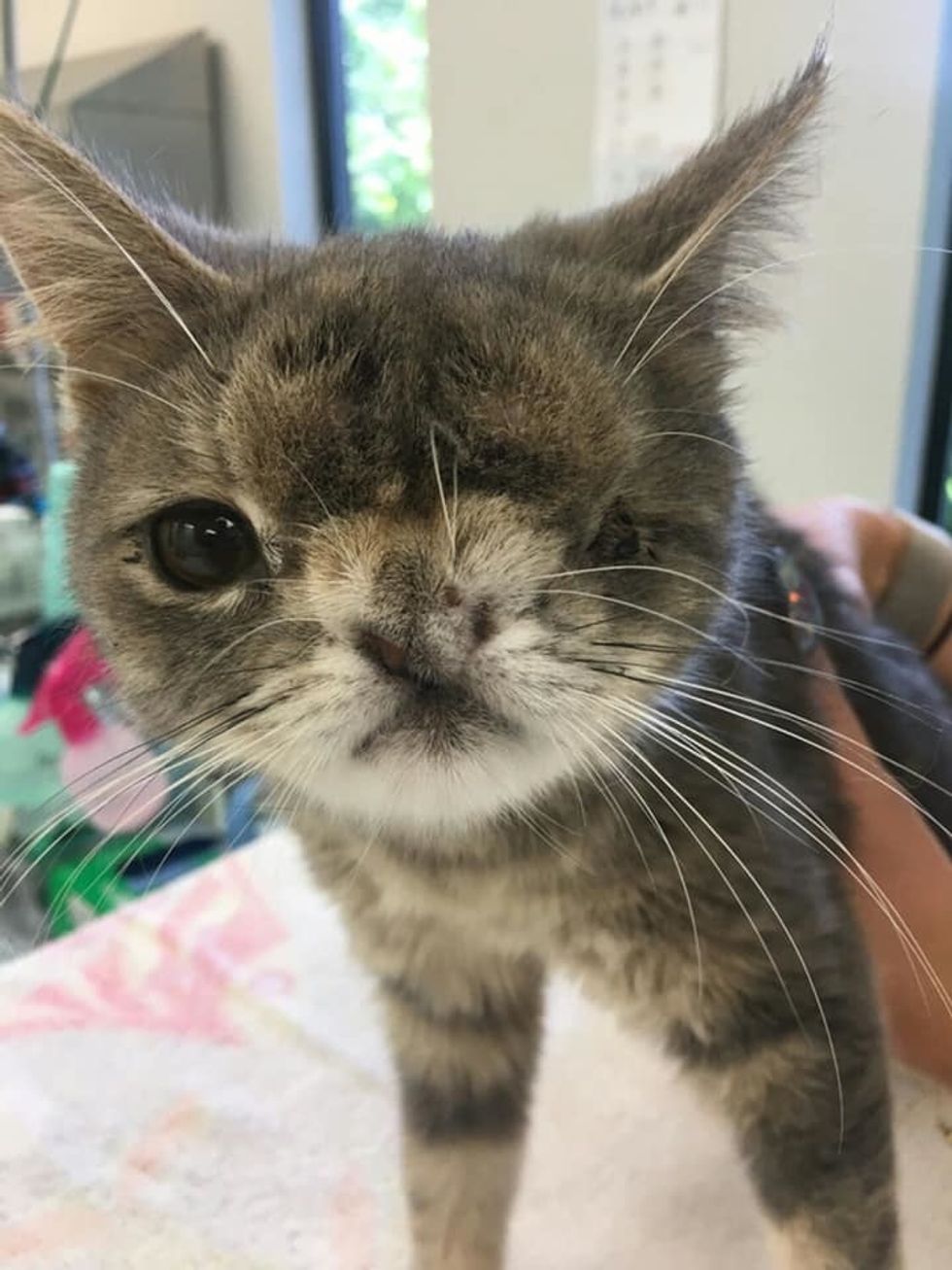 Itty Bitty Kitty Committee
"Despite her medical issues, Zara has the sweetest temperament and craves to be held and loved," Kathy said.

A few days ago, Zara visited the vet and surprised them with her amazing progress. She gained some healthy weight and was on schedule for her spay surgery in two weeks.
Knowing how much the kitten loves being cuddled, her doctor held her in his arms while checking her heart and lungs.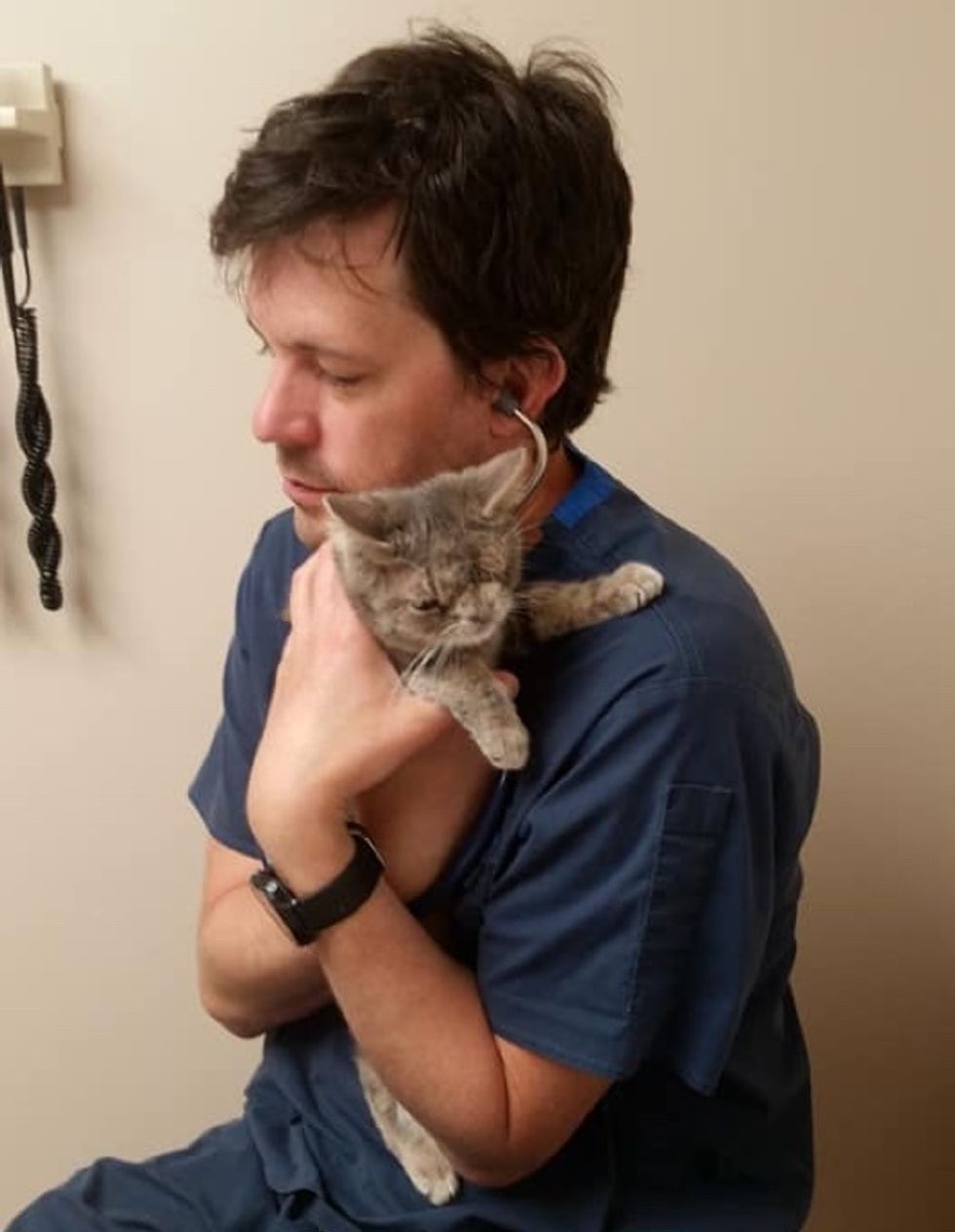 Itty Bitty Kitty Committee
"We promised Zara when we took her in that we would love her and provide the best care available," the rescue said.

In a few more weeks, this little miracle will be ready to look for a place to call her very own. Zara continues to make strides every day and touch people's hearts with her beauty, both inside and out.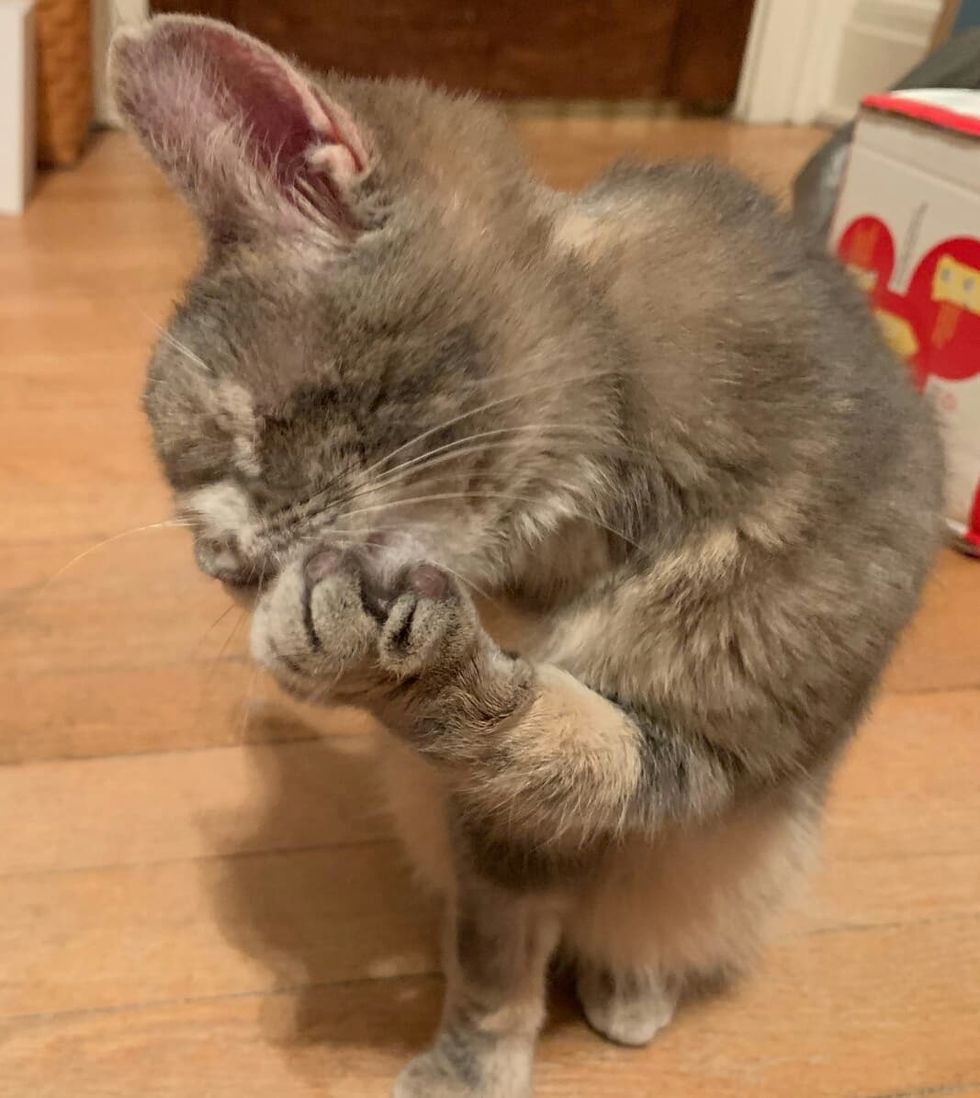 Itty Bitty Kitty Committee
Share this story with your friends. Follow updates on Zara on Facebook and Instagram.
Related story: Kitten Finds Perfect Family to Cuddle After They Rescued Him and His Siblings