An injured dog who was rescued from a car accident, became the new mom to two litters of orphaned kittens who were in need of love.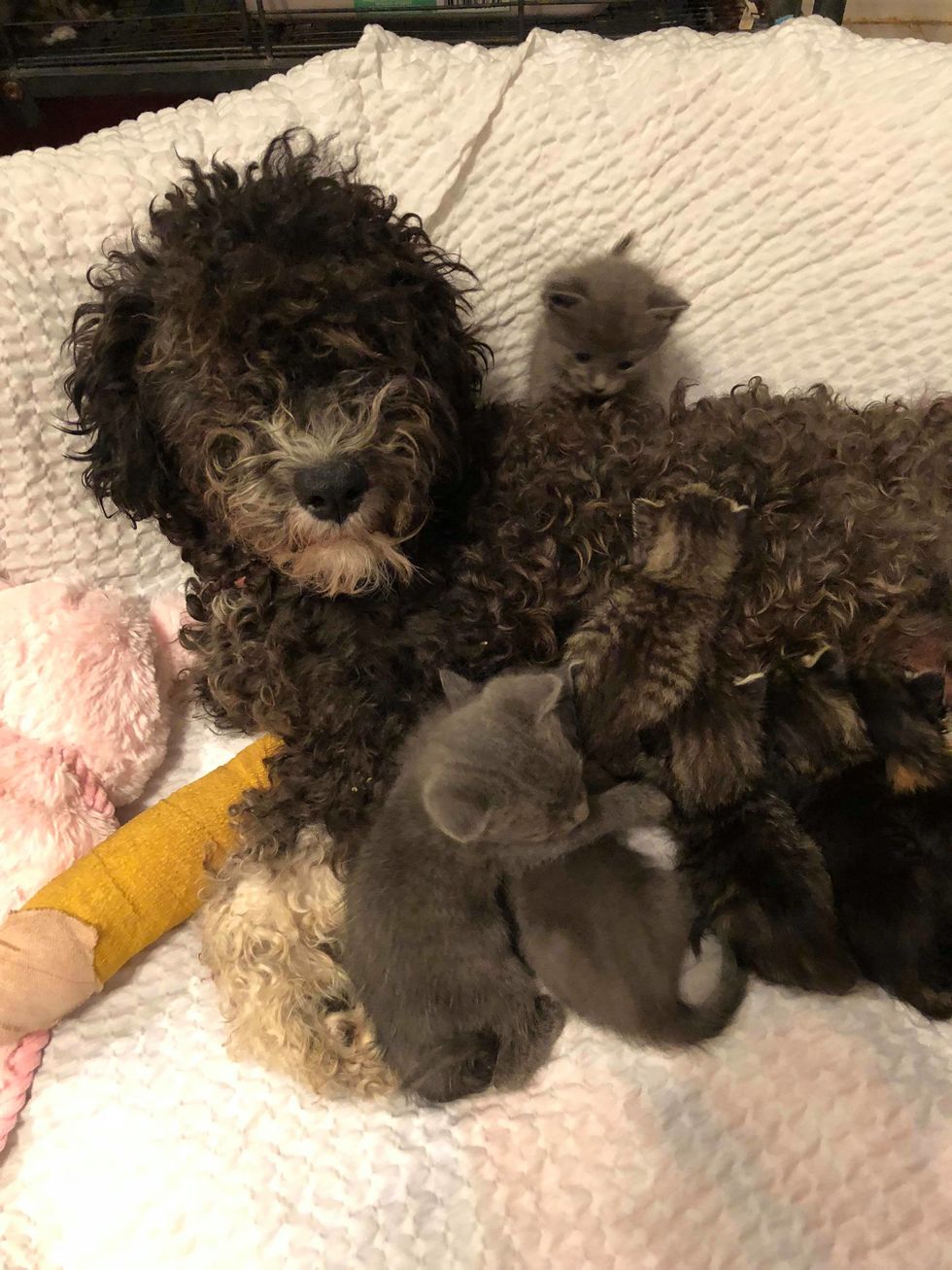 Cassie's Place
A week ago, staff at Cassie's Place saw a post of a Poodle named Eve, who needed rescue. "She was badly injured with obvious breaks to both front legs after being hit by a car. We immediately jumped into action," Michelle Zrubek, Director of Cassie's Place, told Love Meow.

Michelle reached out to Kelsey Kuhrt, a volunteer at MASA Rescue (in Midland, Texas) and Linda Posey at City of Midland Animal Services to help coordinate the rescue.
"We worked together to come up with a plan to have her transported to our rehab facility in San Angelo, Texas."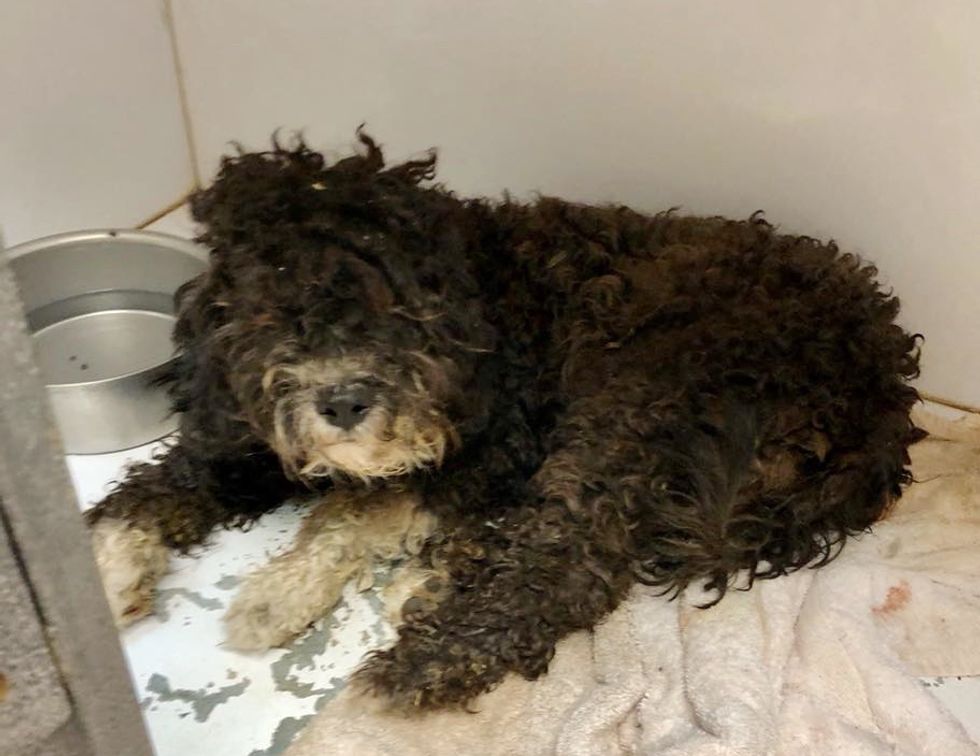 MASA Rescue
Due to Texas laws and regulations set in place to give an owner the opportunity to claim their pet, Eve was not available for transport until September 21st. When Kelsey arrived at the shelter to pick up the poodle, there was a surprise.

"She was nursing orphaned kittens," Michelle said. "Shelter staff said, Eve had seemed depressed. She was lactating and it was obvious to all that she was recently nursing puppies."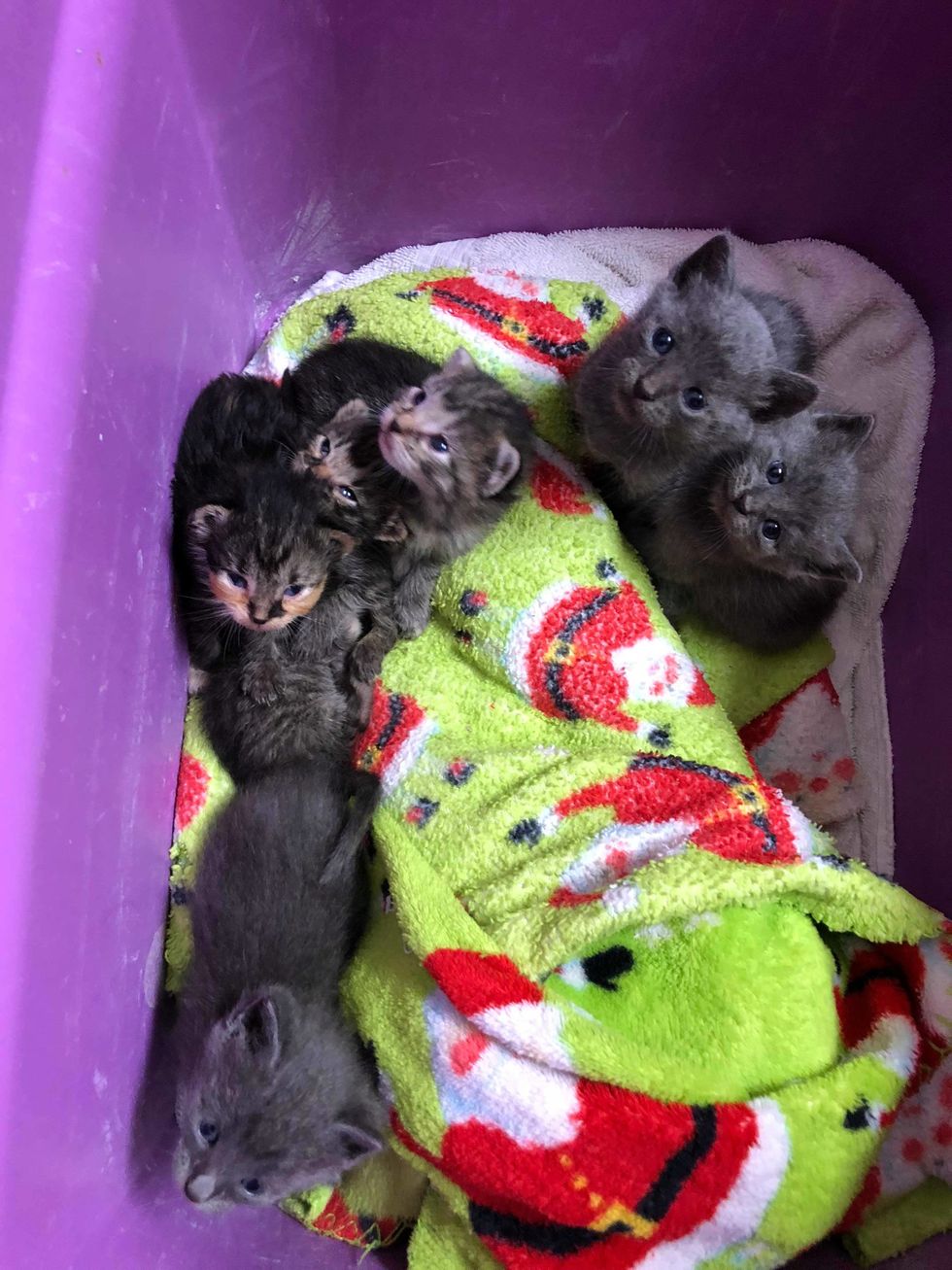 Cassie's Place
Volunteers went to the place where she was found, to try to locate the puppies, but were unsuccessful. During the holding period, two litters of orphaned kittens were brought in to the shelter. "Staff decided it wouldn't hurt to try the kittens with Eve and see if she would accept them," Michelle added.
"She quickly did, her spirits were lifted, and the babies were being cared for the way they needed to be."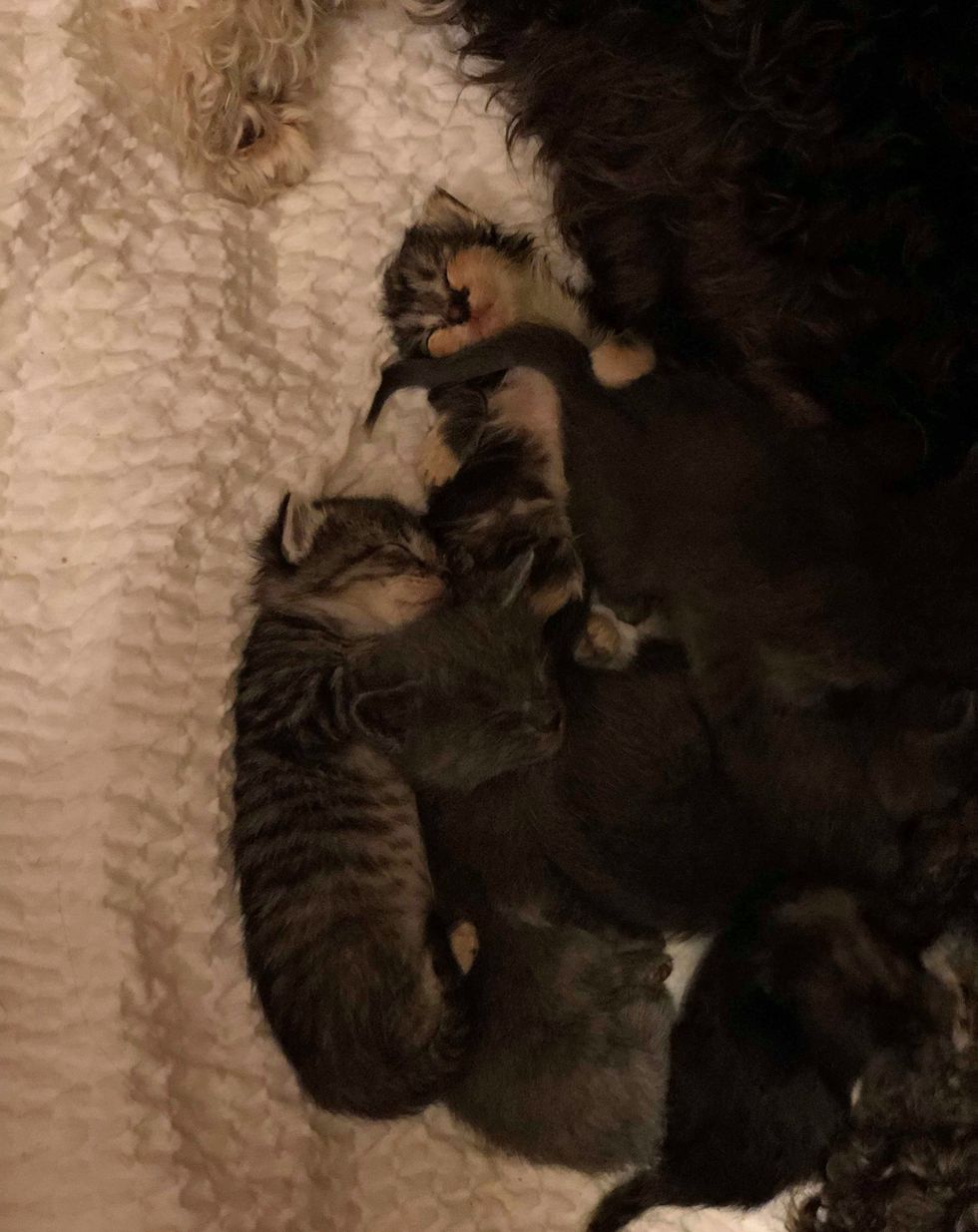 Cassie's Place
They ended up saving not only one but eight lives. Linda O'Neil, who volunteered to transport the rescues, arrived with the furry family at Cassie's Place that evening.
"We set them up in a quiet and comfy space where she could decompress and feel secure with her new environment for her little family."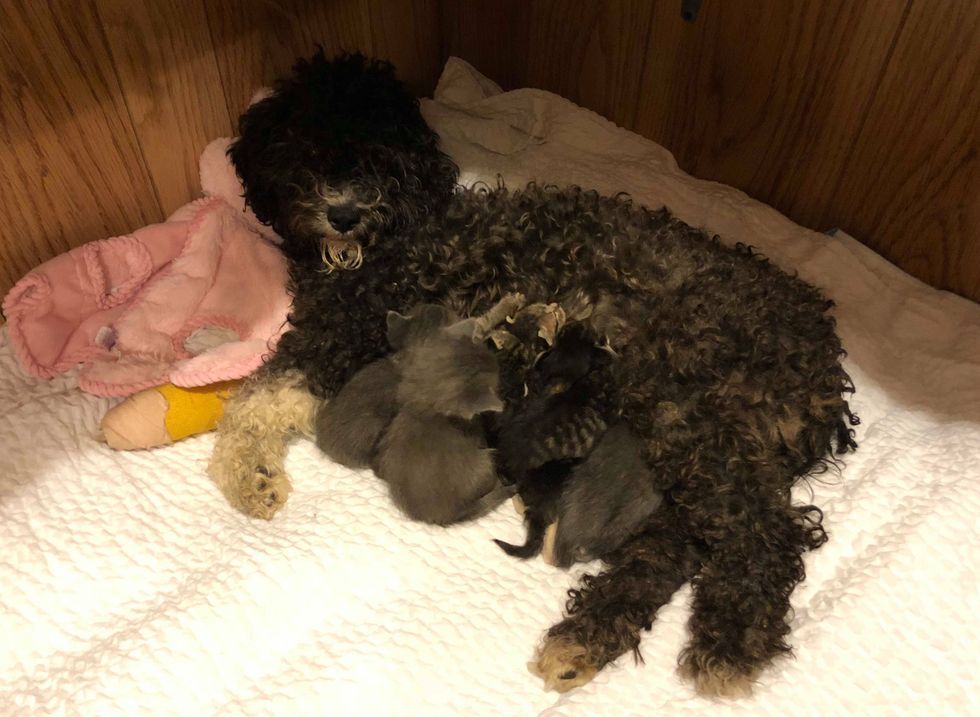 Cassie's Place
The kittens latched on to their surrogate mom, nursing and purring away.

Watch video of the mama Eve and her kittens:
"Eve, has a very proud and adorning love for her kittens. She wags her tail when you talk to her about the babies she is raising. She shows concern when you remove them from their area to change out the bedding. She whines and lightly barks to let us know that she is upset that she is not with them," Michelle told Love Meow.

"She does an amazing job cleaning and feeding them. You would never know they weren't hers, other than species, due to the care she gives to them."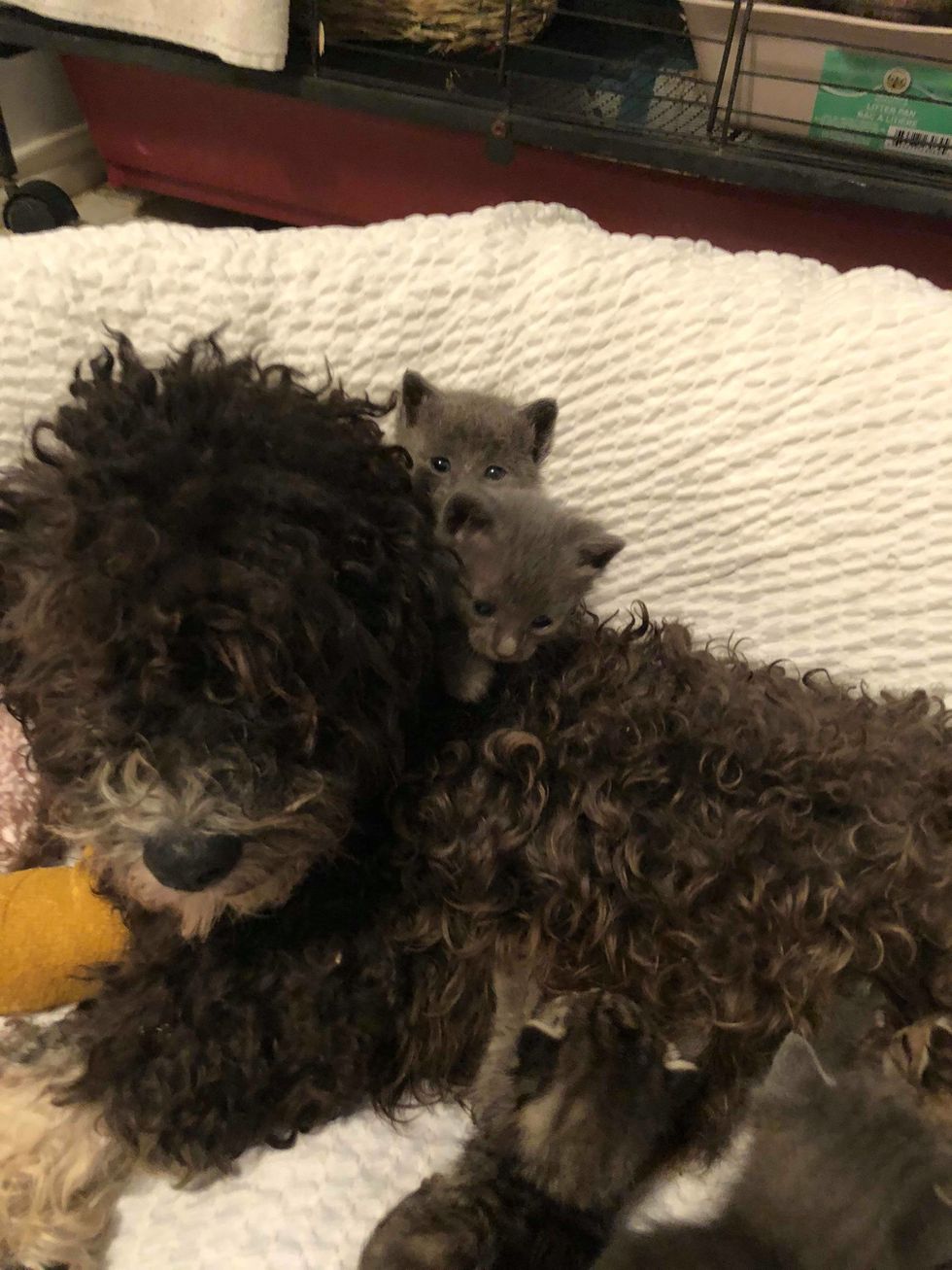 Cassie's Place
Despite her injuries, all she wanted was to care for her feline kittens. Now it was her turn to receive the love and care she needed.
The next morning, they brought Eve and her kittens to Knickerbocker Road Animal Hospital where they were seen by Dr. Sheen and his staff.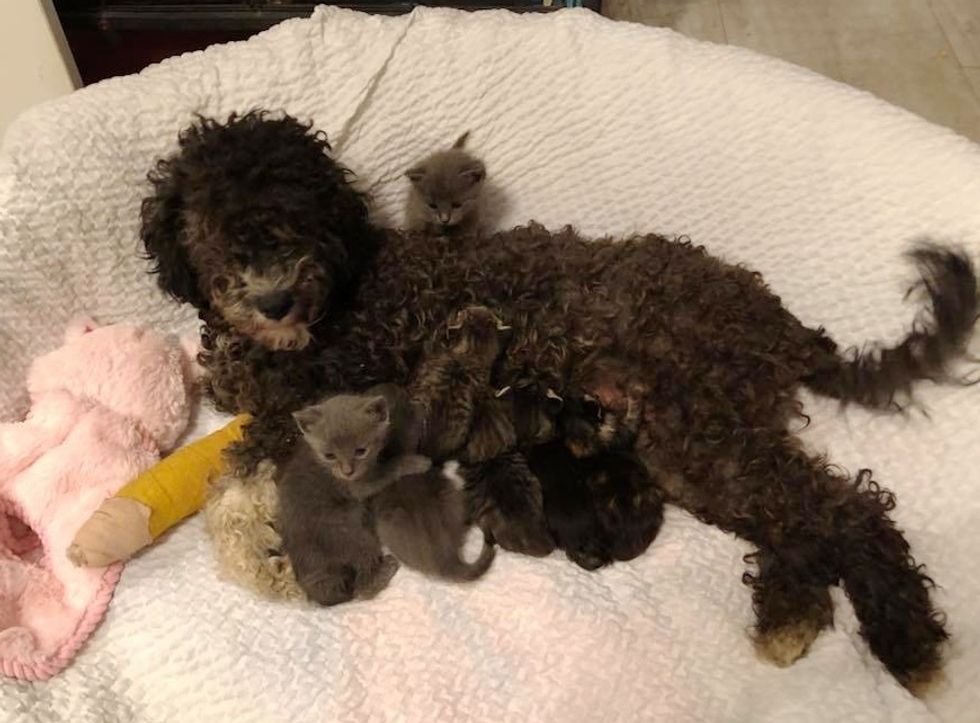 Cassie's Place
Mama Eve underwent surgery today to have the bones put in place, secured with a pin and splinted properly.

While she is at the vet, the younger kittens are being bottle fed by volunteers, and the bigger ones are learning to eat from a bowl. "They are a bit messy and aren't sure if the bowl is the food. They all got full bellies."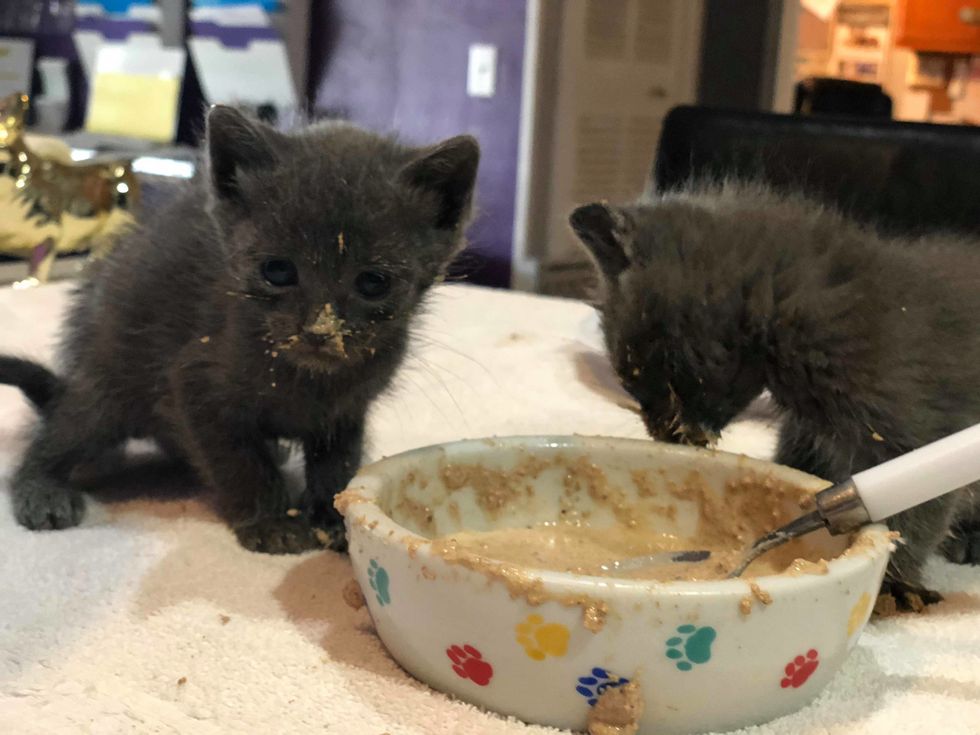 Cassie's Place
With help from the Canine Mama, the seven kittens are thriving at Cassie's Place and will be up for adoption in a few weeks.
Once Eve is doing better, she will be reunited with the younger kittens.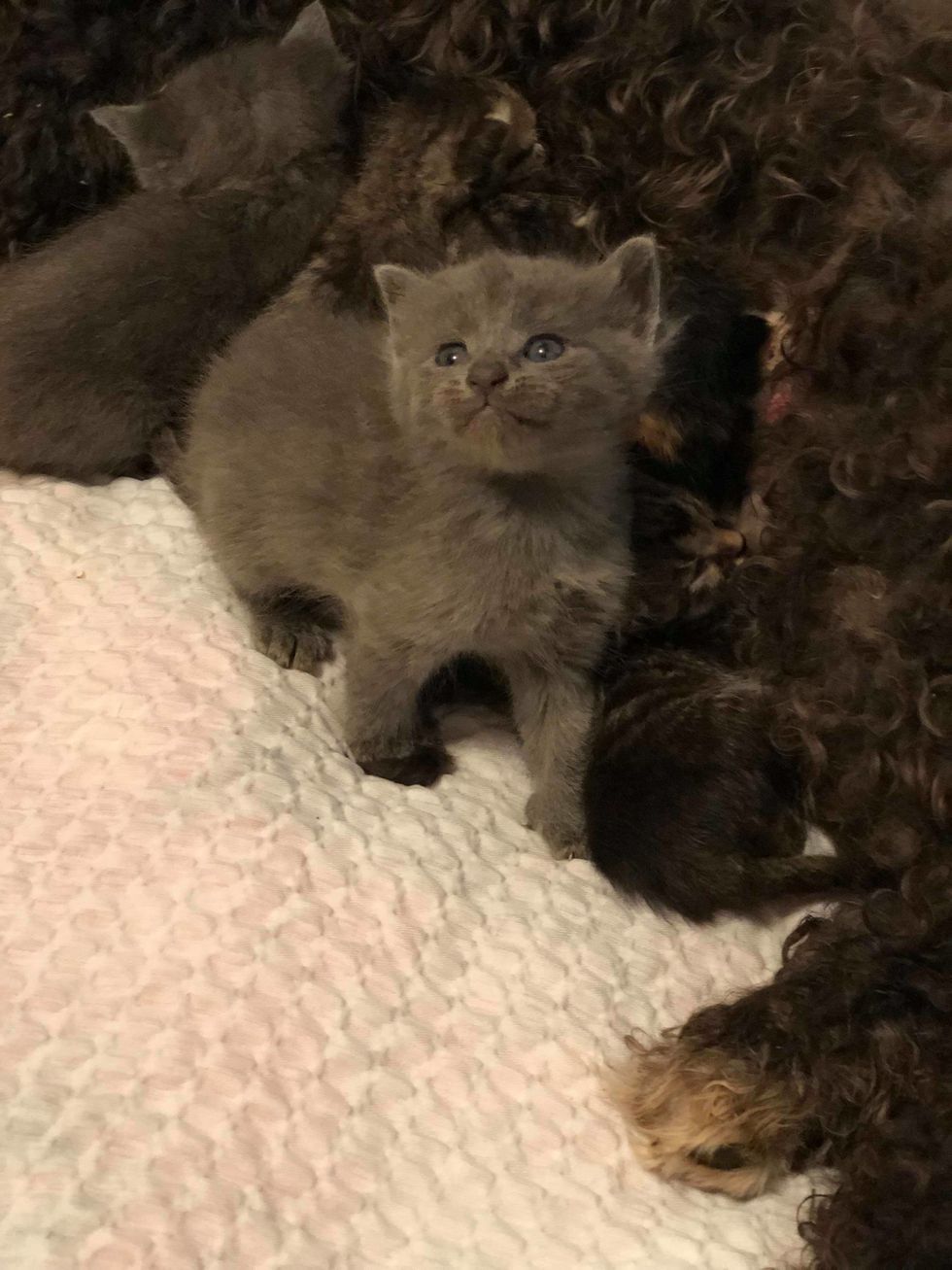 Cassie's Place
Share this story with your friends. If you would like to help with their rescue efforts, click here to see how you can help. Follow updates on this beautiful furry family on Facebook.
Related story: Dog Misses His Old Cat Until a Tiny Kitten Shows Up Needing a Mom