Rescuers found a litter of kittens that needed help — one of them was much smaller than the others.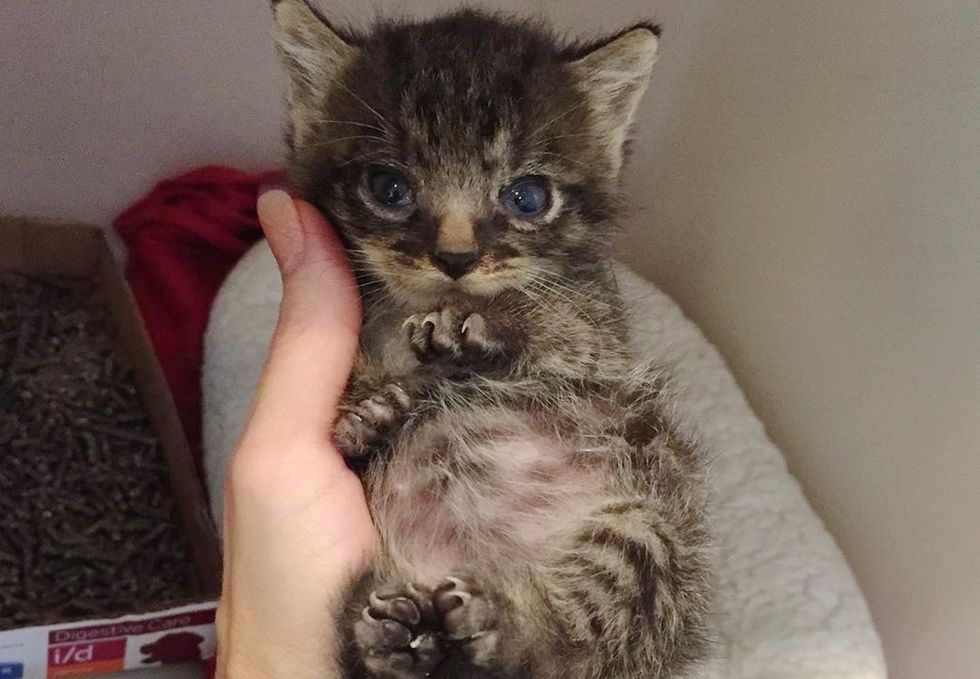 Heather Fontaine-Doyle
A rescuer from Charles River Alleycats (in Boston) located a litter of kittens that had been born to a feral cat in a cat colony. They got them to safety and reached out to Heather Fontaine-Doyle, a foster volunteer of Broken Tail Rescue, for help.

"I got a call asking me if I could take the kittens, and she said, 'one of them is small, like really small,'" Heather told Love Meow. "When she brought the litter to me, we were all amazed."
The pint-sized kitten whom they named Pill Bug, weighed only eight ounces (226.796 grams) at five weeks old. His teeth indicated that he was the same age as the other three kittens.
"He was about half the size of his siblings and looked more like a little squirrel than a kitten, but he was active, alert, trying to eat, and using the litter box."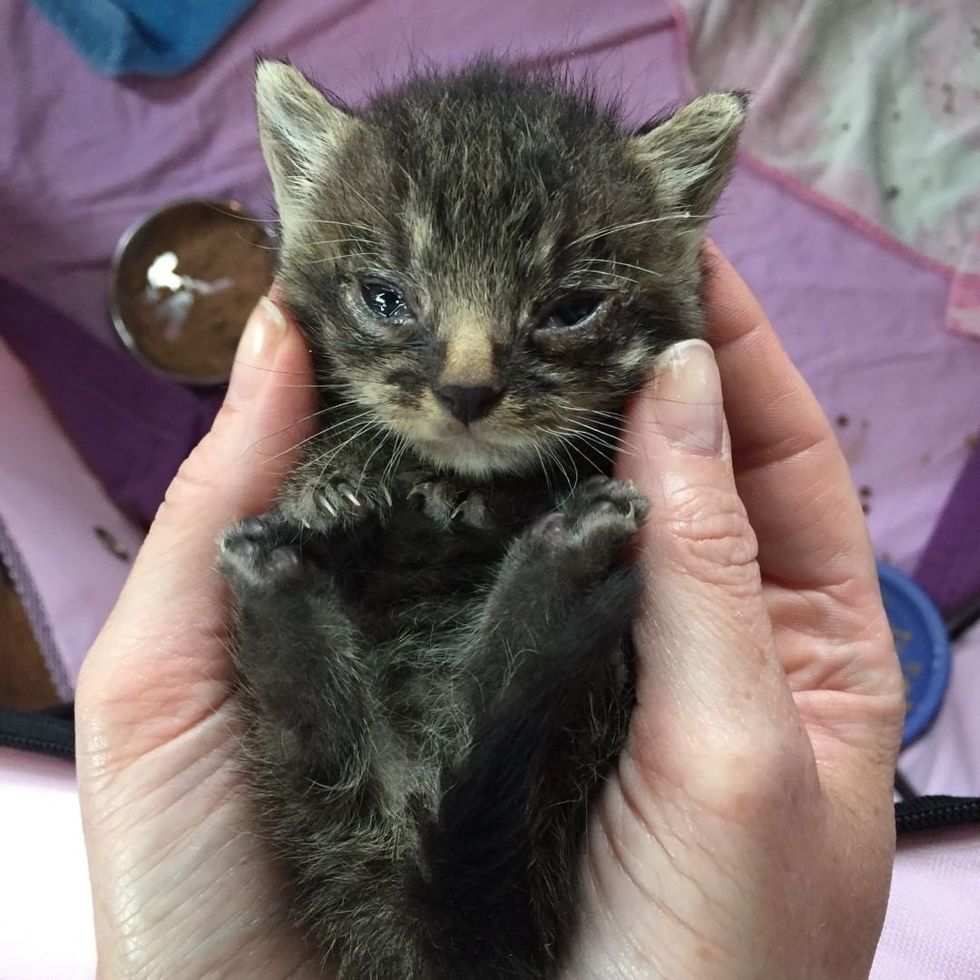 Heather Fontaine-Doyle
A few days later, Pill Pug's health started to decline, and he was losing appetite and weight. Heather was afraid that he might not make it but wouldn't give up without a fight.
She syringe-fed him every hour around the clock, keeping him hydrated, warm and loved.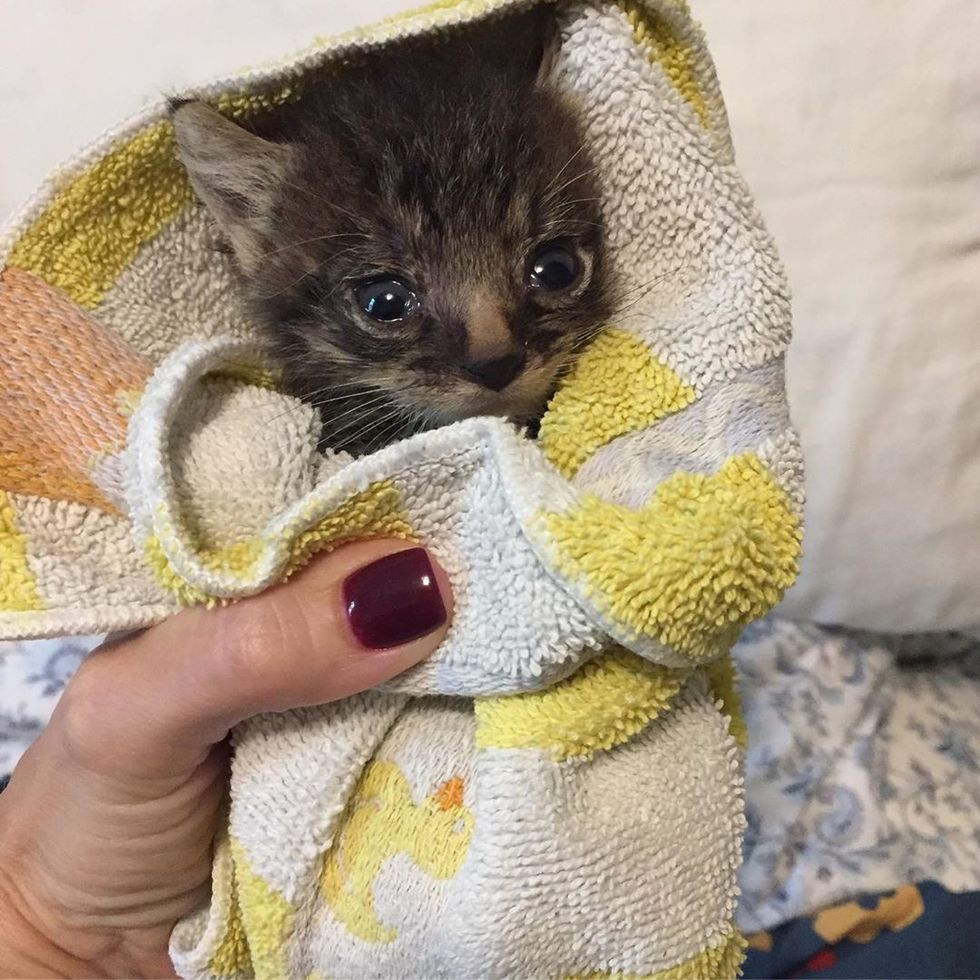 Heather Fontaine-Doyle
The kitten went everywhere with her so he would not miss a single feeding and always had someone there to keep him company.
"He had a tiny litter box made from a protein bar box that would go in his carrier," Heather told Love Meow. "His weight gain was really slow, though steady."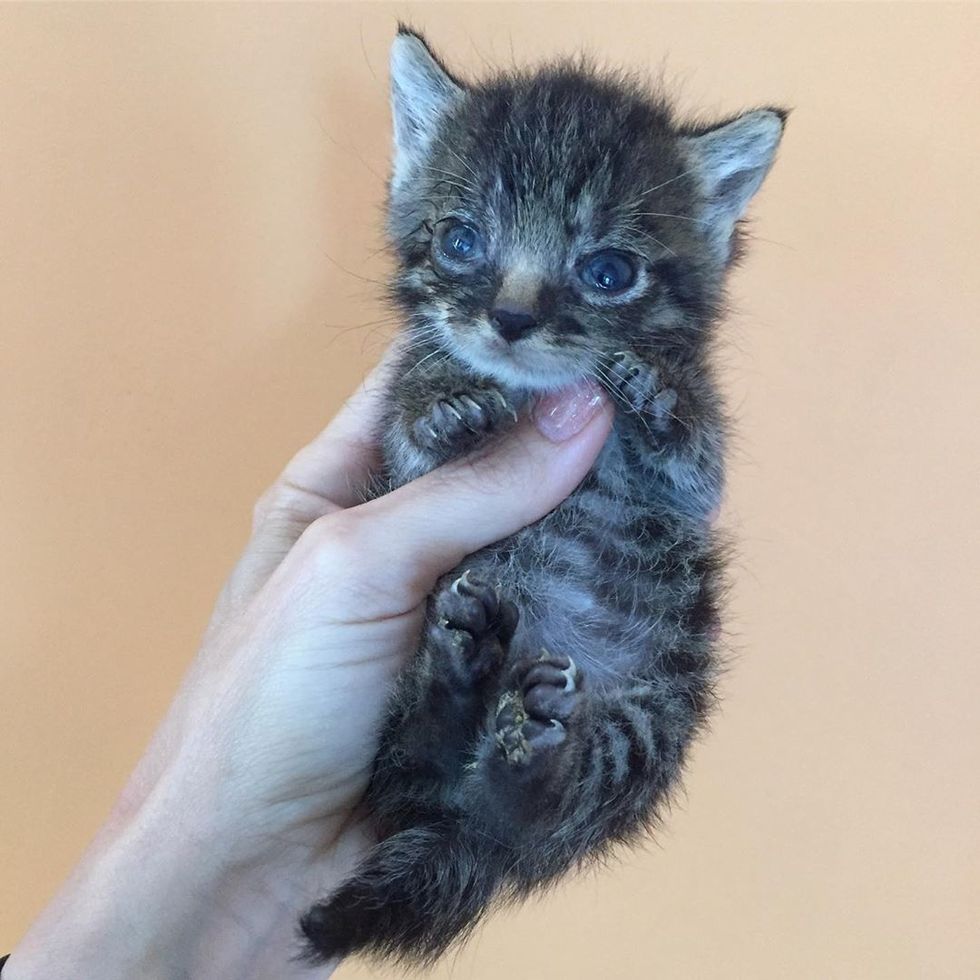 Heather Fontaine-Doyle
It took the little guy nine weeks until he finally reached the one-pound milestone. "His growth seems to be at a rate of about half that of a normal kitten."

Pill Bug has short, bowed legs and stiff tendons. Though he doesn't have great range of motion due to his physical issues, he is determined to do anything just like other kitties.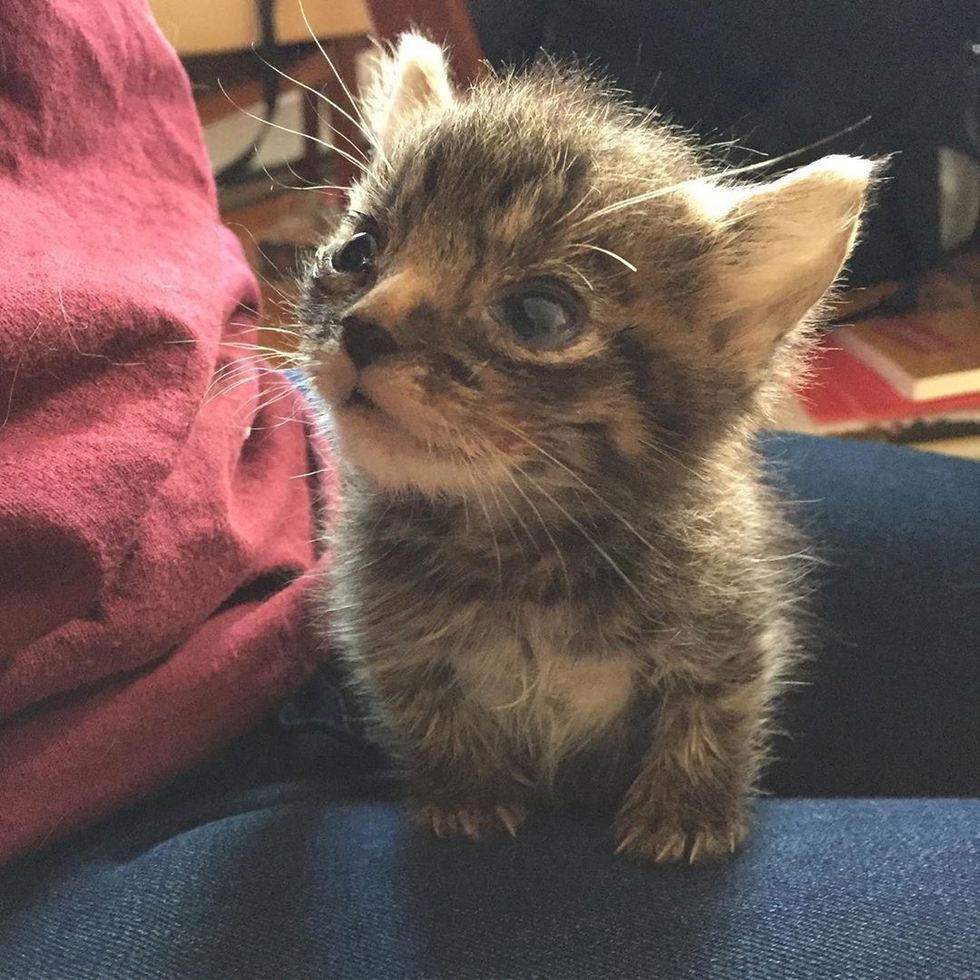 Heather Fontaine-Doyle
"Despite his small stature and limitations, he is an amazingly playful and affectionate kitten," Heather said.

The little guy follows his foster mom everywhere around the house. He's tiny but oh so mighty.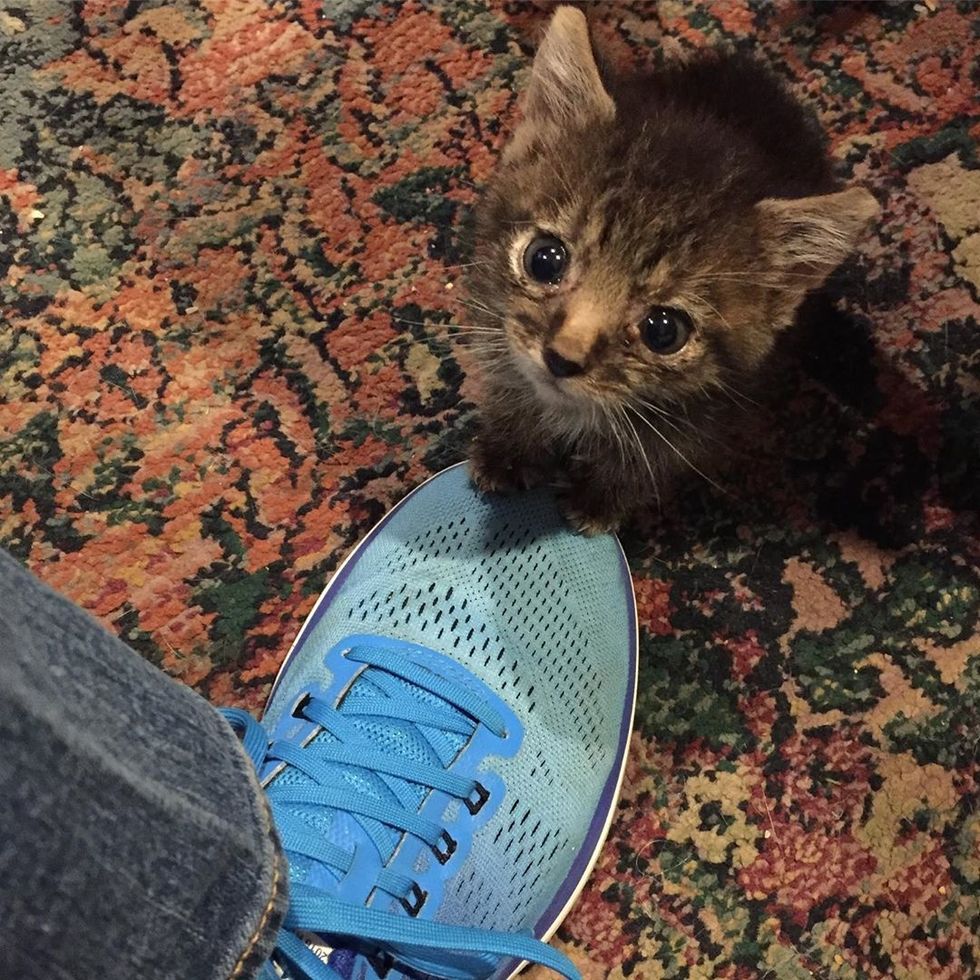 Heather Fontaine-Doyle
The tabby boy is very brave and likes to wrestle with bigger things. But nothing beats cuddling with his foster parents and getting loved and spoiled.
Watch the sweet kitty's journey in this video:
Pint-sized Rescued Kittenwww.youtube.com
"He really likes being held propped up on my shoulder and really enjoys the hair toys attached to my head," Heather added.
"My husband has a goatee, and Pill Bug likes hanging out and rubbing his face on my husband's."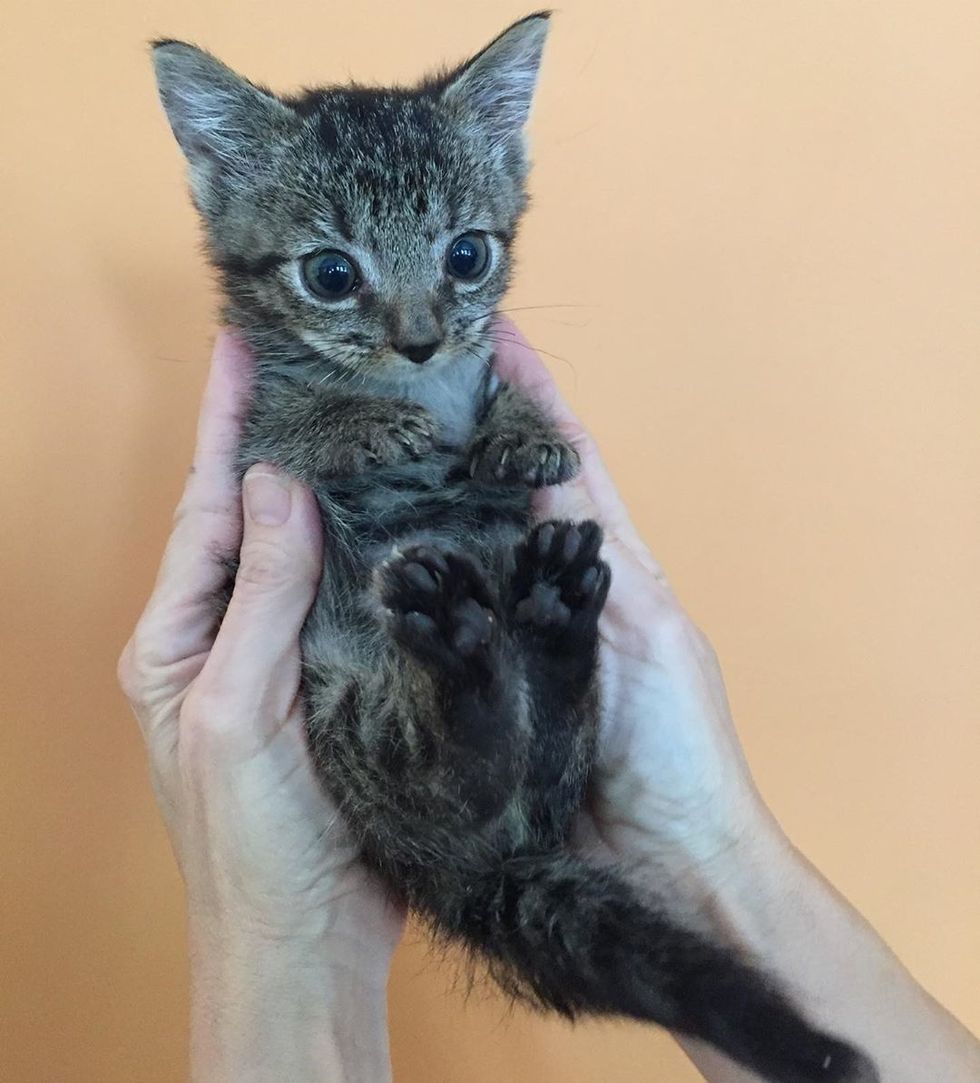 Heather Fontaine-Doyle
Having shorter legs doesn't slow him down. When it comes to meal time, he makes a dash for his food dish — he's really fast.

"He has basically adapted to how his body moves and engages in all the typical kitten behaviors. He just can't jump up on the furniture."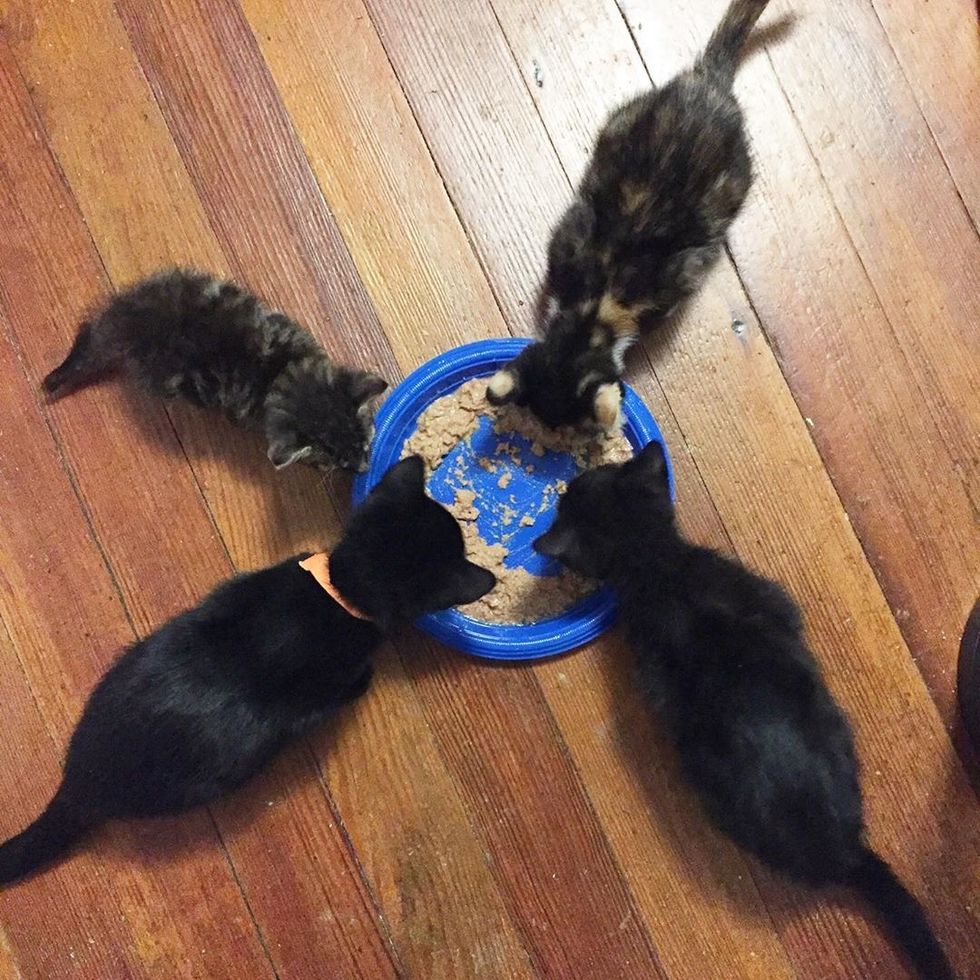 Pill Bug and his siblingsHeather Fontaine-Doyle
They have consulted veterinarians to see if there is more that they can do to help the kitten and improve his range of motion.

"Since he is so little we have to strictly monitor his calories so he doesn't become overweight. We are also doing some physical therapy with him to see if we can improve his range of motion, and we've added a joint supplement," Heather said.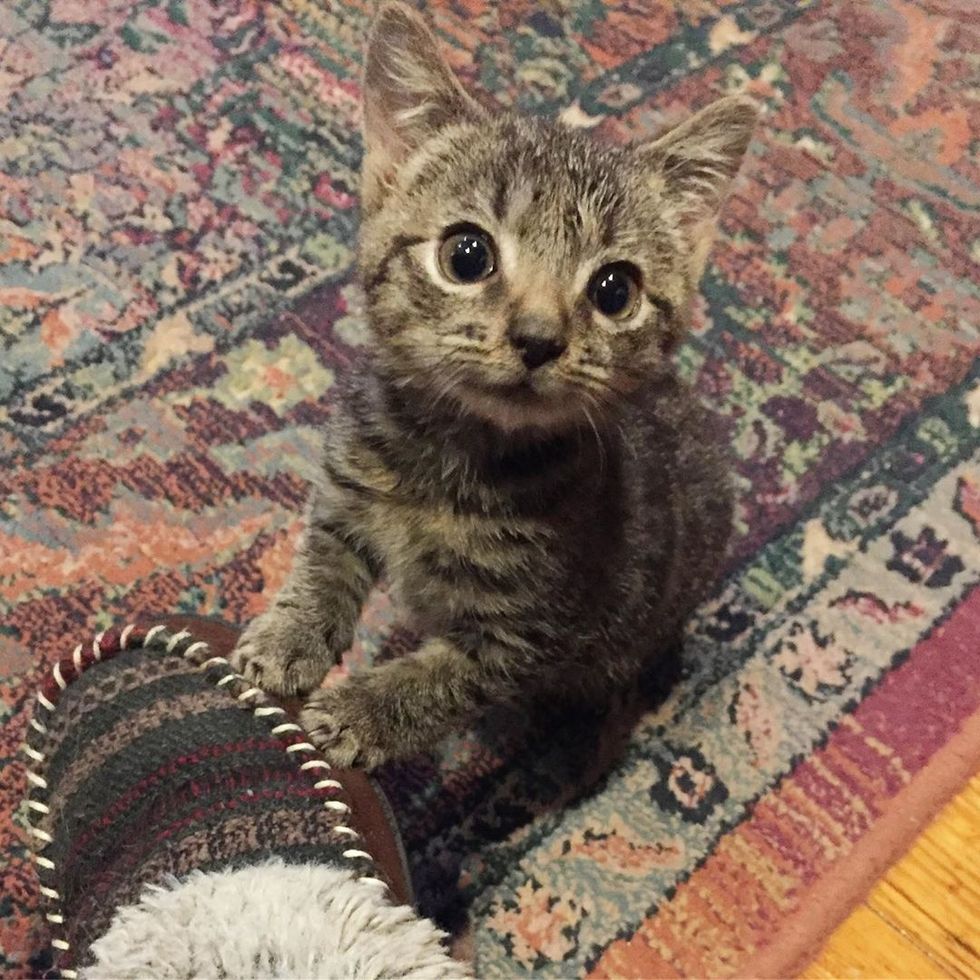 Heather Fontaine-Doyle
"We are awaiting the results of bloodwork to see if he might have pituitary dwarfism, and what that might mean for him long term."
Little Pill Bug just hit two pounds at about 4.5 months old. He's still very tiny but what he lacks in size, he makes up for in his larger-than-life personality.
Heather Fontaine-Doyle
Pill Bug is having the time of his life, enjoying the holiday season with his loving foster family.

"He is seriously one of the happiest little cats I've had the pleasure to foster."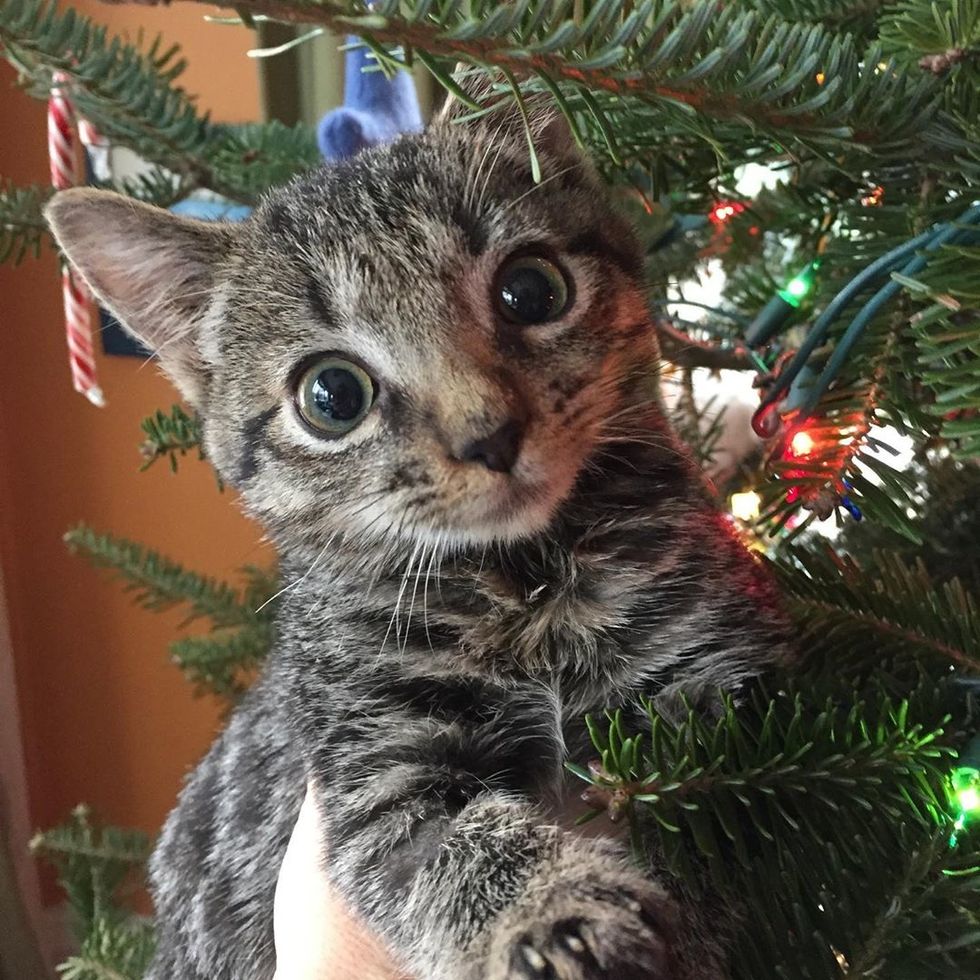 Heather Fontaine-Doyle
Share this story with your friends. Follow updates on Pill Bug on Instagram.
Related story: Woman Went to Rescue Kitten But Found Another One Just Half the Size