A couple from Maryland went to the shelter to adopt a cat but found two feline best friends instead.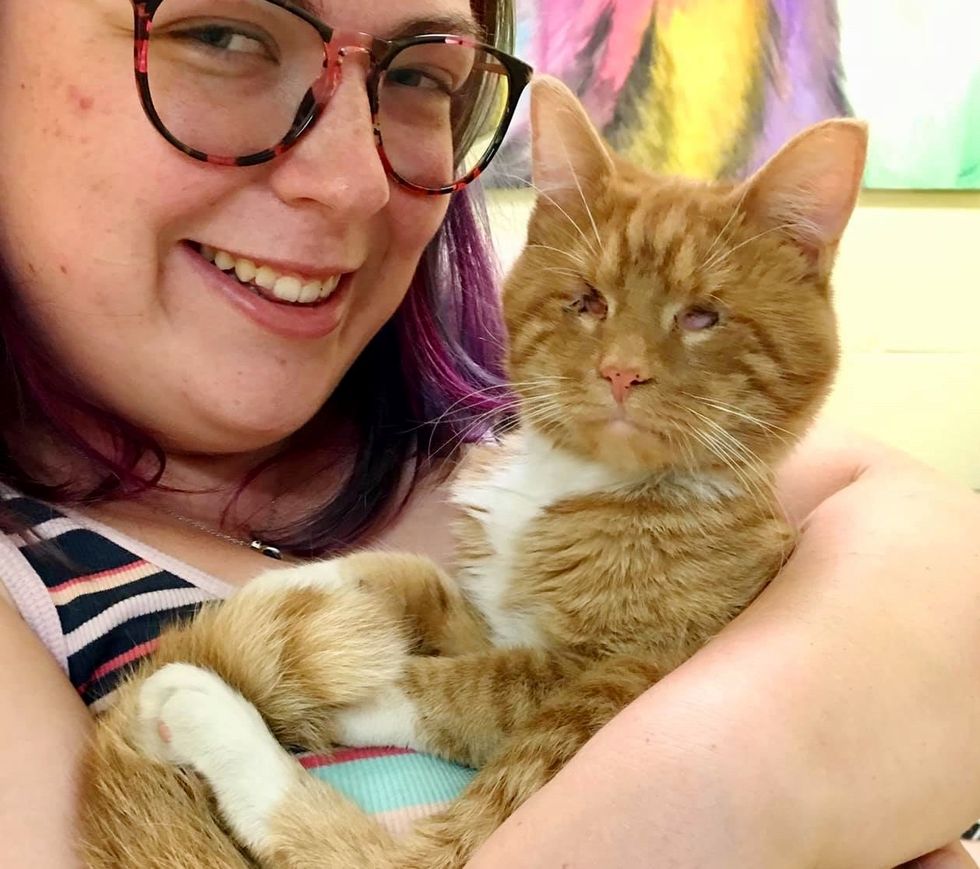 Anne Arundel County Animal Care and Control
Jill Mardesich and her fiancé visited Anne Arundel County Animal Care and Control in hopes of finding their resident cat Penny a new friend. As they were looking around at kitties, one of them stood out.

"I met Lucky Bear. He was born with no eyes, but he is the sweetest cuddly thing I've ever seen," Jill wrote.
Lucky Bear, a 2-year-old ginger cat, and his best friend Pumba, a 4-month-old kitten, came to the shelter last month after their family could no longer provide the care they needed. Their former owner brought them to the shelter, hoping to get them a chance at a better life.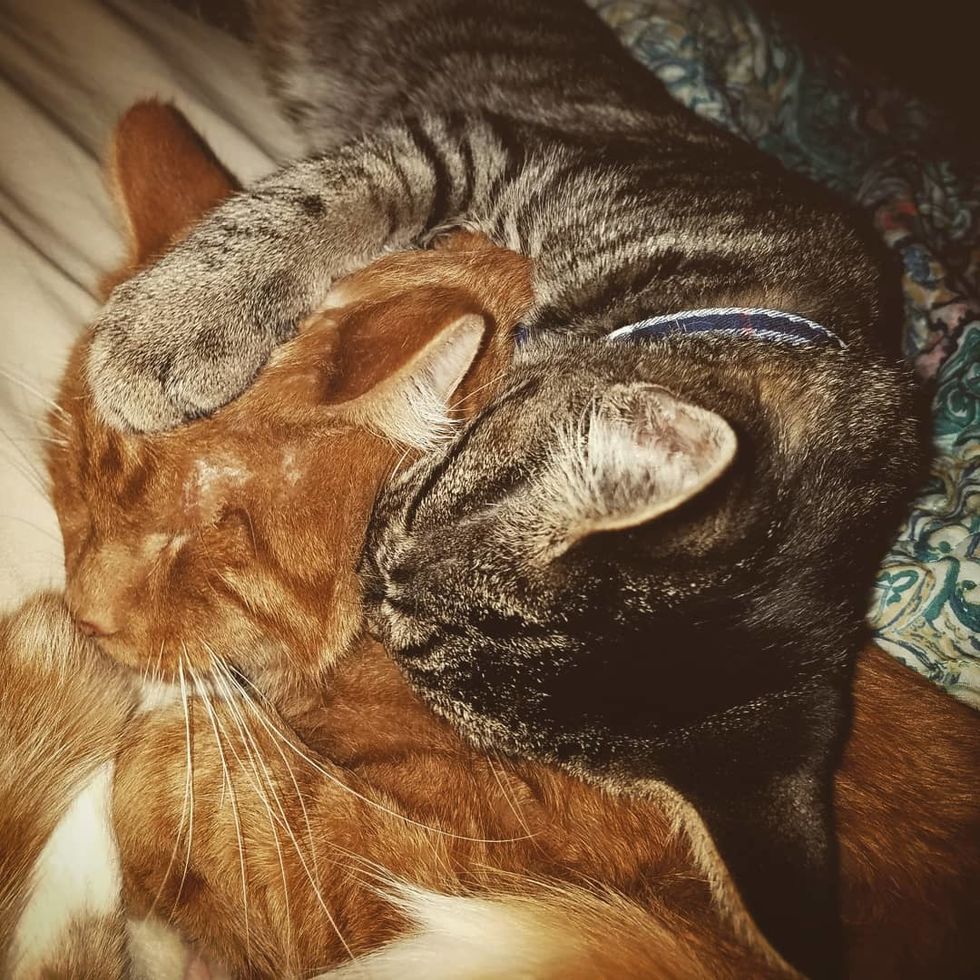 Jill Mardesich
Despite being blind, Lucky Bear doesn't think he's any different. He has always been without sight and being blind is just who he is. On the day he arrived, he quickly showed everyone what an expert cuddler he is.

The next day, Lucky Bear found himself snuggling with visitors and volunteers. Jill was completely smitten when she met the ginger boy who naturally made his way into her arms. While they were cuddling, Pumba hopped onto her shoulders as if to say "take me home, too."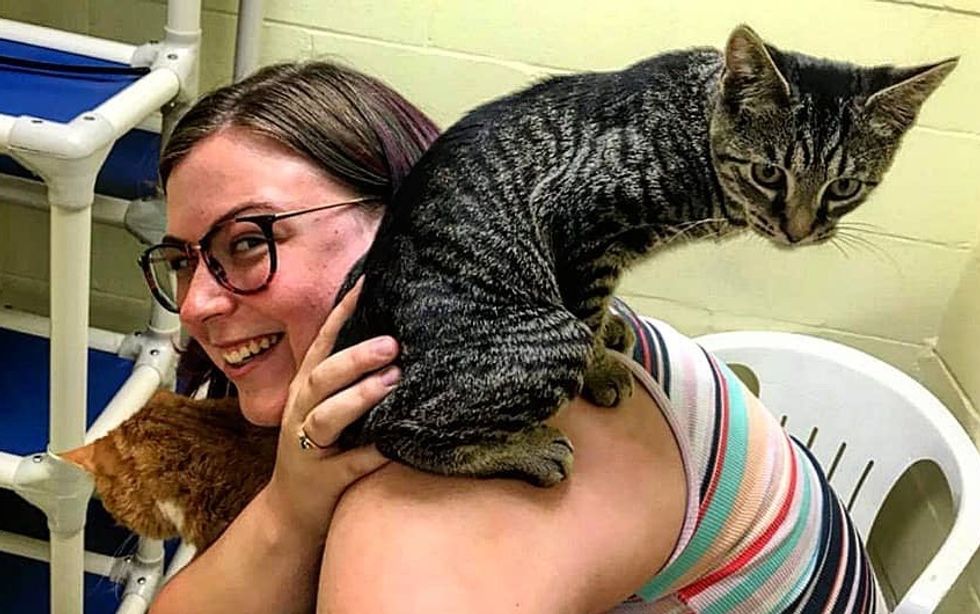 Jill Mardesich
Jill couldn't resist the two affectionate feline friends. The special bond they share was apparent from the start.

Pumba is Lucky Bear's seeing eye, guiding him everywhere they go. When the kitten goes to eat, his buddy comes along. "Pumba is good at showing him around," Jill said.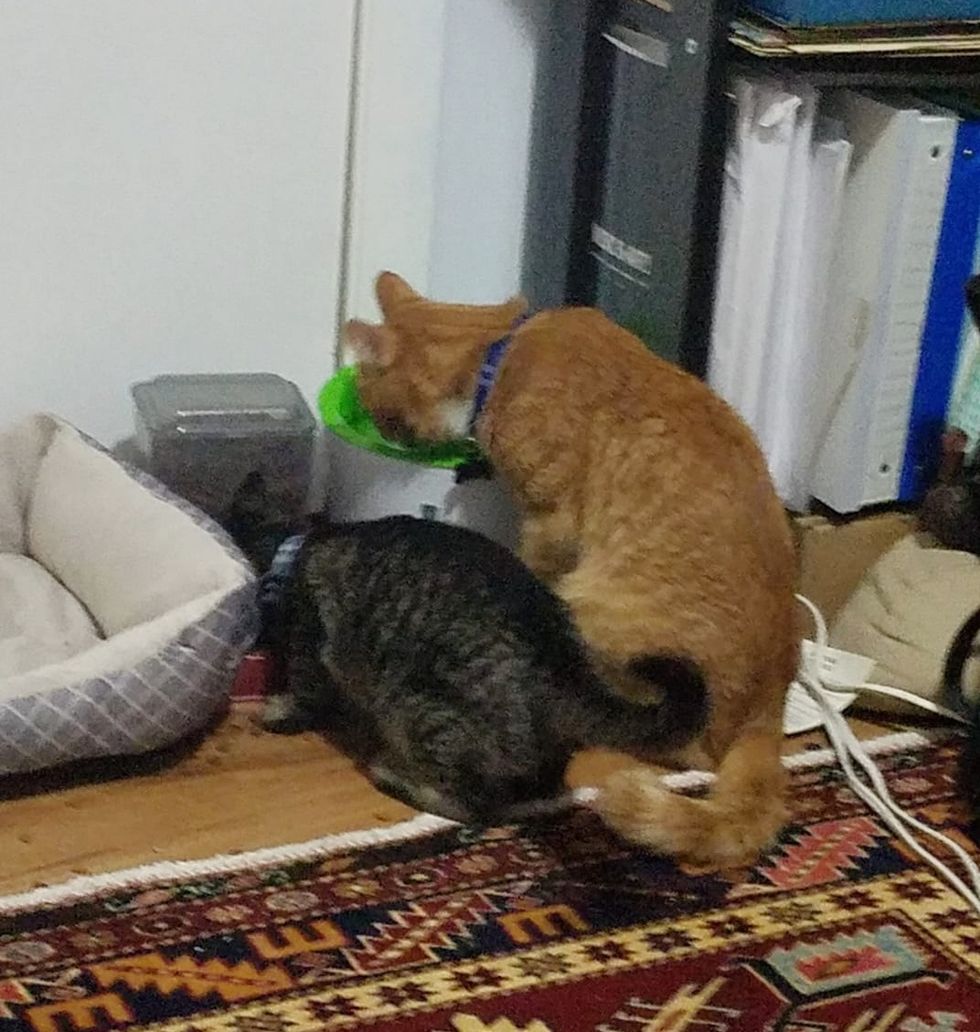 Jill Mardesich
The kitten who grew up with Lucky Bear, seems to know exactly what his buddy needs and wants. They share this amazingly beautiful connection — Lucky Bear was born with no eyes and Pumba became his eyes. Together, they are complete.

Last week, they moved into their new home, and the two quickly settled in.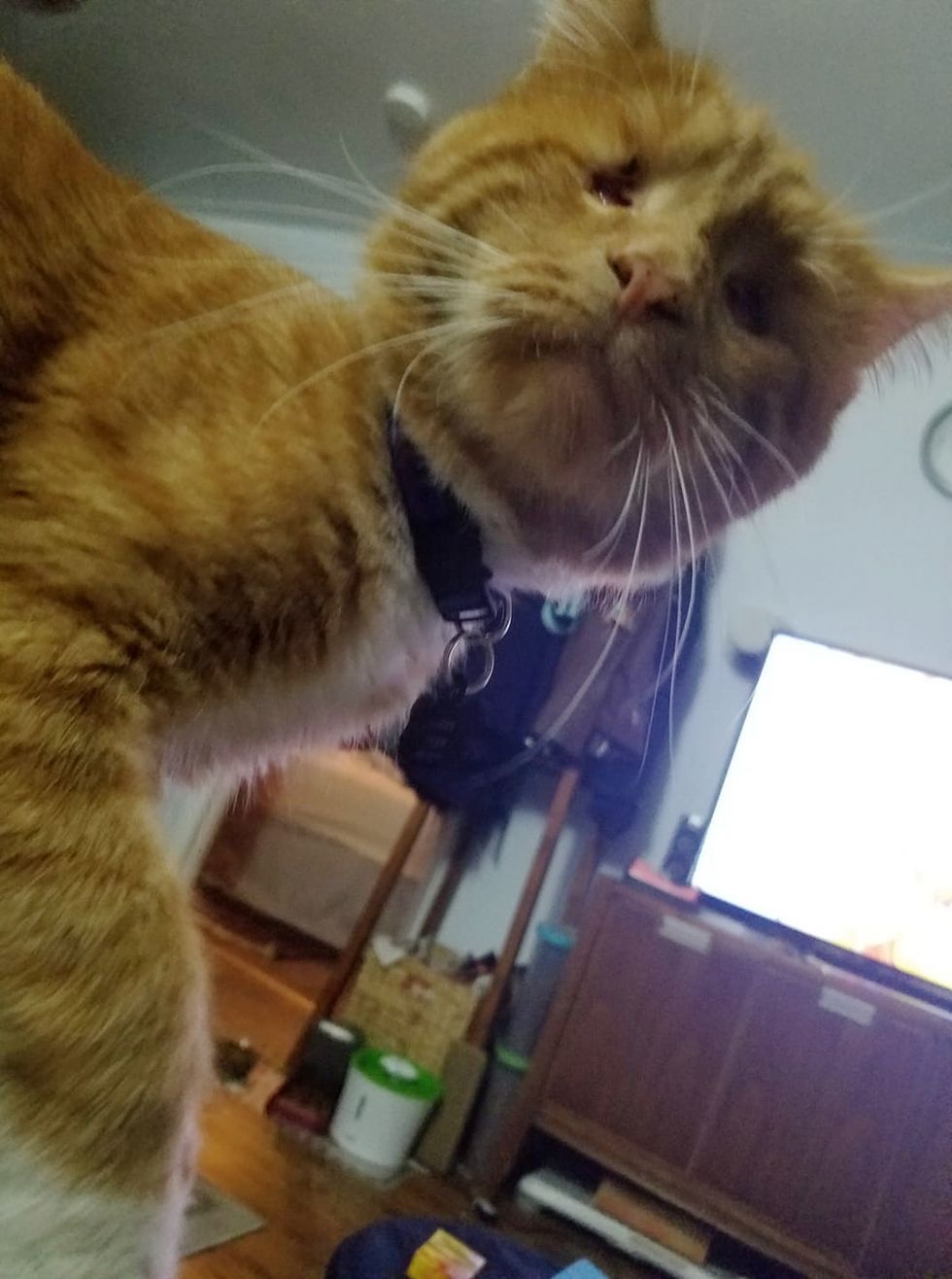 Jill Mardesich
"I finally brought them home (last) Wednesday and everyone seems to be getting along," Jill added.

The sweet boys, now Lucky (ginger) and Charon (black and gray), have been cuddling with their humans since they arrived. They love their new abode and enjoy spending time with their new sister, Penny.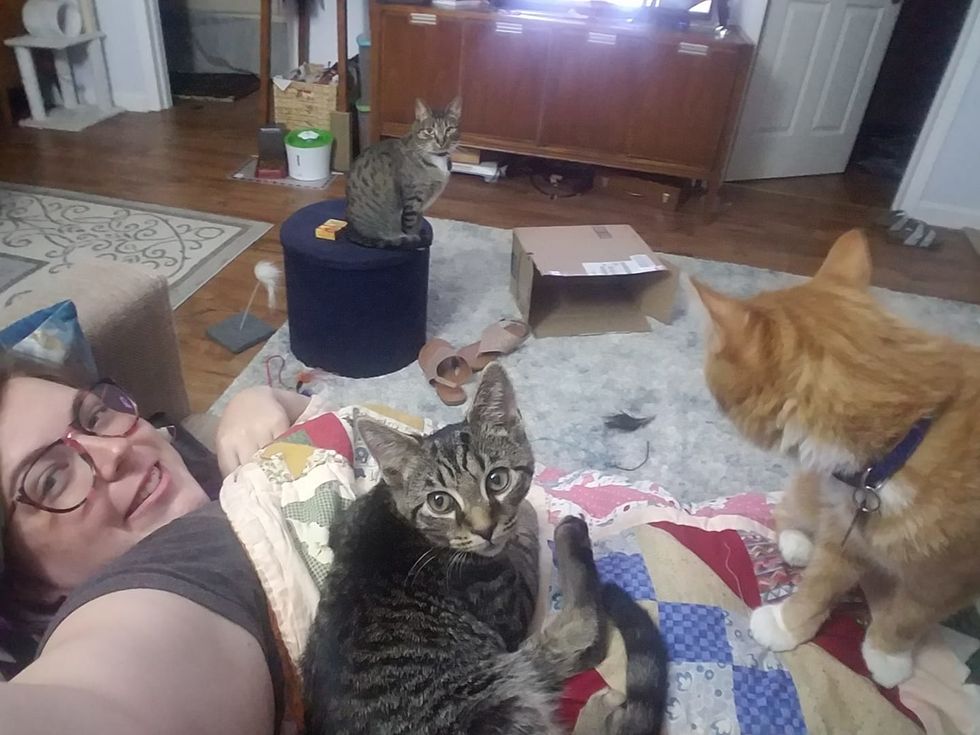 Jill Mardesich
The couple went to the shelter to look for a cat, but ended up being chosen by two bonded feline friends.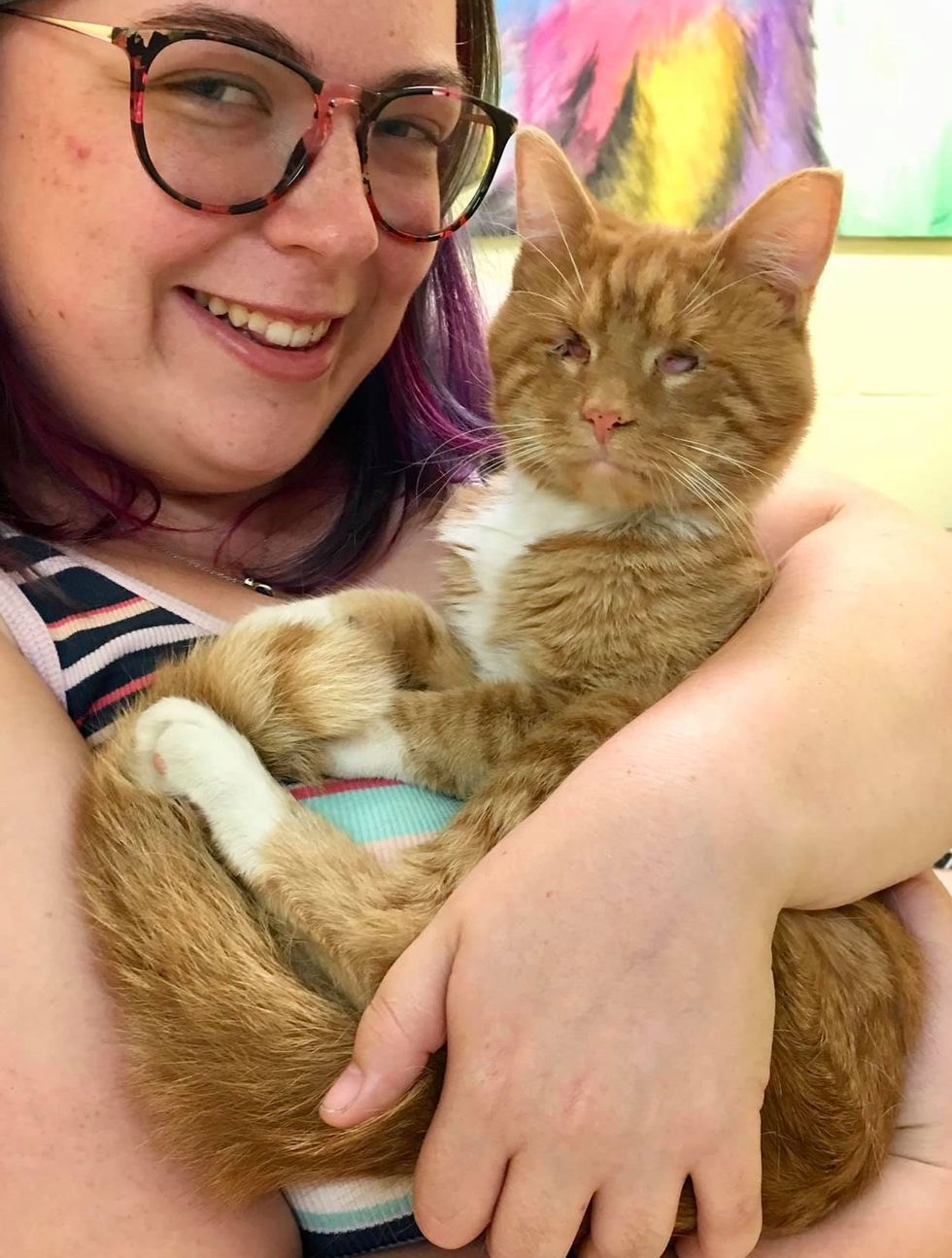 Anne Arundel County Animal Care and Control
Share this story with your friends. Follow Lucky and Charon and their adventures on Instagram.
Related story: Woman Asks Shelter for Cat that Has Stayed the Longest, and Finds Deaf Kitty Waiting for Her