A stray cat showed up in a family's yard one night and just kept coming back.
Turned out, she didn't come alone.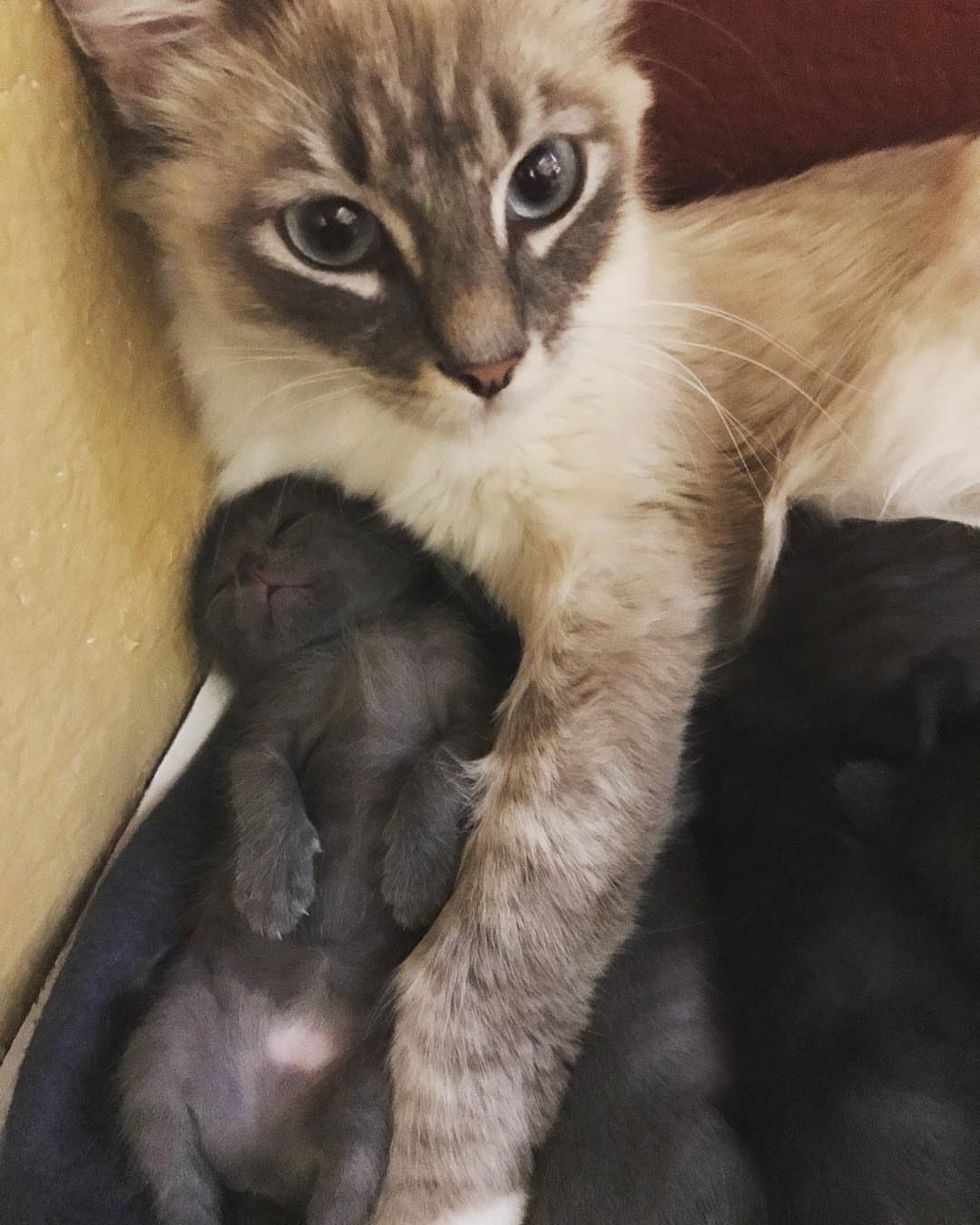 Kara Yancey
Kara Yancey from Phoenix, Arizona noticed a long-haired cat in her backyard a couple of months ago. She was very skittish and would run the second she heard or saw anyone from the house. Kara, who is a foster volunteer for Living The Dream Rescue, started leaving food out on her back porch.
The next day, the cat came back and decided she would stop by every night. "Over the next few weeks, she'd meow at us and allow us to get closer to her. I started noticing she'd eat ravenously, but assumed it was because she was a stray and was just hungry," Kara told Love Meow.
One evening, out of the blue, the kitty approached her food provider and interacted with her for the first time.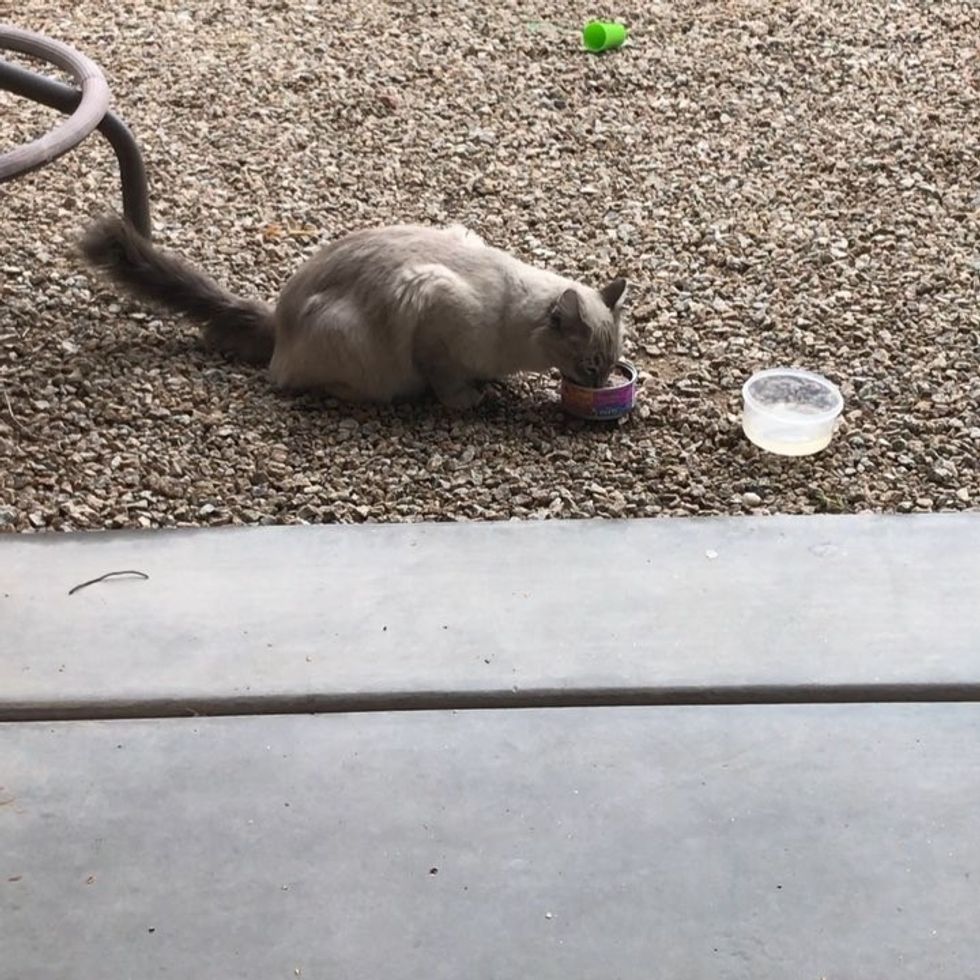 Kara Yancey
"She allowed me to get close enough to pet her and I could tell then that she was pregnant. Turns out, she had been pregnant the entire time we had known her," Kara said.
After asking around the neighborhood online and offline, no one came forward to claim her. "A lady, a few streets away, said she'd seen this cat for the last year and she was always outside."

Kara knew she had to help her, and the founder of Living the Dream Rescue happily offered to provide any support she would need to foster the cat and her kittens.
They began working to get the expectant momma off the streets for good.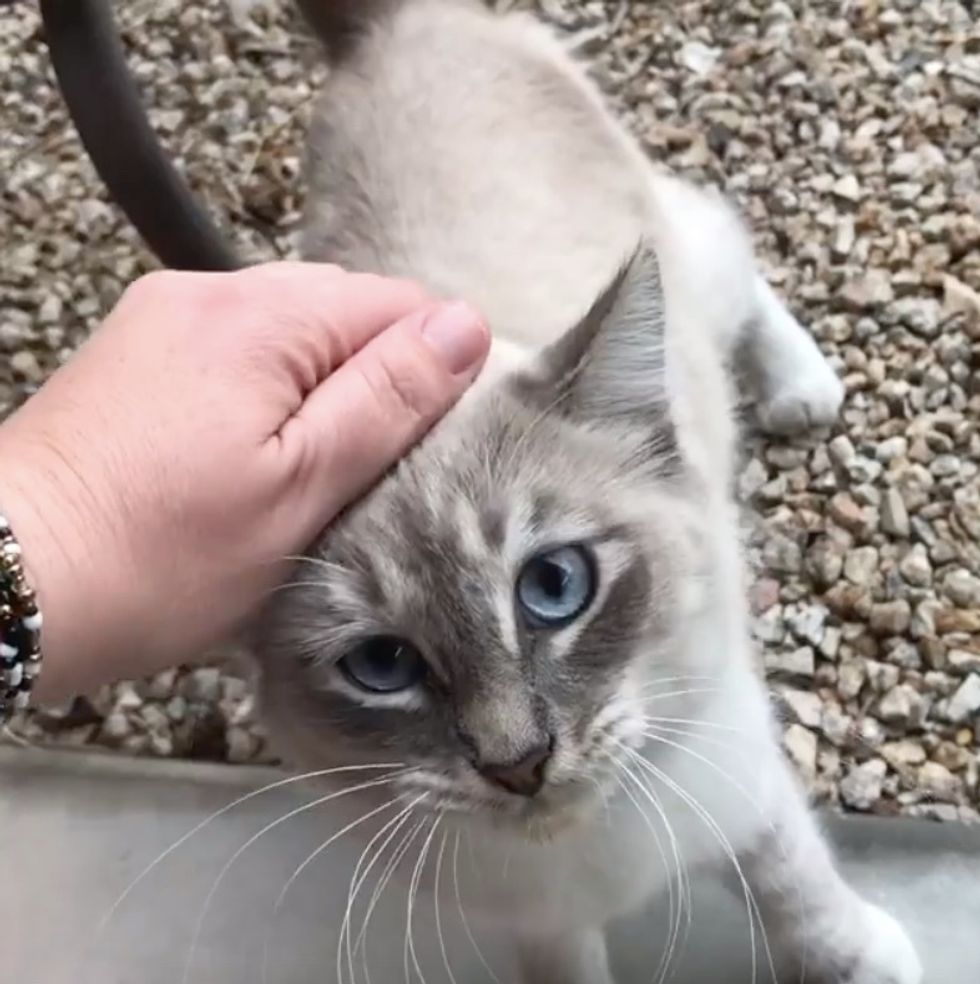 Kara Yancey
"She would come inside for a few minutes at a time, but would then panic and bolt outside. For the times that she preferred to stay outside, we had made her a winter shelter and also put up a tent on the patio for her to use," Kara said.

"Knowing that she was pregnant pushed us to keep her indoors. I'm so glad we did because the day we officially brought her inside, I noticed the fur on her back was drenched from being out in the rain."
(Scroll down for video)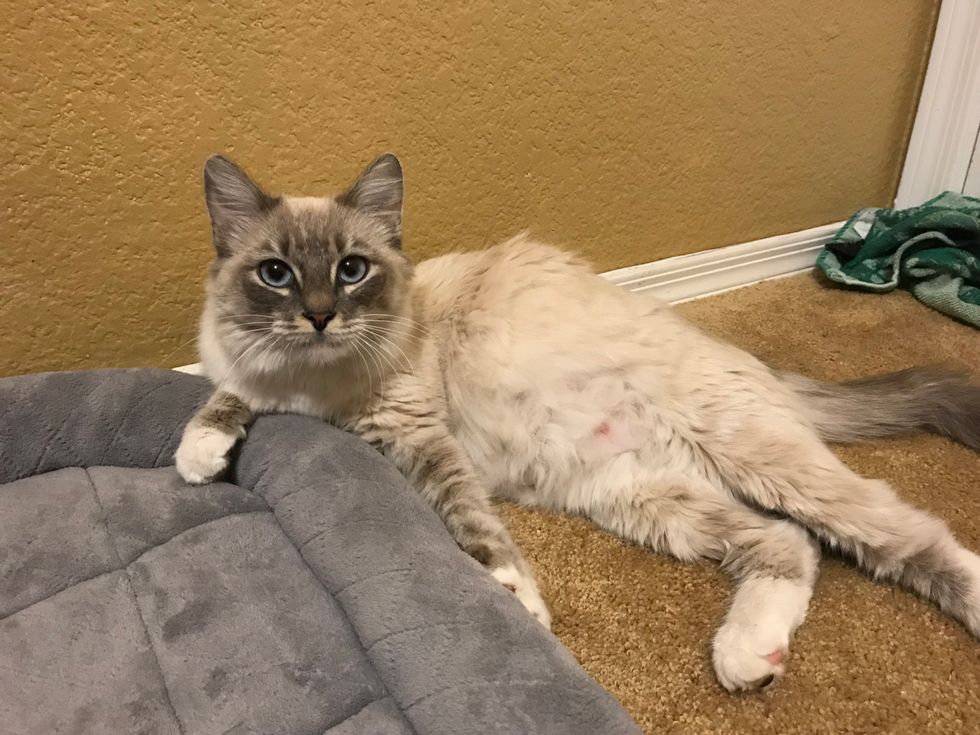 Kara Yancey
They named her Millie. She quickly felt at home after she moved in.
"She would come out into the living room and socialize, let us pet her, and even used our cat condo and scratching post," Kara told Love Meow.
"After adjusting to being an indoor-cat, she became the sweetest girl and seemed so relieved to be inside. She spent a lot of time resting, eating, and preparing for her babies."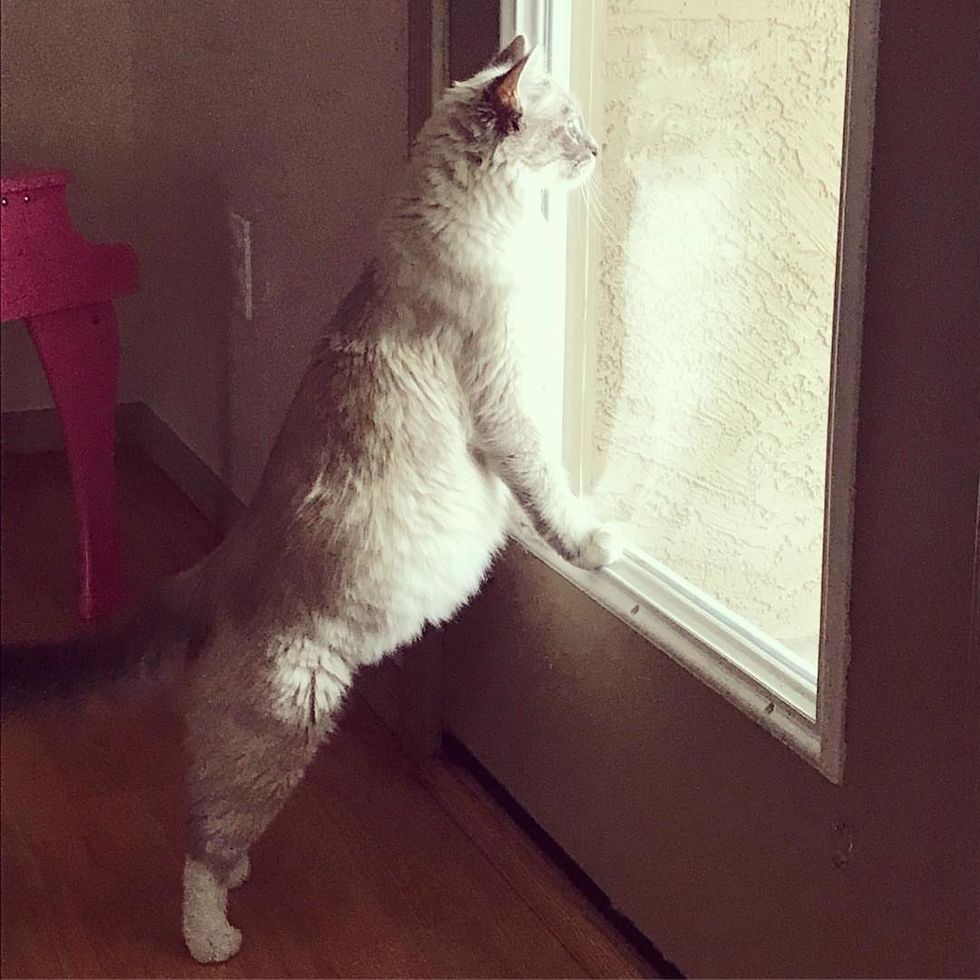 Kara Yancey
Three days before she gave birth, Millie started meowing frantically and trying to squeeze under furniture.
They sensed that the babies were coming and set up a birthing box with toys, litter boxes and food stations nearby. Kara stayed by her side as Millie went into labor.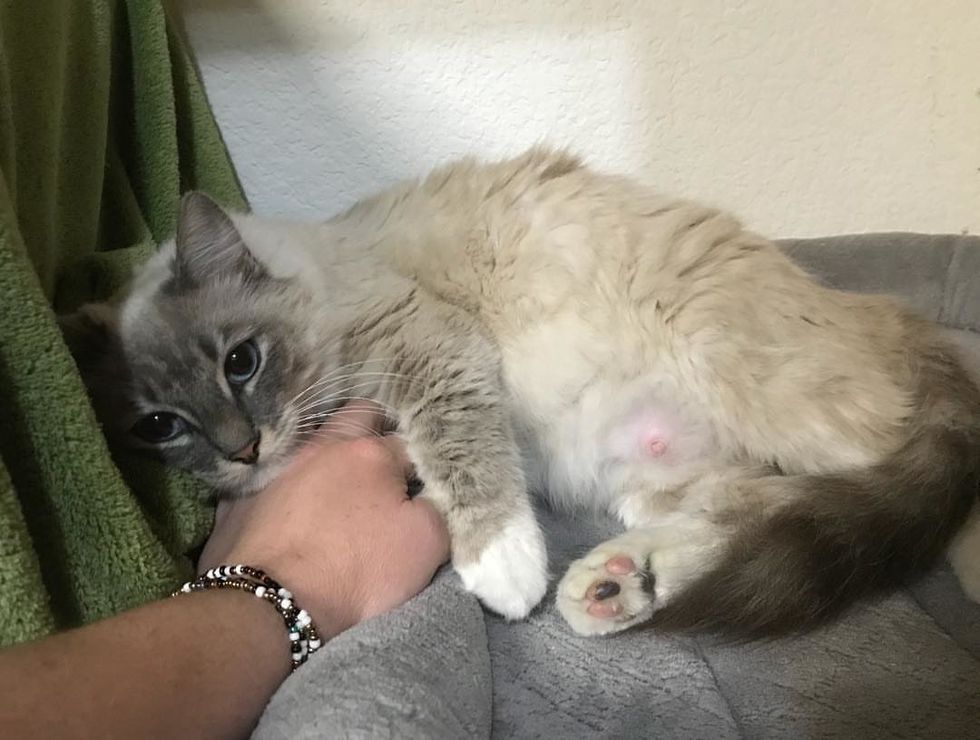 Kara Yancey
11 days after they brought her in, Millie welcomed five beautiful, healthy grey kittens into the world.
Watch Millie's rescue journey in this video:
Stray cat finds perfect place for her kittensyoutu.be
"She had four boys and one girl. We decided to name them after the Royal Family, Harry, William, Louis, George, and Charlotte."

Millie has been completely devoted to her kittens, feeding, cleaning and tending to their every need.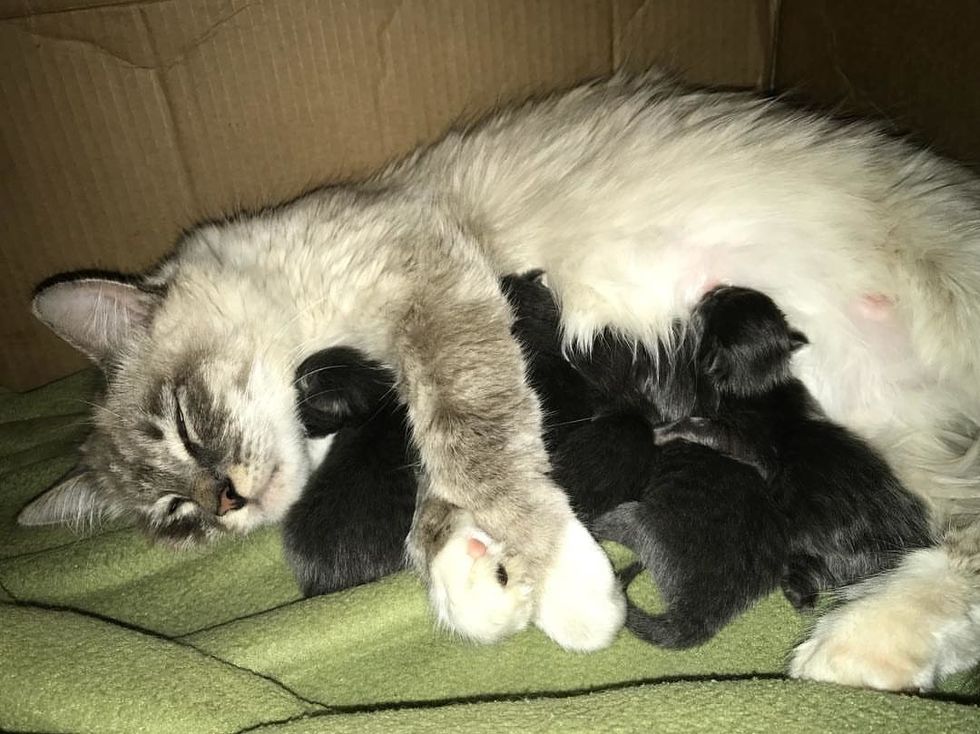 Kara Yancey
"Millie is the most attentive mom and her babies are now almost three weeks old," Kara told Love Meow.
"The kittens are all doing great, and once they're weaned and old enough, we'll have them (kittens and mom) fixed, vaccinated, micro-chipped, and adopted out through the rescue."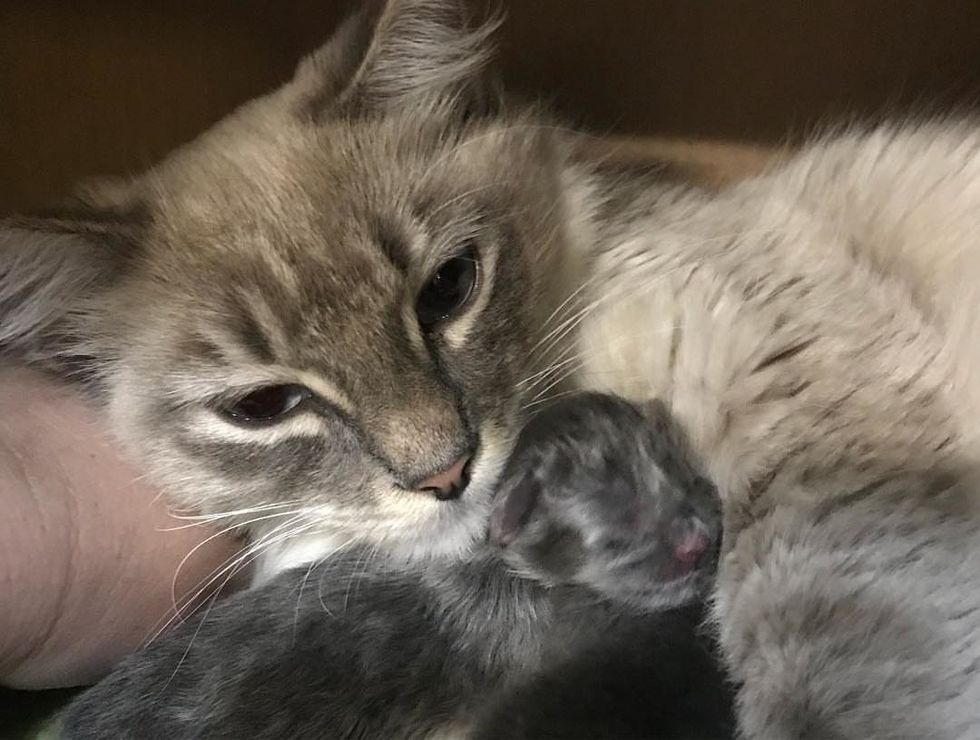 Kara Yancey
Sweet Millie chose the perfect family to help her. In a few weeks, she will retire from motherhood and find a forever home, where she will be loved and spoiled.
"Whoever decides to adopt Millie is going to be incredibly lucky."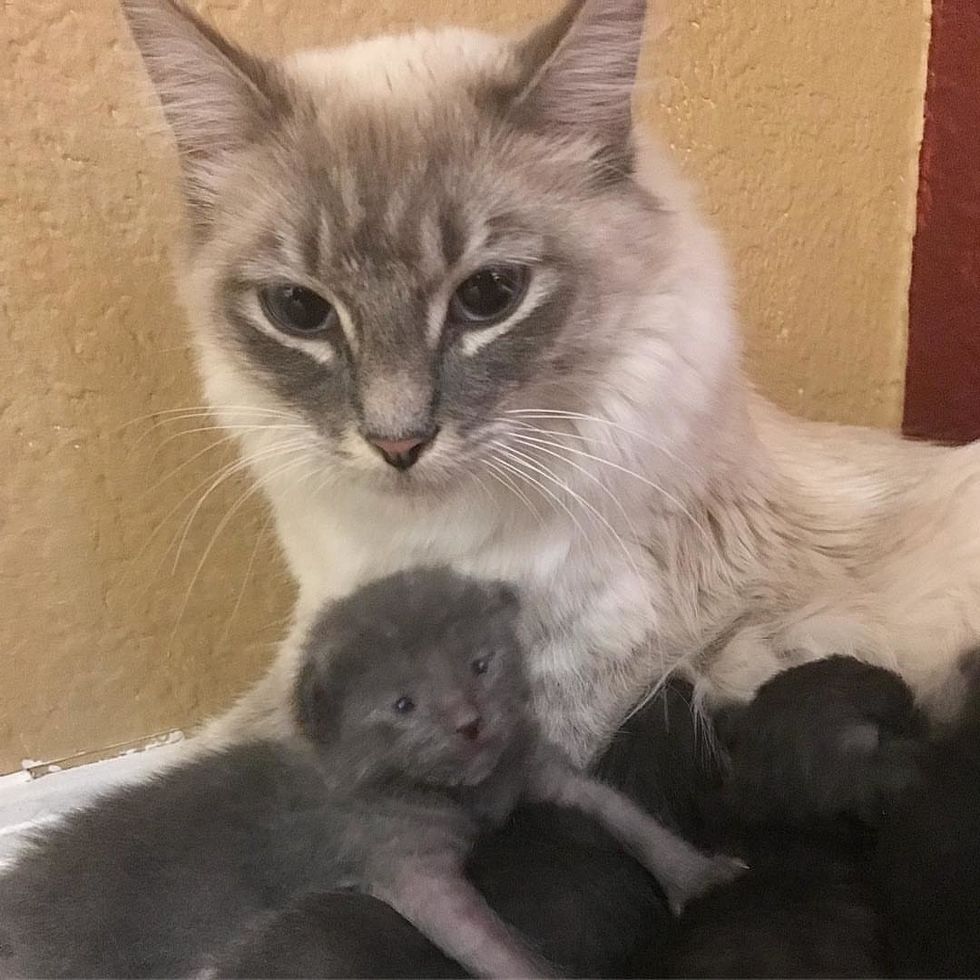 Kara Yancey
Share this story with your friends. Follow updates on Millie and her kittens on Instagram.
Related story: Cat Left Her Kittens to Couple for Help and Came Back During Extreme Cold Weather