A tiny kitten was found wandering in an alley, all alone. She was hungry and needed a friend.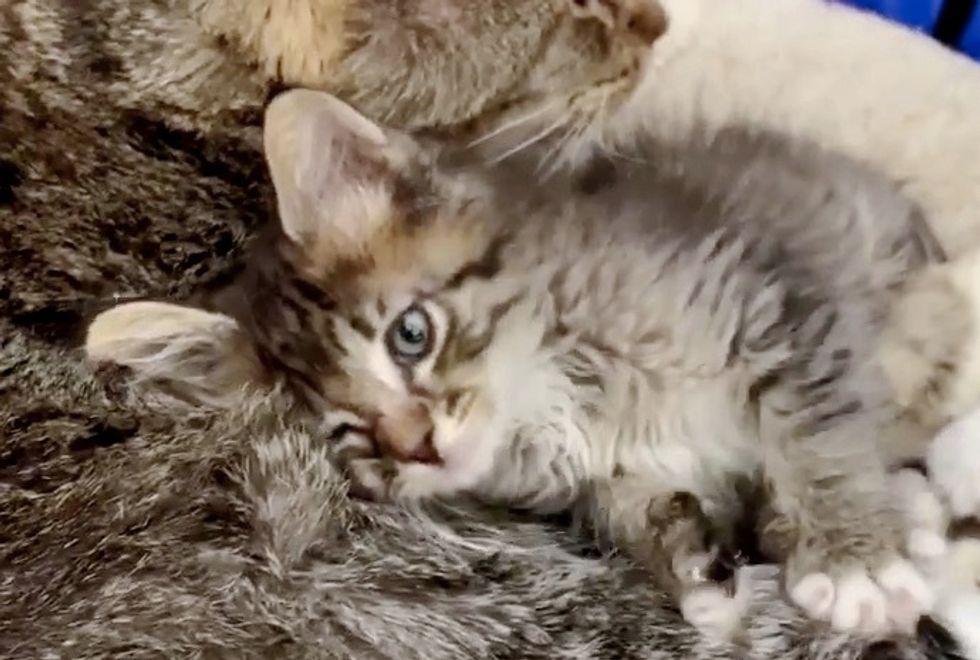 Alley Cat Rescue
A long-haired tabby showed up in a cat colony in Los Angeles, scrounging for food. Volunteers of Alley Cat Rescue were helping community cats when they noticed the little new kitten.

"She was found on her own meowing for food in an alley. All the cats there are fixed. She could have been abandoned and we were worried about her," Alley Cat Rescue told Love Meow.
They managed to get the kitten to safety and brought her to the rescue. The little tabby whom they named Mochi, was lonely and wanted a friend to snuggle.
Before they got a chance to pair her up with another kitten, one of their foster cats stepped in to help.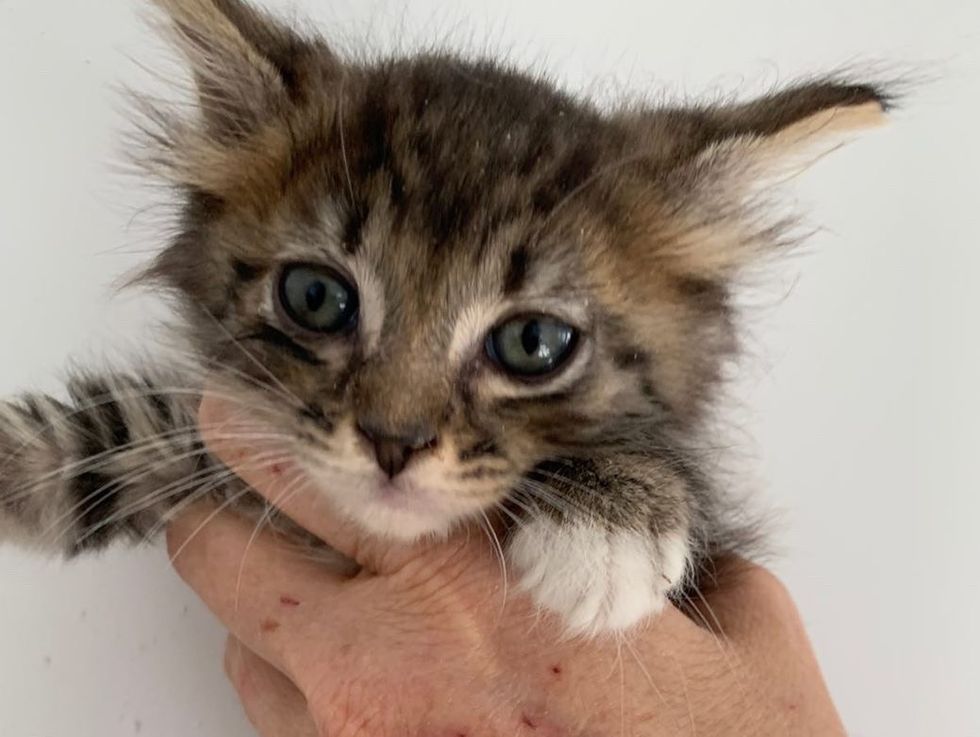 Alley Cat Rescue
Harrow the cat was rescued from a rough life on the streets. He came with a lot of health issues and was covered in battle scars. Despite it all, the sweet tabby was thankful and couldn't stop purring.
"He is an angel. He loves the rubs and purrs the whole way through," Alley Cat Rescue said.

Over the next few weeks, they discovered his love for kittens, especially those in need. Whenever he met an orphan, he took them under his wing and made sure that they were never alone.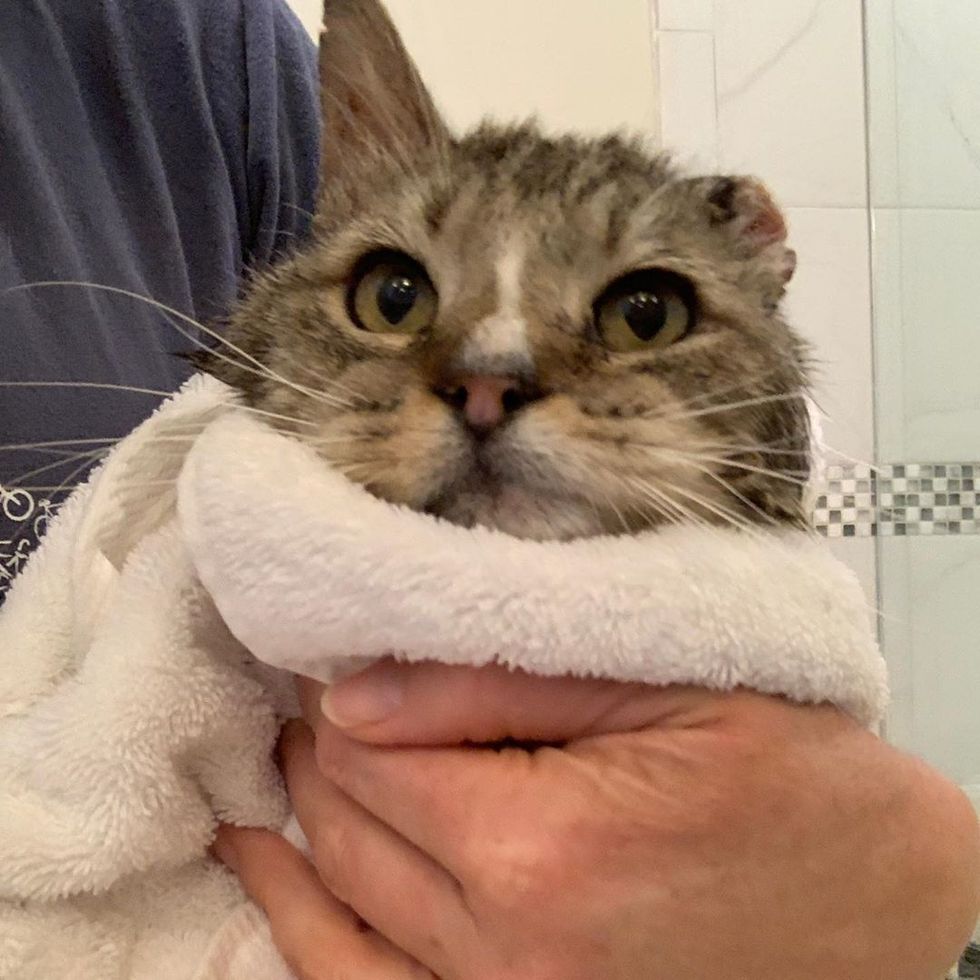 Alley Cat Rescue
When his last kitten got adopted, Harrow was eager to have a new friend. He met little Mochi in the foster room and immediately welcomed her with open paws.

The next morning, when their foster family came to check on them, they couldn't find the little kitten.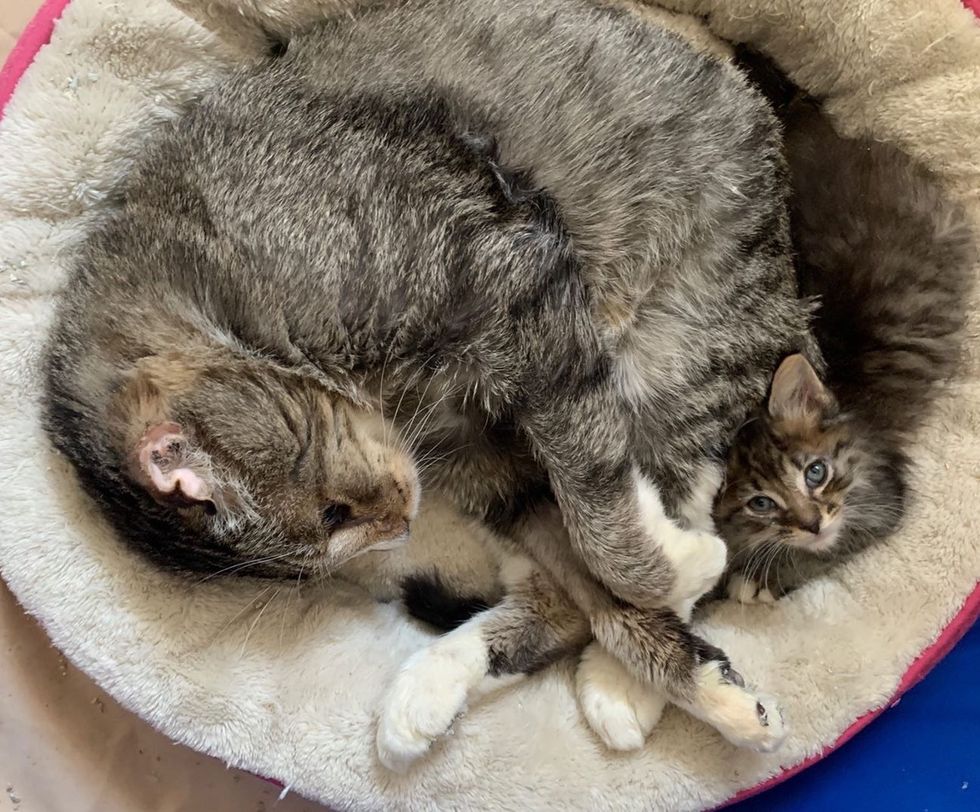 Alley Cat Rescue
"We thought she had escaped at first, then she popped her little head up. She was right under Harrow's back legs," Alley Cat Rescue told Love Meow.

"It was such a cute surprise to walk in on them first thing in the morning. Now, they are together all the time."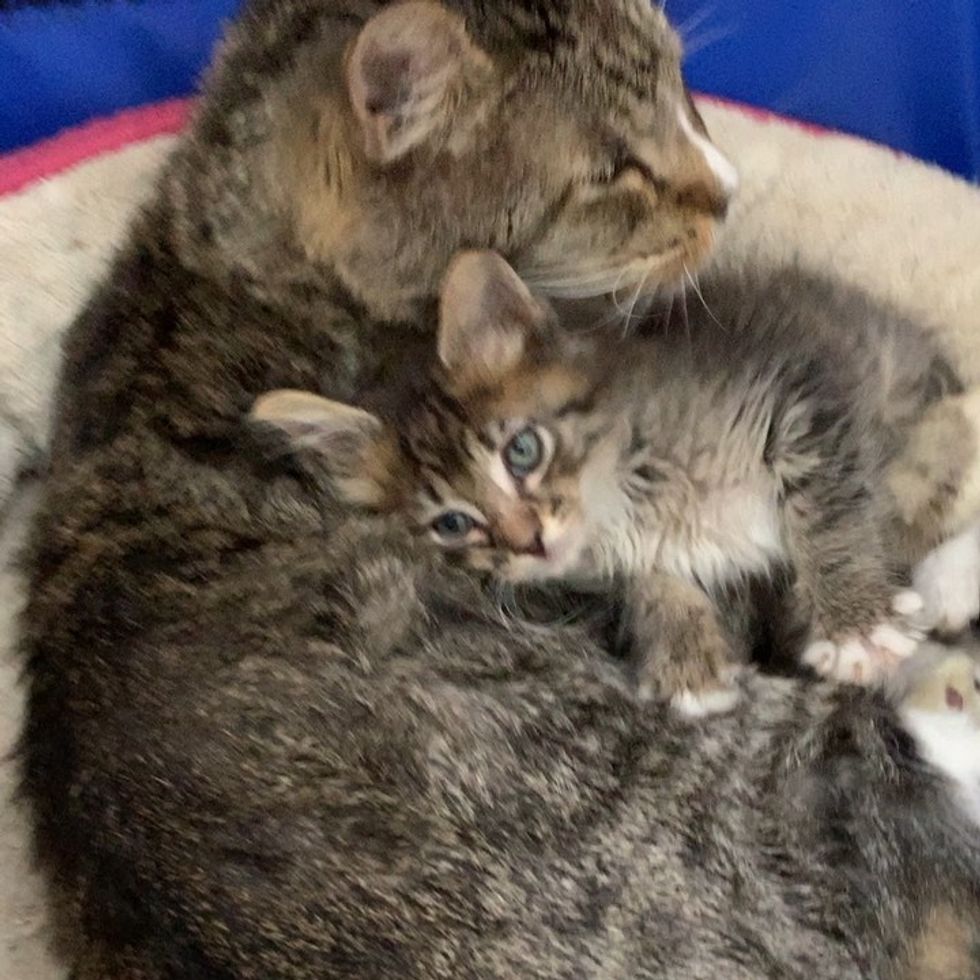 Alley Cat Rescue
Mochi has come out of her shell and really blossomed since she found Harrow.

Watch Mochi and Harrow in this cute video:
Alley kitten and his cuddle buddiesyoutu.be
Whenever she's done scampering around the room, she will curl up next to her buddy and fall asleep.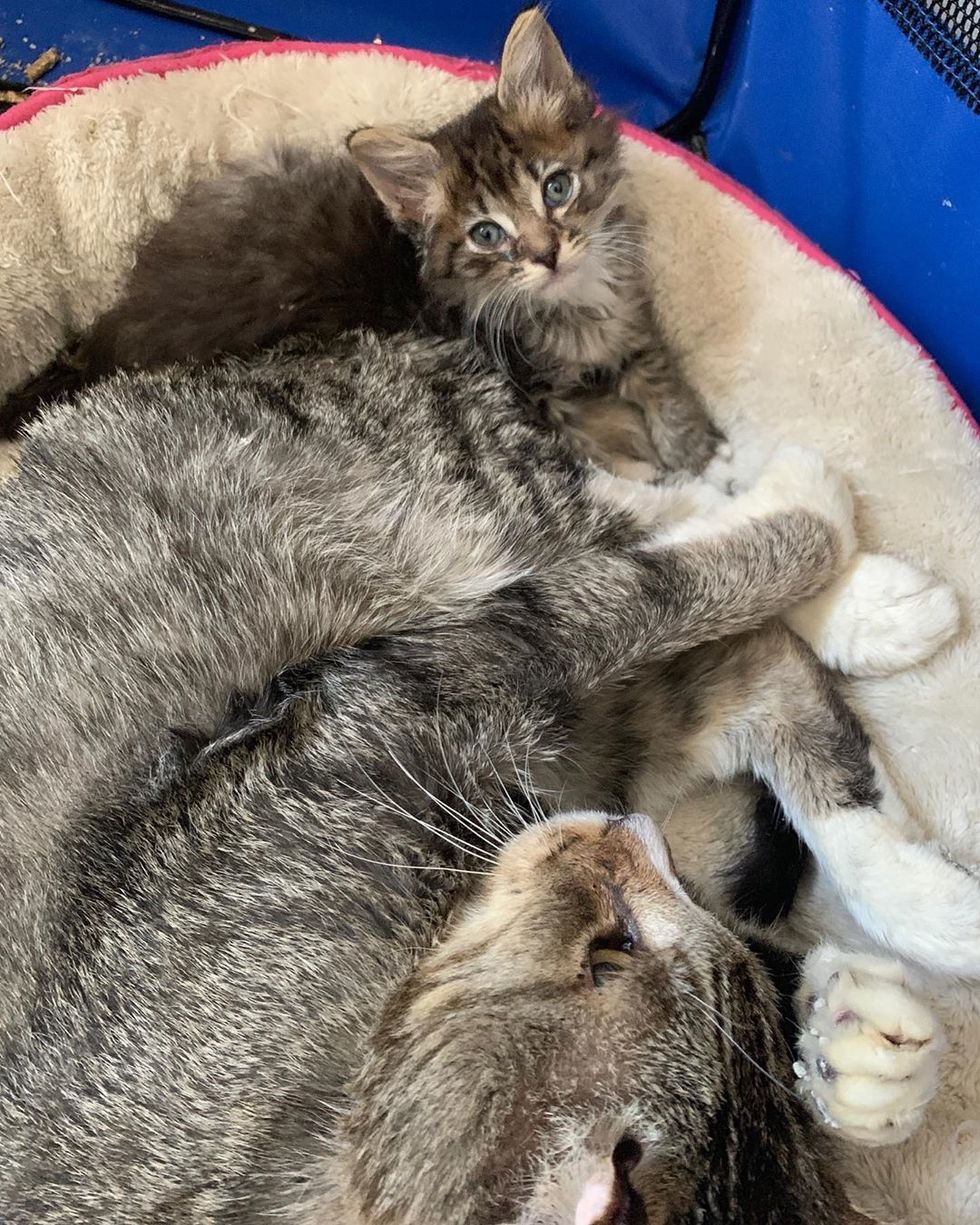 Alley Cat Rescue
Since then, two other orphaned kittens (Sophie and Binky) have joined the cuddle puddle.
"Orphan kittens do so much better with a friend. They thrive better when they can cuddle and play," Alley Cat Rescue said.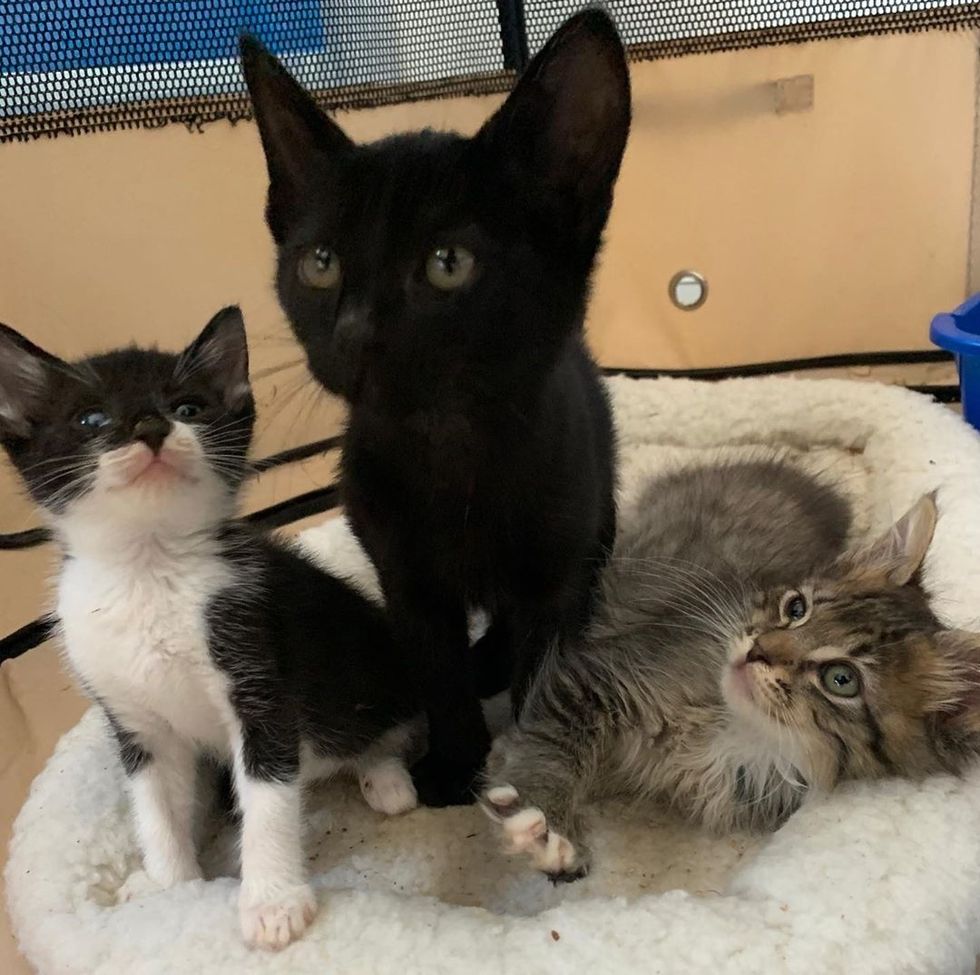 Alley Cat Rescue
Harrow adores his kittens and is always there for them when they need a cuddle.

Mochi the alley kitty is thriving in foster care with friends to play with and plenty of cuddles to go around.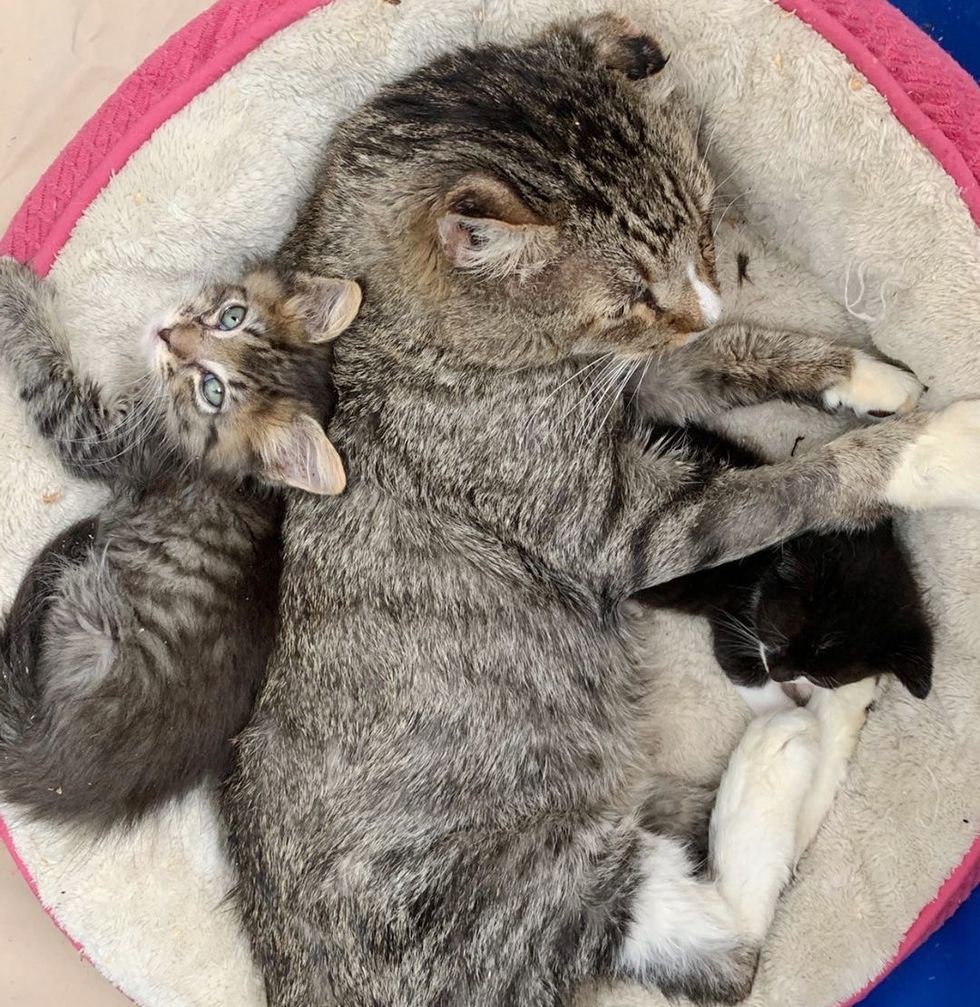 Alley Cat Rescue
Share this story with your friends. Follow updates on the kitties and Alley Cat Rescue on Facebook and Instagram.
Related story: Kitten Who Was Found Sleeping Outside Alone, is So Happy Now That He is Loved