A kitten who was found hiding in rocks by a Good Samaritan, turns out to be the sweetest fighter.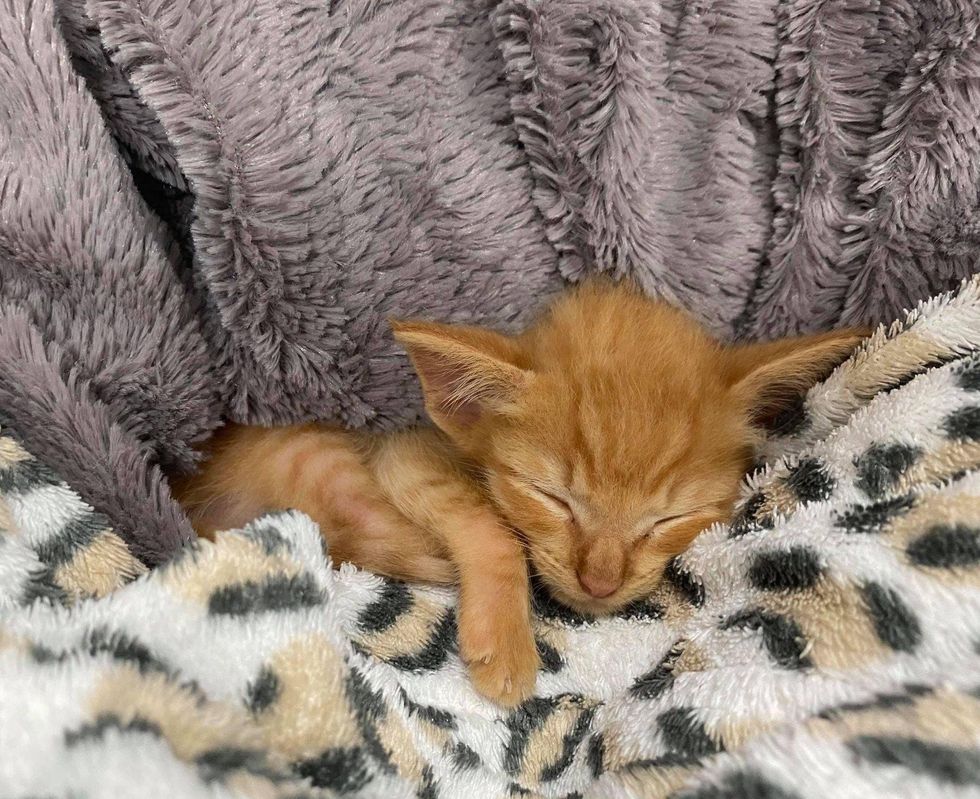 Best Friends Felines
In mid March, a passerby spotted a tiny ginger kitten running frantically through a roundabout before taking refuge in a cluster of rocks, near a creek. The kitten stayed in the hideout between the rocks and wouldn't come out.

The finder immediately posted a plea on Facebook as they were unable to reach the kitten. A vet nurse who volunteers for Best Friends Felines (a rescue for cats and kittens in Brisbane) saw the post and sprang into action.
She dropped everything at hand and rushed to the location. After much effort, she was able to get the kitten out to safety and could finally breathe a sigh of relief.
"She found this poor little man who was flea ridden and weighed in at a tiny 225 grams," Best Friends Felines shared.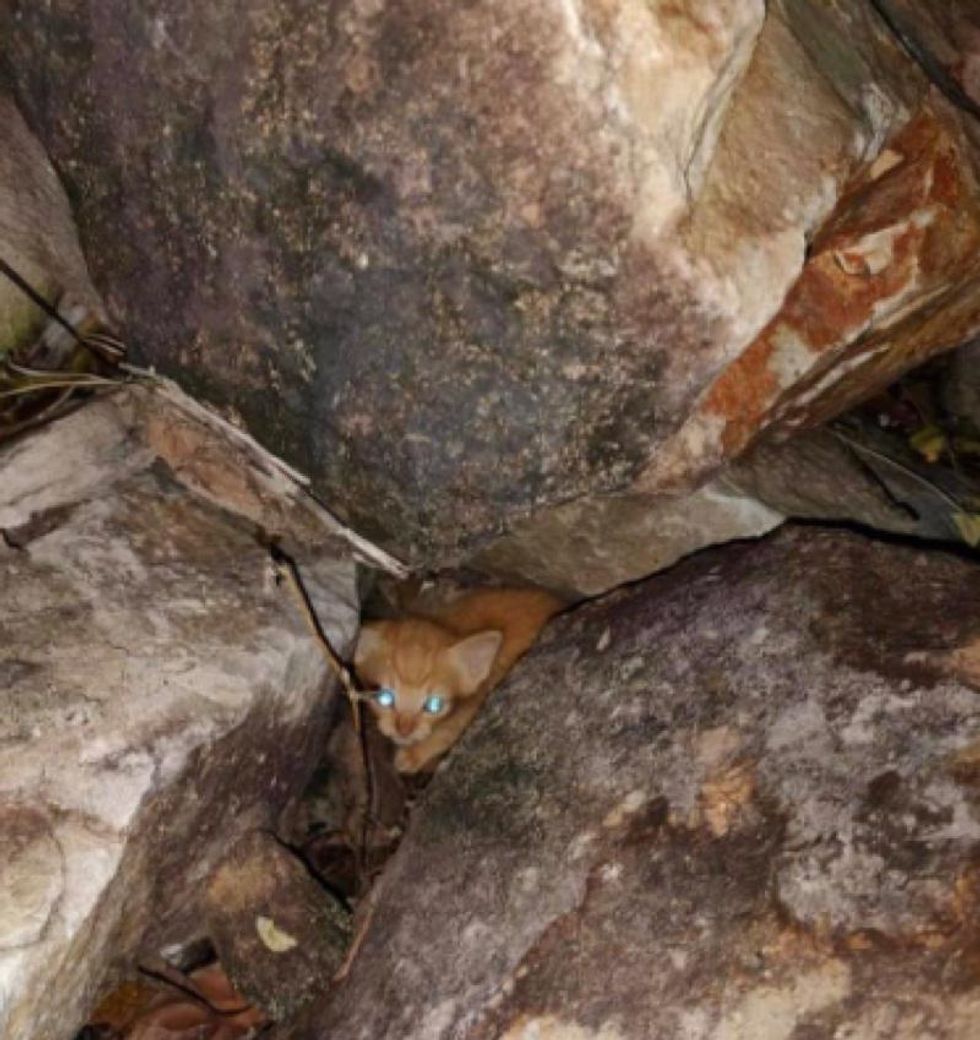 Best Friends Felines
The kitten was estimated to be about six weeks old, but so emaciated that he was less than half the size for his age. Volunteers continued to search for other kittens that night and the following day but couldn't locate any siblings or a mother cat.
"This little man was alone, scared and starving."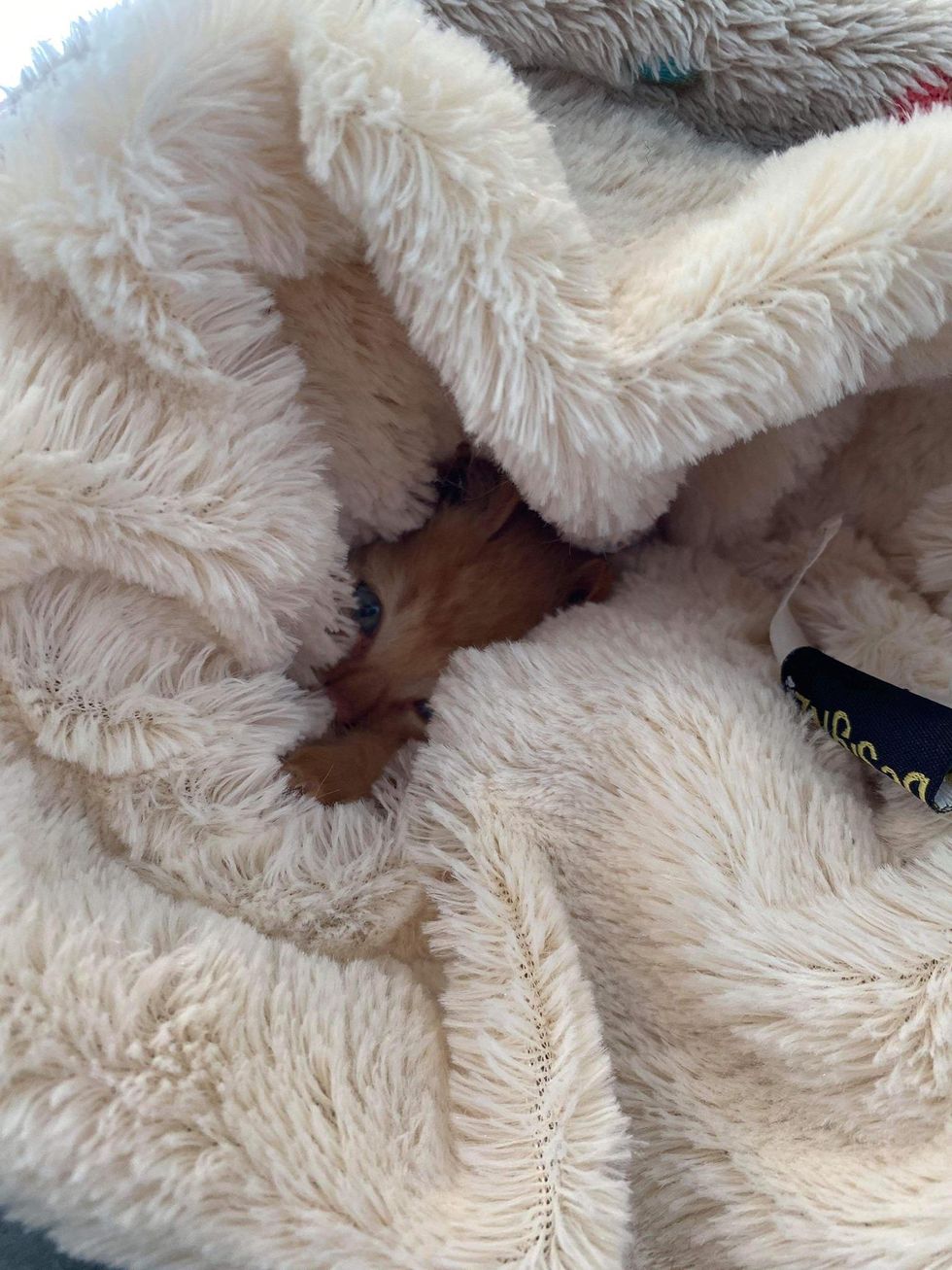 Best Friends Felines
They named the kitten Mufasa the tiny lion, and placed him in a loving foster home, where he would receive round-the-clock care by a dedicated volunteer. "Mufasa goes to work each day with our carer and is doing really well," Best Friends Felines said.

In one week, the ginger tabby has gained about 100 grams. Despite still being very small, he shows amazing fighting spirit and has the heart of a lion.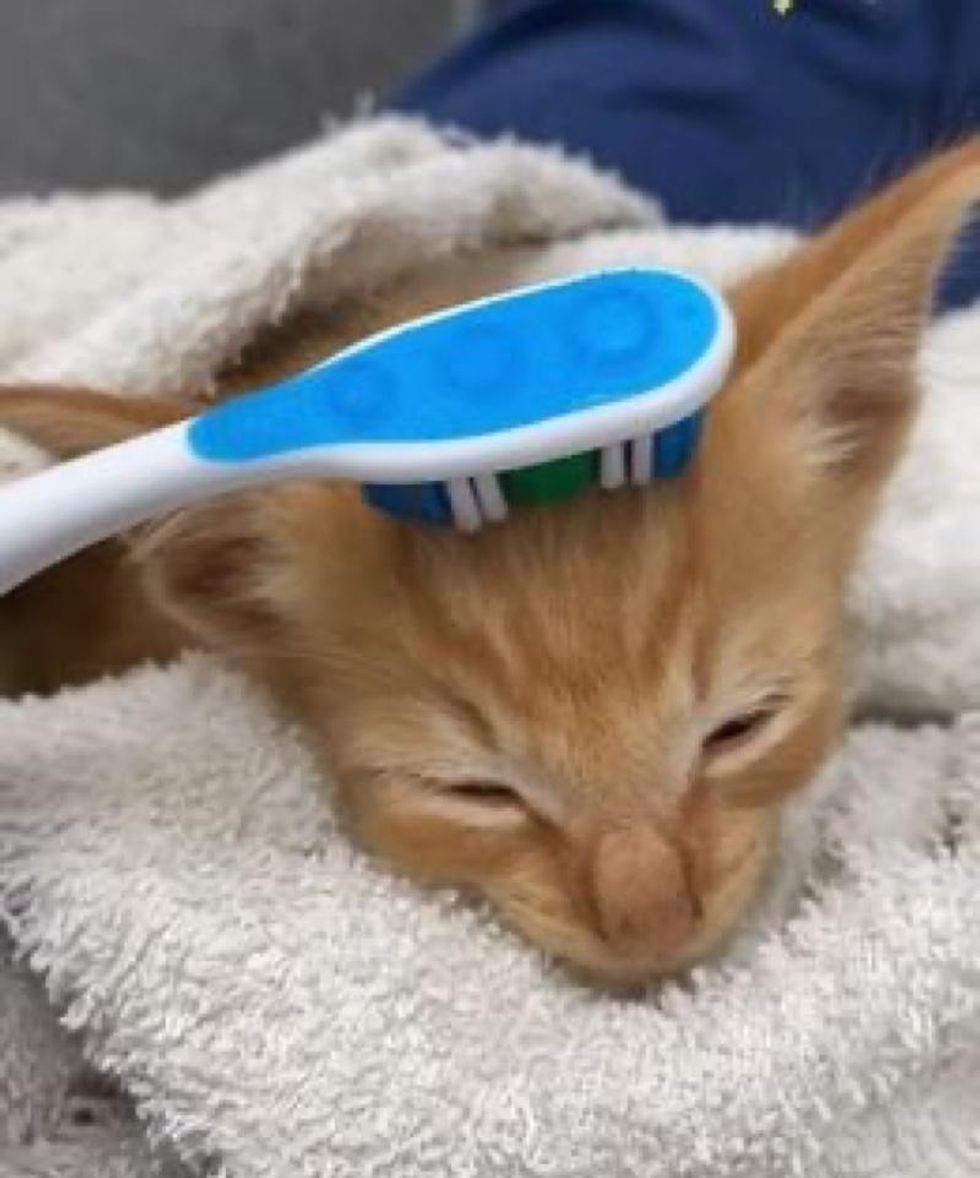 Best Friends Felines
"(When we got him), he should have been around triple (his size), but the great news is he has been gaining weight and is now 320 grams," the rescue said in an update. "He is half the body weight he should be, so we are thrilled he is gaining so steadily and getting his strength and energy back."
Mufasa who was terrified of people when he was first found, has grown to enjoy the company of his human friends. He's come out of his shell and turned out to be quite the love-bug.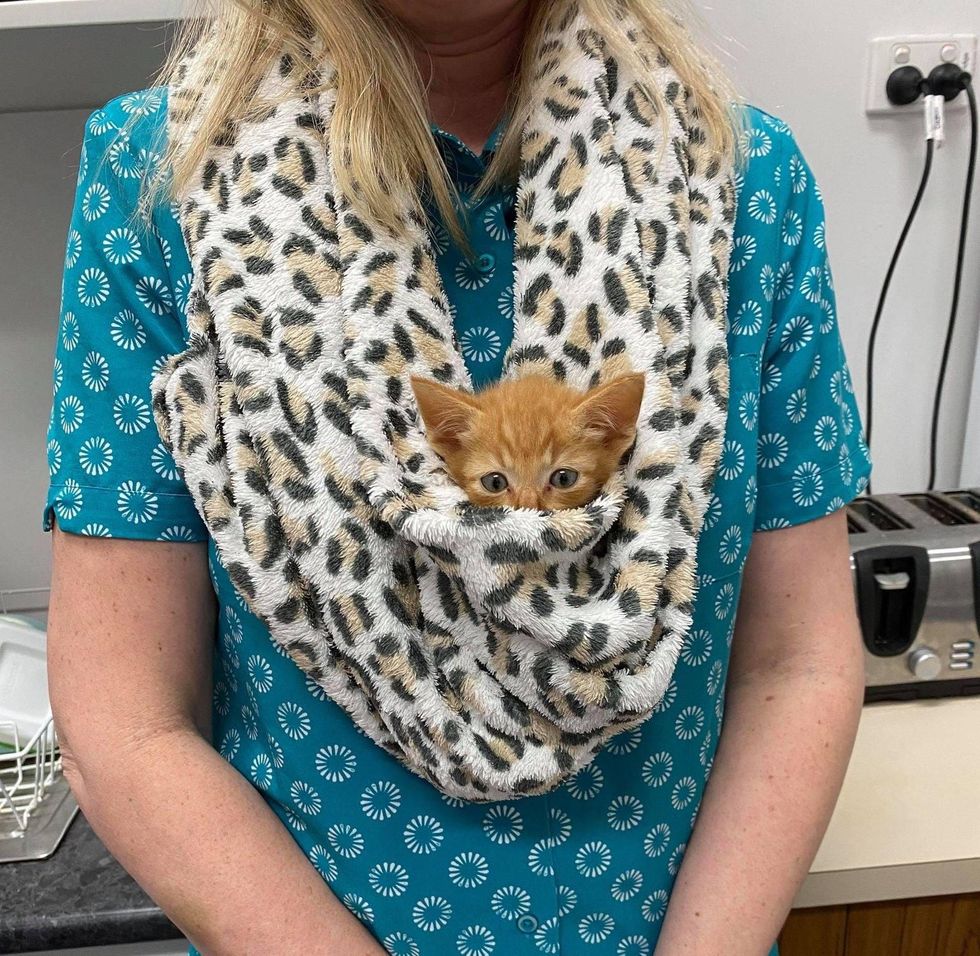 Best Friends Felines
When he comes to work with his foster mom, he prefers being carried around in a purrito where he's wrapped in a cozy blanket or a pouch, and enjoys taking rides around the office.

"He loves curling up in the ready made kitten sling at nap time and he is a regular at work with his carer (a vet nurse), and he helps to supervise the front desk where he is melting many hearts," Best Friends Felines added.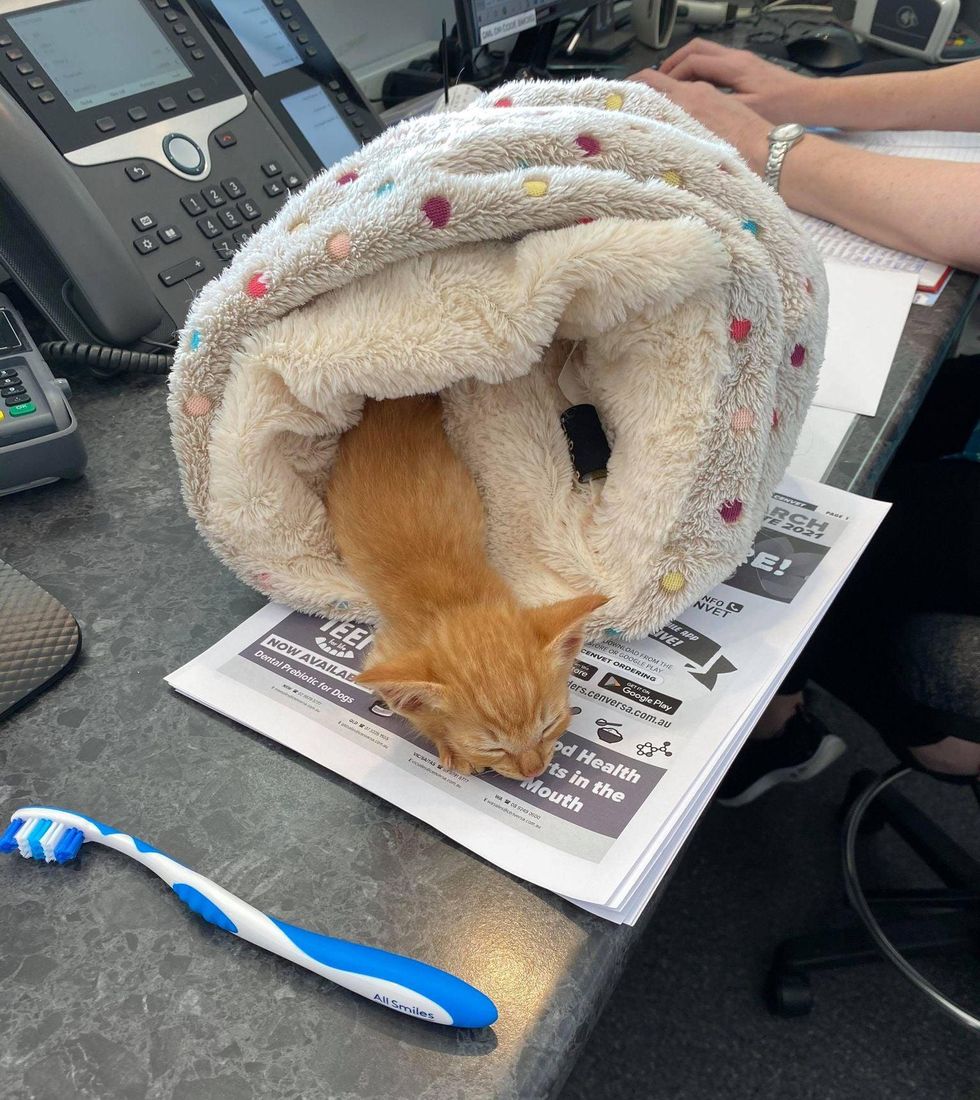 Best Friends Felines
The ginger boy still has a lot of growing to do, but now that he's back on his paws, his personality is emerging and he's getting more playful by the day. "He is now playing and exploring which is always heartwarming to watch."

Little Mufasa purrs up a storm when he's cuddled or groomed with a toothbrush. He falls asleep in his foster mom's arms and is so content knowing that he's safe and being cared for.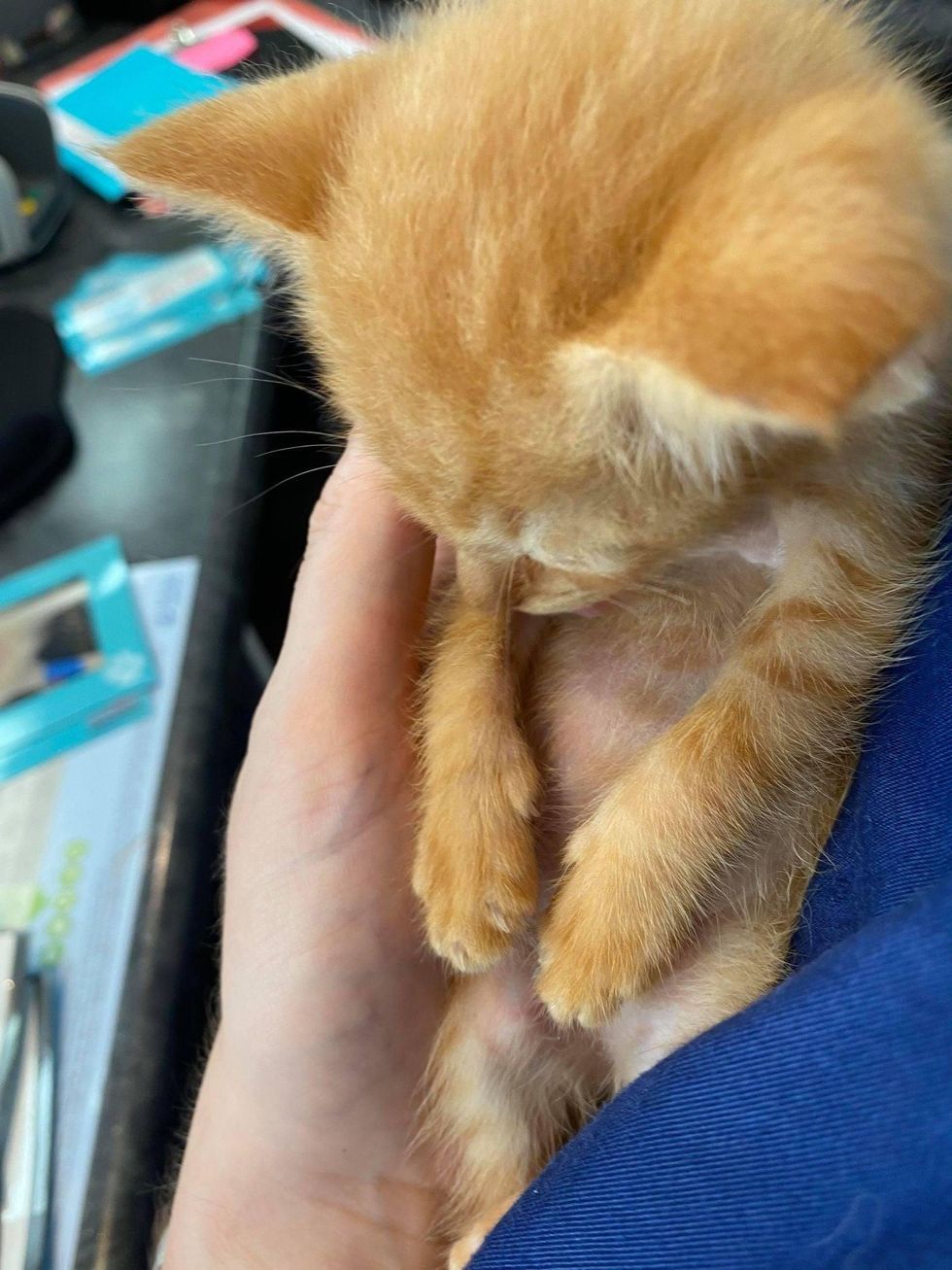 Best Friends Felines
"We are so grateful to the people for posting on Facebook because without intervention and being brought to safety, there is no way he would have survived."

The little lion had his life turned around with the help of many kind people, and is blossoming into a full-fledged cuddle-bug.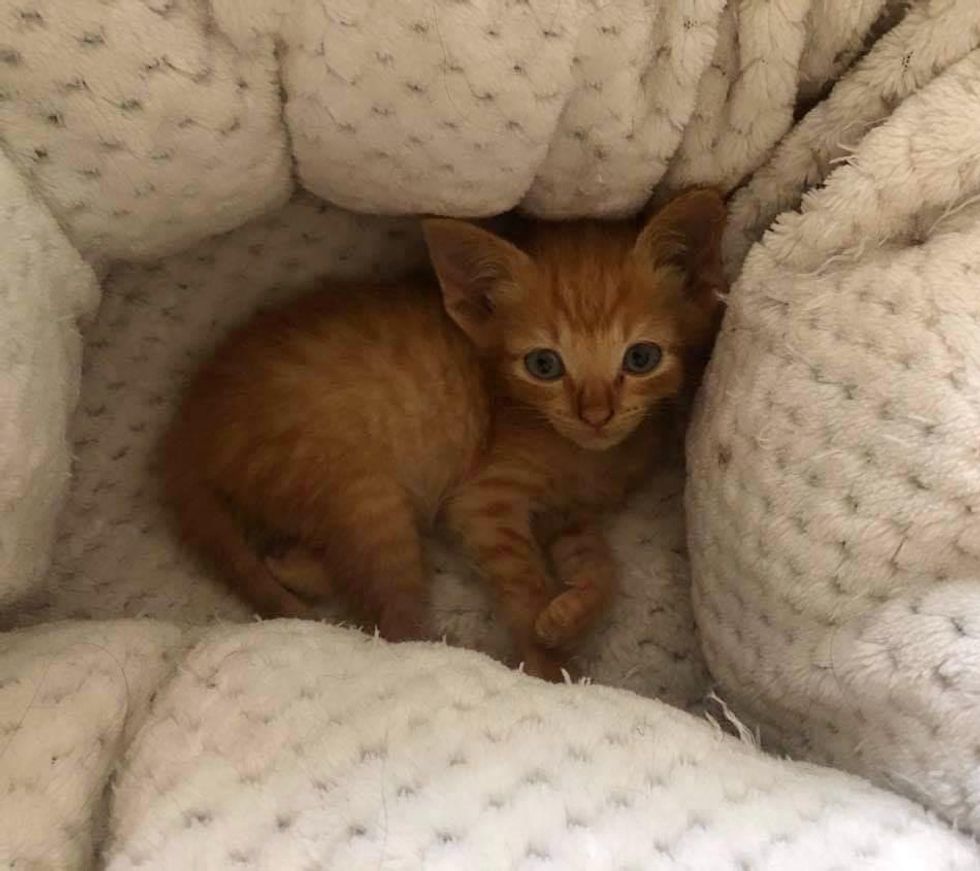 Best Friends Felines
Share this story with your friends. Follow updates on little Mufasa and Best Friends Felines on Facebook and Instagram @bestfriendsfelines. If you would like to support their rescue effort, click here to see how you can help.

Related story: Kitten with Big Eyes But Half the Size, Clings to Family that Saved His Life and Transforms into Gorgeous Cat