A tiny kitten was brought to the Animal Care and Control Team of Philadelphia after he was found alone in West Philly.
He could hardly meow, but he had the loudest purr when he was held.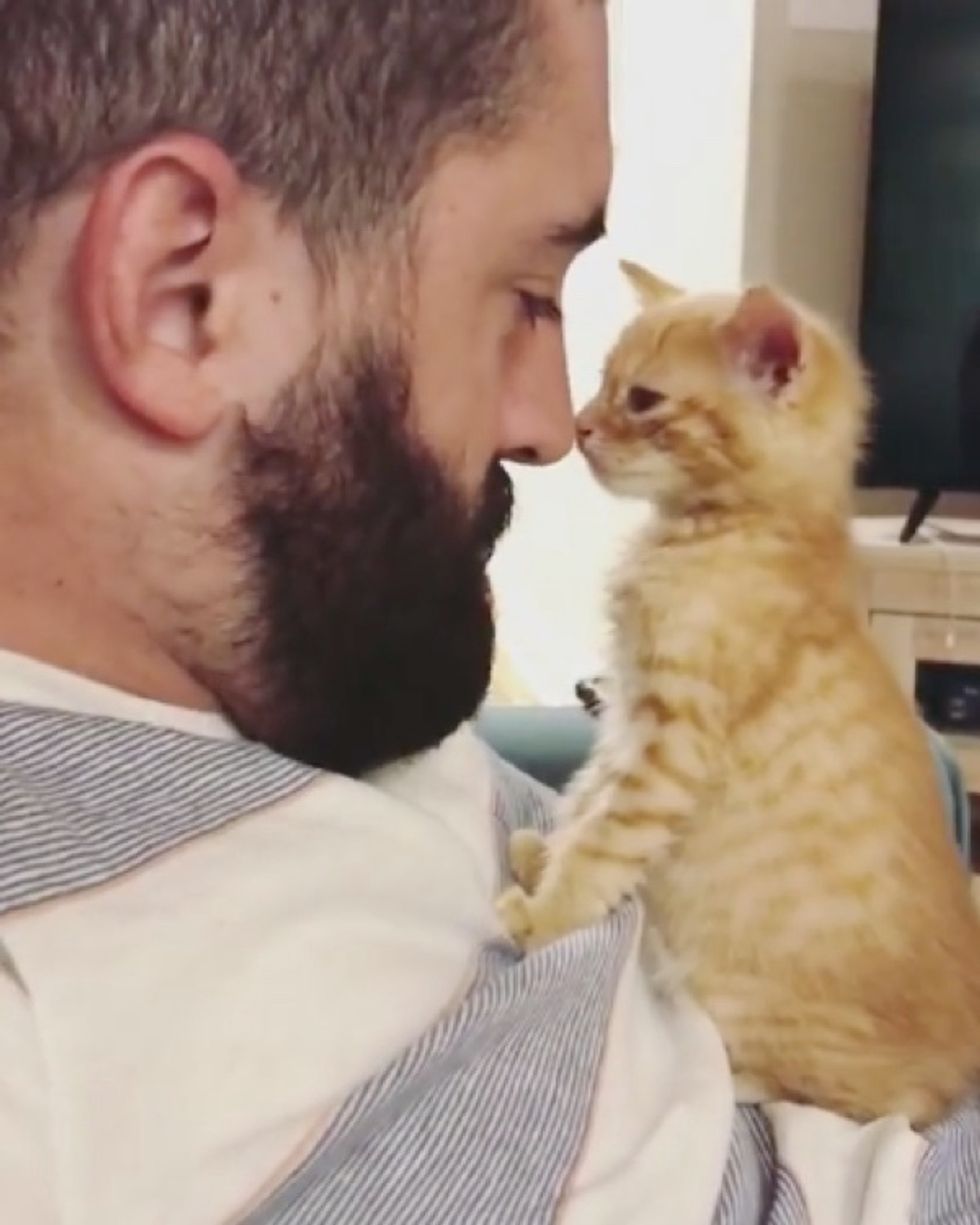 Alley Cagnazzi
Alley Cagnazzi who works at the shelter, came to look for another kitty to foster after her previous litter of four had gone to forever homes. As she walked into the kitten nursery room, she saw a tiny ginger and immediately fell in love.

"He was so young when I first saw him. He didn't know how to meow yet, but he made it clear that he loved to be loved," Alley told Love Meow. "He would purr every time I put him in my hands."
The kitten named Artie had a few fleas that were later removed with a nice, warm bath. He purred up a storm as Alley dried him with a towel.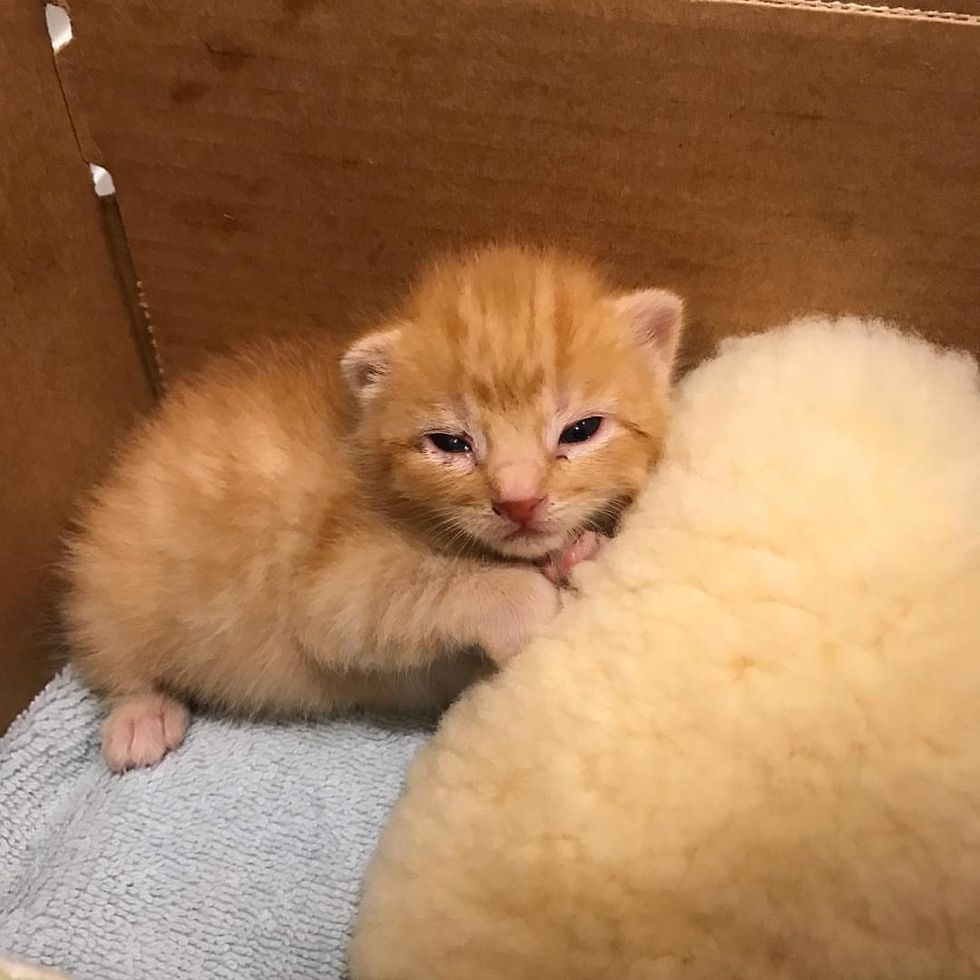 Alley Cagnazzi
"Artie is a really special guy. He started purring the moment I put him in my hands at seven days old," Alley said. "It took him a few tries to get a hang of the bottle but once he got it, he loved it."

From day one, they knew he was a lover.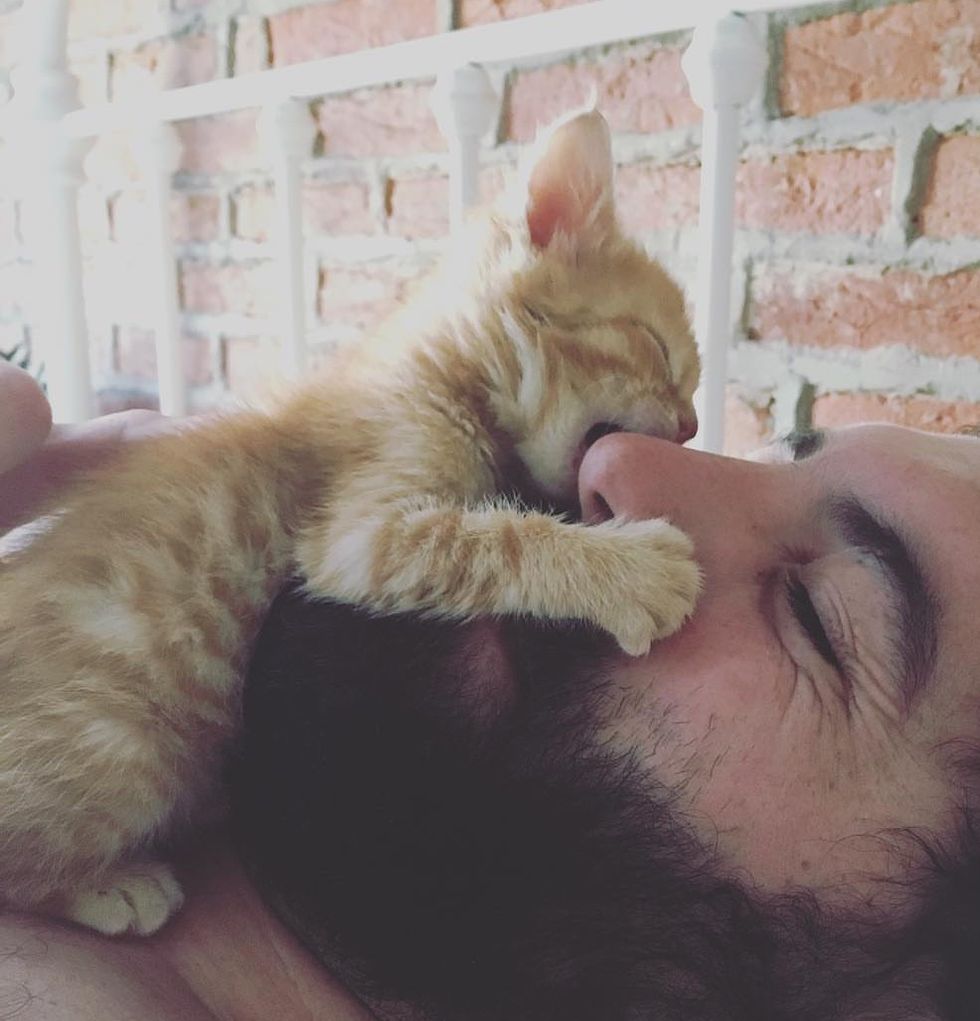 Alley Cagnazzi
Little Artie has no fear and loves to play with other animals even though they are much larger.

"He would run around and go crazy and then curl up on top of us and pass out."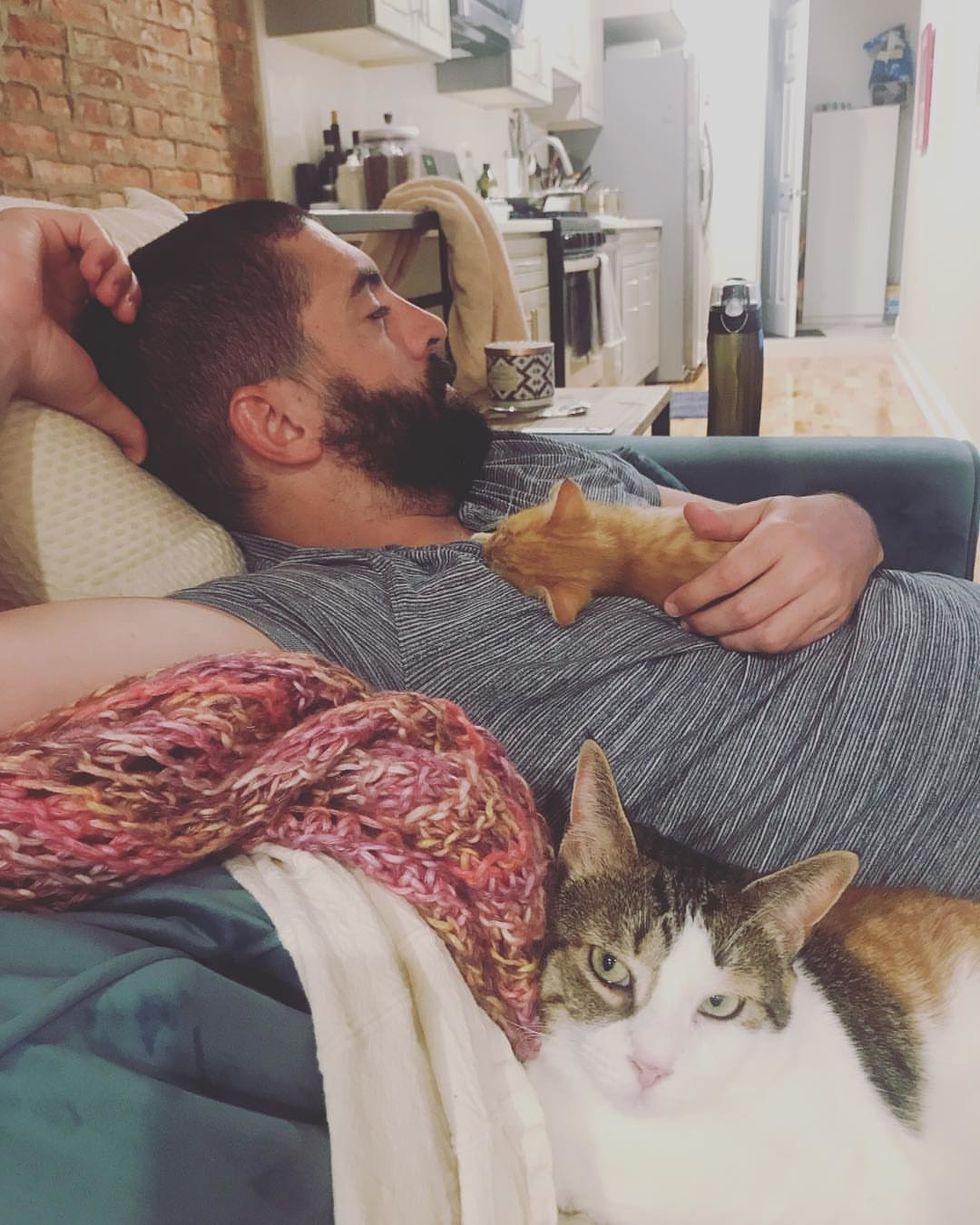 Alley Cagnazzi
"Artie was my first bottle baby. I was so nervous as single bottle babies are always at a super high risk of suddenly passing," she told Love Meow.

For the first three weeks, Alley got up every two hours to feed the kitten and keep him warm and loved.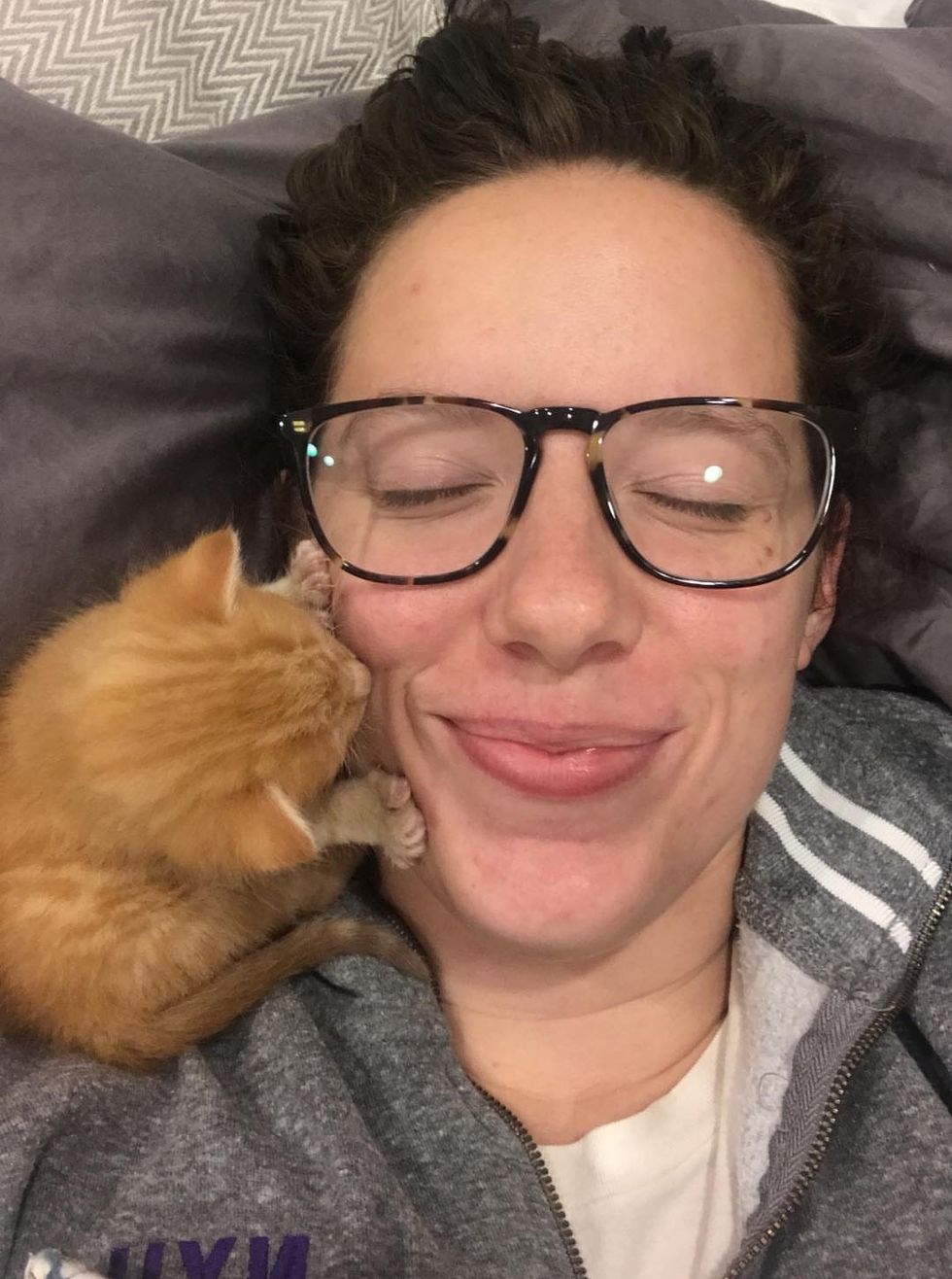 Alley Cagnazzi
"I slept in a separate bedroom and kept him in a soft crate next to my bed. I also had to bring him to work every day in order to feed him during the day," Alley added. "It was a lot of hard (and tiring) work, but it was so, so beyond worth it."

Once Artie started to walk, he would always climb up their arms to snuggle in their necks.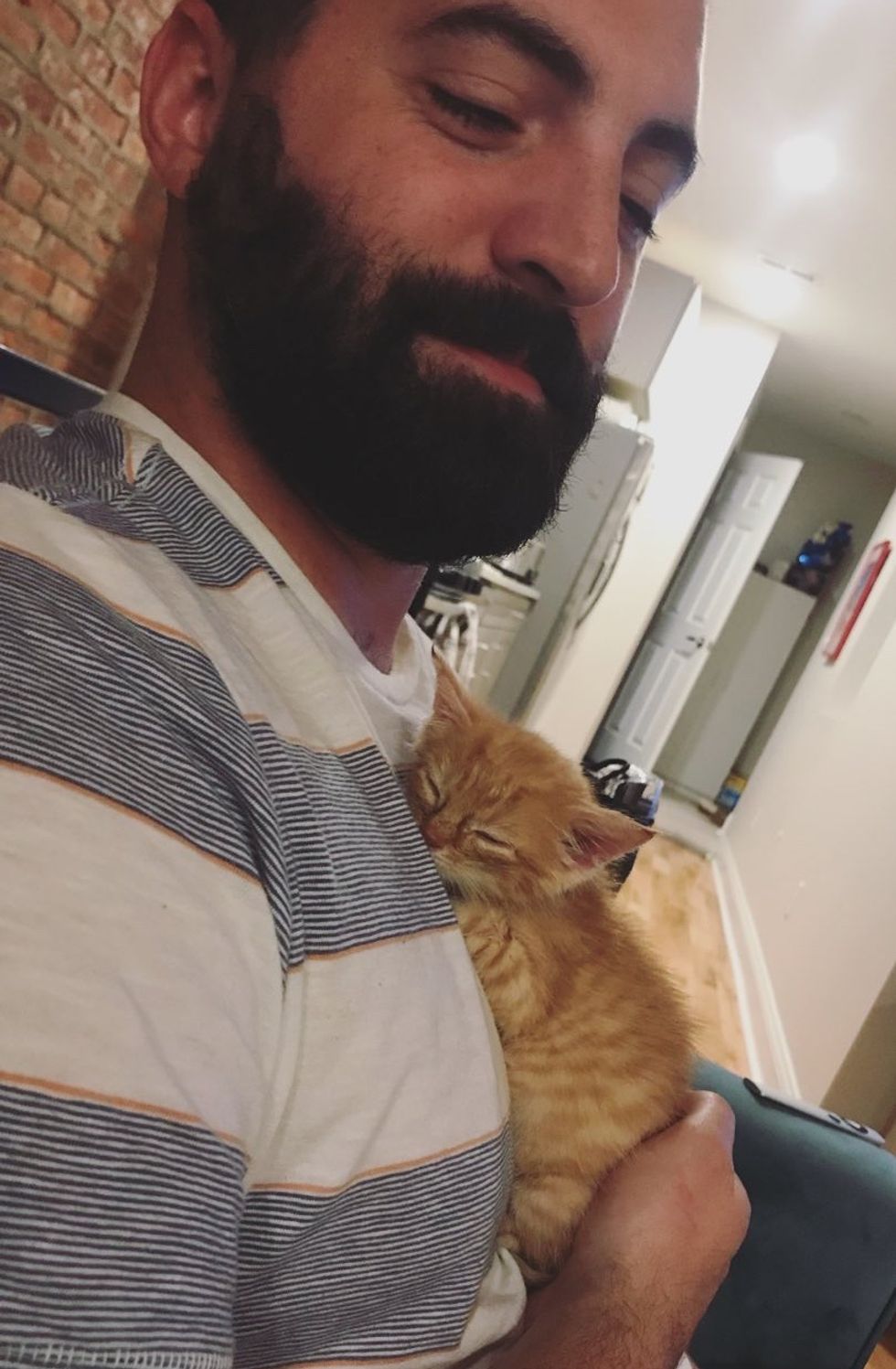 Alley Cagnazzi
"Artie was basically always on top of us since he learned how to move around."
Watch Artie's journey in this cute video:
"Often I'd come downstairs to find him passed out on my boyfriend's shoulder," Alley told Love Meow.
"He would run around with our cats but always came back for a good, warm snuggle."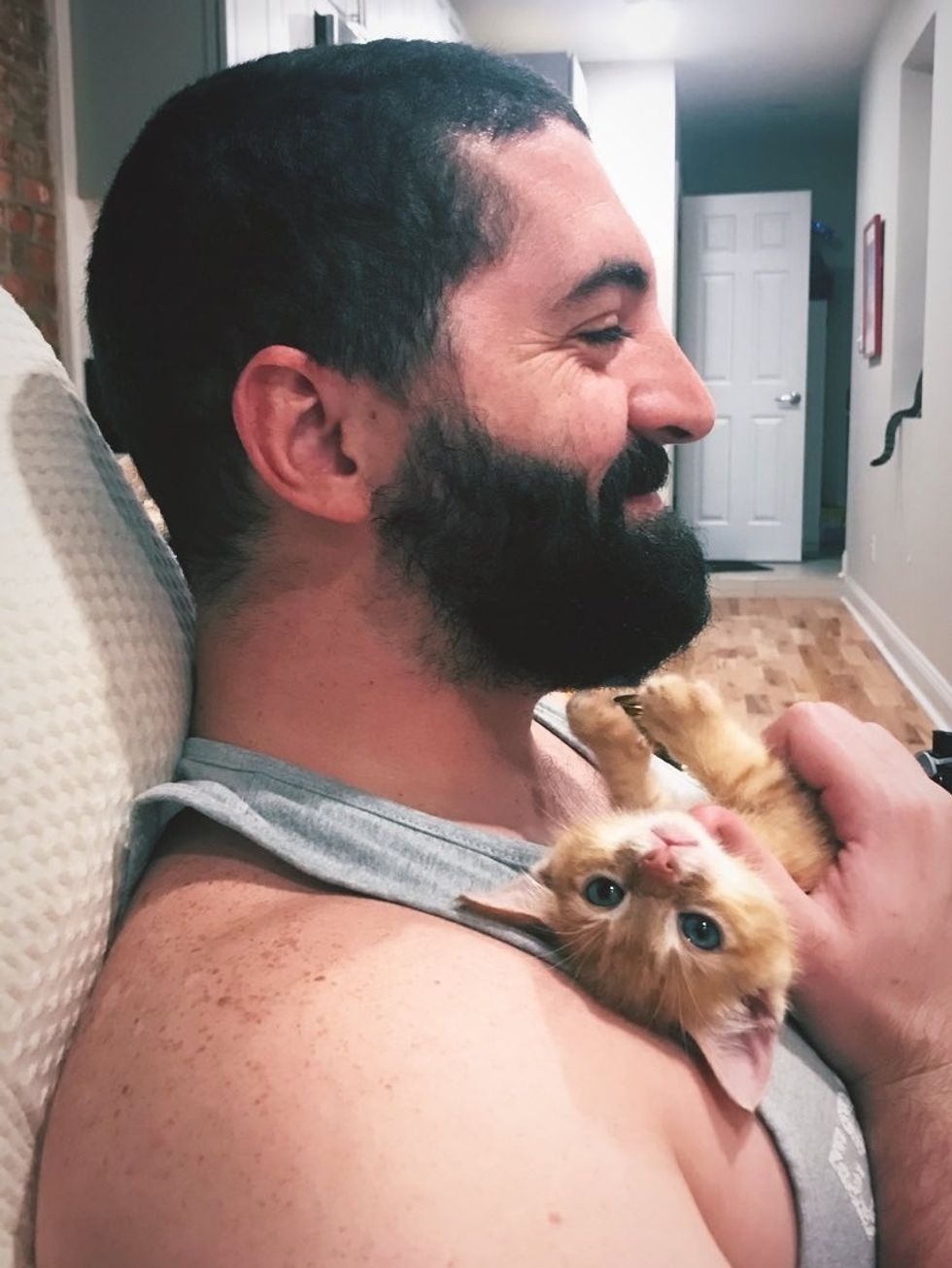 Alley Cagnazzi
Artie made sure that his foster parents were never alone.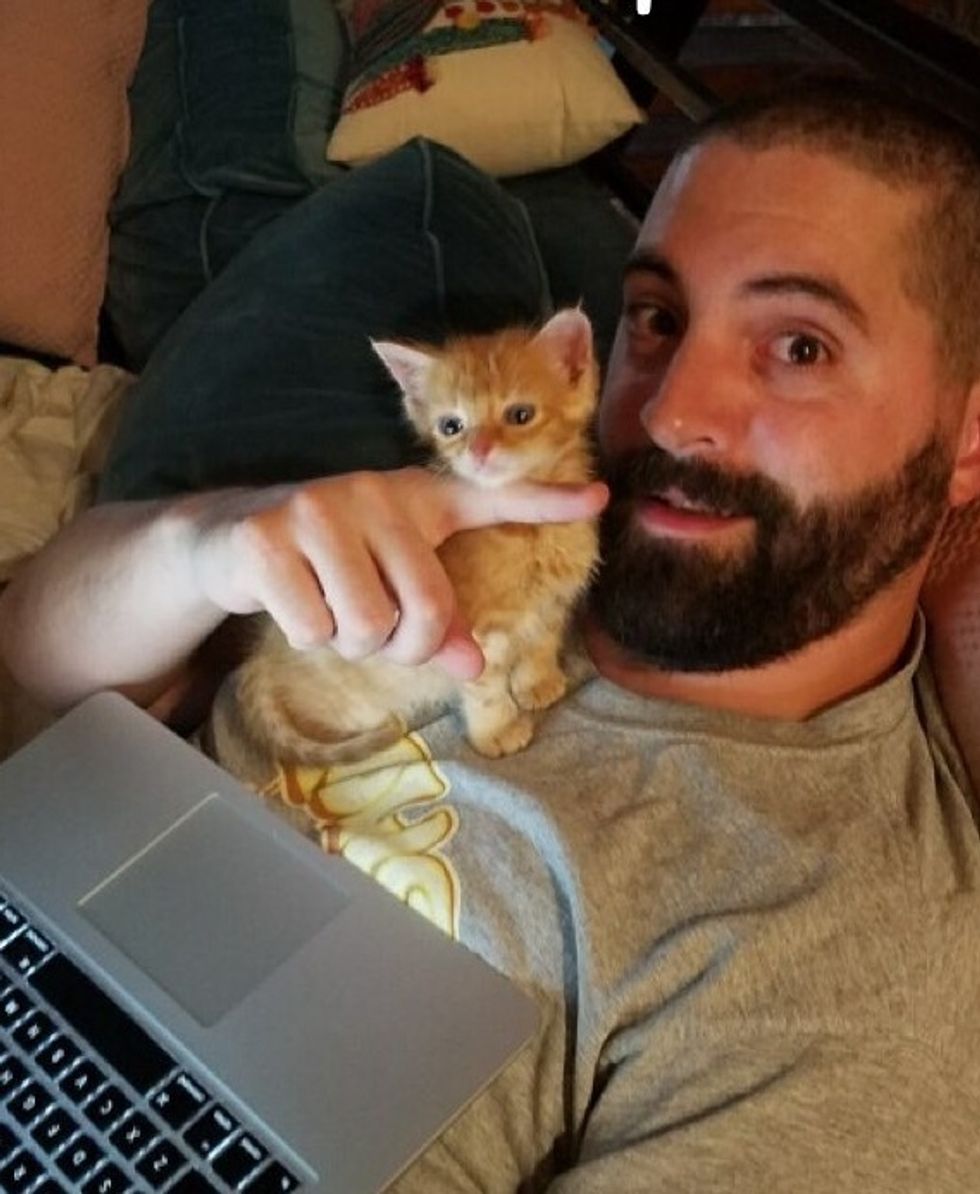 Alley Cagnazzi
"One night I literally rocked him to sleep and sang him a lullaby. It was the cutest thing I've ever seen," Alley said.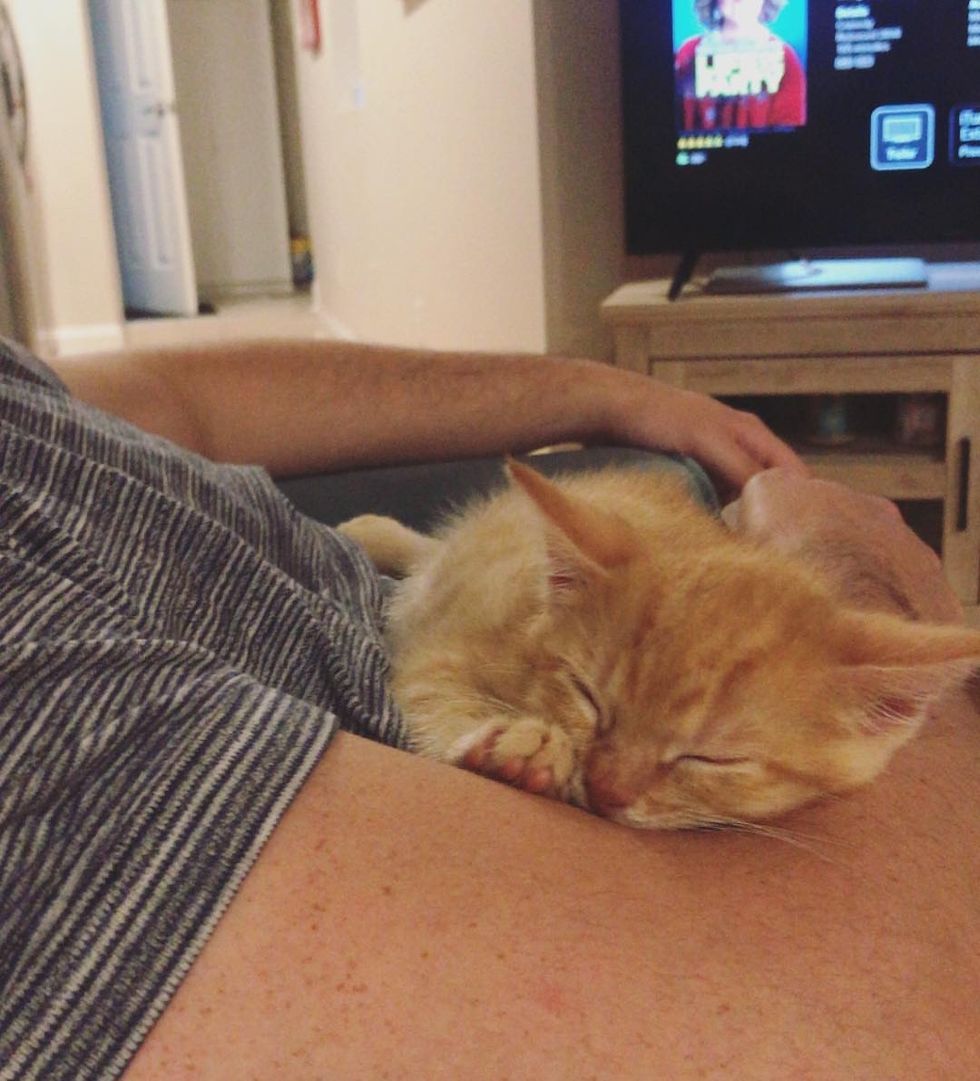 Alley Cagnazzi
Three months later, Artie was ready for his new chapter in life.
The sweet ginger boy graduated from his foster home yesterday and moved in with his forever family.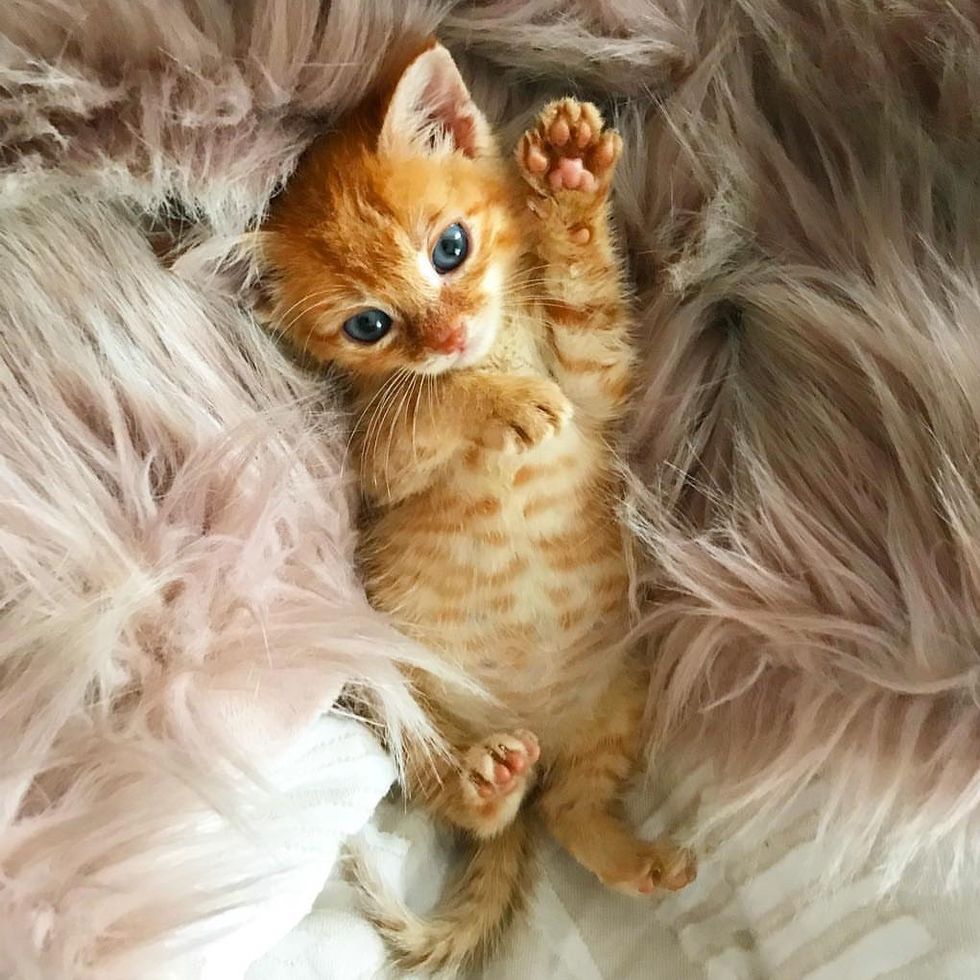 Alley Cagnazzi
Alley and her boyfriend are so happy for the little guy and his new adventures. "He'll have two kitty siblings. Artie is going to have a great life," Alley said.

The couple will soon be bringing new fosters into their home so more kitties like Artie will get a chance at a better life.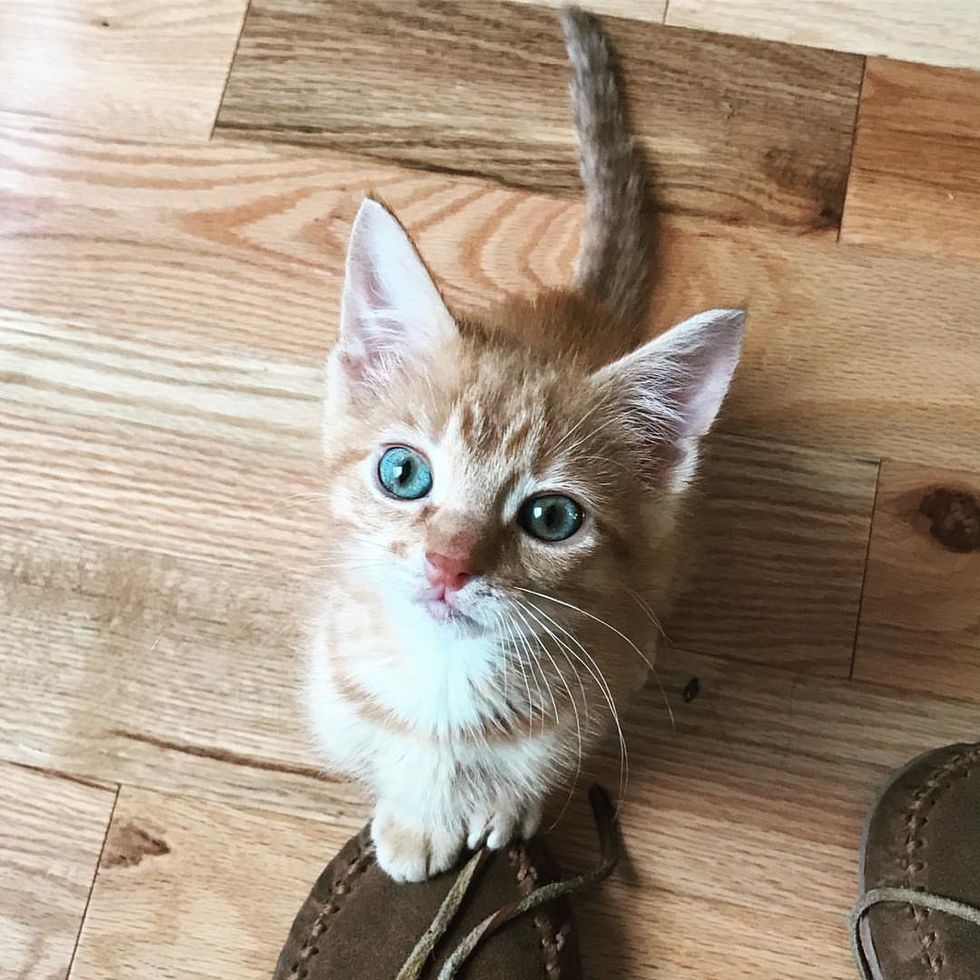 Alley Cagnazzi
Share this story with your friends. Follow Alley's foster/rescue kitties on Instagram.

Related story: Orphaned Kittens Found in Street Think This Bearded Guy is Their Mom