A stray cat was found wandering the streets of New York with a big belly. She was pregnant and brought in to the city shelter, in need of rescue.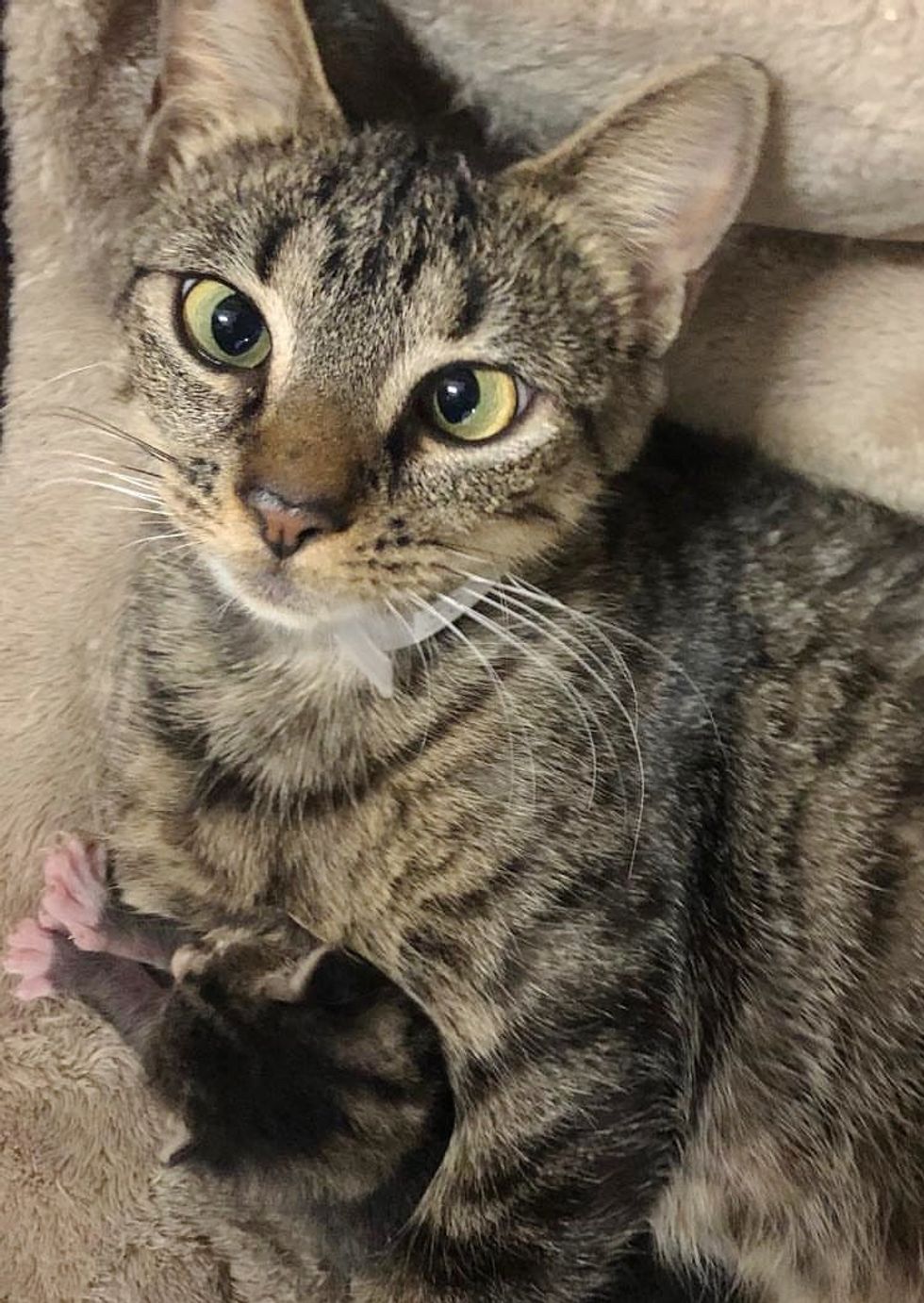 Brooklyn Bridge Animal Welfare Coalition
Knowing that the tabby cat would give birth any time soon, right before Christmas Eve, volunteers of Brooklyn Bridge Animal Welfare Coalition (BBAWC) pulled her from the city shelter so she and her kittens could get a chance at a better life.

They immediately placed her in a foster home where they had prepared a nice and quiet place for the sweet cross-eyed tabby. They named her Sugarplum. She purred up a storm as a foster volunteer catered to her every need.
"She was super sweet as soon as she arrived, and just wanted pets and snuggles," Julia Rosenfeld of BBAWC told Love Meow.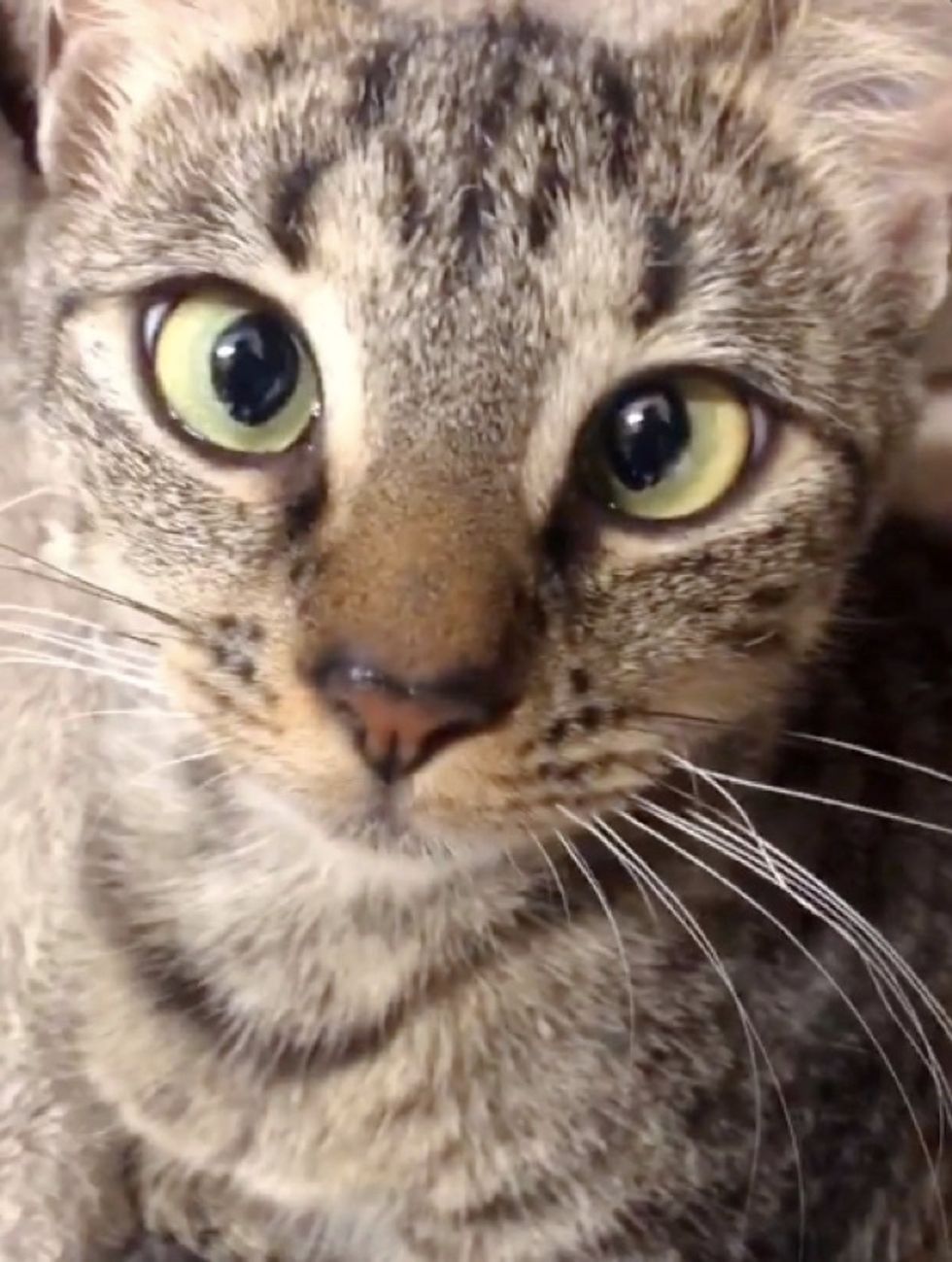 Brooklyn Bridge Animal Welfare Coalition
Soon after she settled in, she went into labor. Over the next many hours, Sugarplum gave birth to four beautiful kittens on Christmas Eve, in a safe and comfortable environment, away from the streets and the cold.

"She went into labor on Sunday night and all of her elves had arrived by Monday," Julia said.
Since the moment she had her first kitten, she hasn't left their side, nursing, grooming and caring for them around the clock. "Mama Sugarplum is insanely cuddly and a very devoted mom."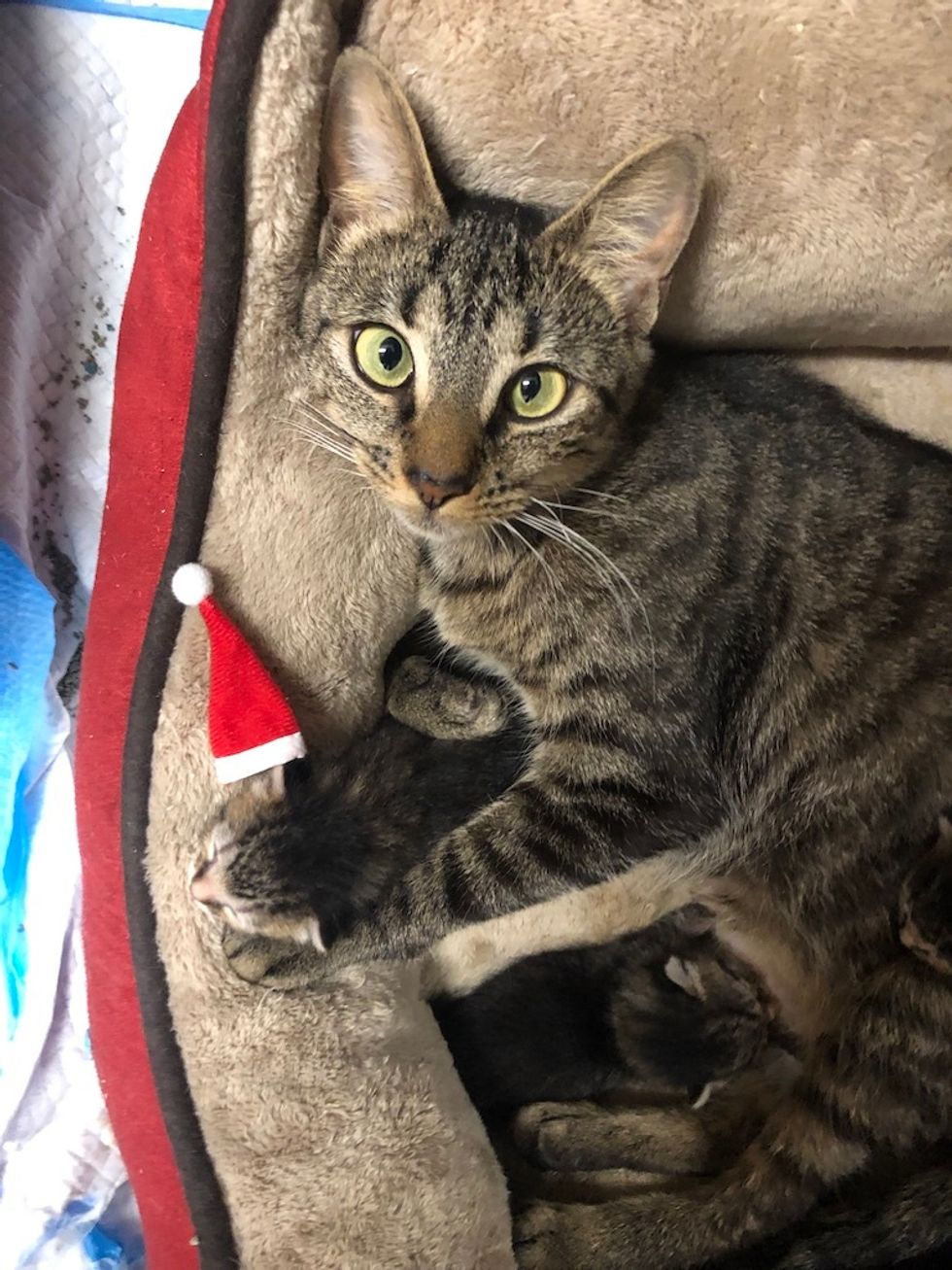 Brooklyn Bridge Animal Welfare Coalition
Volunteers checked in to make sure that the cat mom replenished herself with food and water, and offered her help so she could take breaks between feedings.

"She keeps her babies close and they all seem to have already found preferred positions in her soft bed."

All four kittens, Snowball, Frosty, Crumpet, and Jingle, are doing well with their loving mama by their side 24/7. "Snowball is all black, and the other three are tabbies like Mama."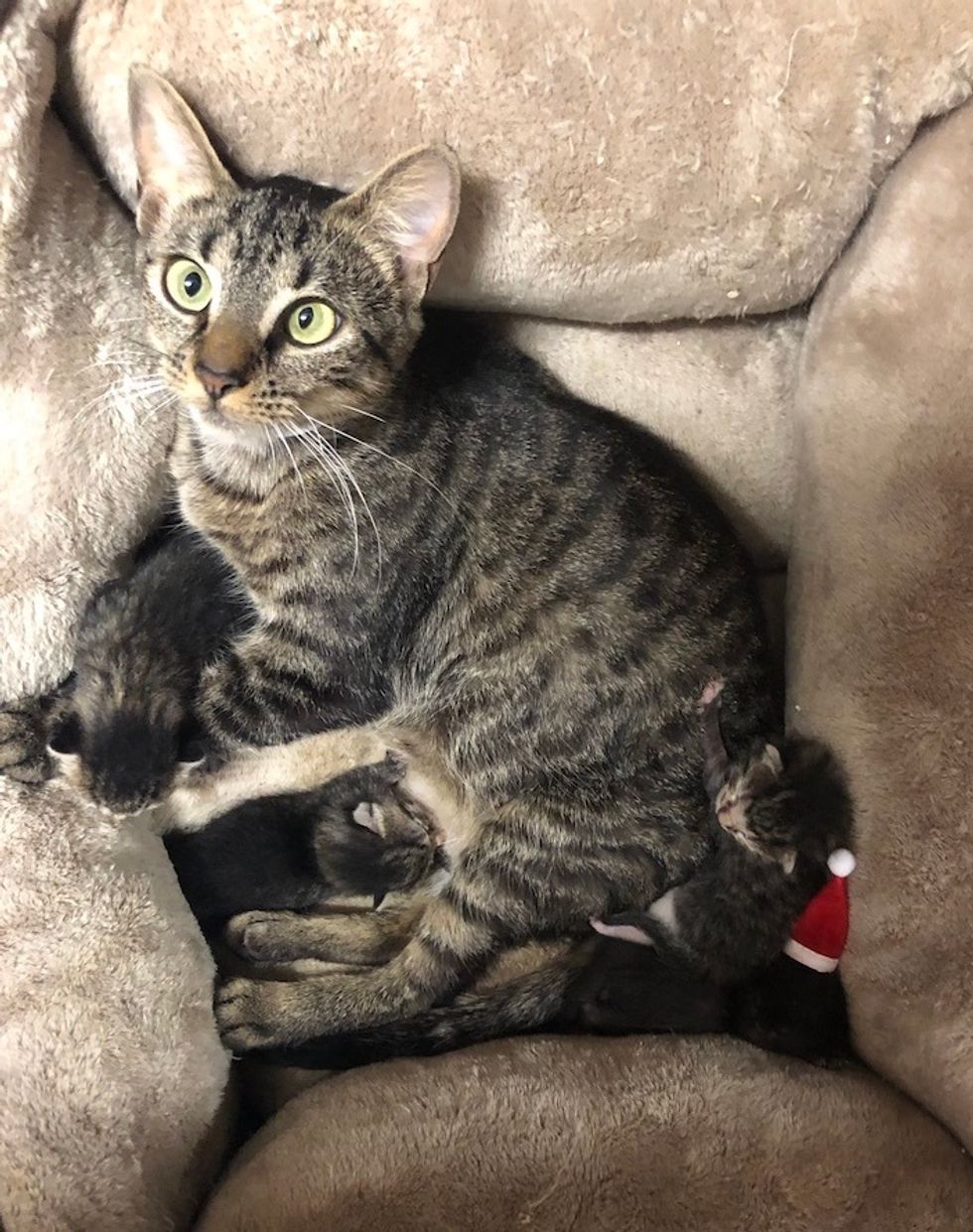 Brooklyn Bridge Animal Welfare Coalition
Sugarplum and her babies are the lucky ones that were saved just in time so the kittens wouldn't have been born outside, braving the harsh elements of the outdoors.

"The most important thing is to spay and neuter and TNR cats before they reproduce," Julia told Love Meow.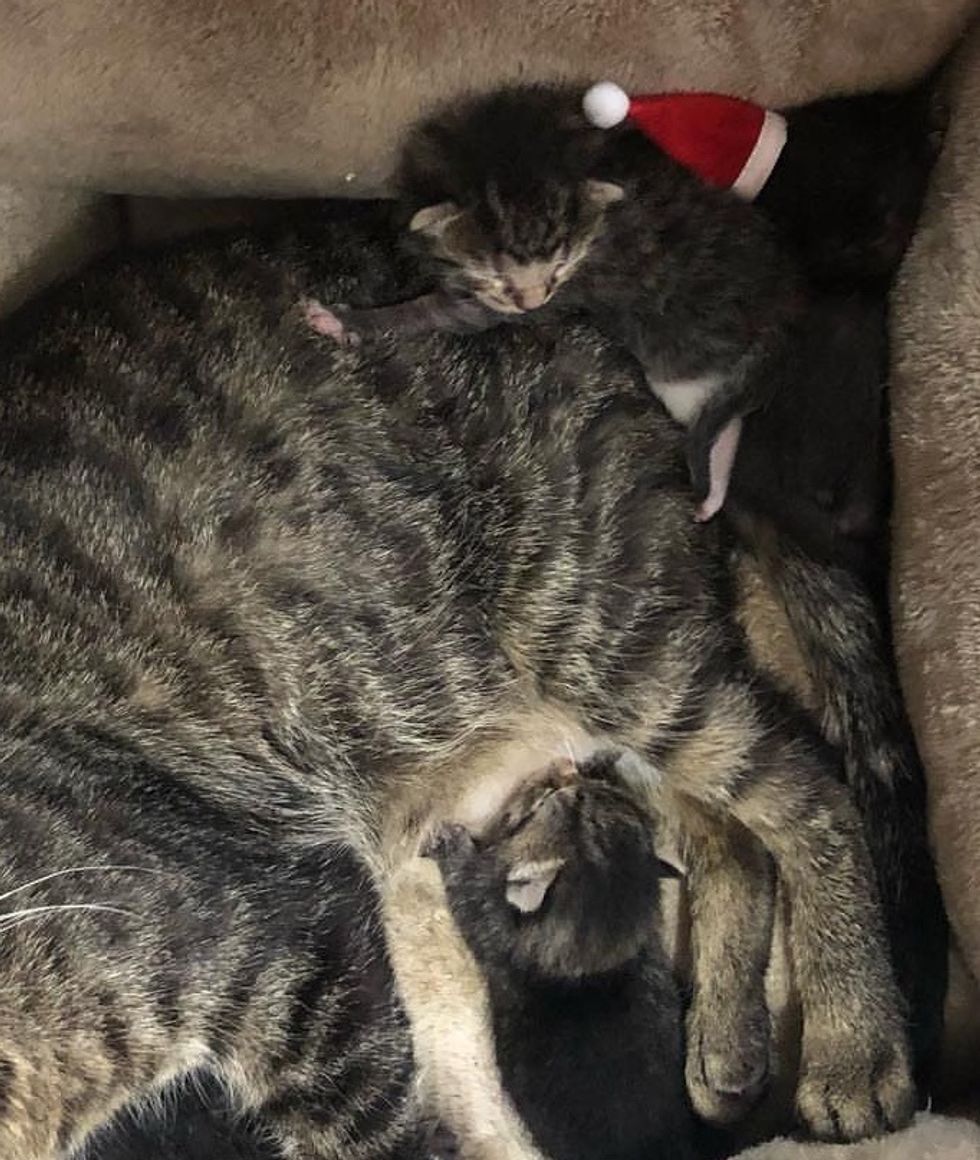 Brooklyn Bridge Animal Welfare Coalition
The beautiful feline family is thriving in foster care.

Once the kittens are old enough (at 14 weeks, fully vaccinated and spayed/neutered), they hope to get them adopted in pairs, and find Mama Sugarplum a loving home where she can continue her cuddle-fest and receive all the love in the world.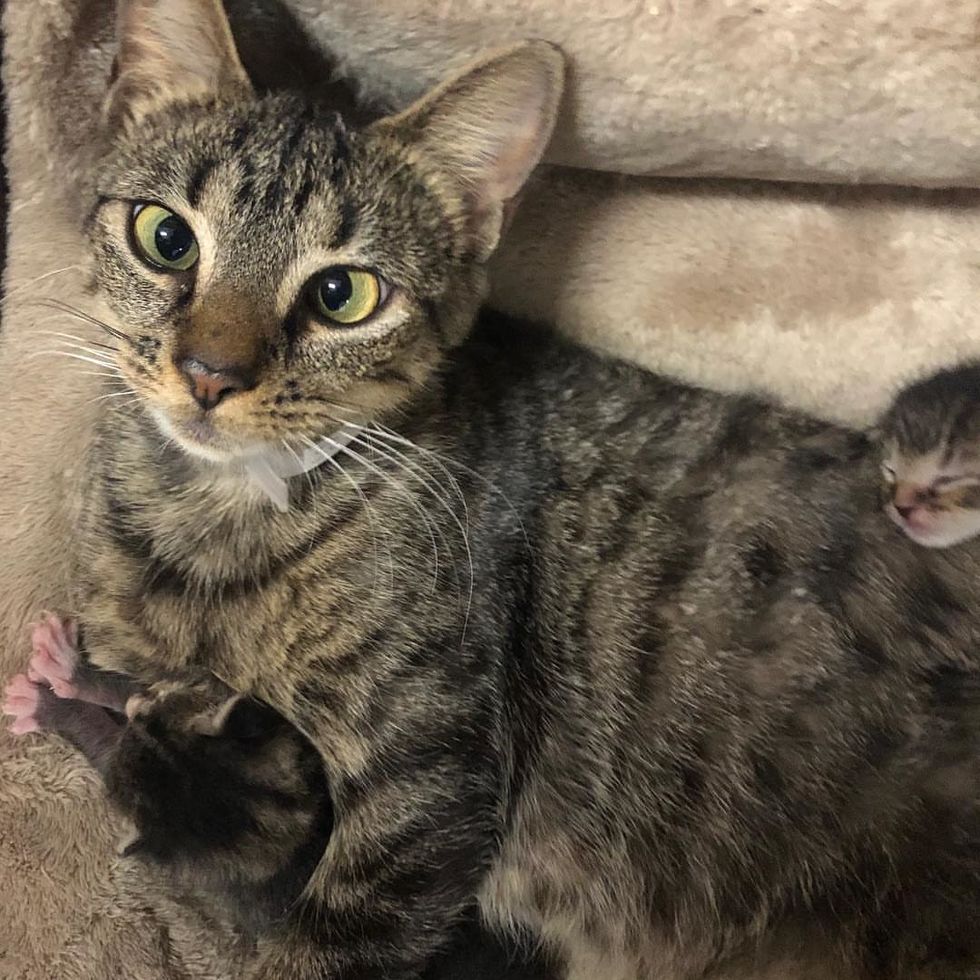 Brooklyn Bridge Animal Welfare Coalition
Follow updates on the beautiful feline family at BBAWC's non-profit Brooklyn Cat Cafe. More on their Facebook and Instagram. If you would like to support their rescue efforts, click here to see how you can help.

Watch them in this adorable video:
Rescued Cat and kittens born on Christmas Eveyoutu.be
Share this story with your friends.
Related story: Cat Can't Stop Snuggling Rescuers for Saving Her Kittens From Life on the Streets