A kitten who needs constant company, has convinced a porch cat to come inside the house to hang out.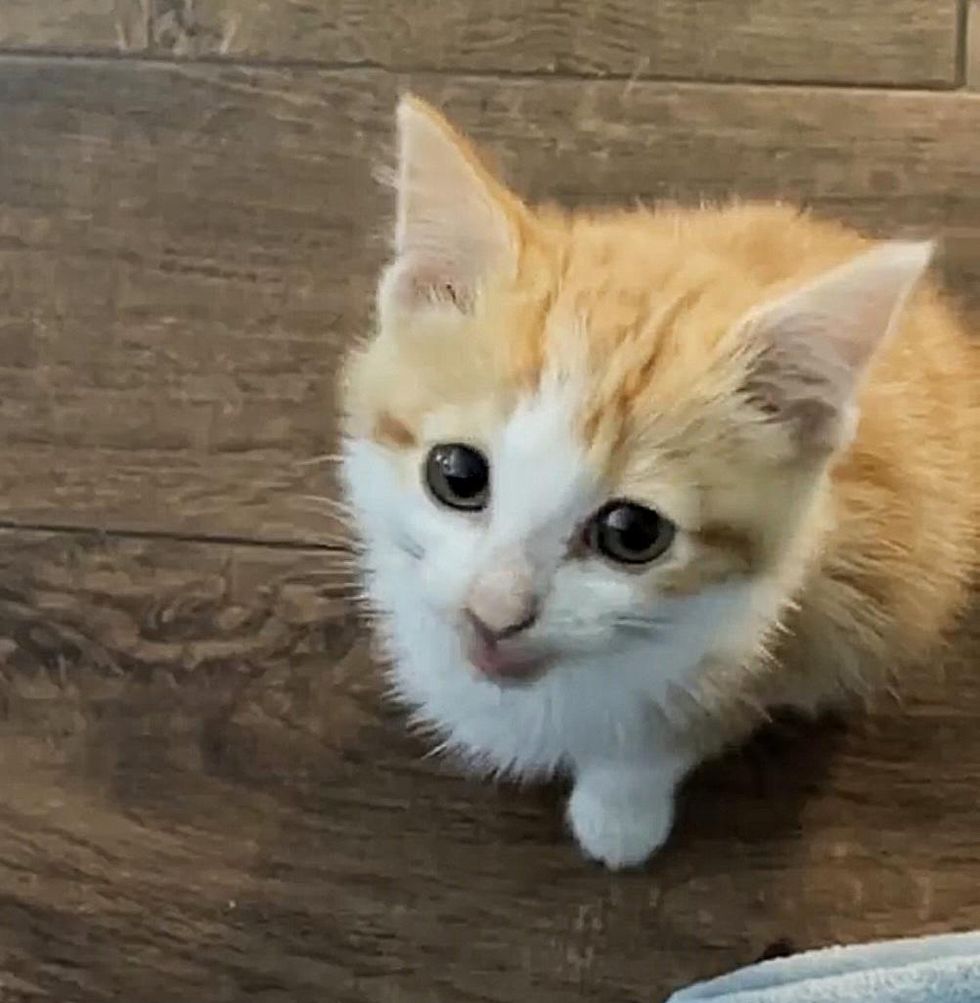 Garfield the kitten@kittenkonnoisseur
A little orange and white kitten was found by a Good Samaritan and brought to Firehouse Animal Health Center in Leander, Texas. He was covered in fleas and ear mites, and had a wormy belly.
Despite it all, the kitten named Garfield was a love-bug from the start. He meowed constantly for attention and just wanted to be petted. The rescue reached out to Megyn at Kitten Konnoisseur as the kitten needed foster care.
"He's now part of the Williamson County Regional Animal Shelter's foster program," Megyn shared with Love Meow. "This guy is just a bundle of love. He prefers to eat with company. All he wants to do is cuddle."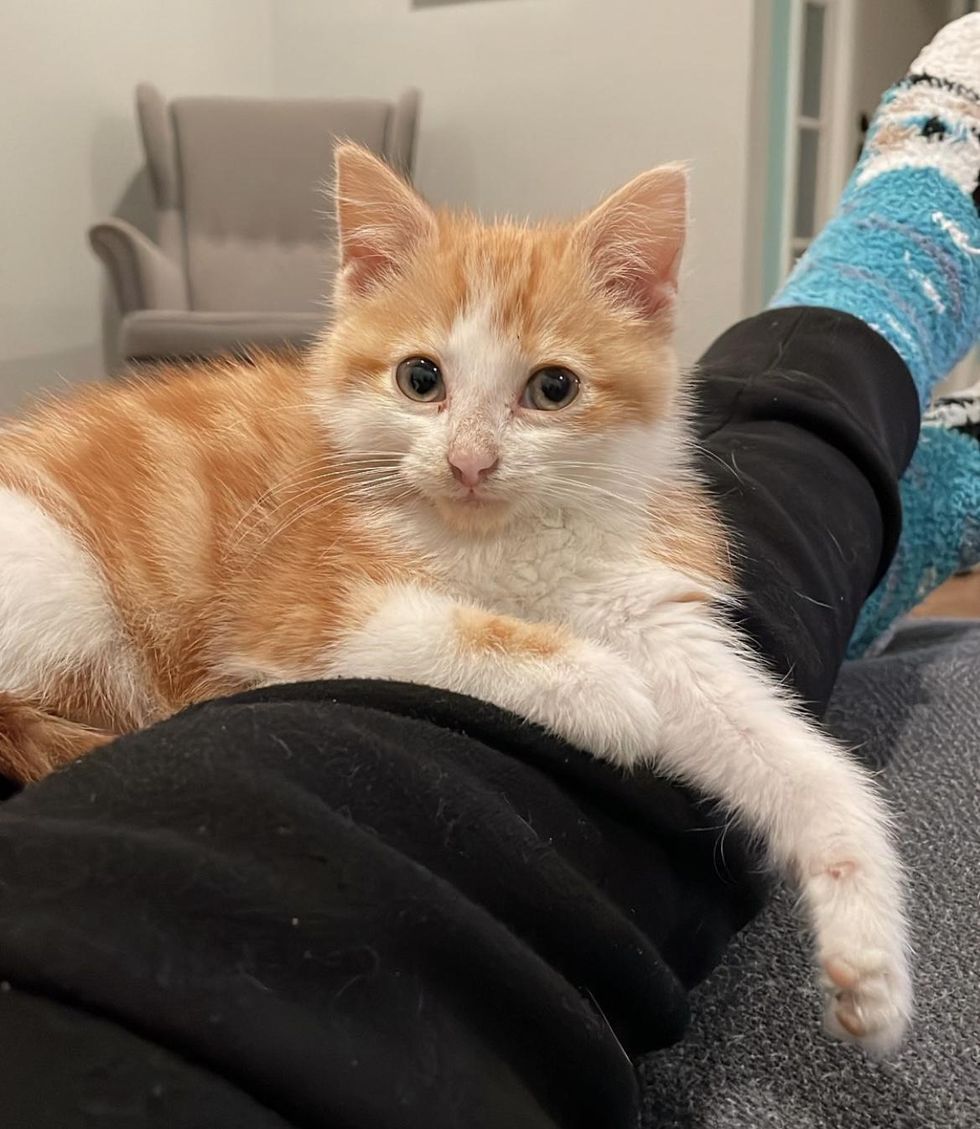 Garfield is a full-time cuddle-bug@kittenkonnoisseur
Garfield is always on the lookout for attention. He will meow all around the house until he gets what he desires. When he curls up on a warm lap, he'd reach out his paw so he can hold hands with his people or another furry friend.
A few days after arrival, Garfield noticed an orange tabby on the porch and was determined to befriend him.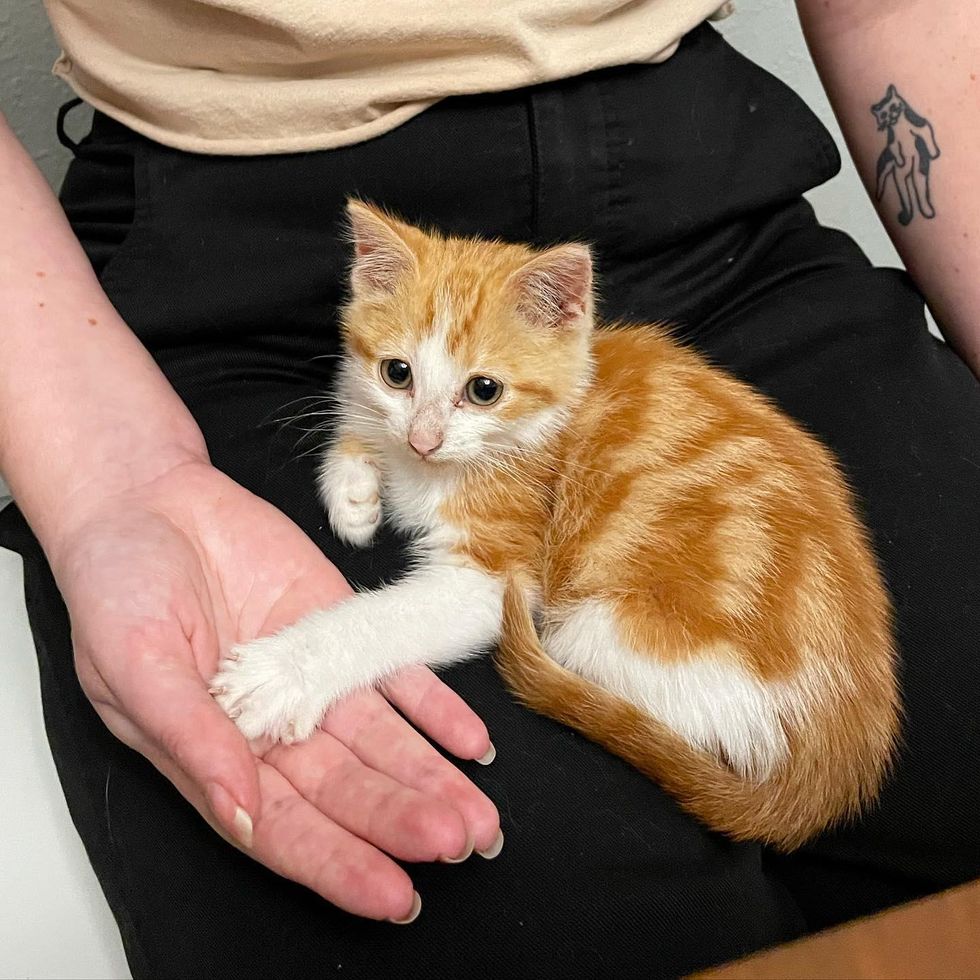 He likes to hold hands when he snuggles with his human@kittenkonnoisseur
The porch kitty named Pickles is a semi-feral cat who found Megyn many years ago, in poor shape. They nursed him back to health and gave him the dental care that he desperately needed. "Pickles has a tipped ear and was most likely part of a feral colony."
The tabby cat couldn't tolerate being inside the house, so decided to make their porch and yard his kingdom. "Being indoors makes him anxious. We are lucky to have a safe yard for him to live in."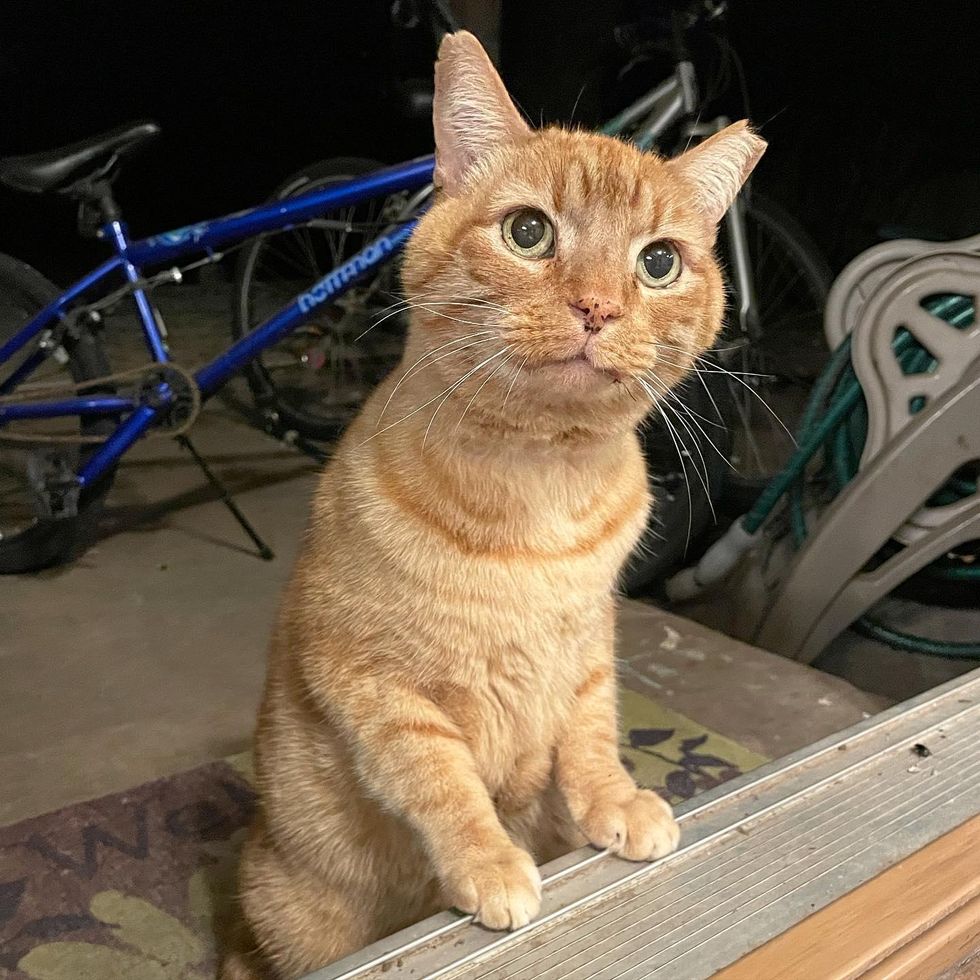 Pickles the porch cat@kittenkonnoisseur
The door is always open for Pickles but he very much enjoys his comfortable porch life. Once Garfield was healthy, he began going around the house seeking cuddles from everyone. He found Pickles the porch cat and tried to get his attention, too.
One thing led to another, Megyn was surprised to find Pickles sharing the couch with the kitten in the house.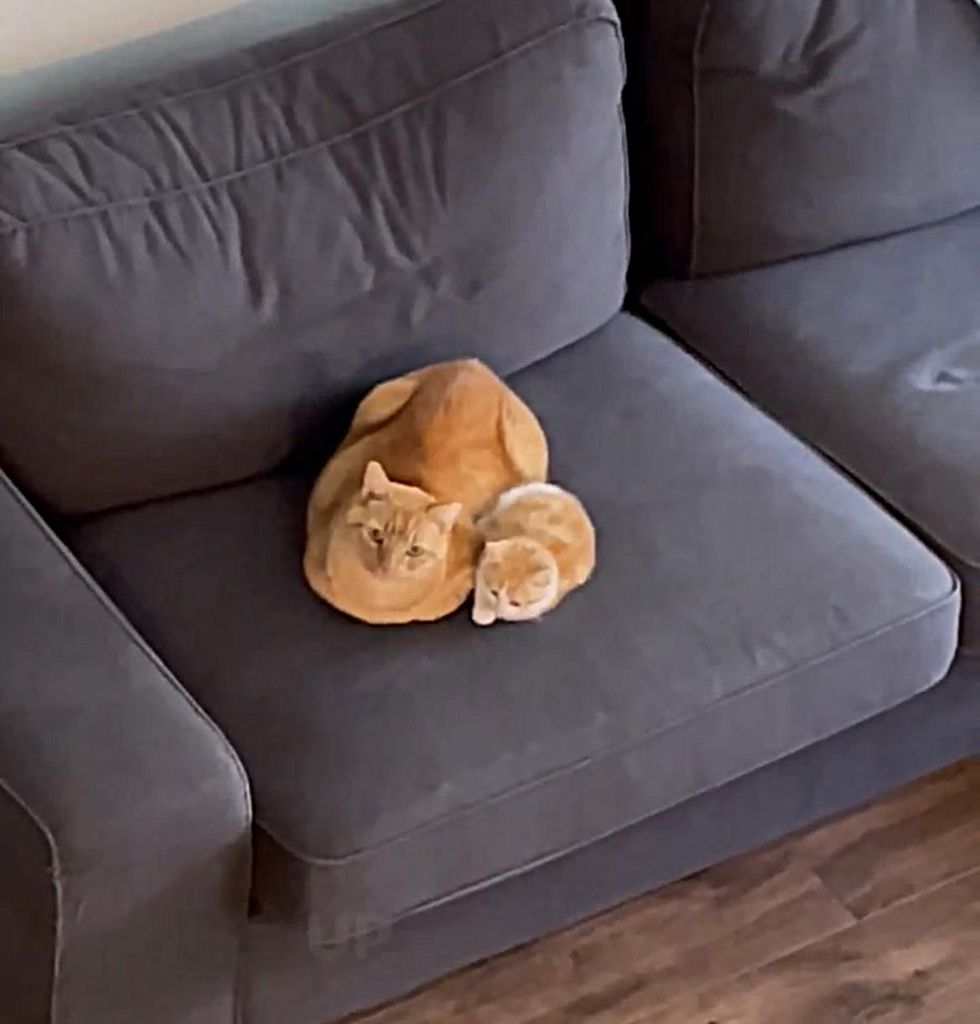 Pickles came into the house to hang out with Garfield@kittenkonnoisseur
"Pickles has been coming in more. Wherever he lays down, we often find Garfield snuggling up," Megyn told Love Meow.
Watch Garfield and Pickles in this cute video:
Garfield and Pickleswww.youtube.com
The porch cat has been around other foster kittens through the years, but only tolerates them to various degrees.
"I think he especially likes Garfield because Garfield is a mellow guy who is just happy to have a cuddle buddy. I'm grateful Pickles is taking Garfield under his wing."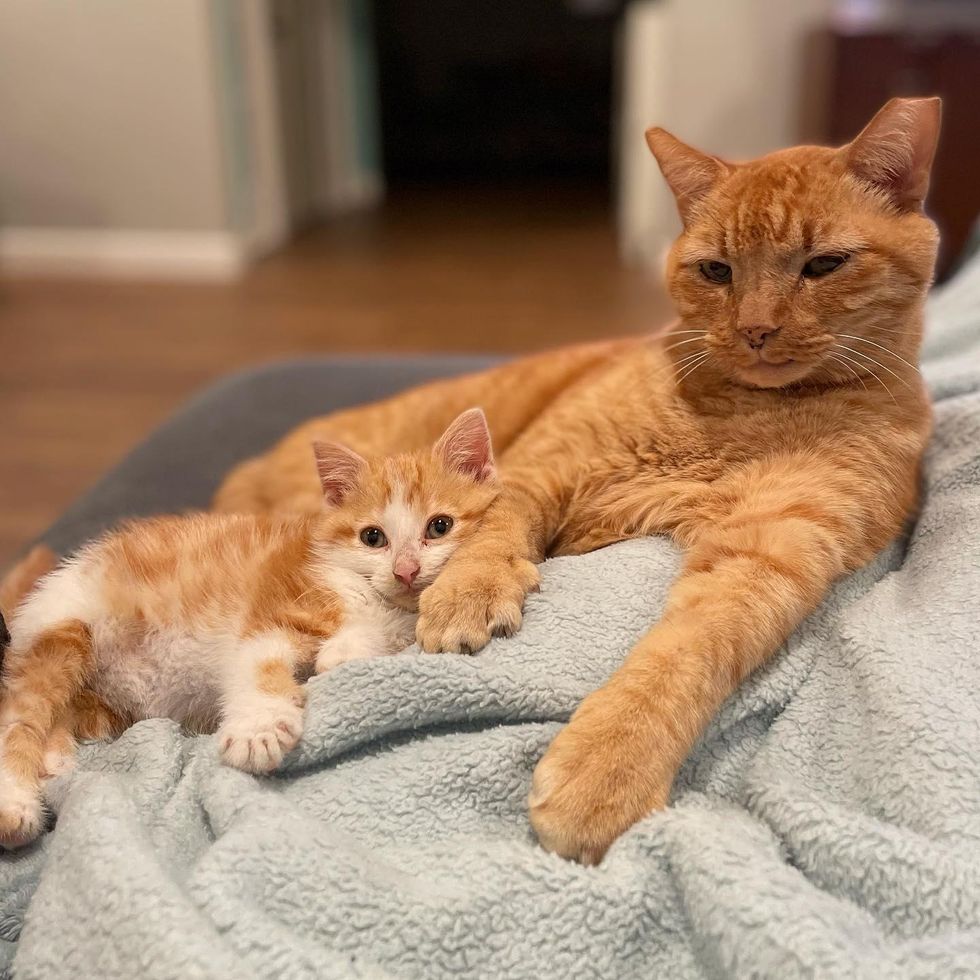 They are spending a lot of time snuggling with each other@kittenkonnoisseur
Garfield's sweet demeanor and endearing personality drive Pickles into the house more. The kitten wants a constant companion, and Pickles happily obliges.
Pickles is spending a lot of time with his little protégé, teaching him the art of loafing, and even sharing snuggle time with their people together.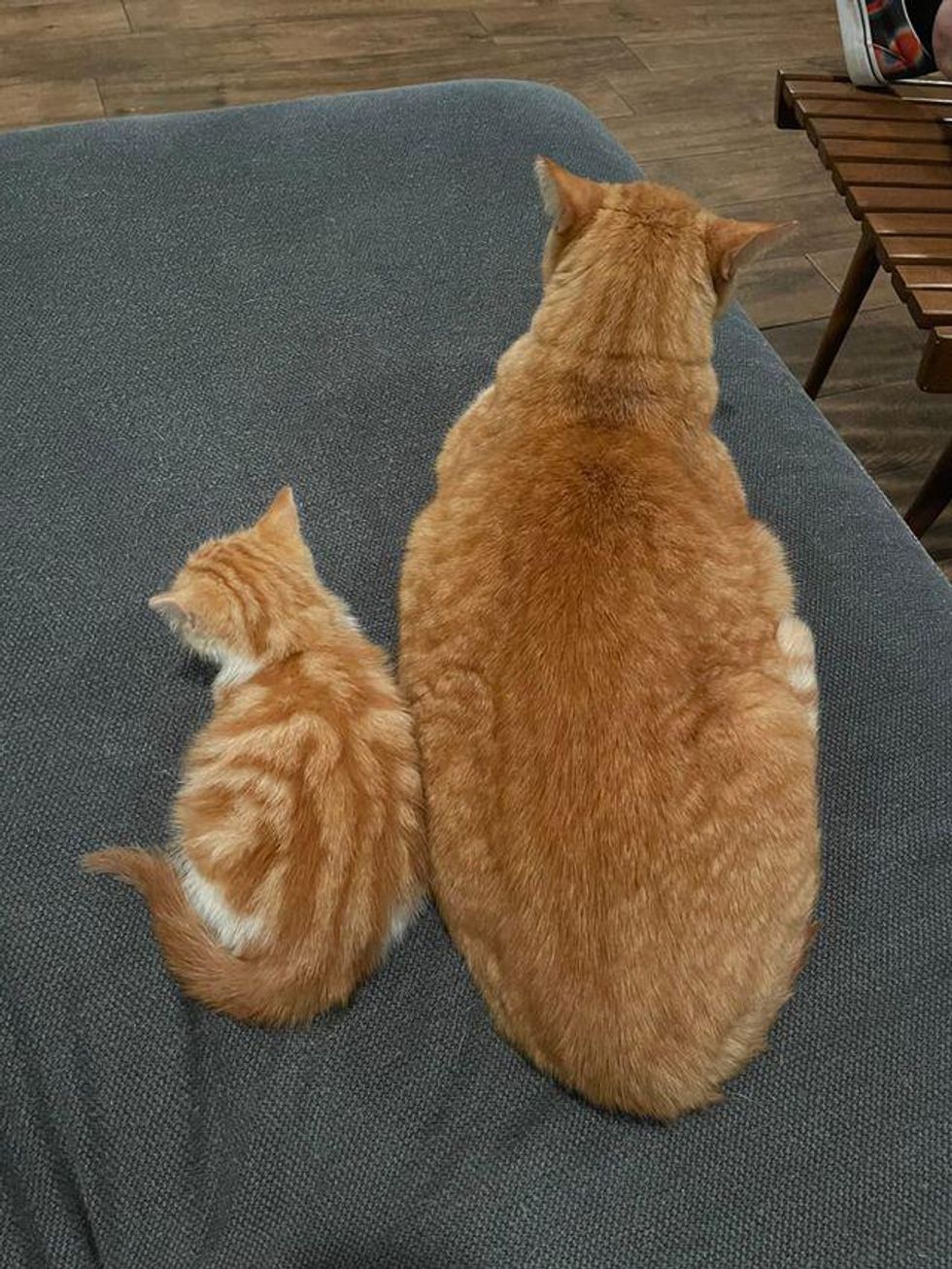 Cat loafing@kittenkonnoisseur
"Pickles usually hates being inside and other animals. His heart has grown three sizes. I love watching this old, crotchety porch cat show his warm, fuzzy side."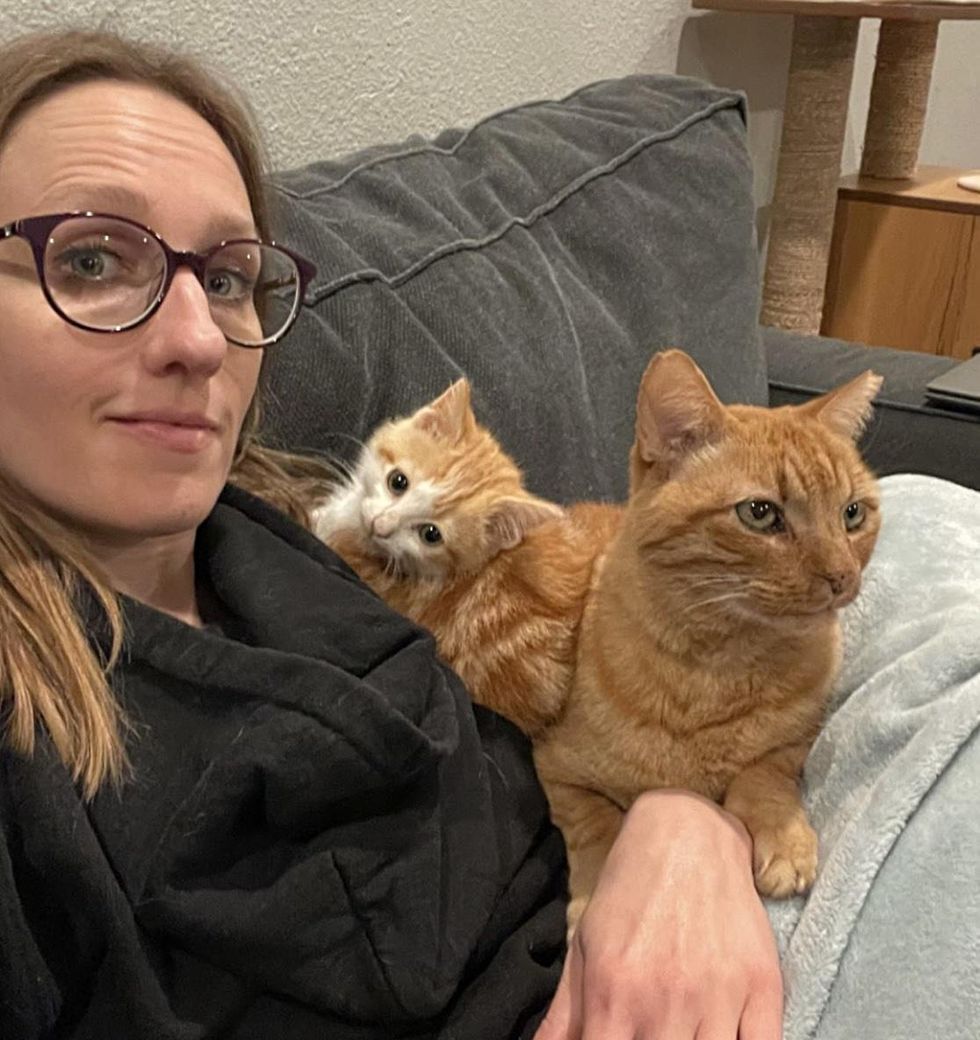 Garfield gets his buddy to snuggle in a puddle@kittenkonnoisseur
Garfield is over the moon now that he can cuddle on demand. He is soaking up all the love he can get from everyone around him, especially Pickles.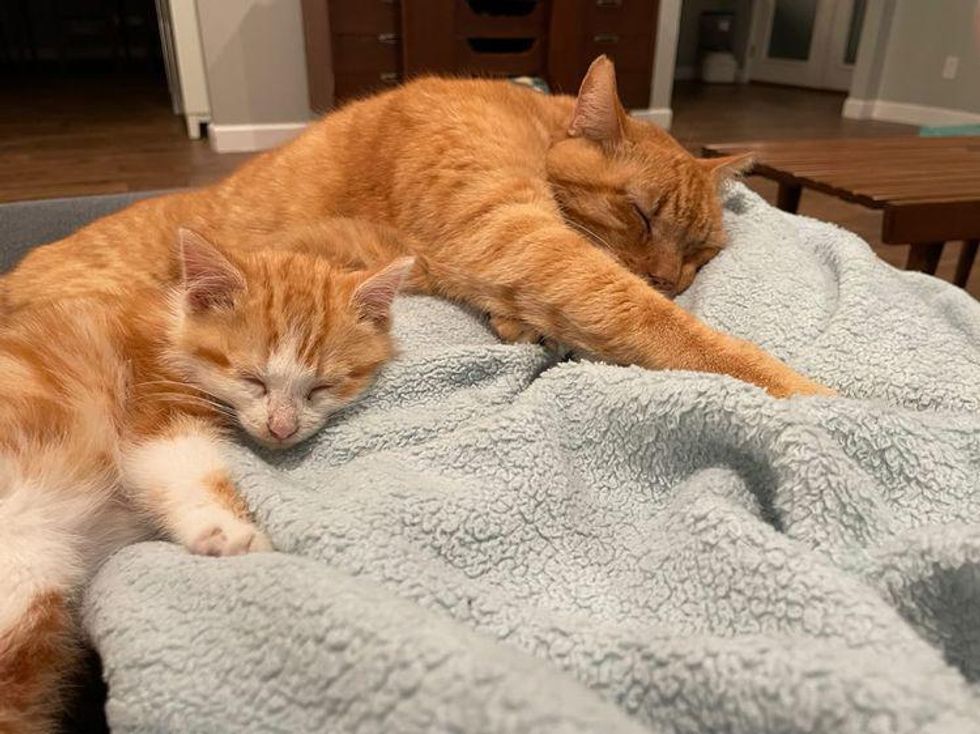 @kittenkonnoisseur
Share this story with your friends. Follow Garfield, Pickles and Megyn's foster kitties on Facebook and Instagram.

Related story: Kitten Follows Cat Home and Decides She is Never Leaving After Life on the Streets